My relationship with Ibiza has always been complicated. From memorable party nights to disappointing hotel stays, from breathtaking sunsets to miserable service – we had it all. So when I was looking for the perfect hotel to surprise A with a weekend getaway for his recent birthday, I put extra effort in finding the perfect Ibiza hotel. And what can I say? Nobu Hotel Ibiza Bay turned out to be a fantastic choice. Read along to learn more about our fabulous stay in one of the islands most luxurious hotels.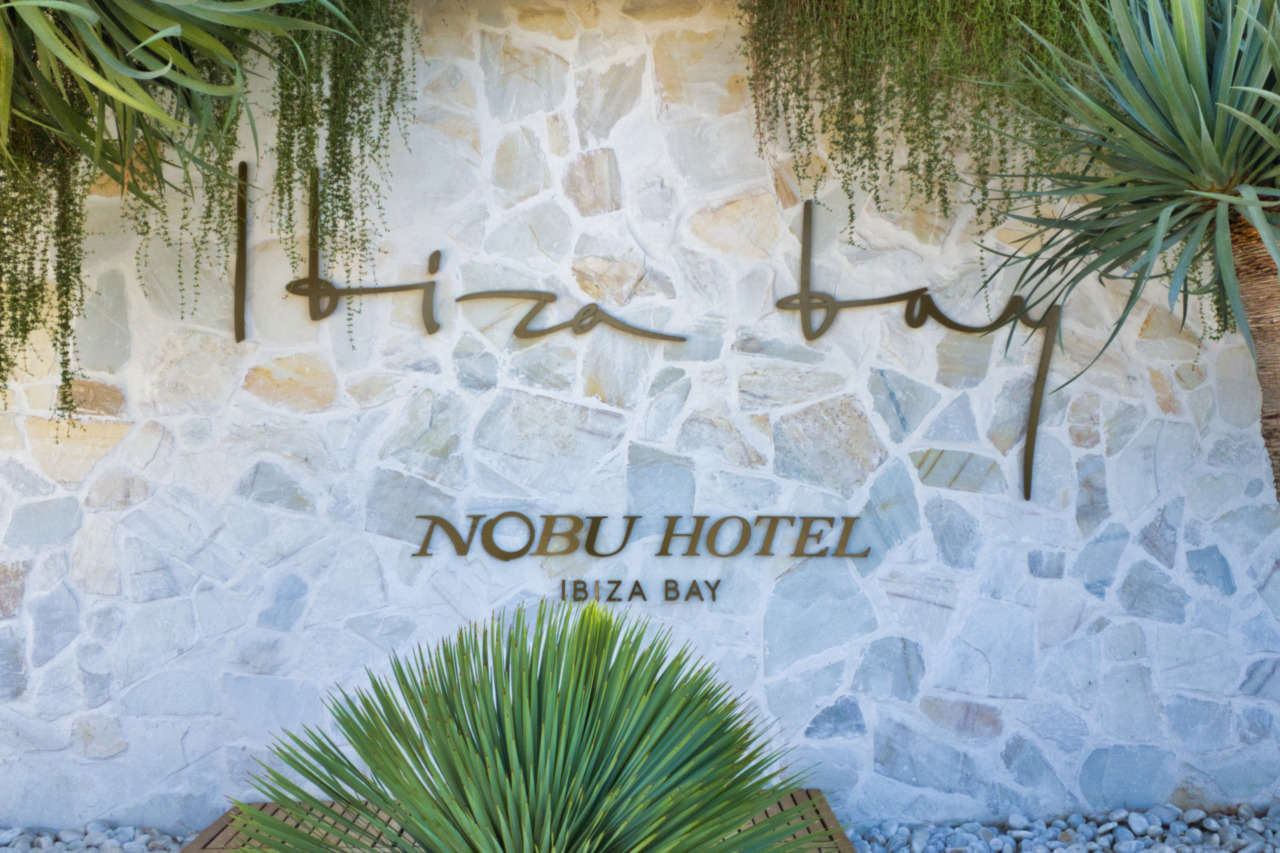 Nobu Ibiza Bay – a luxurious island hideaway
One of the reasons I chose Nobu Ibiza Bay for our short stay on the island is its convenient location. Nestled in the bay of Talamanca it is only a 15 minutes drive from the airport, the city of Ibiza and Playa d'en Bossa. At the same time, it feels largely remote and is located directly by the Mediterranean Sea. We arrived at the hotel on a busy Friday afternoon and were immediately greeted with a glass of Rosé. The check-in process was smooth and only minutes later we were escorted to our Sea View Junior Suite.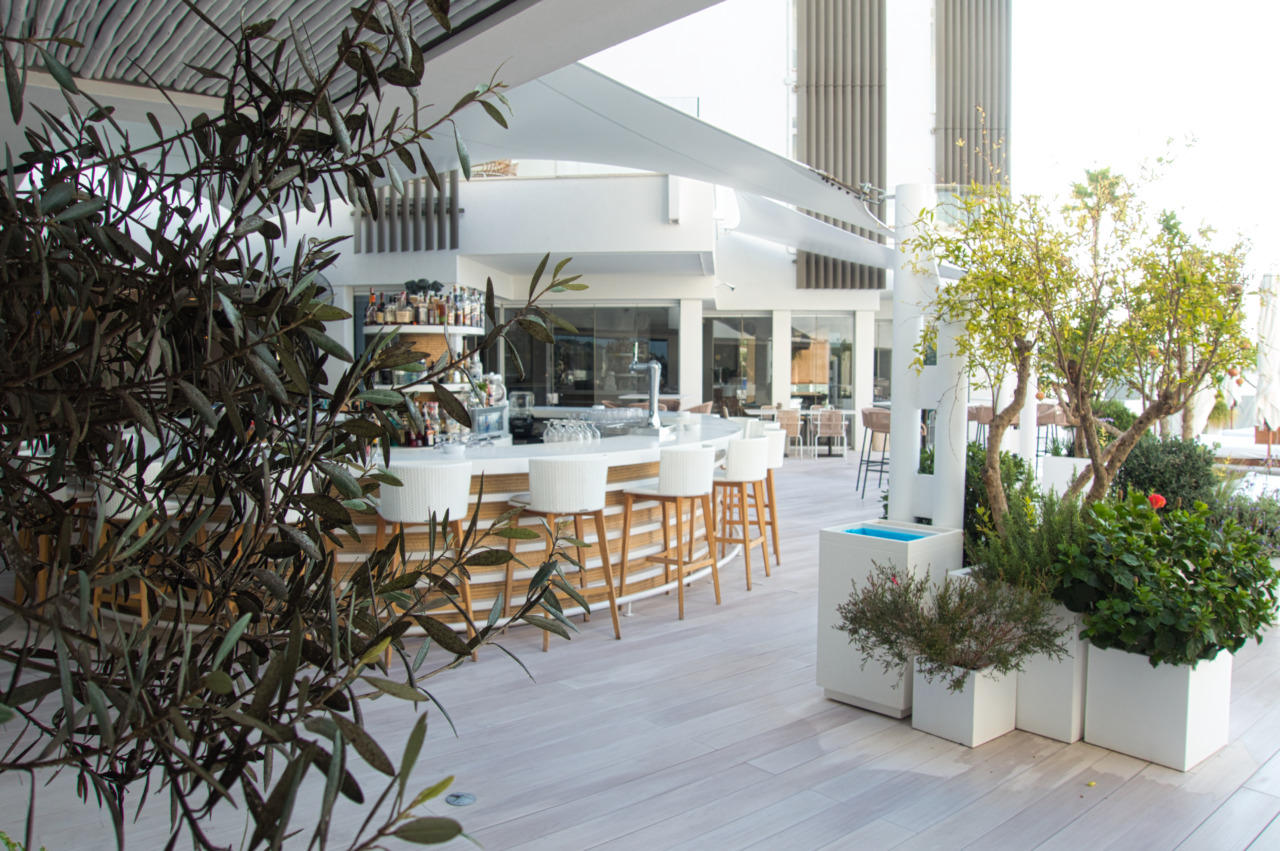 Airy, breezy and light: The perfect interior design concept
One thing I immediately noticed when entering Nobu Ibiza Bay is how breezy and light the interior design feels. The lobby is designed open space, with an open window front and stunning views of the pool and the bay. The color palette is blue, turquoise and white, combined with wooden furniture and natural fabrics. With locally inspired artwork and a warm light concept the hotel fits perfectly in the Mediterranean setting. At the same time however, all materials used are of high quality and not the usual plastic finish you find in many "design" hotels nowadays.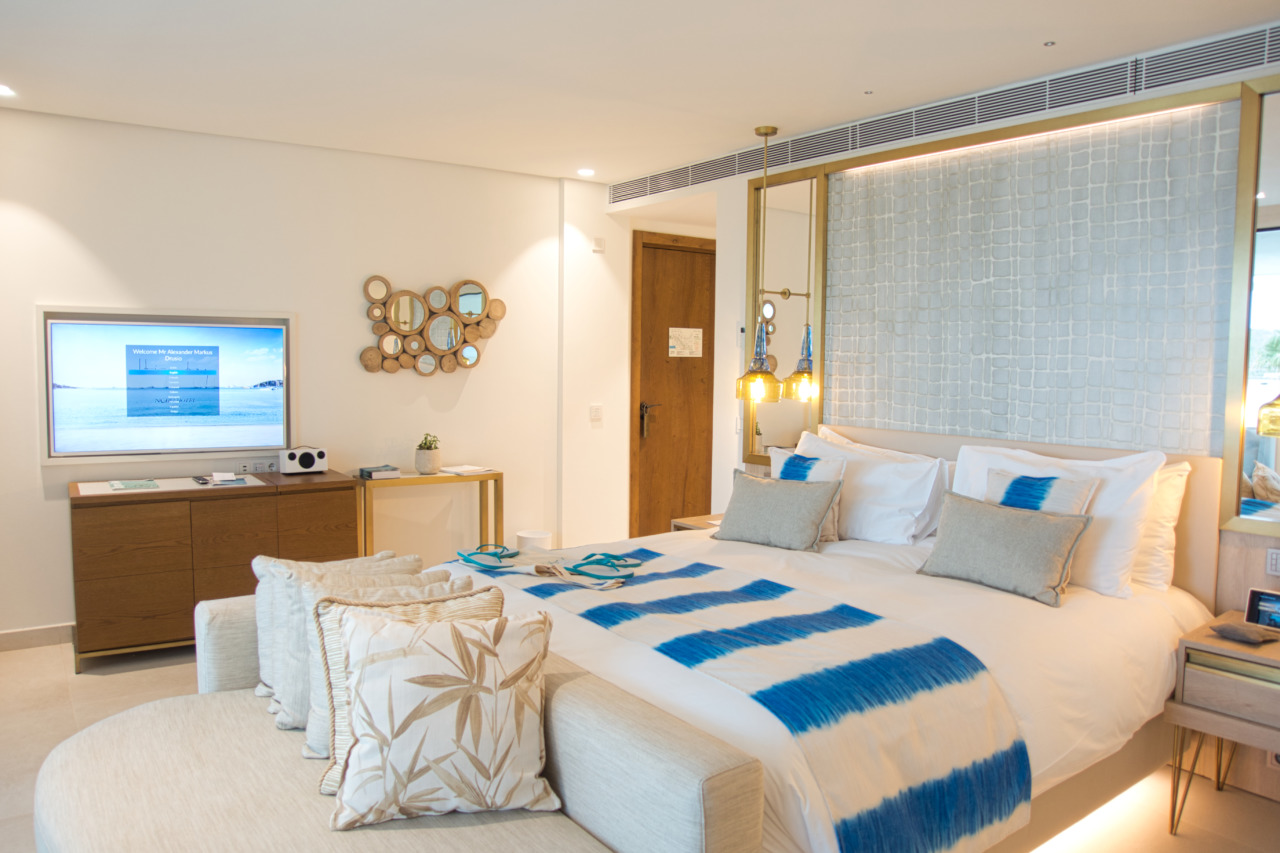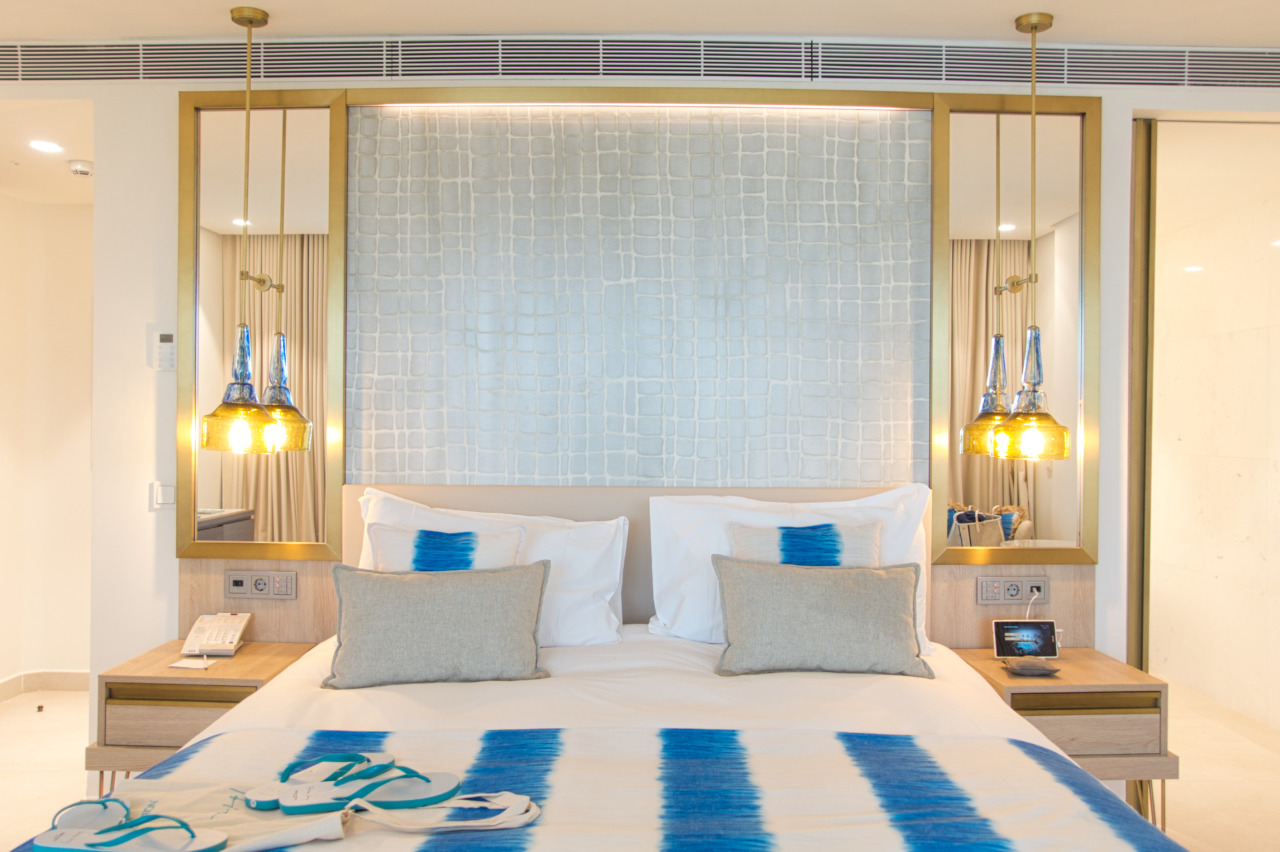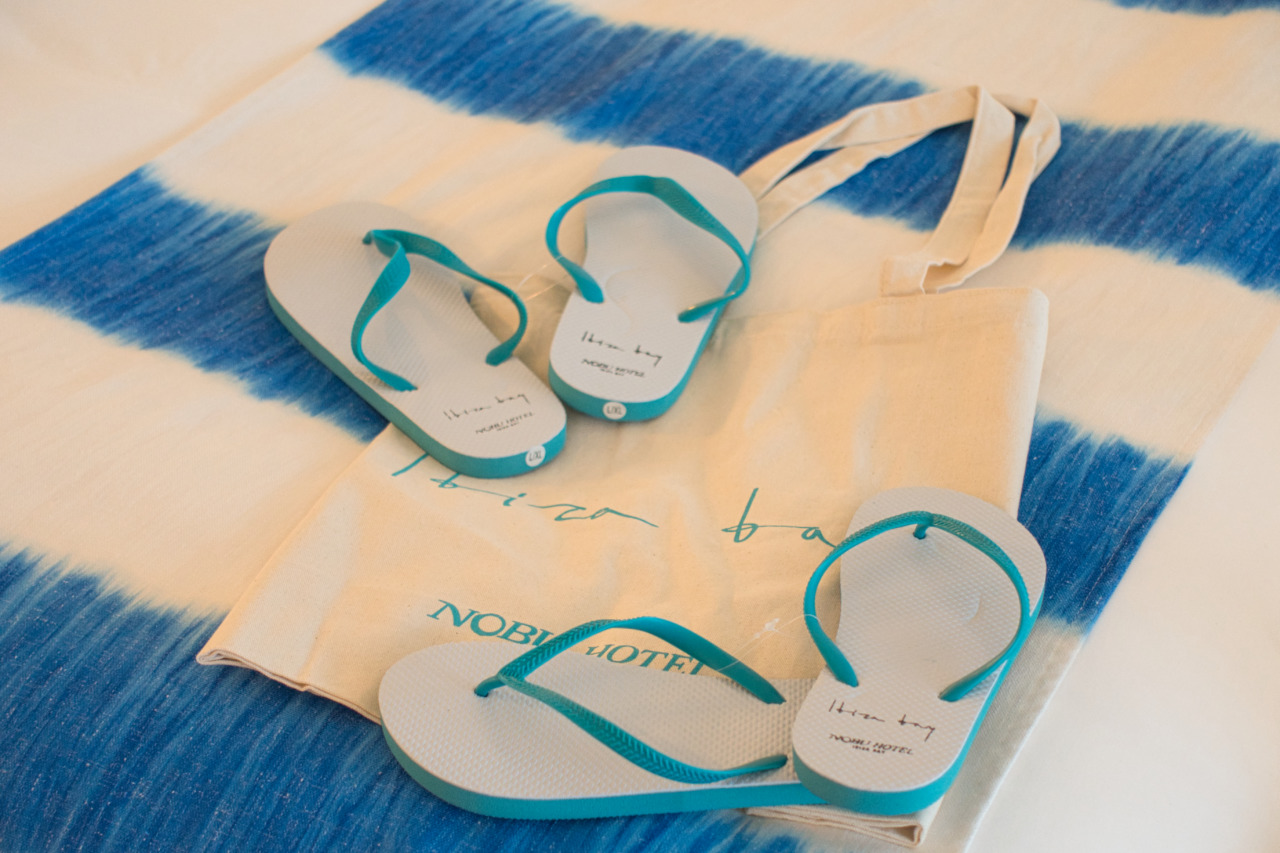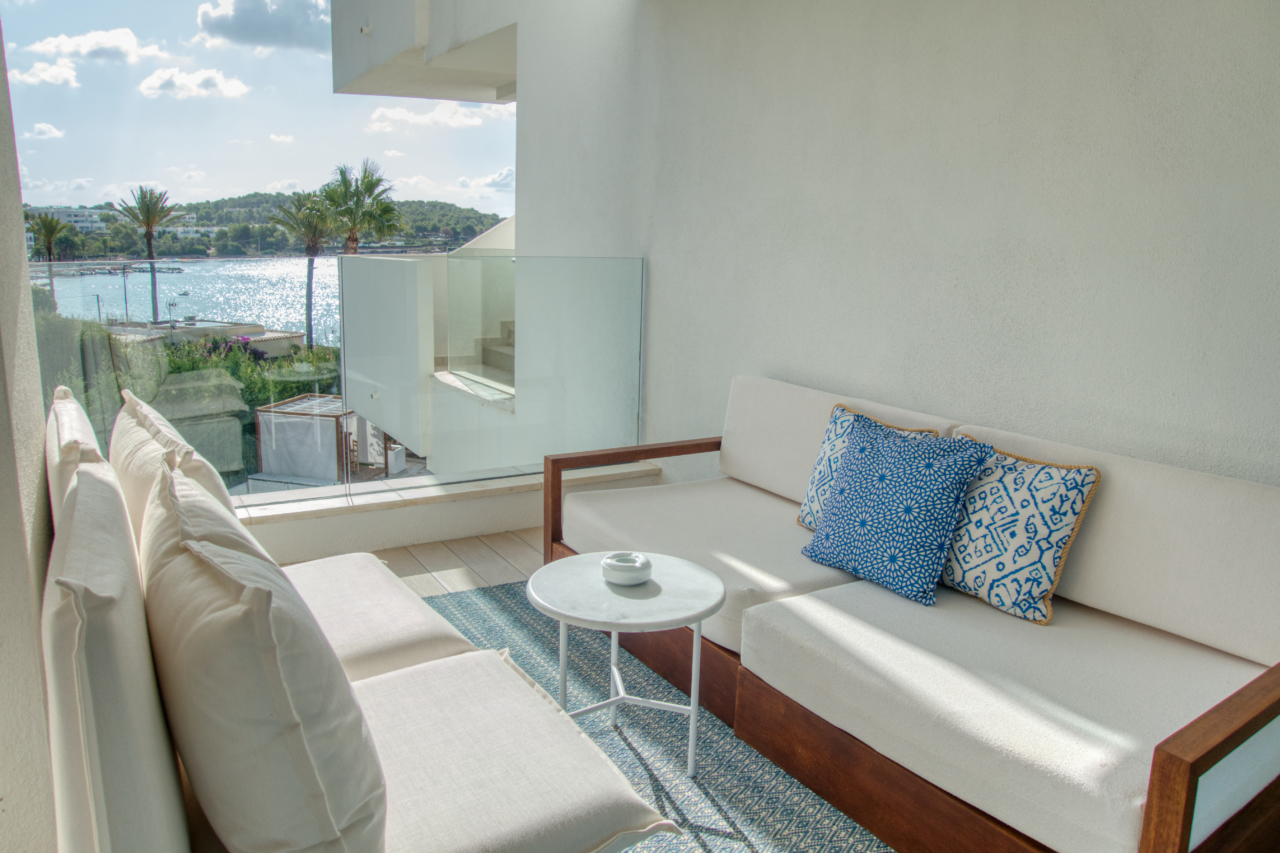 The Junior Suite is spacious and equipped with a comfortable king size bed, a spacious closet area and amazing terrace. The bathroom is almost as big as the rest of the room and offers a rain shower, double sink as well as luxurious bathtub. With lots of amenities, fluffy towels and an amazing hairdryer getting ready for your night out in Ibiza becomes as easy as it can get. Not to mention there is a complimentary Nespresso machine which makes waking up after a short night so much easier.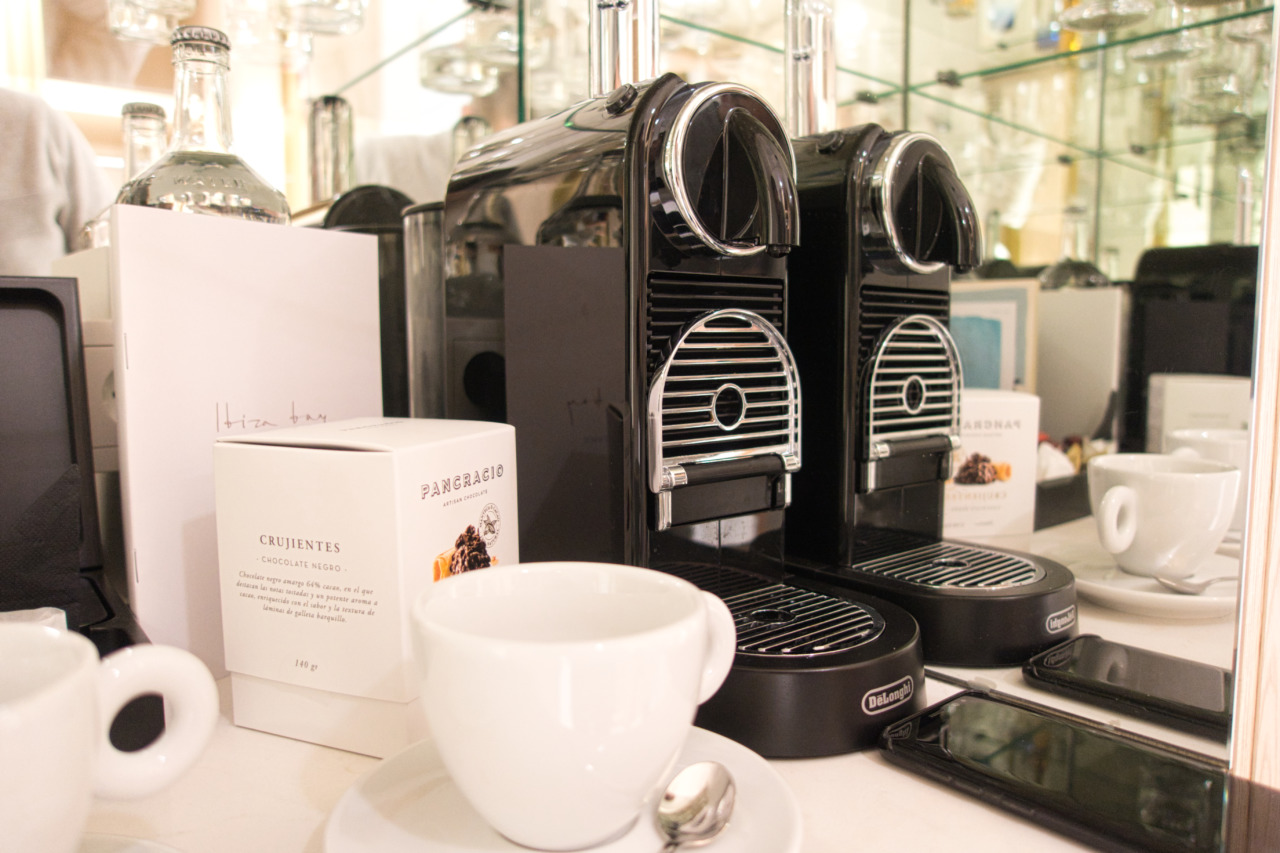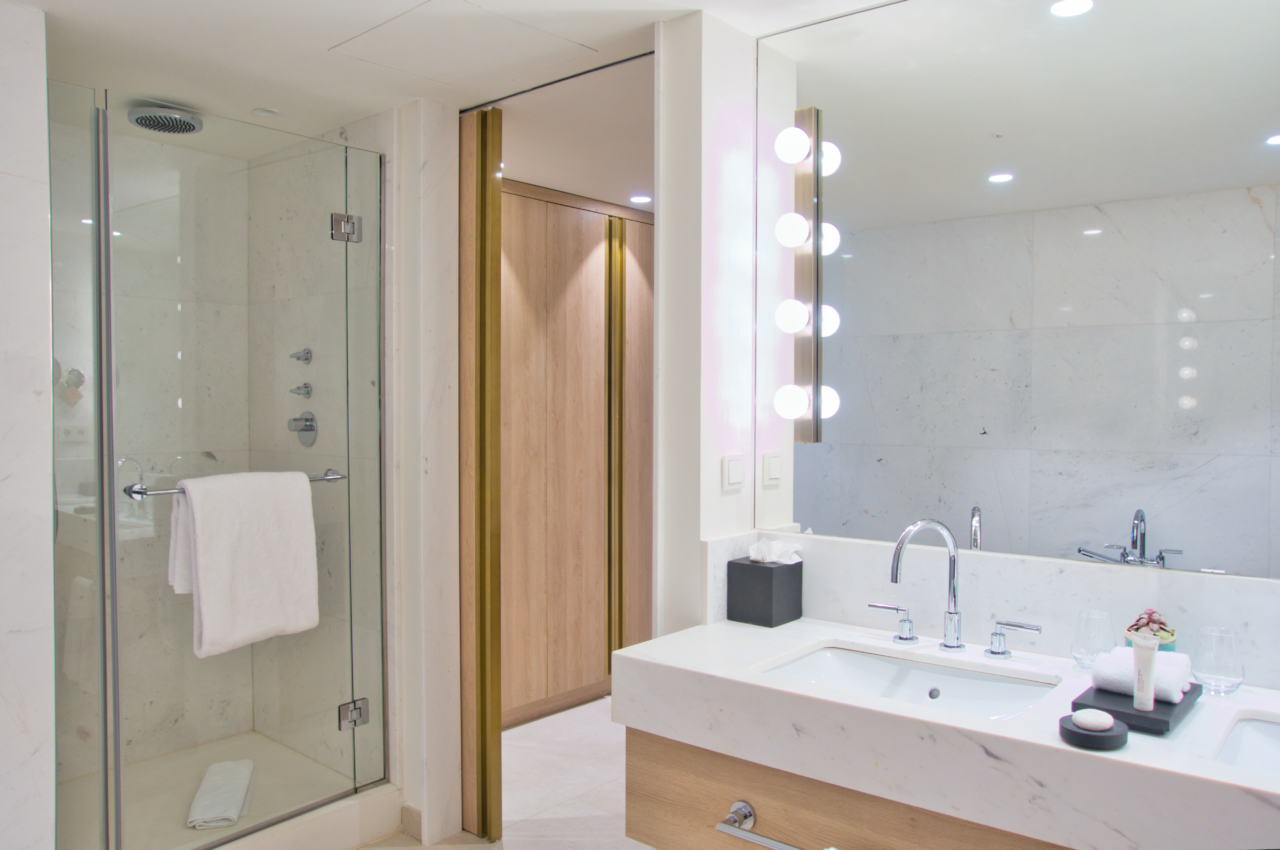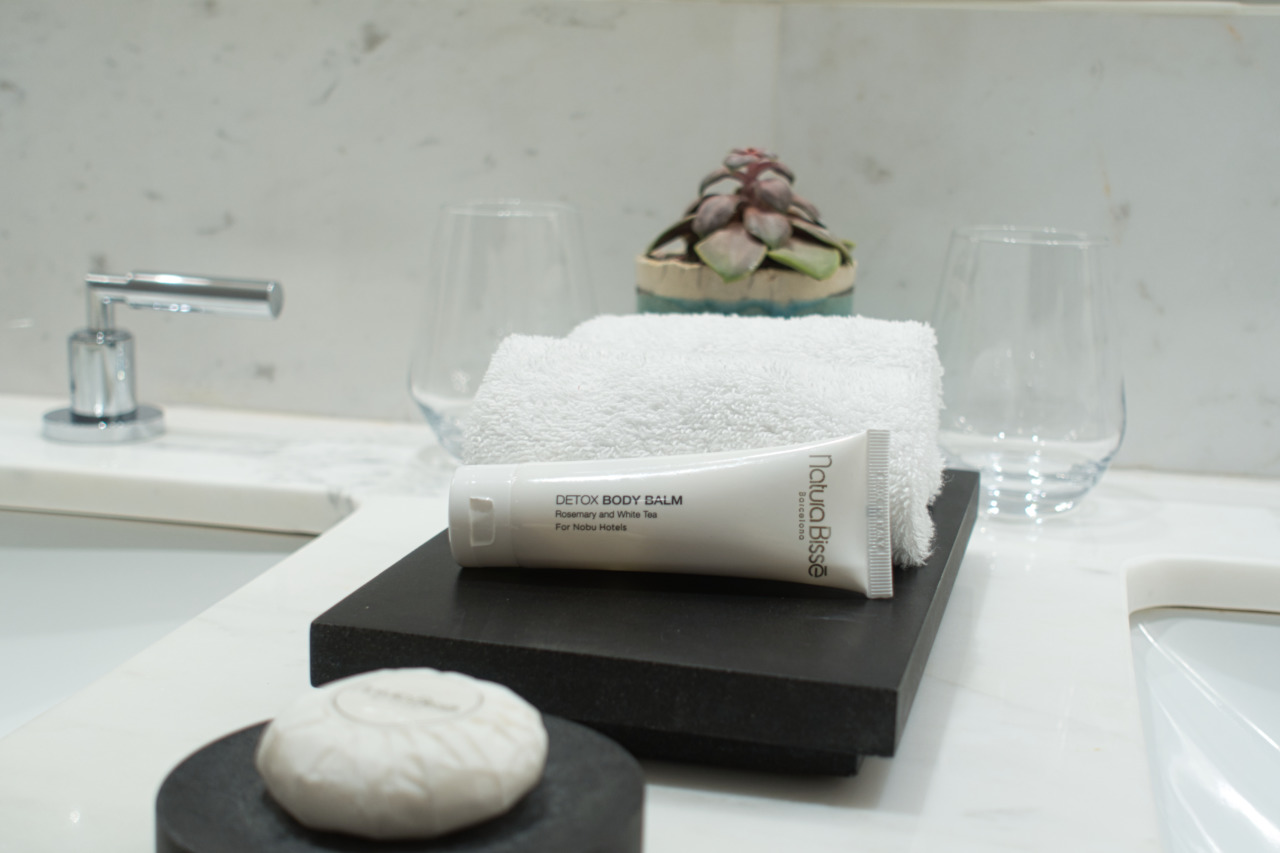 Toes in sand, Mimosa in hand: The perfect Ibiza breakfast experience
As we booked our stay through our Small Luxury Hotels membership and our status included breakfast, we were lucky enough to enjoy Nobu Ibiza's amazing breakfast spread which was served at their beach restaurant Chambao. The buffet offered a wide range of healthy options such as chia pudding, avocado. granola, fresh fruit and gluten-free bread. At the same time they served amazing omelettes. pastry and croissants. Not to mention a range of different Cavas which made for the perfect birthday Mimosa while celebrating A's special day. I loved that Chambao offers lots of tables at the beach which caters for the perfect toes-in-sand Ibiza experience.
If you don't have breakfast included in your room rate or simply aren't as hungry as I am in the morning, you can also enjoy breakfast at the Bay Cafe, located in next to the lobby of the hotel. The Bay Cafe offers smoothies and healthy bowls – perfect for your detox-before-retox experience during a long party weekend.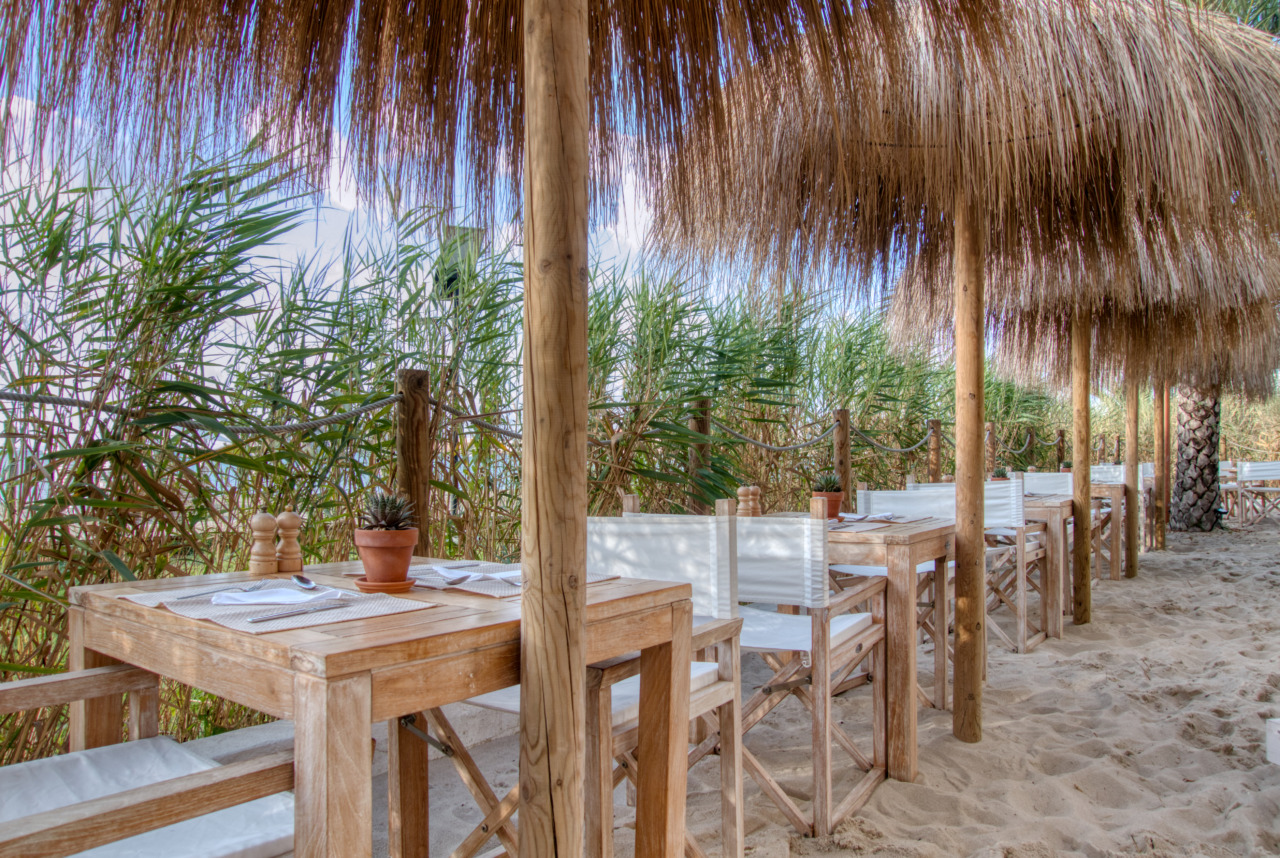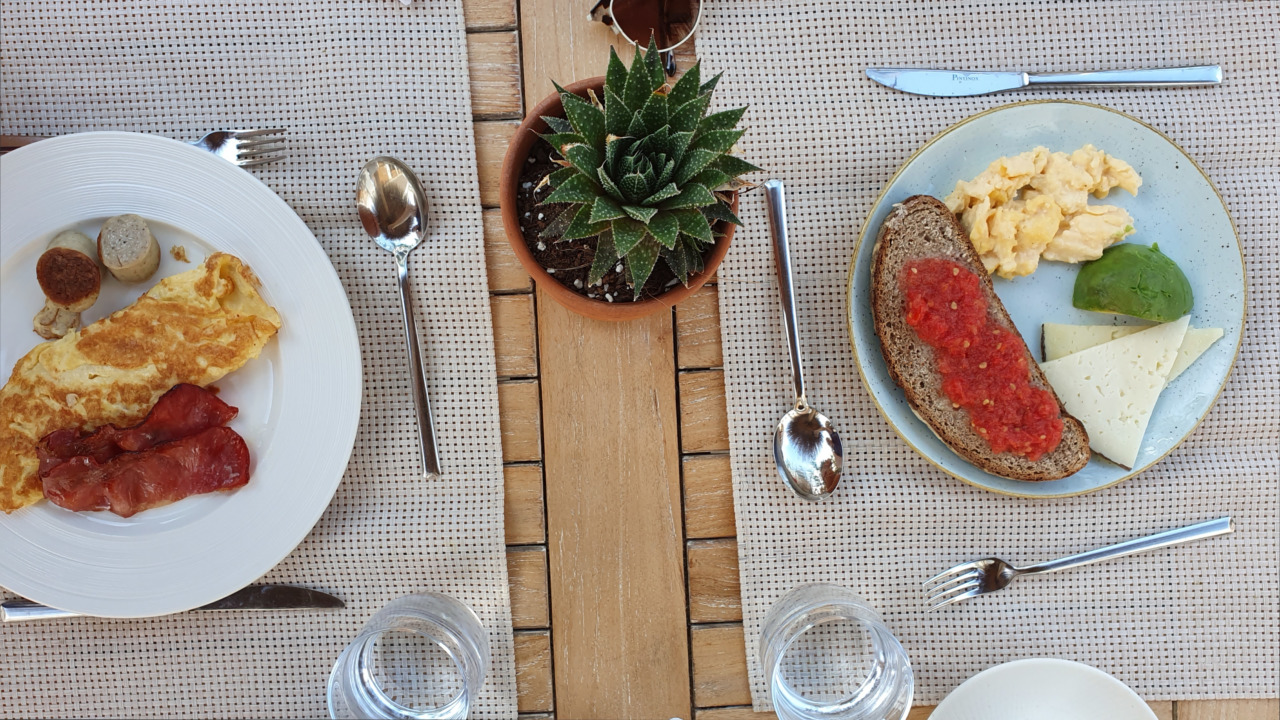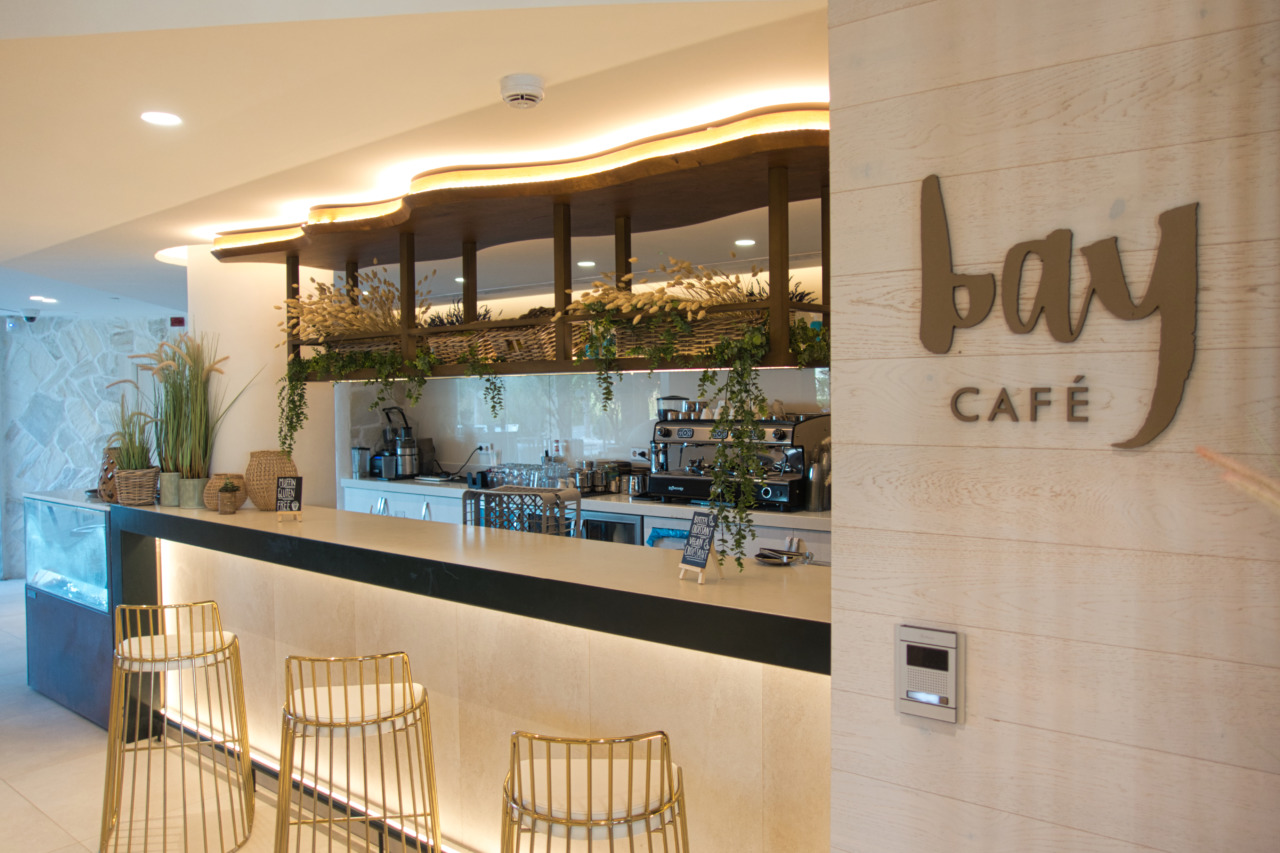 Nobu Ibiza Bay: A cool pool and a fancy bali bed experience
As much as we were enjoying Ibiza's club life at night, as much we were looking for laid back days by the pool during our Ibiza weekend getaway. One of the reasons I chose Nobu Ibiza Bay apart from its convenient location was their fabulous pool and beach area. The main pool offers a range of amazingly comfortable Bali beds. As most things at Nobu, they come with a serious price tag (something I had read in many guest reviews before and was aware of before booking). You pay 200 EUR per day for the Bali bed, of which 120 EUR are for food and beverage orders. As we were celebrating a special occasion we decided to splurge and rent a Bali bed for two days. The service we experienced was super attentive and friendly, the drinks and food were expensive (again, we are talking about a Nobu property and Ibiza here) but actually good. However, if you don't want to pay extra for your bed there is a wide range of sun loungers located at the big family pool or by the beach.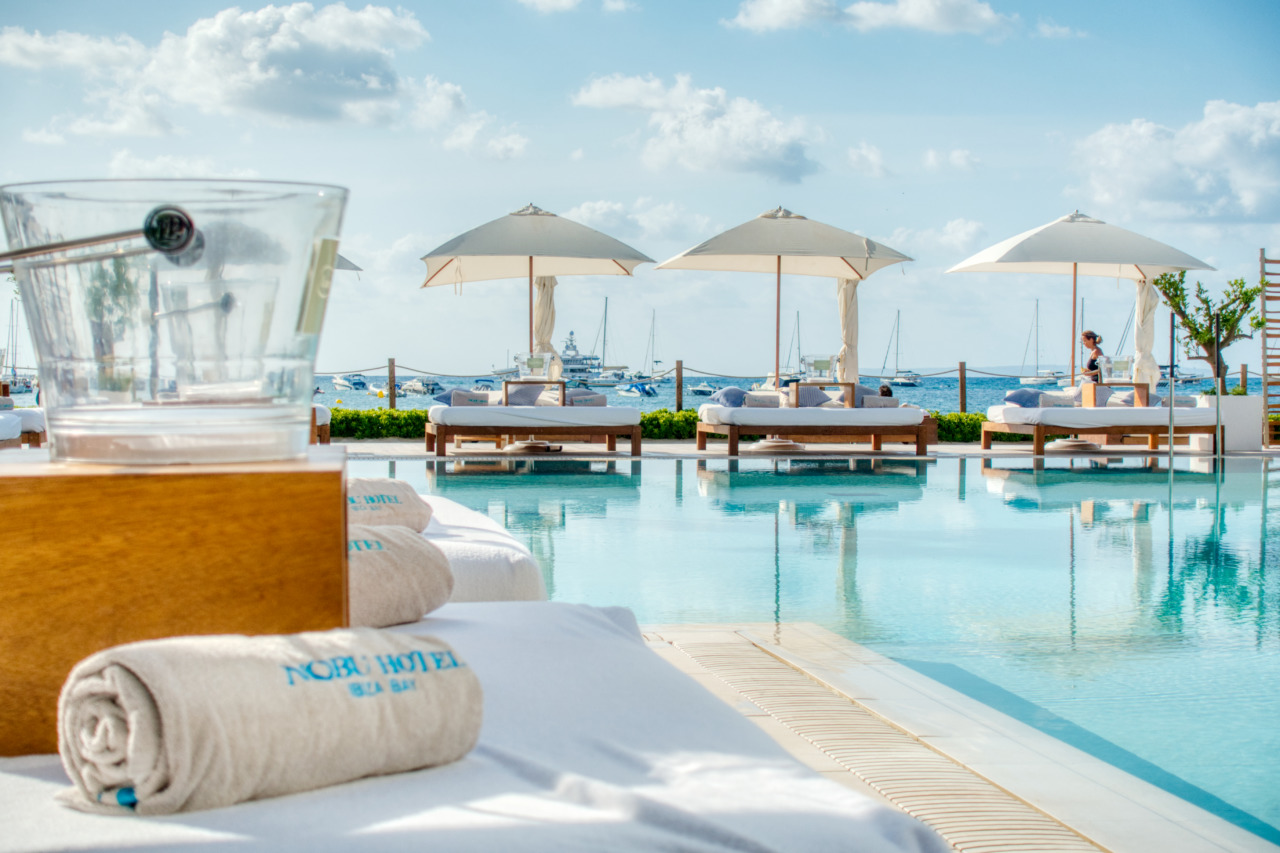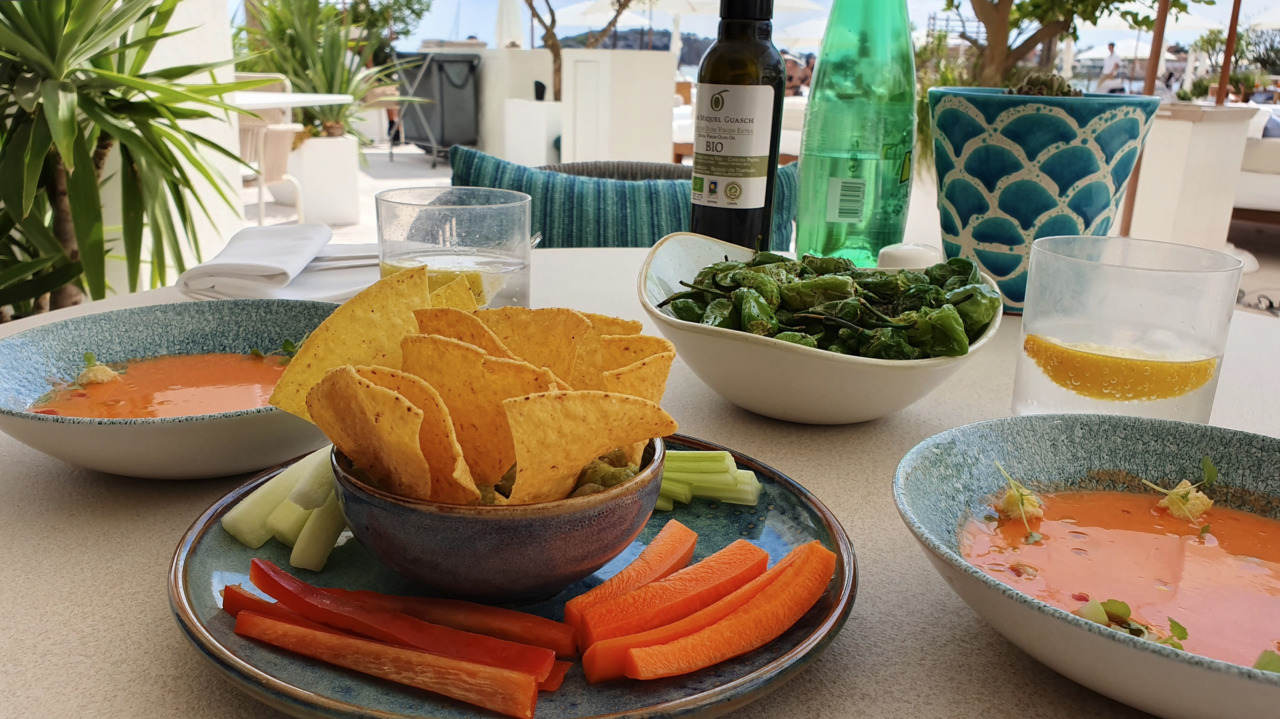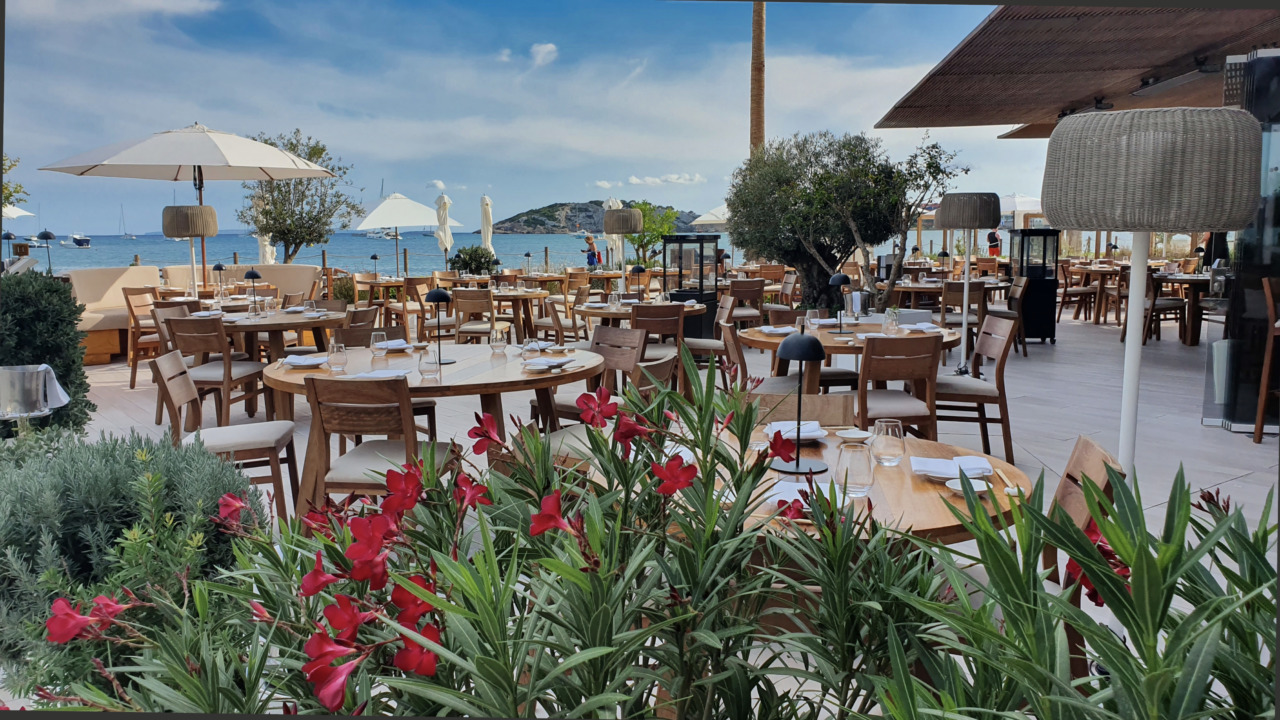 Last but not least, if you decide to go from the day-to-night and are looking for a romantic dinner location while in Ibiza. the hotel is also home to the Nobu restaurant. While we were not able to try it during our short stay the menu offers a wide range of Japanese delicacies and the terrace offers fantastic bay views. I would love to try it the next time we visit.
Passport & Palmtree conclusion
What can I say? Nobu Hotel Ibiza Bay may have fixed my complicated relationship with Ibiza once and for all. While I would describe our stay as short, sweet and very pricey, I loved every bit of it. Other than some of the reviews I read on the internet before our arrival, I thought the service was good and the quality of the property and food lived up to Nobu standards. At the same time liked the many local design elements and breezy look and feel. While the hotel will be shutting down for a long winter break soon, I would highly recommend to start planning your next Ibiza summer getaway at Nobu right away.