In light of the worldwide Corona pandemic the world has changed more than anyone of us could have imagined before – and so has travelling. As for many of you, all our travel plans for 2020 needed to be re-adjusted and health and safety became the most important priority. While we are still getting used to the "new normal" at least here in Europe we have seen the boarders re-open. This is why after months in quarantine we decided take a short trip to my home country Switzerland and visit the city of Bern. While in the Swiss capital, we stayed at the beautiful Hotel Bellevue Palace. Read along to discover more about this luxurious Grand Hotel.
Bellevue Palace: The one and only Grand Hotel in Bern
Located in the heart of the Swiss Capital next to the federal palace, Bellevue Palace is considered to be the only Grand Hotel in Bern. The hotel has a long history and has always been a venue for politicians and diplomats – from Churchill to Gorbachev to all current state visitors. An unobstrusive grandezza you will notice immediatly when entering the beautiful lobby with its stained glass ceiling. Thanks to its convenient location you can reach all important sights easily by foot. Additionally, there is a car garage next door as well as different public transport options, which we could use free of charge as they were included in the room rate.
We arrived on a quiet afternoon and were welcomed by a super friendly associate at the front-desk. The check-in process was very smooth and we were upgraded to a Deluxe Suite located on the 4th floor of the hotel with amazing views and plenty of space.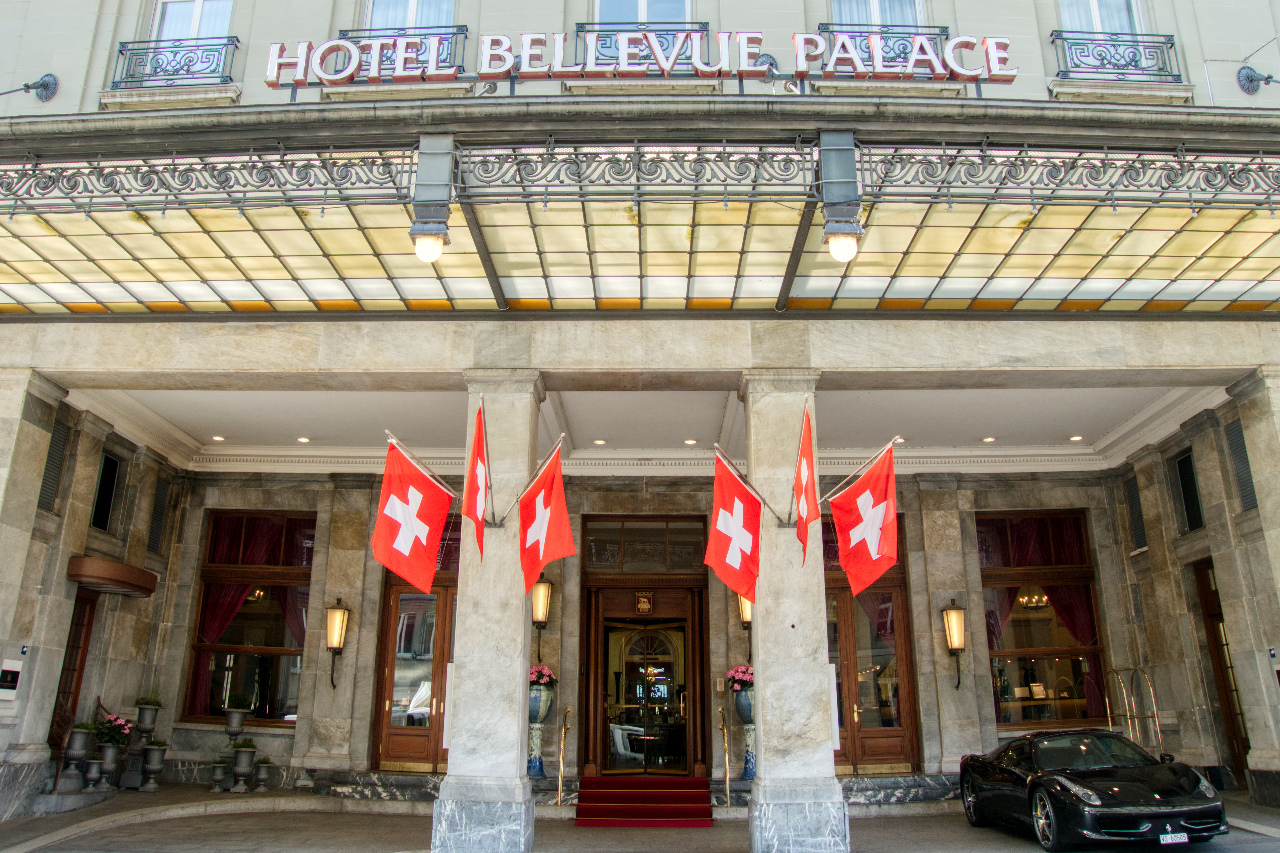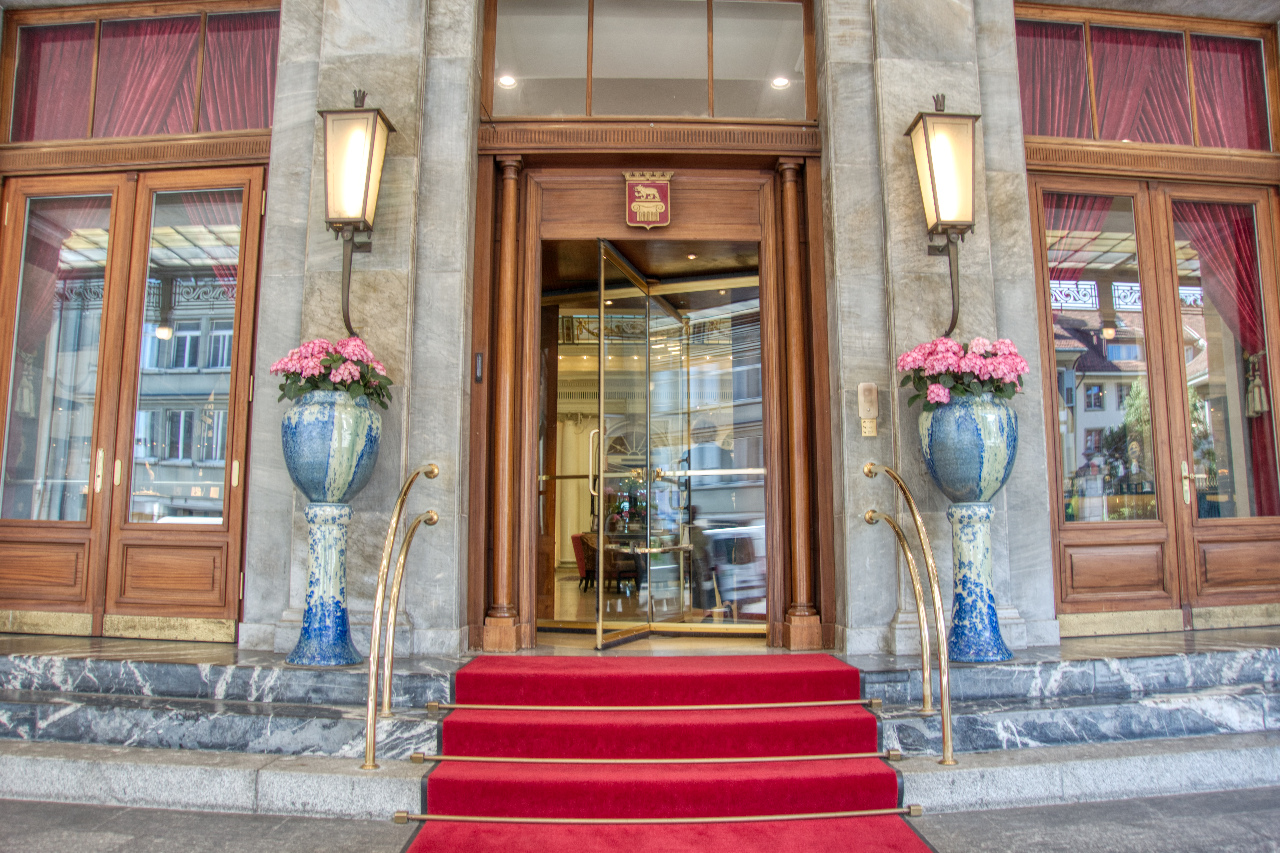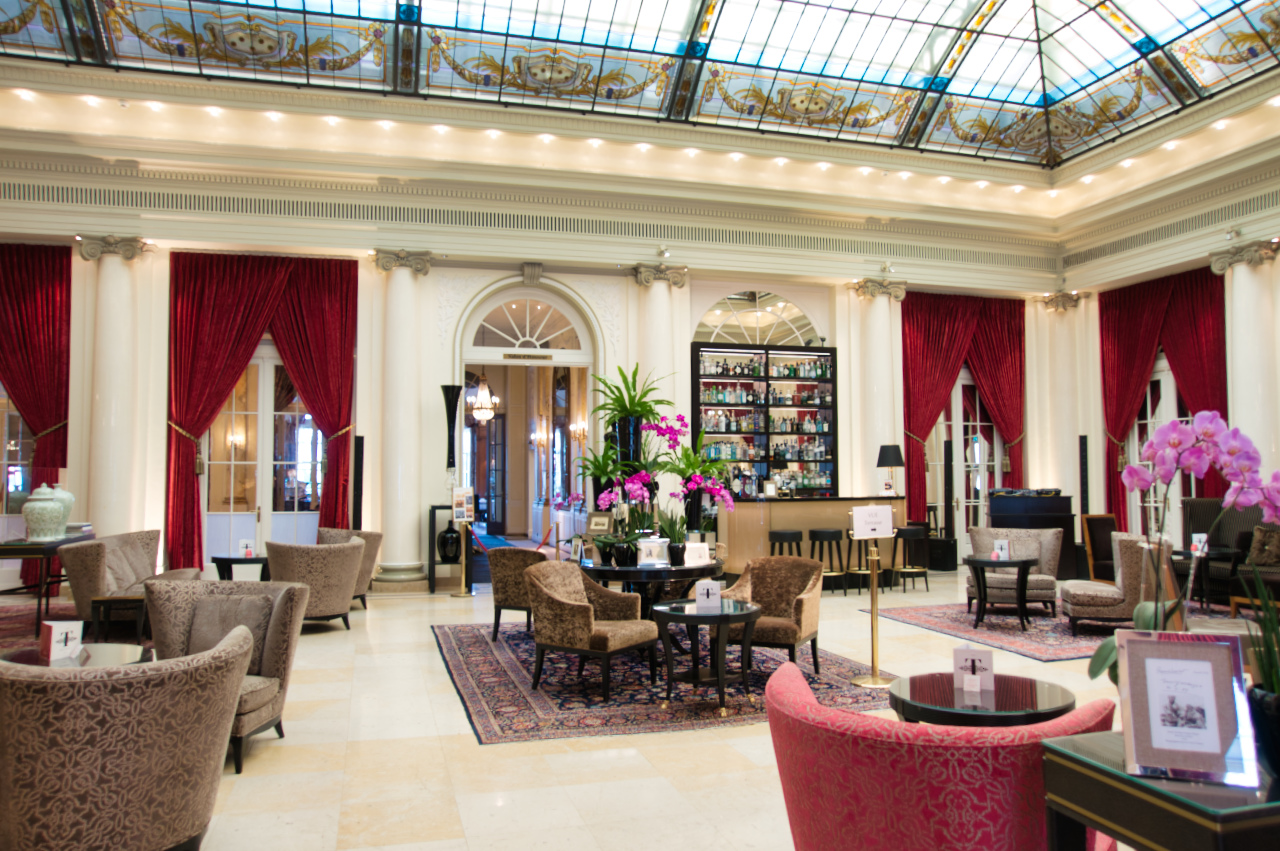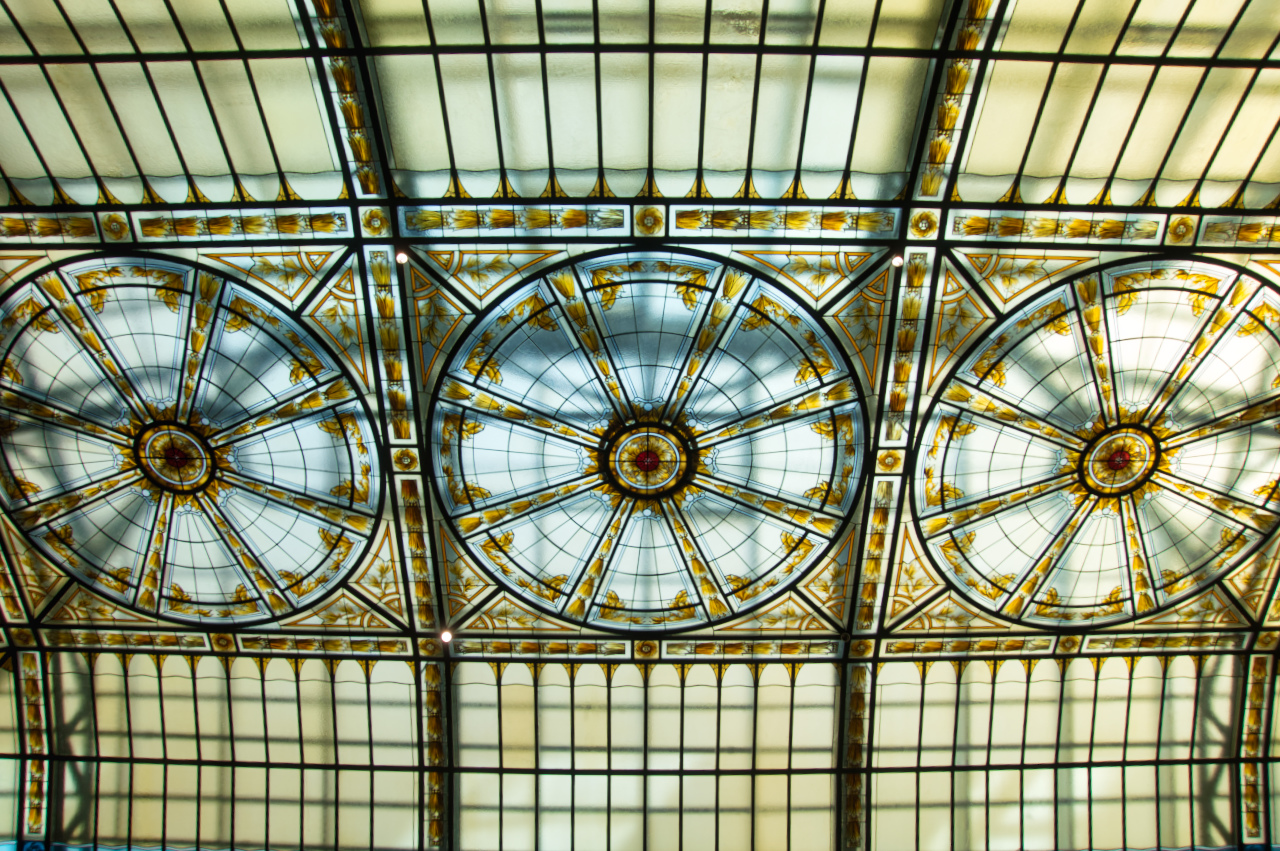 The Deluxe Suite: Plush decor and views of the Swiss Alps
Our deluxe suite offers a separated living room with a spacious seating area and a huge bedroom. The decor of the suite is rather classic with historic paintings, a warm color concept, carpet floors and wooden, partly antique furniture. The (new) king-size bed is super comfortable and the drawers are very spacious. The living room offers a mini bar with a Nespresso machine as well as tea facilities. As a nice touch we were greeted with fresh fruit and a bar of authentic Swiss chocolate. Both rooms offer two large TVs and even larger windows with views of the Bernese old town, the river Aare and the Swiss Alps.
The bathroom is a bit old-fashioned and I personally would have preferred a shower instead of the bathtub. But it offered everything you need from a double sink to very fluffy towels and plenty of Molton Brown amenities which smelled heavenly. The toilet is located in a separate room and equipped with an additional small sink.
The hotel room is held in a spotless clean condition during our whole stay. However we had some smaller issues with housekeeping and turndown not showing up consistently, which could be improved. However this might have been the case due to the current Corona situation and the smaller amount of staff on deck.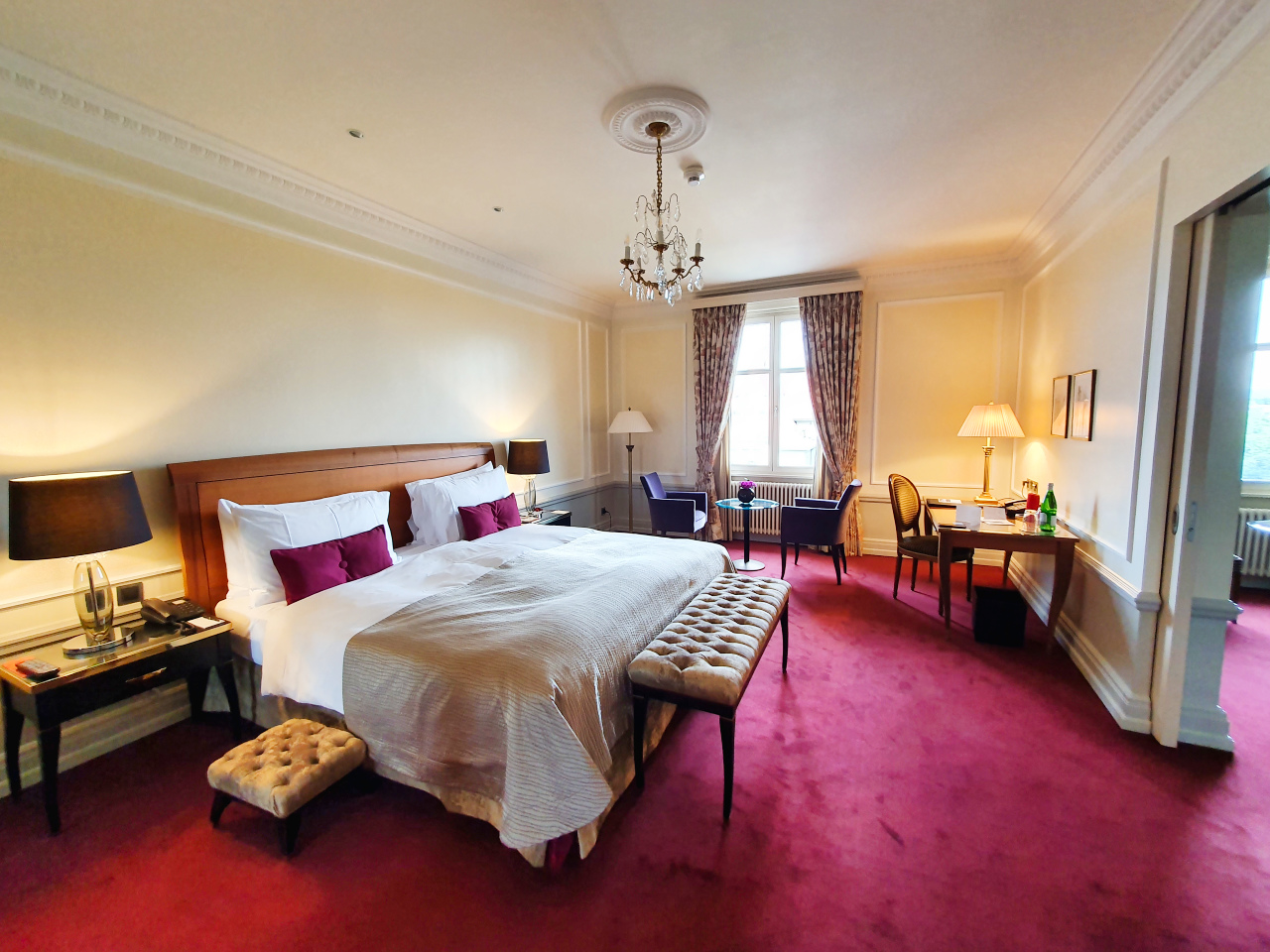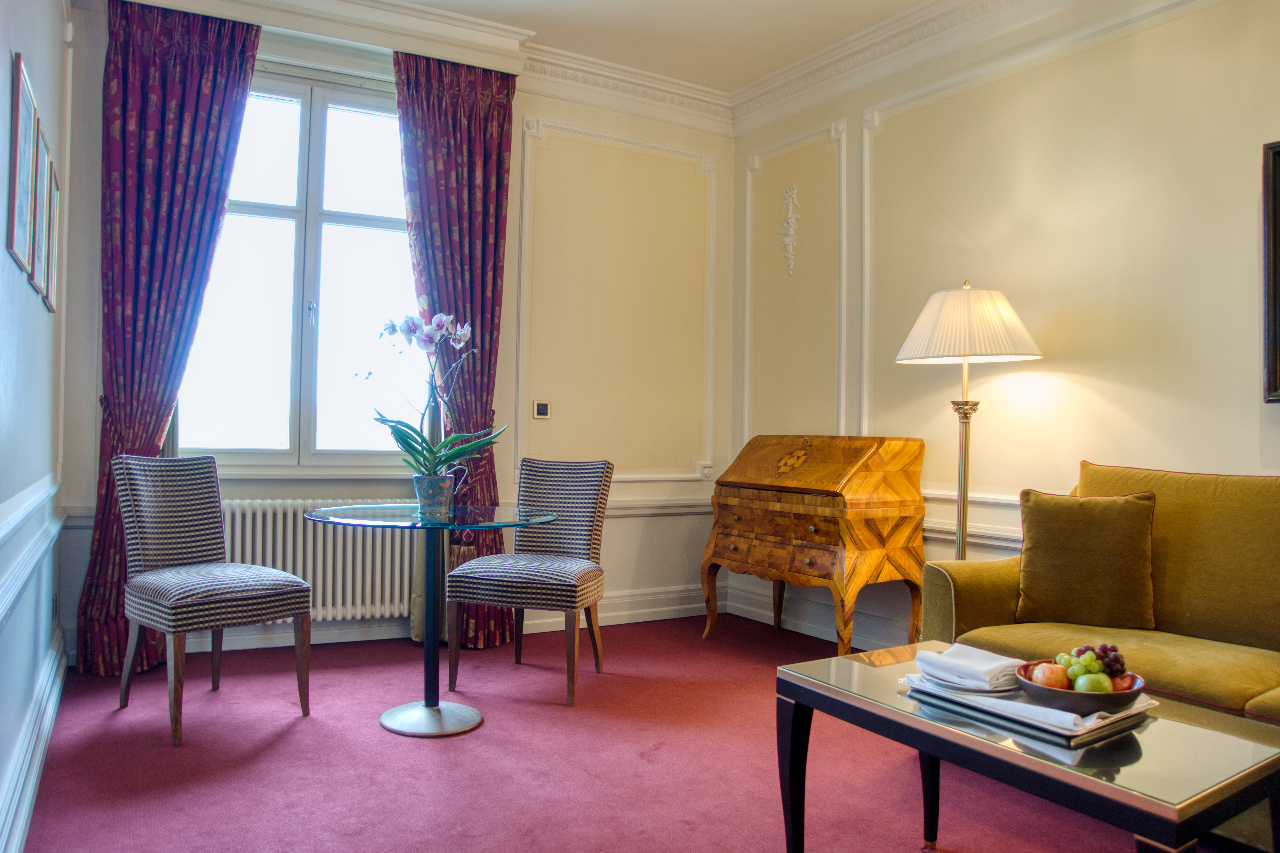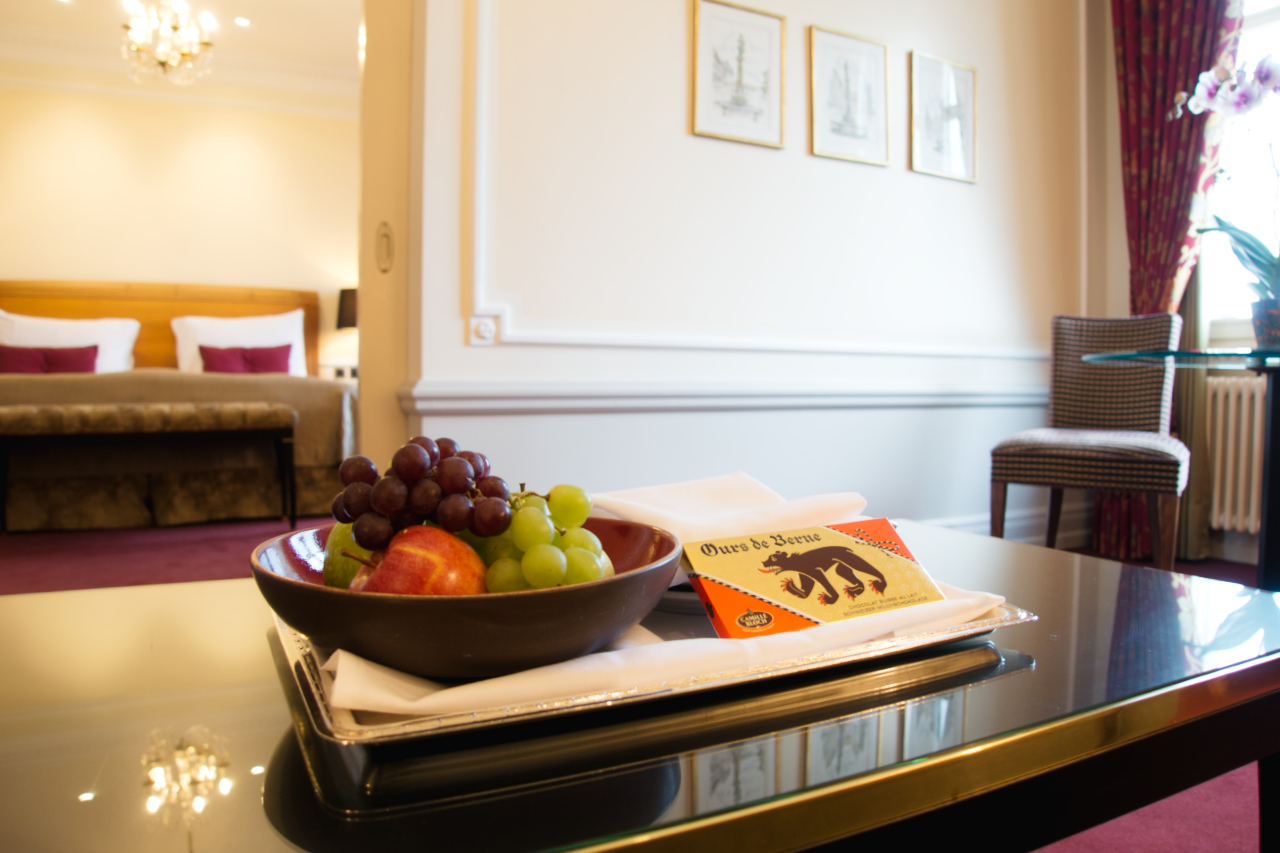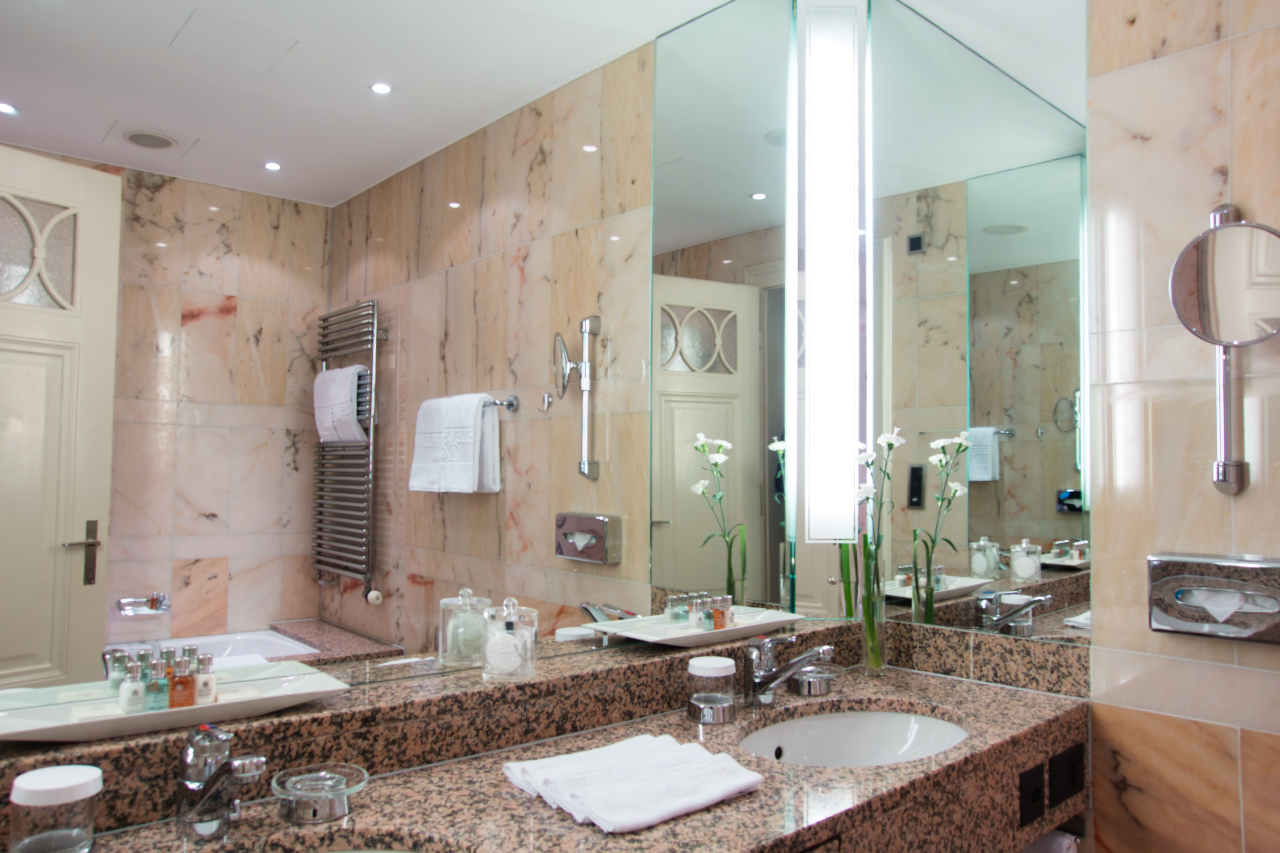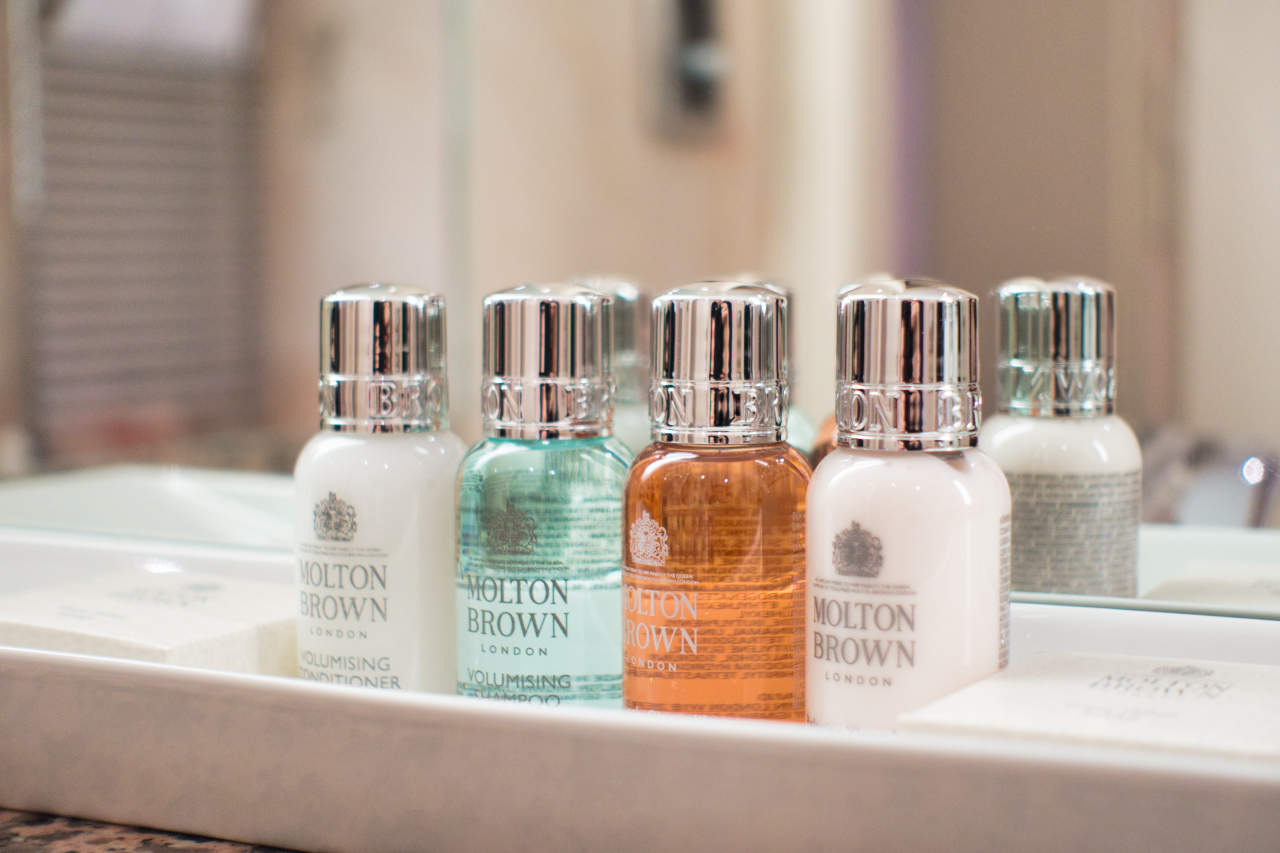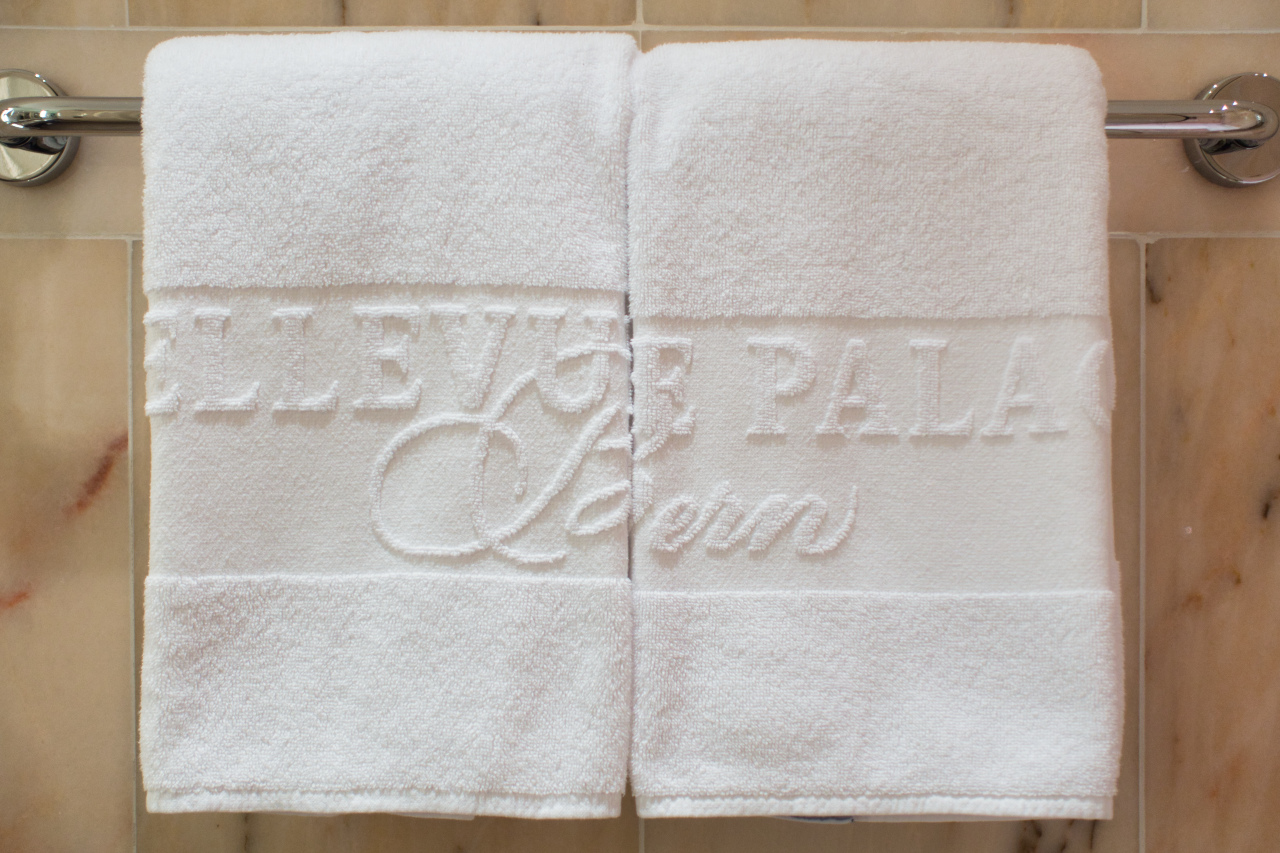 Breakfast at Bellevue: The most beautiful terrace in Bern
Even before staying at the Bellevue Palace for the first time I had already visited its beautiful restaurant and terrace "Vue", which is very popular for tourists and locals alike. On sunny days breakfast is served on the beautiful terrace offering unparalleled views over Bern. The breakfast buffet is rather small in choice but tasty and of high quality. You can enjoy freshly baked goods, swiss cheese and charcuterie as well as Bircher Müesli or a decent selection of fruit, salads and yogurts. Additionally you may choose from an A-la-Carte menue offering egg dishes or Porridge made to order. All options we tried were delicious. If you feel celebratory, you can even accompany yor breakfast with a glass of bubbly or a Mimosa. Pure bliss if you ask me!
Apart from the terrace we also stepped by the lobby bar, which offers a famous afternoon tea selection until dawn and a Gin Bar (I think it might be the largest selection of Gin in Bern) at night. The perfect spot for people watching and a pre-dinner drink while being in the city!
The team at all areas of the hotel was truly friendly and even if waiting times were sometimes rather long for food and drinks they made up for it with a smile or a chat.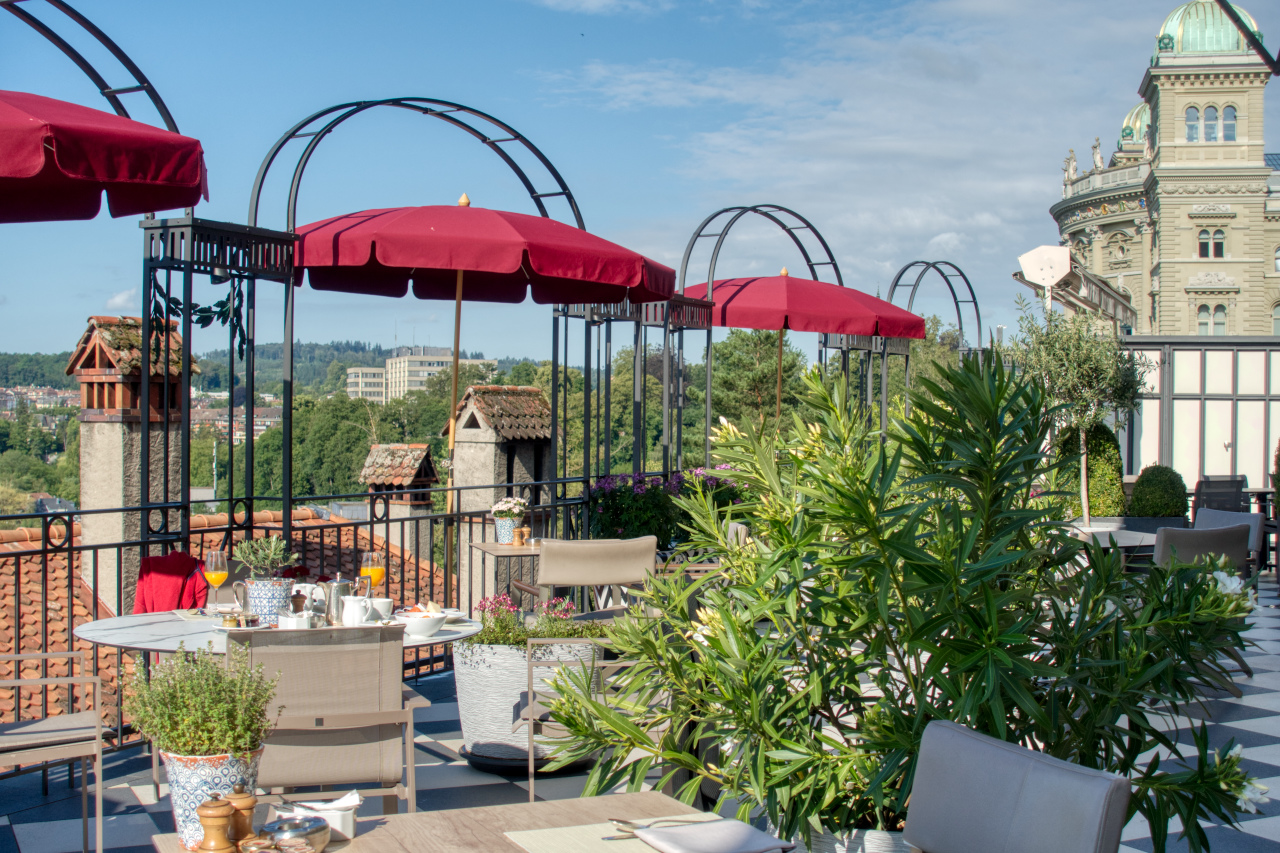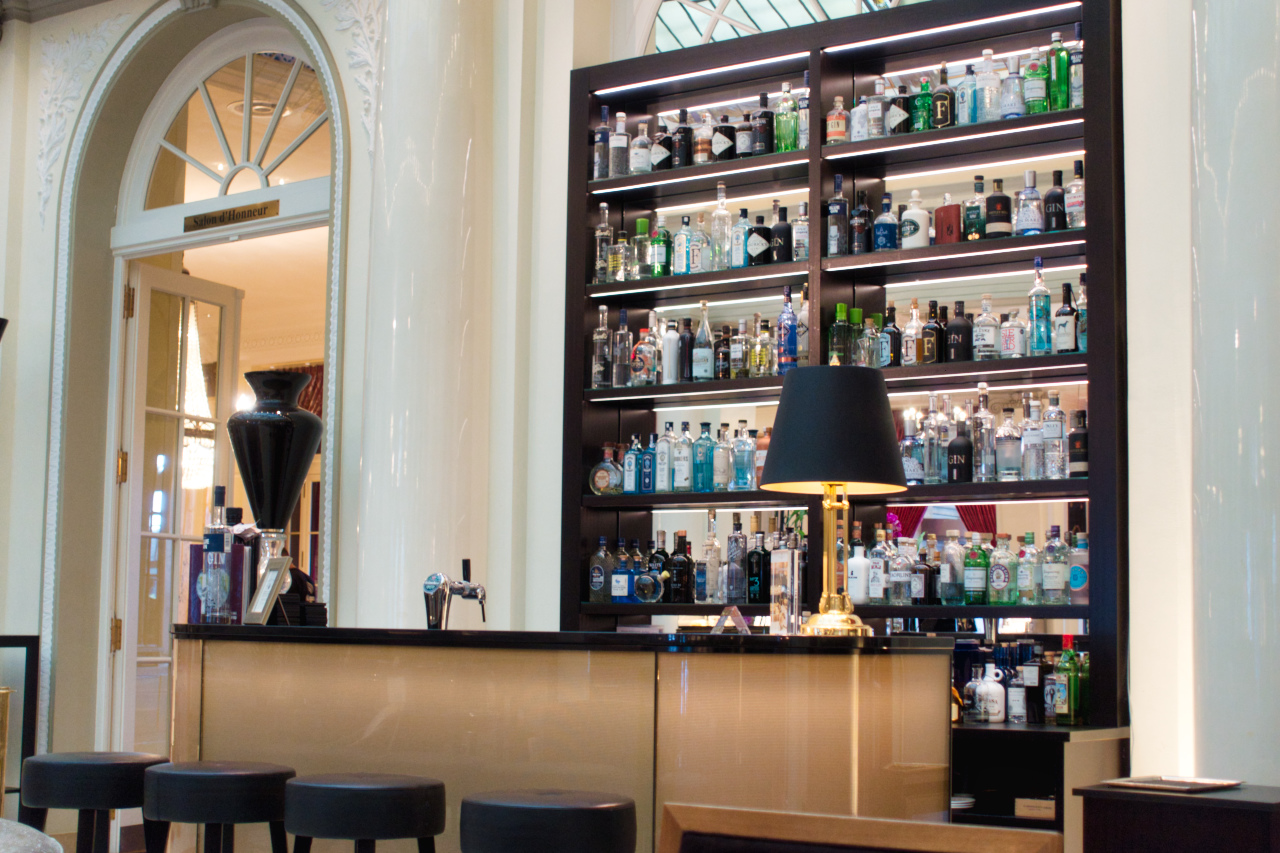 Passport & Palmtree conclusion
The Bellevue Palace truly is the grande dame when it comes to hotels in Bern. I can definitely recommend staying here when visiting Switzerland's beautiful capital or planning your next romantic staycation. As every grand hotel, the Bellevue Palace comes with a certain price-tag, but there is no better start to a day of exploring than a breakfast on the beautiful Terrace of Bellevue with its second-to-none views and the team made us feel welcome at all times. We will definitely be back!