If you have been following my journey on this blog, you will have noticed that Dubai is one of my favourite destinations. I love that Dubai is an ever changing city while the weather is always sunny. Hotel options are countless with a new resort opening almost every month. At the same time I am always keen to try a new hotspot – especially if it involves one of my all-time-favourite hotel brands. This is why I was thrilled when Mandarin Oriental Jumeira opened earlier this year and we immediately booked our stay. And, what can I say? It became a perfect vacation. Read along to discover all about this new Dubai hotel highlight.
Mandarin Oriental Jumeira: The perfect mix between beach and city resort
The Mandarin Oriental is located at Jumeira 1, a 10 minutes drive from Downtown and next to La Mer, one of Dubai's most instagrammable beach destinations. Facing a prime beach location on one side and the stunning Dubai skyline on the other, the modern and luxurious resort is ideally located for any Dubai adventure. We arrived at the resort on an exceptionally hot day in September and were immediately escorted to the lobby by the super friendly valet team. The first thing I noticed was the breathtaking lobby design – with a "forest of lights" aka impressive tree-shaped lamps. As in every Mandarin Oriental hotel, the interior scent made me feel at ease the second I entered the building. What is not to love about the subtle blend of woods, floral and mandarin.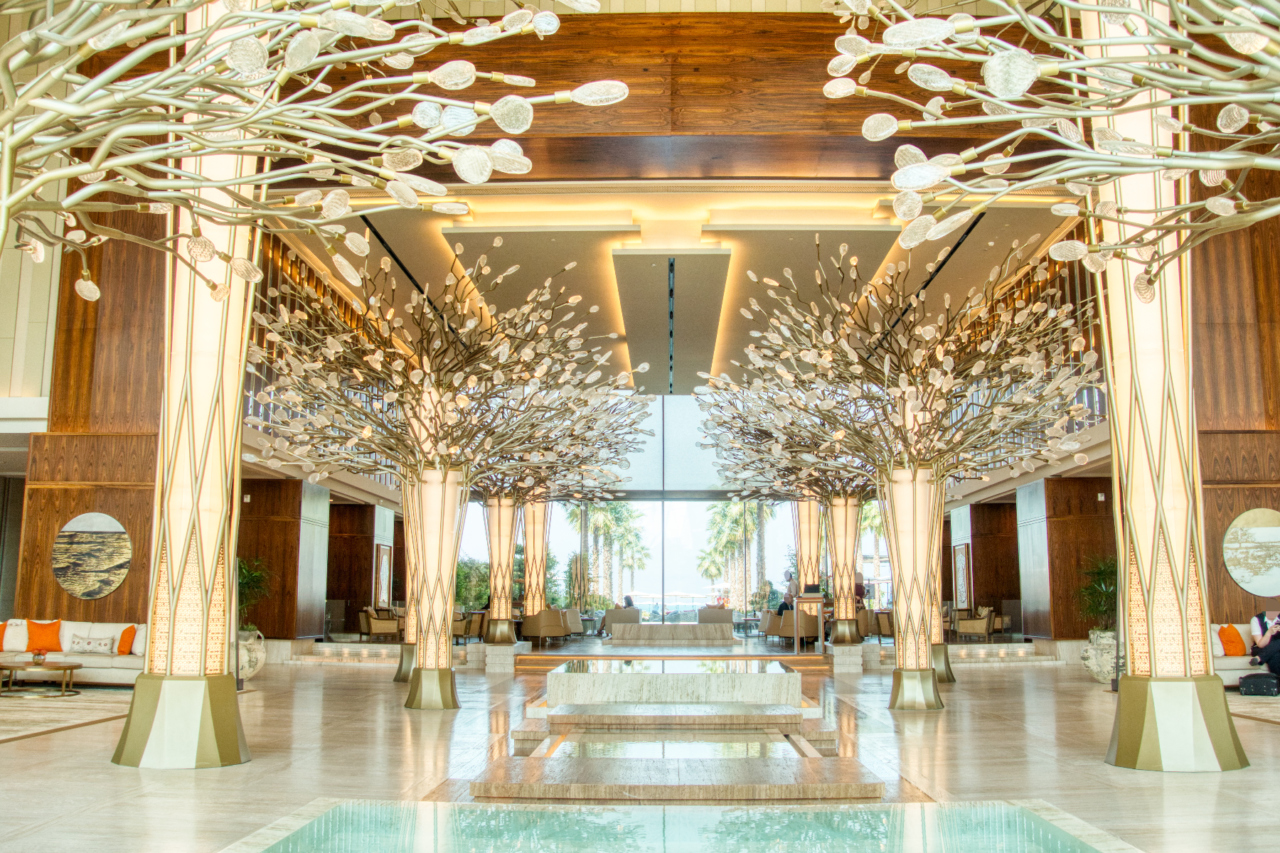 After a short introduction with cold towels and tea at the reception, we proceeded to the executive lounge located on the fifth floor, where the check-in formalities took place. As we had booked our stay through American Express Fine Hotels & Resorts, we received a complimentary upgrade to a Junior Sea View Suite to which the friendly associate escorted us shortly after.
Go big or go home: Our Junior Sea View Suite
Our Junior Sea View Suite is a real stunner and probably the most spacious and stylish Junior Suite I've ever stayed at. As the title of the room states, it offers fantastic views of the pool and beach area as well as the Gulf. All of which can be enjoyed from a big balcony with a seating area as well as two sun loungers. The room itself is not only big but beautifully and tastefully designed. With a blue, marble and gold colour pattern and high-class fabric mix, the design feels breezy and modern but warm and welcoming at the same time. I especially love the mix of subtle patterns and luxurious wood and stone materials. Apart from a cozy king size bed, our Junior Suite offers a desk, a seating area as well as comfortable sofa and lounge arrangement. A big flat screen TV and spacious coffee, tea and minibar area as well as the electronic light and curtain panels add convenience.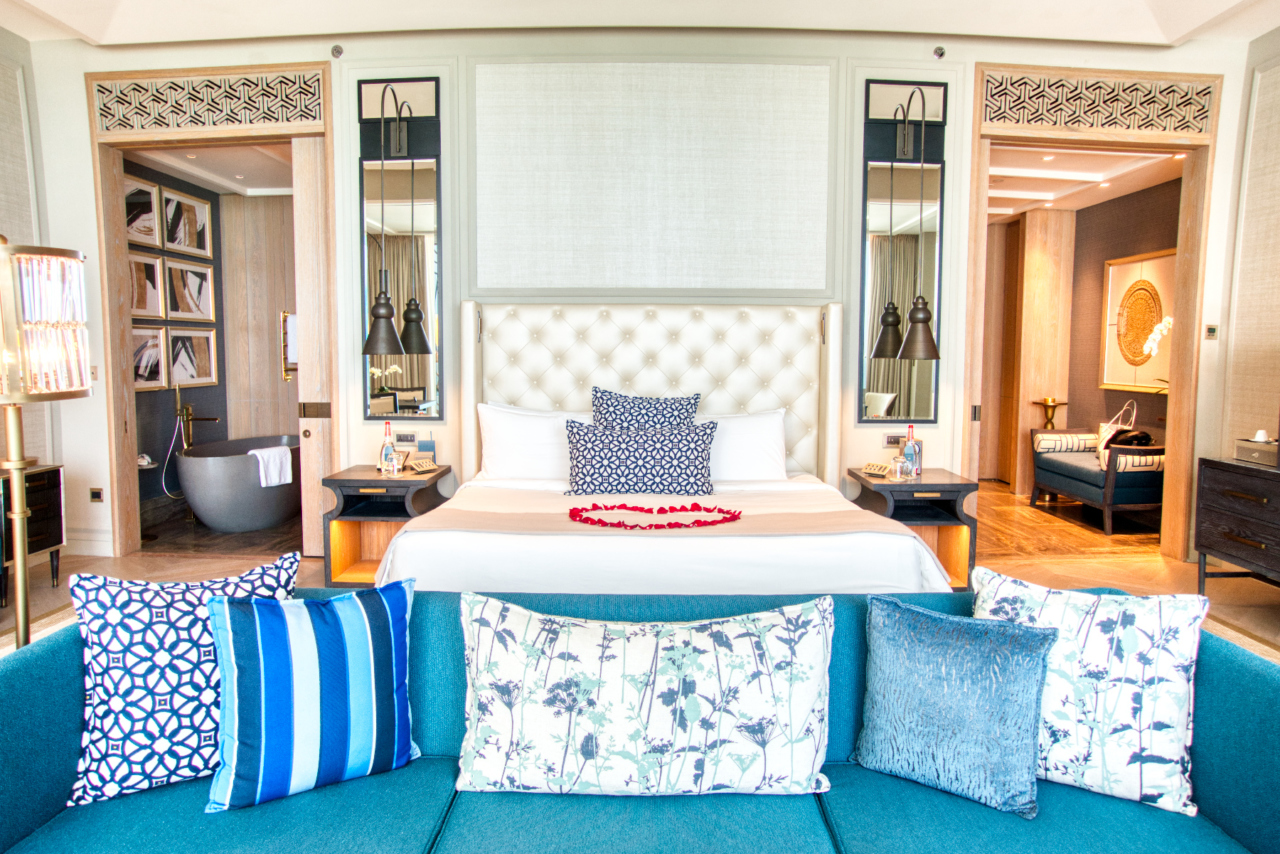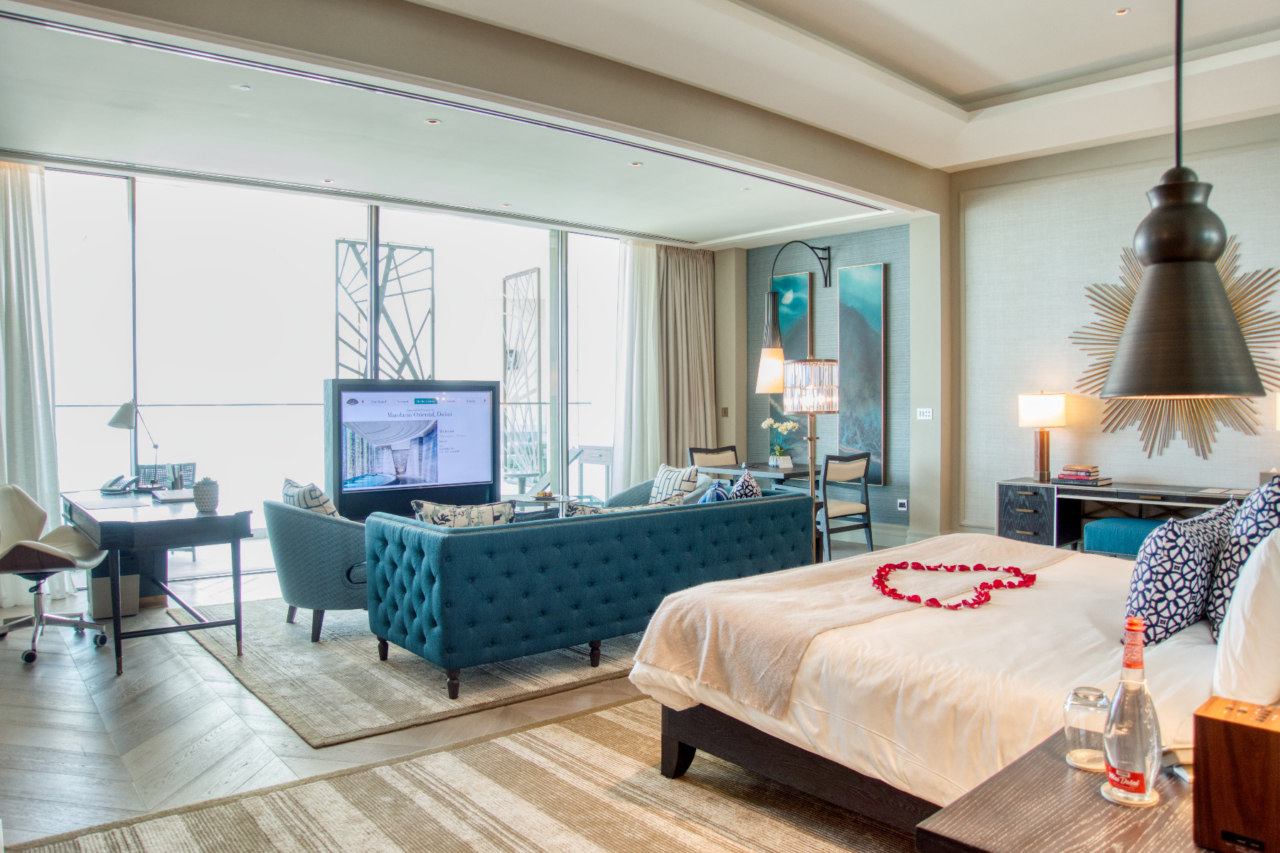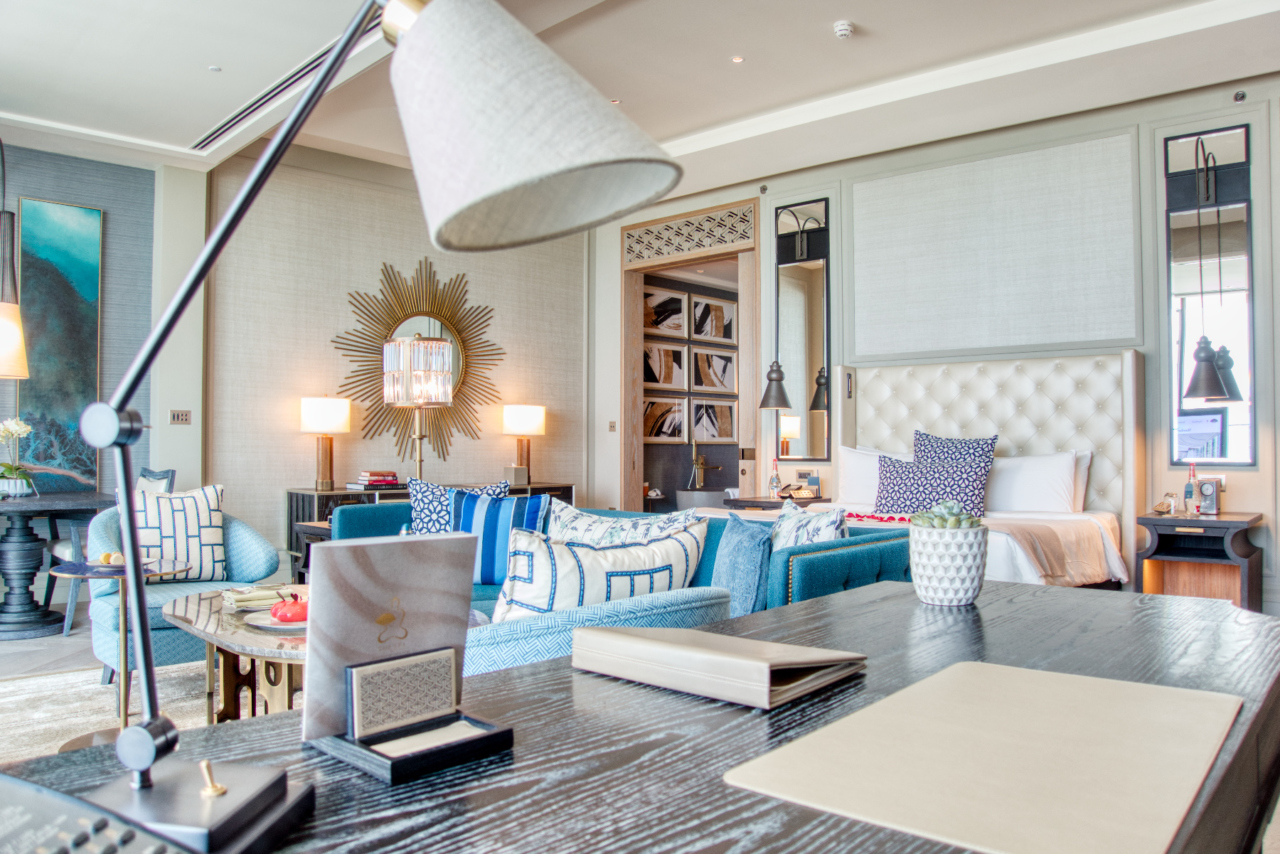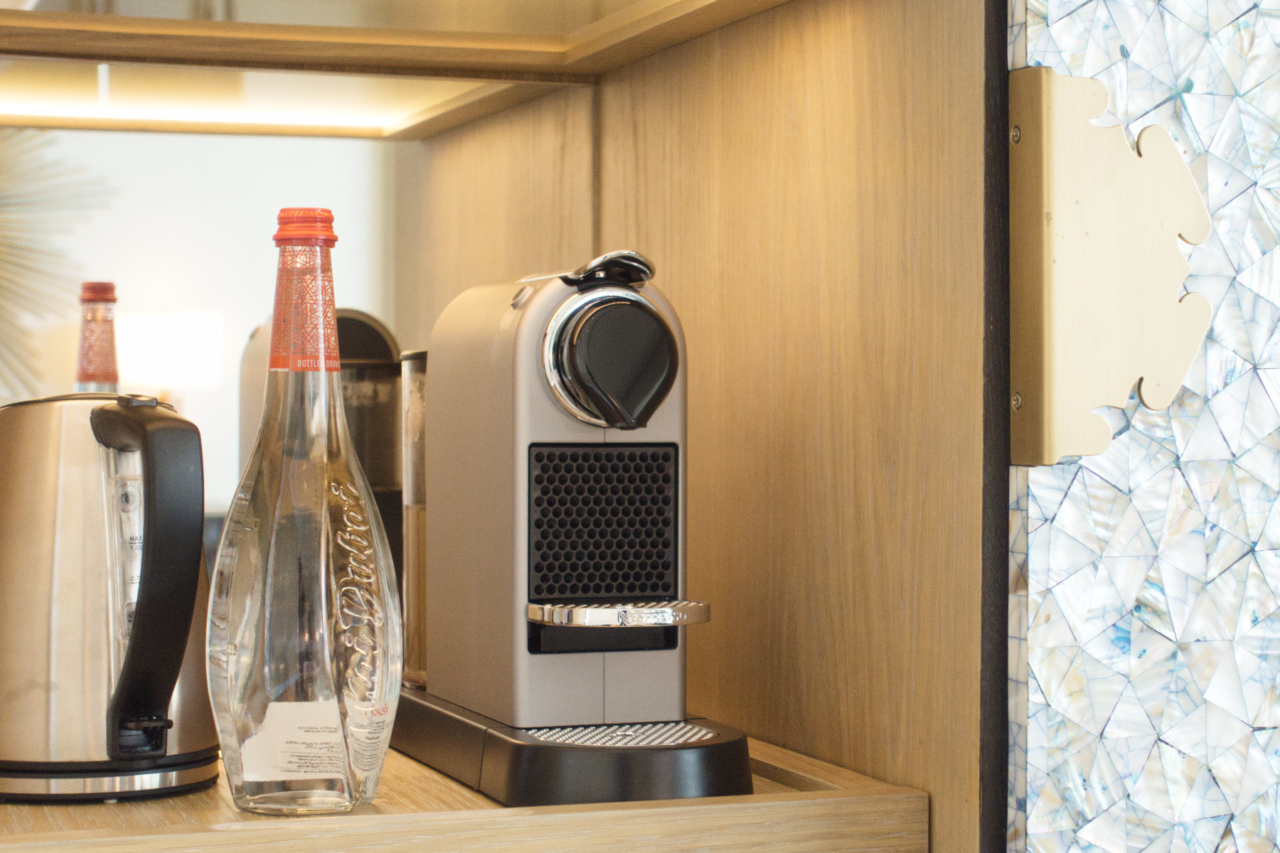 Although the room itself is stunning – the bathroom is even better. With an extremely spacious double marble sink, a separate toilet room, a stylish stand-alone bathtub as well as a big rain shower it offers all I can asked for. A walk-in closet with lots of drawers and hangers add additional comfort and make it easy to get ready for a dinner date after a long day at the beach.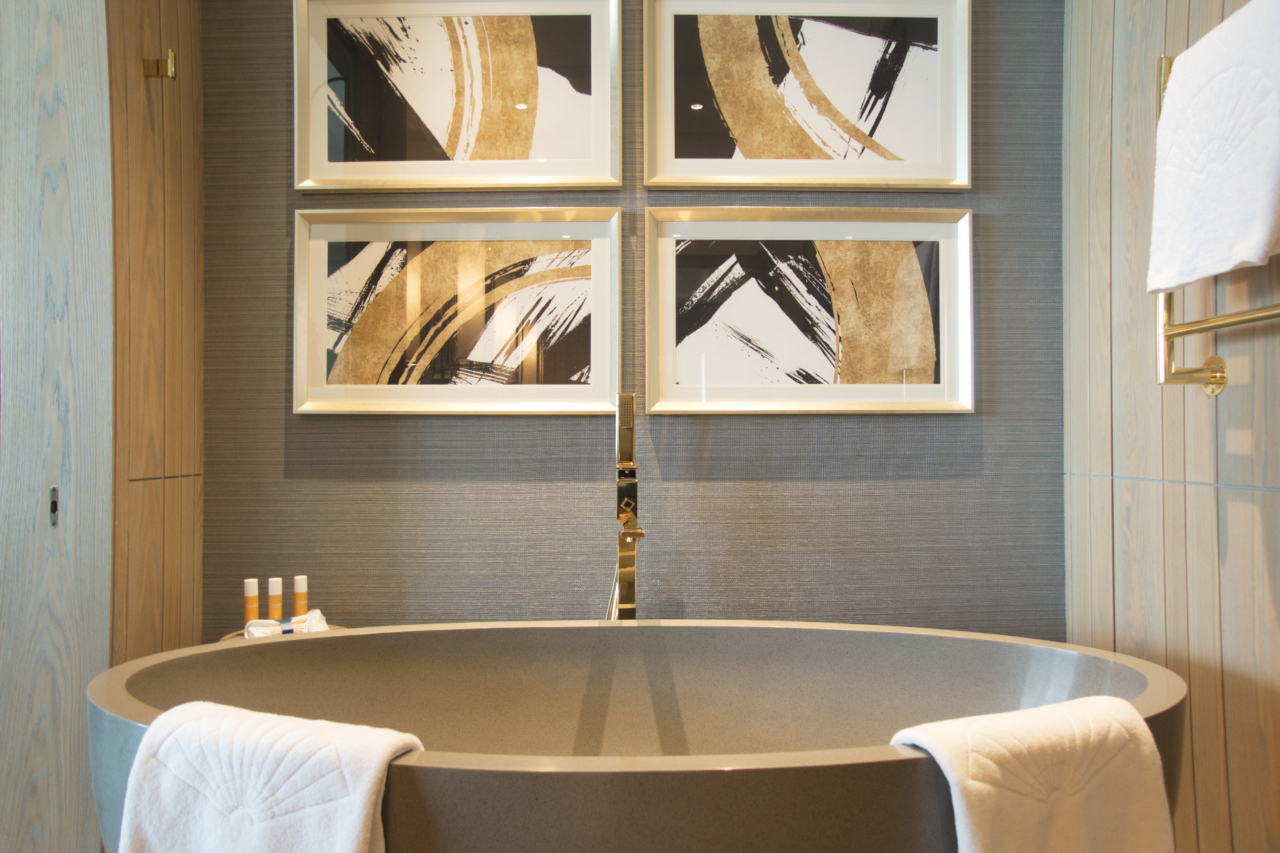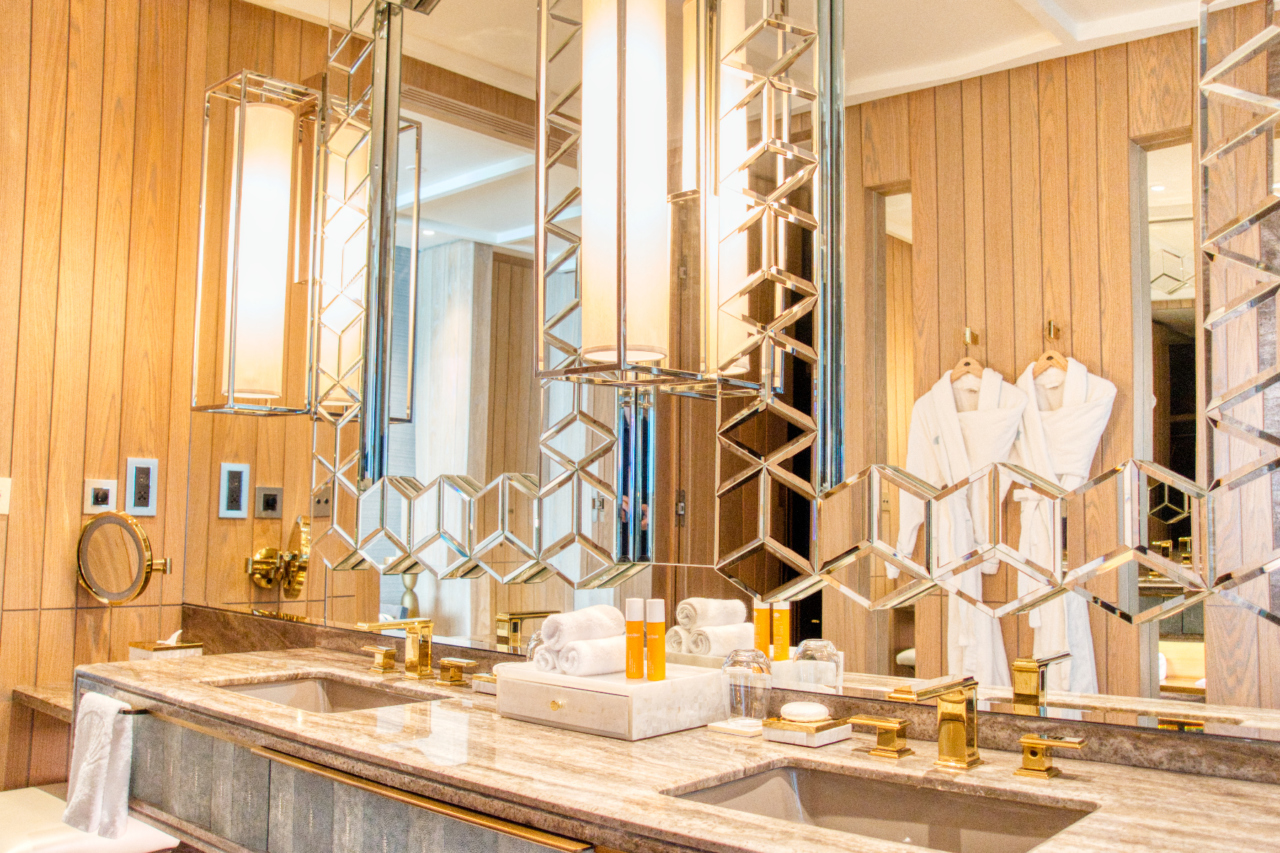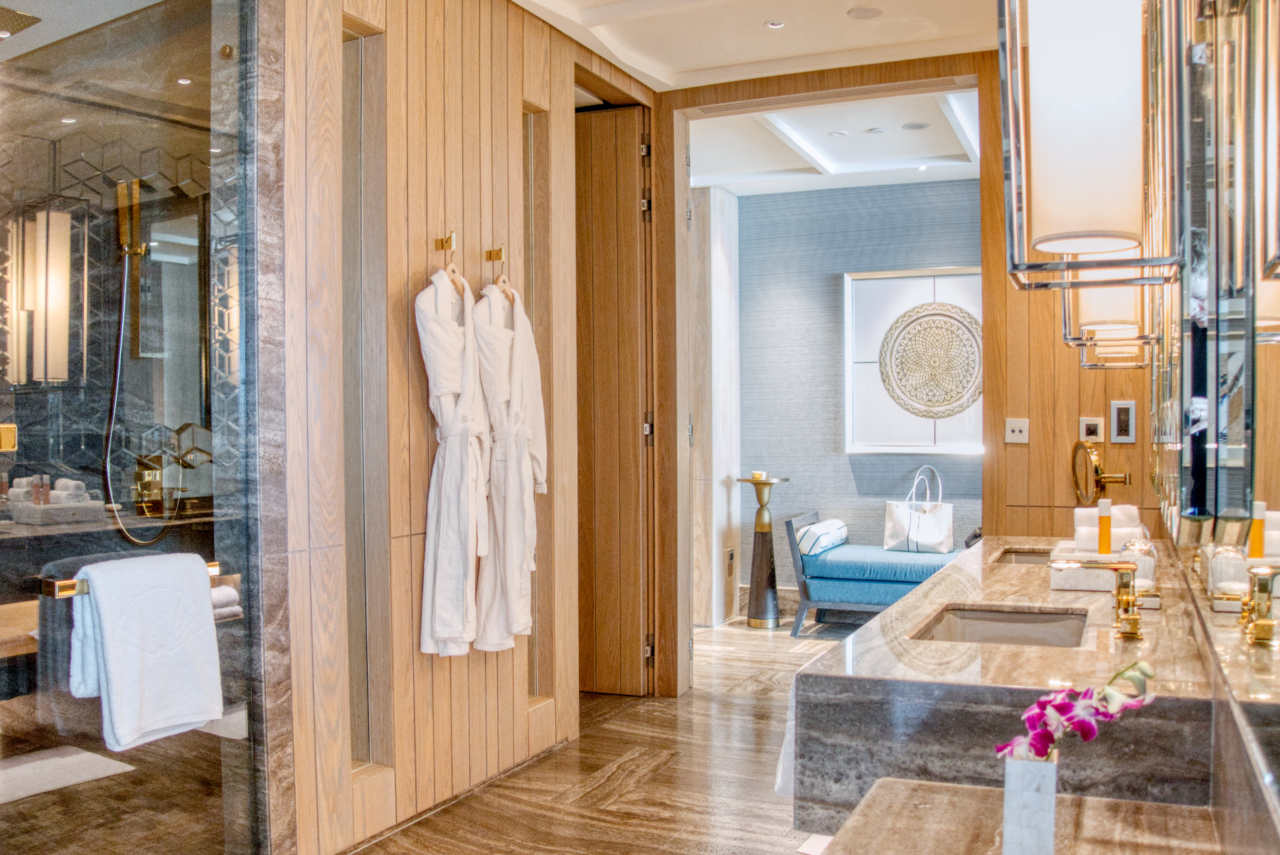 Beach, pool, rooftop, repeat
Although we have visited Dubai many times before, we had never stayed at a beachfront location. Mostly because we love Downtown so much and didn't want to miss out on the city fun part. A good thing Mandarin Oriental Jumeira combines both! The resort has its own semi-private beach with white sands and comfortable loungers. Additionally, it offers an amazing pool area which reminded me of the beachclub at Burj Al Arab: With comfortable sunbeds, several pools to swim in, an ice-cream joint and impeccable pool and bar service. I loved that the pool area never felt crowded, the music was subtle and couples, groups of friends and families all are taken care of with the same level of attention.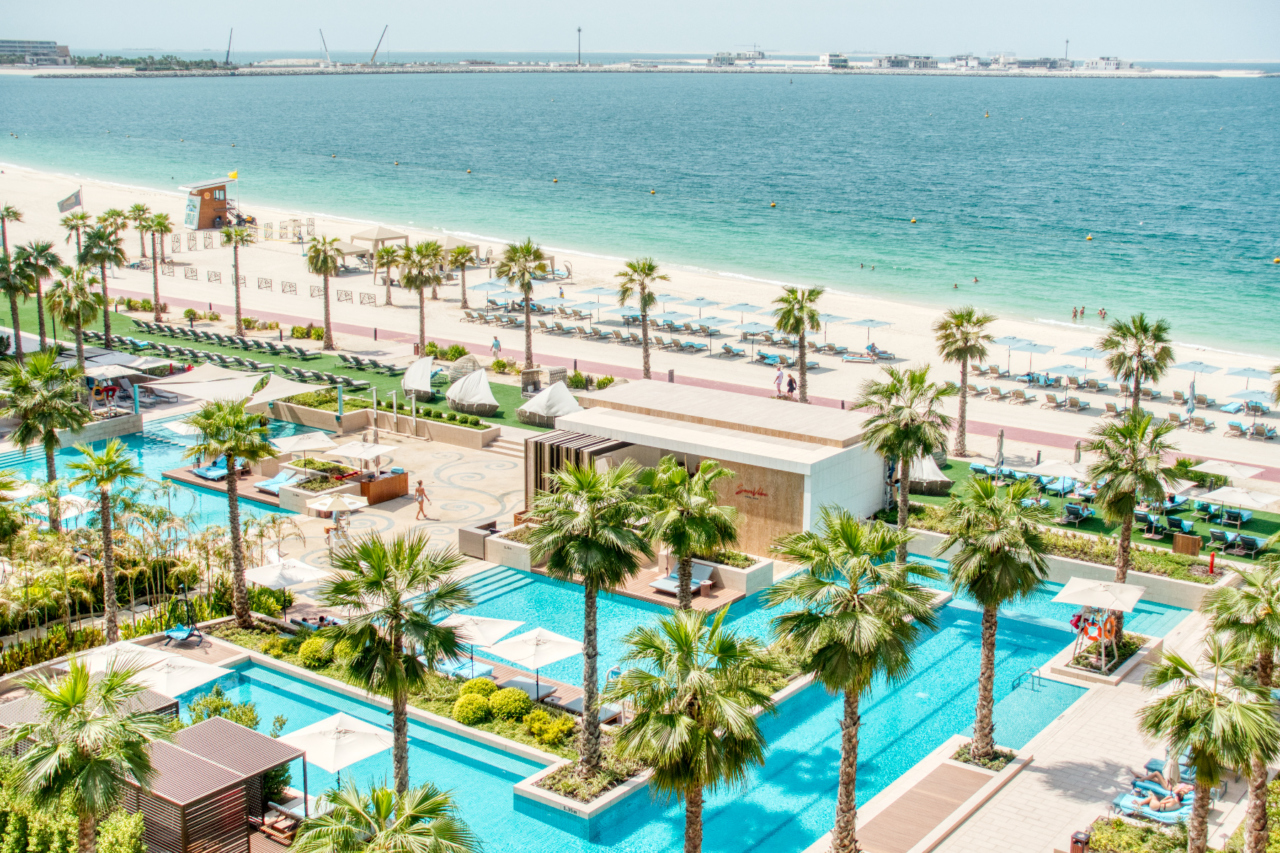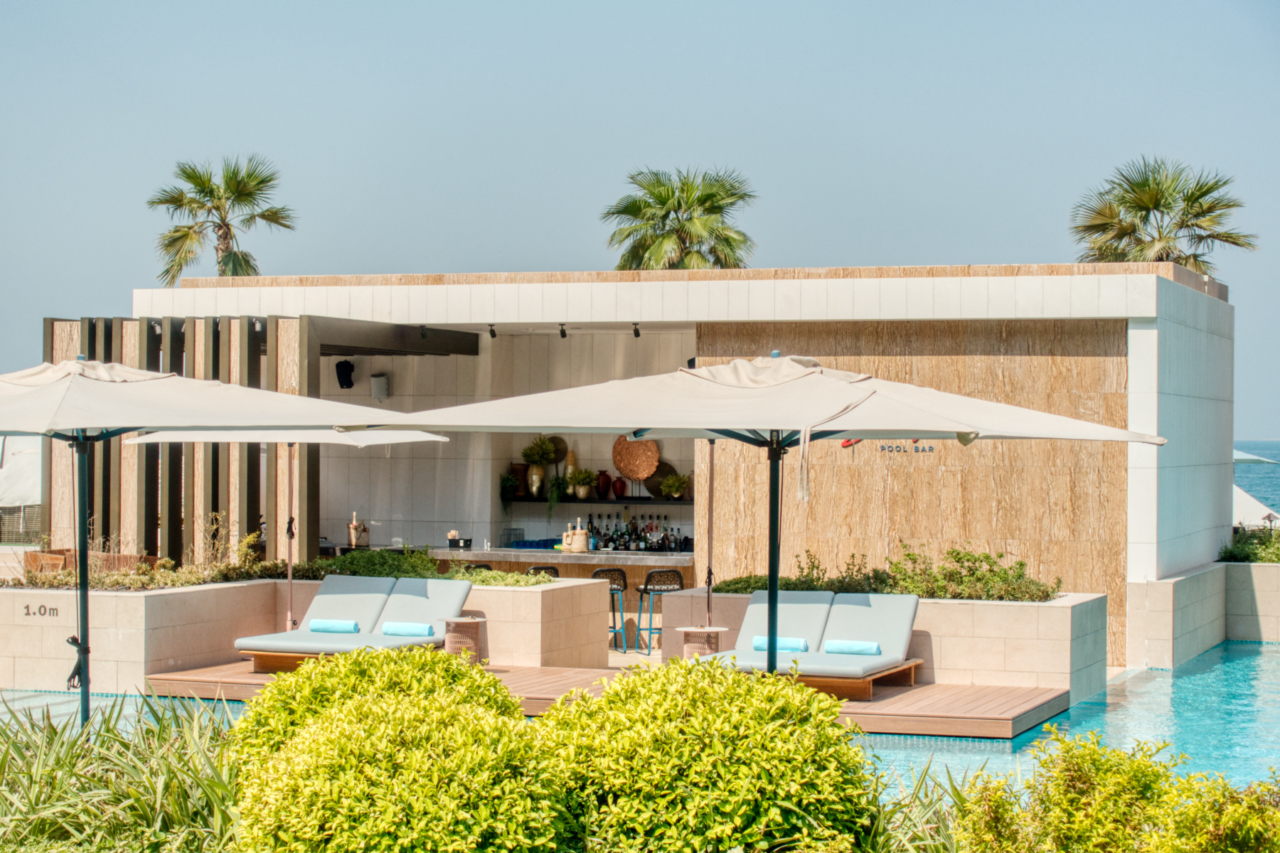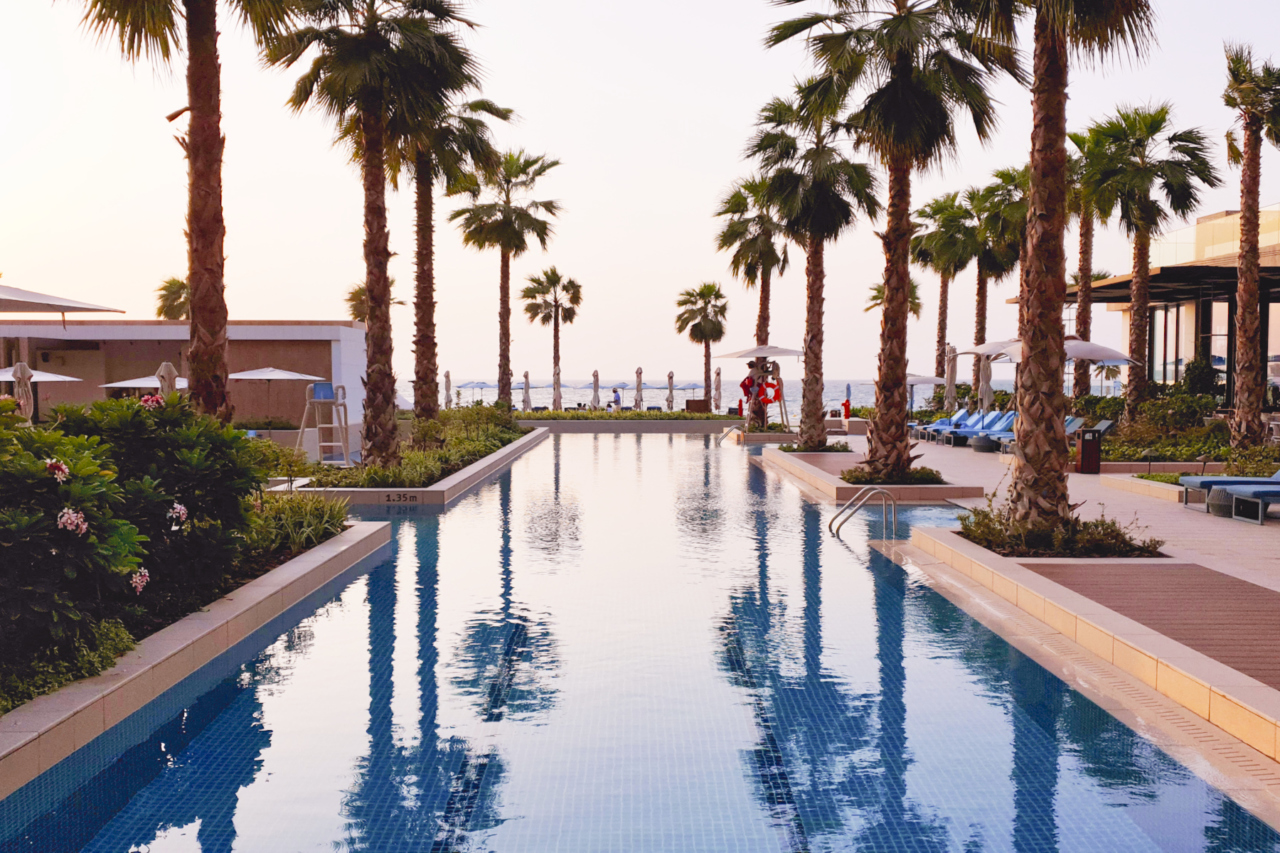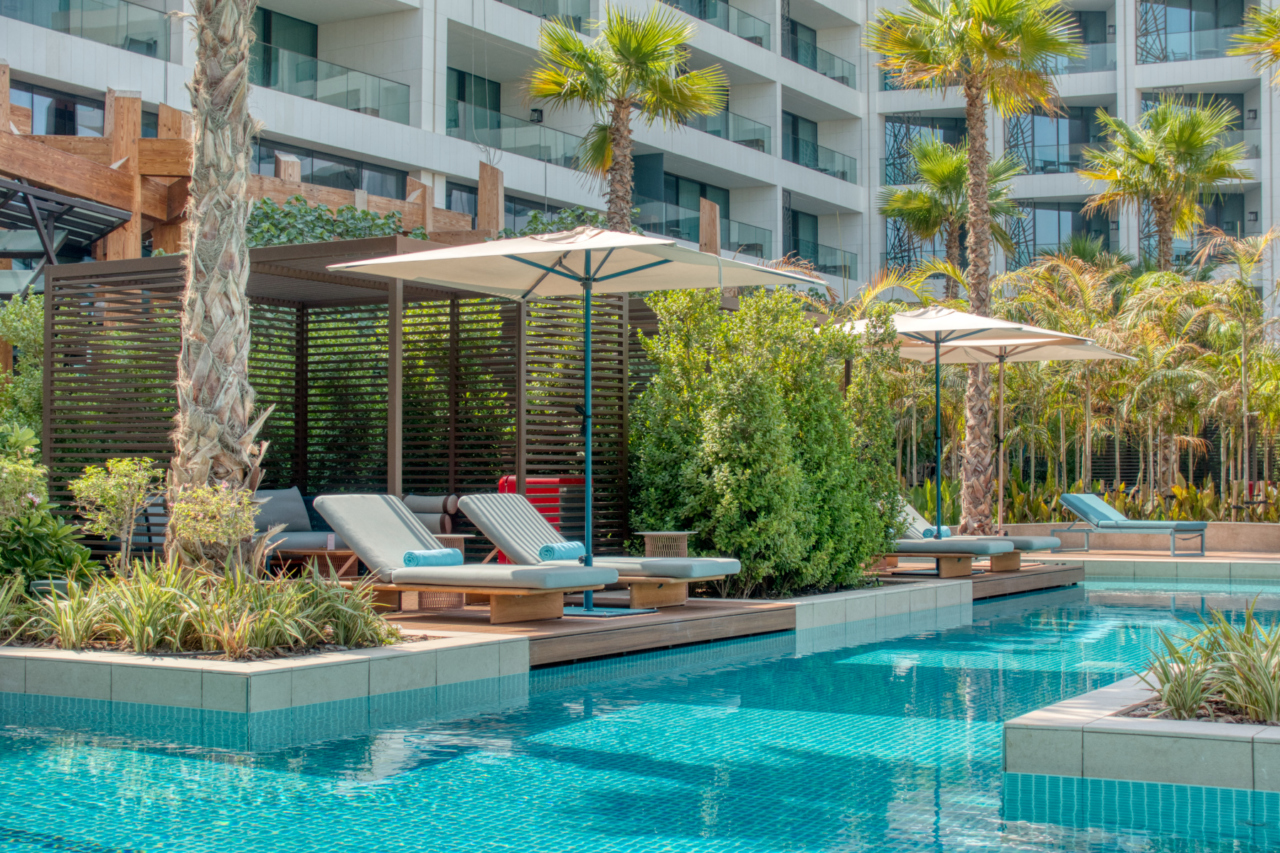 Additionally to the spacious pool and beach area on the ground floor there is also a very nice adult-only rooftop pool located next to Tasca restaurant and bar which is also located on the sixth floor. Although there only few daybeds, the infinity pool is amazing and offers fantastic views of the Arabian Gulf. I suggest you visit it in the afternoon or stop by for a dip in the water and some sundowners. Definitely one of Dubai's most stunning rooftop pools I've visited so far!
Both pool areas provide a cooler with cold towels and bottled water as well as a very nice towel service – one of the many convenient details I've noticed during our stay.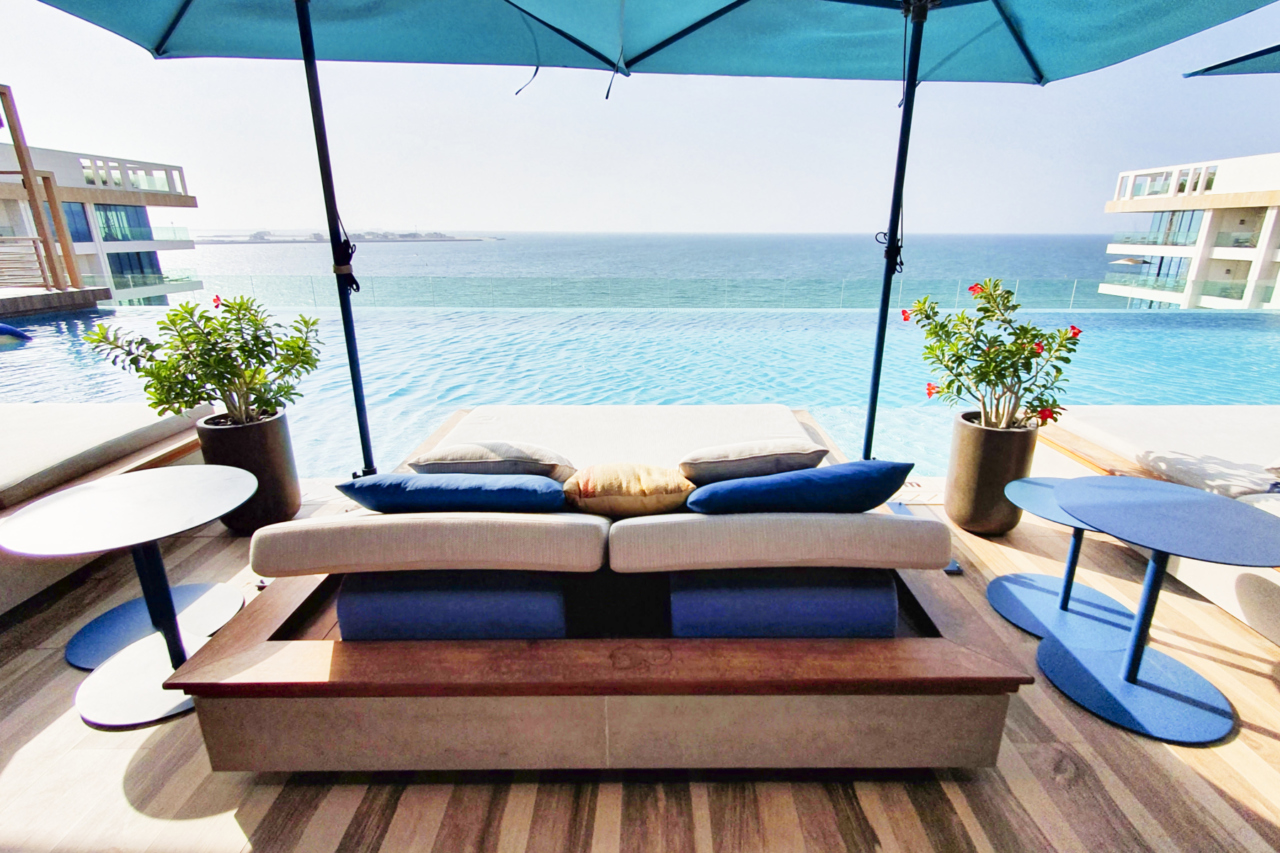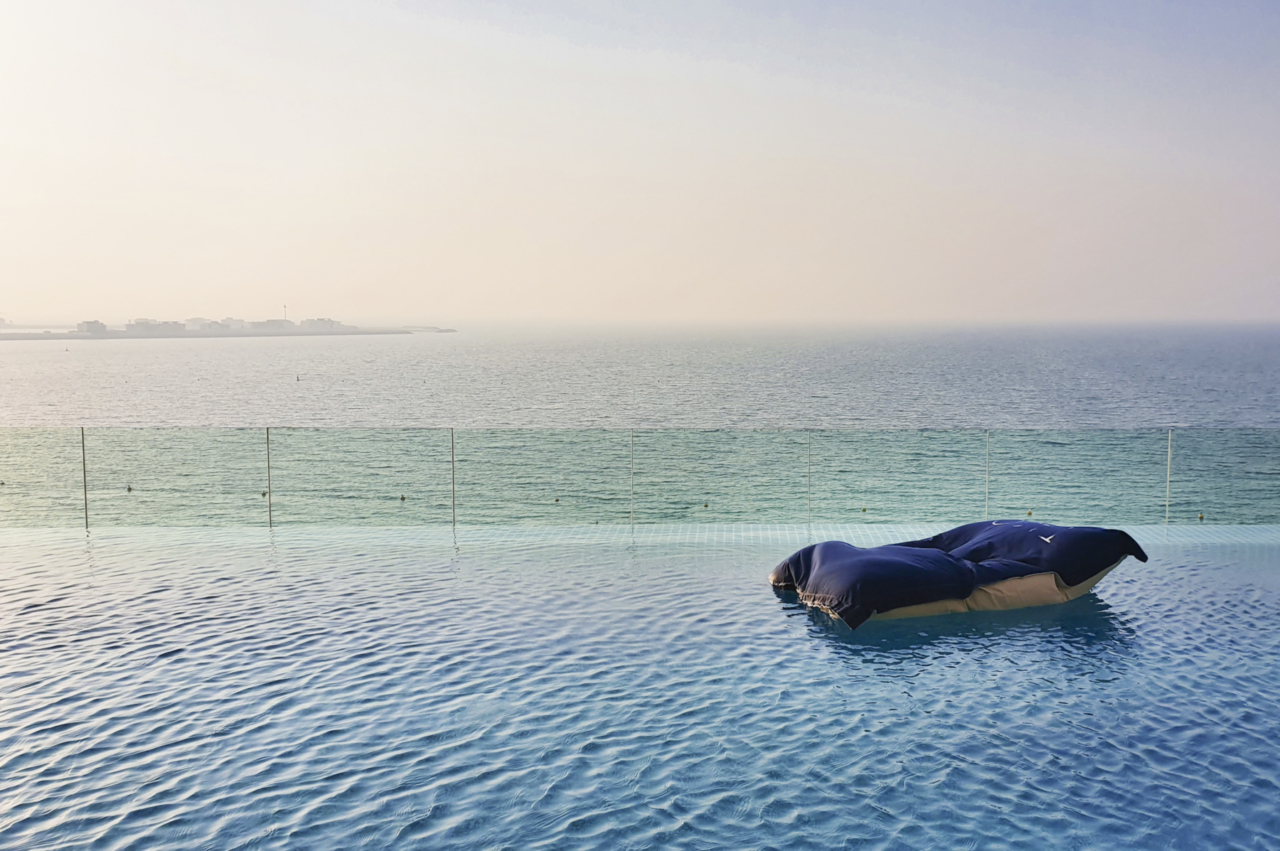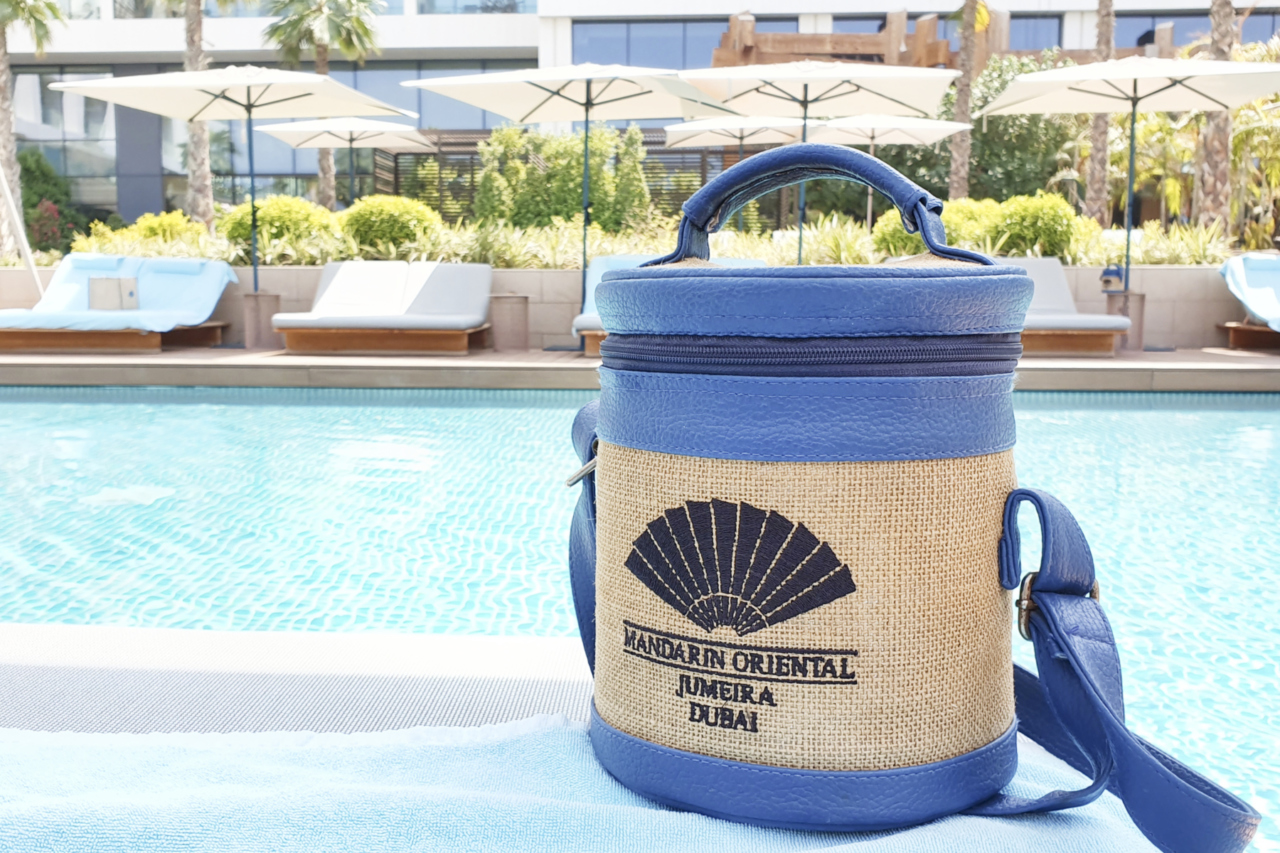 Pure Indulgence: The food, restaurants and lounge at Mandarin Oriental Jumeira
Dubai is well-known for its amazing dining options. And only a few months after its opening, so is Mandarin Oriental Jumeira – something you can clearly notice by the amount of local Dubai residents visiting the hotel on evenings and weekends. Let me start with the most important meal of the day: Breakfast at The Bay is amazing. With its great beachfront location it offers a huge international buffet – which was even extended during our stay by many fresh Asian and Arabian dishes on top the Western fare. From Arabian cold mezze to French cheese, freshly made pizza, Dim-Sum, eggs or detox juices – they have it all, spread over three rooms. The only thing I was missing were some more healthy options such as more variety when it comes to yoghurt, fruit or porridge. But once I asked one of the cooks they were more than happy to make porridge with berries made to order – so I would encourage you to just ask for your favourite breakfast dish. The team at The Bay was more than happy to cater for any special needs.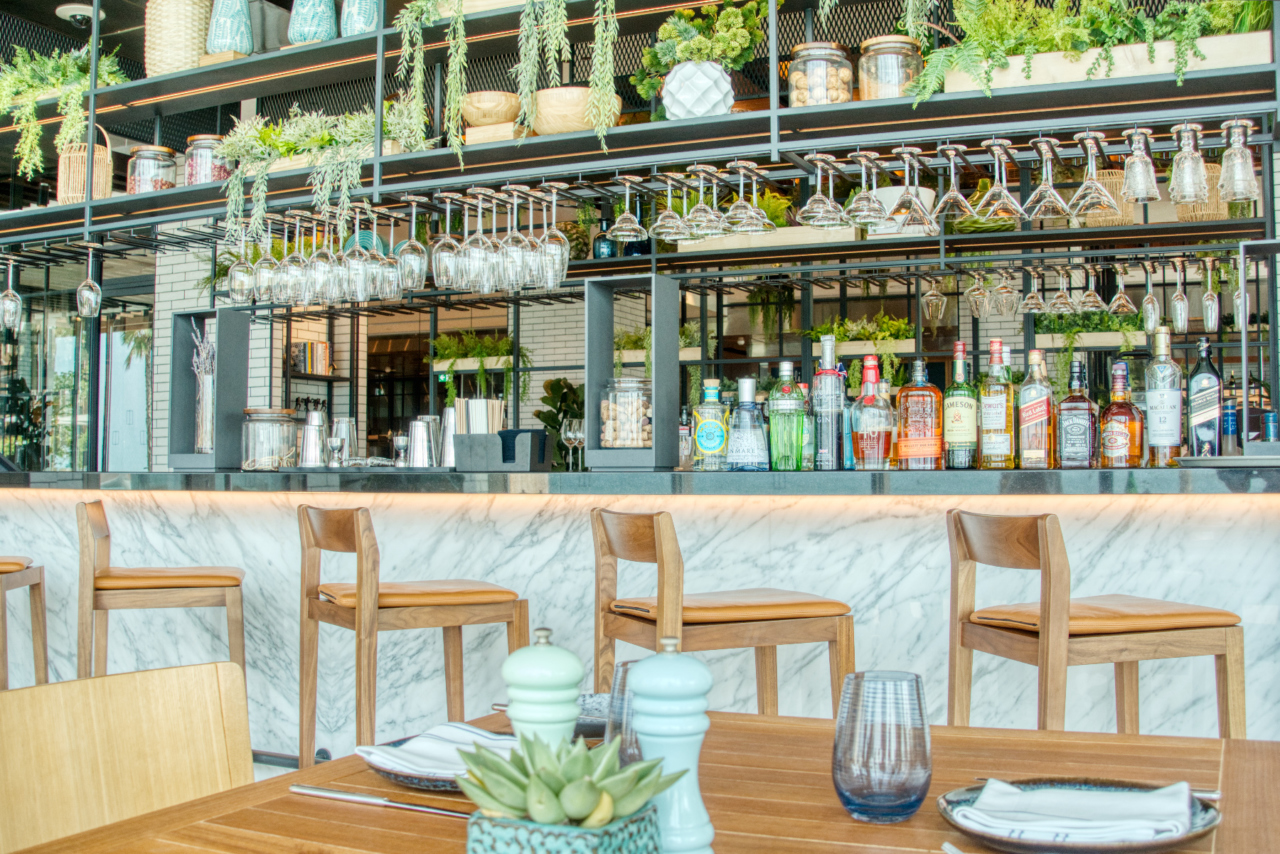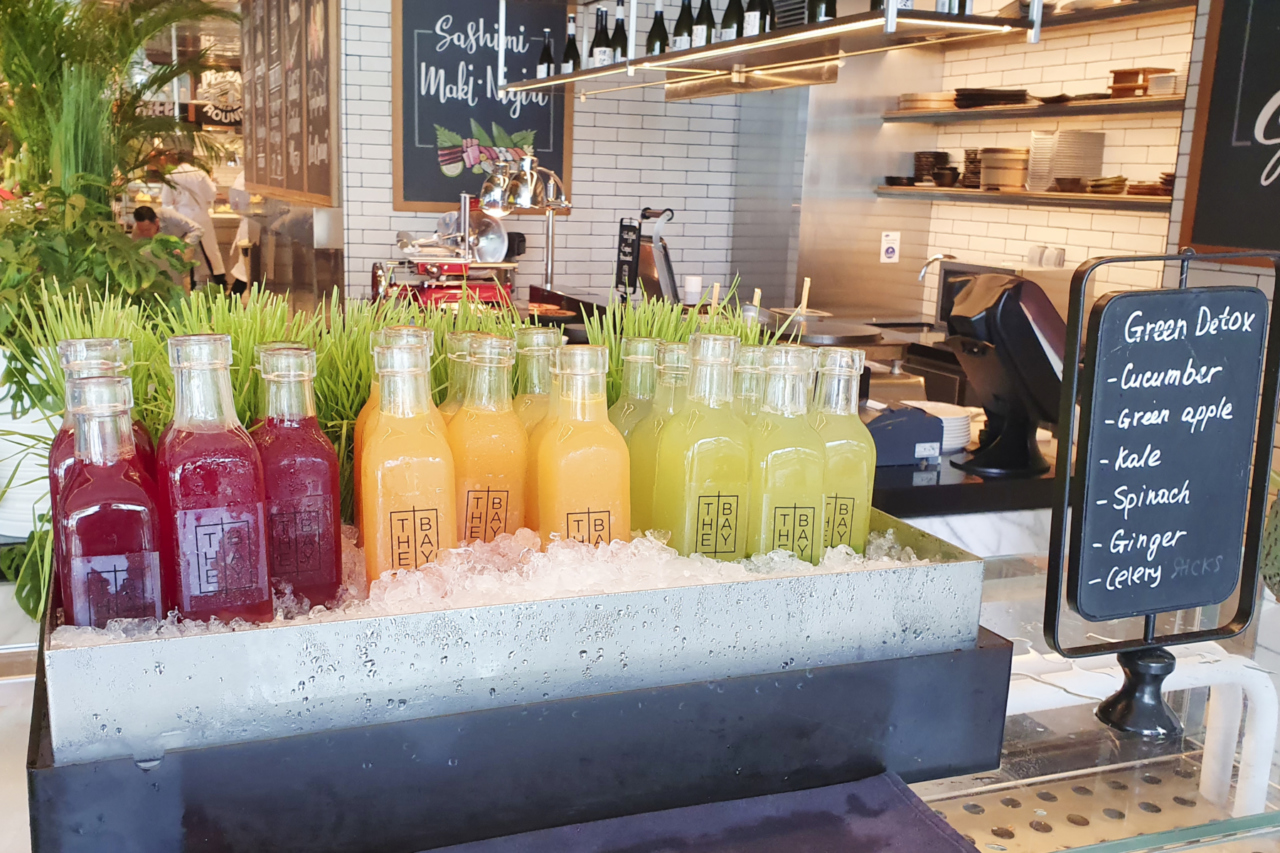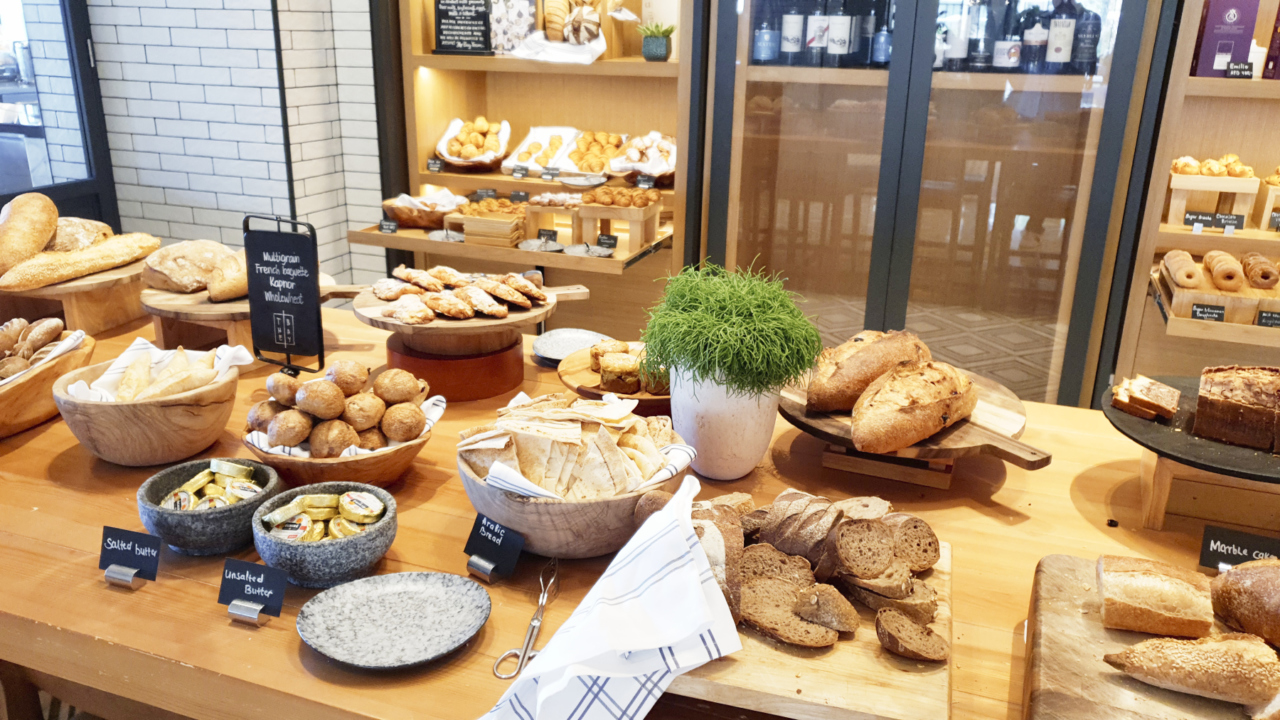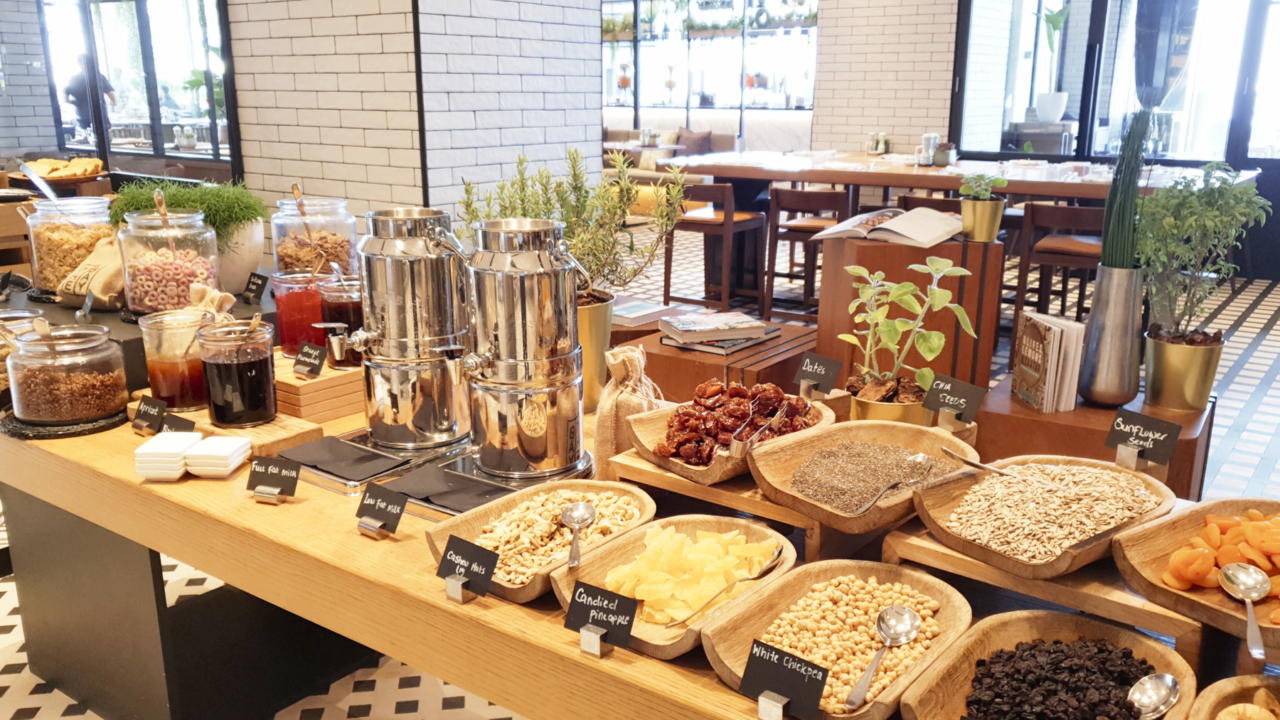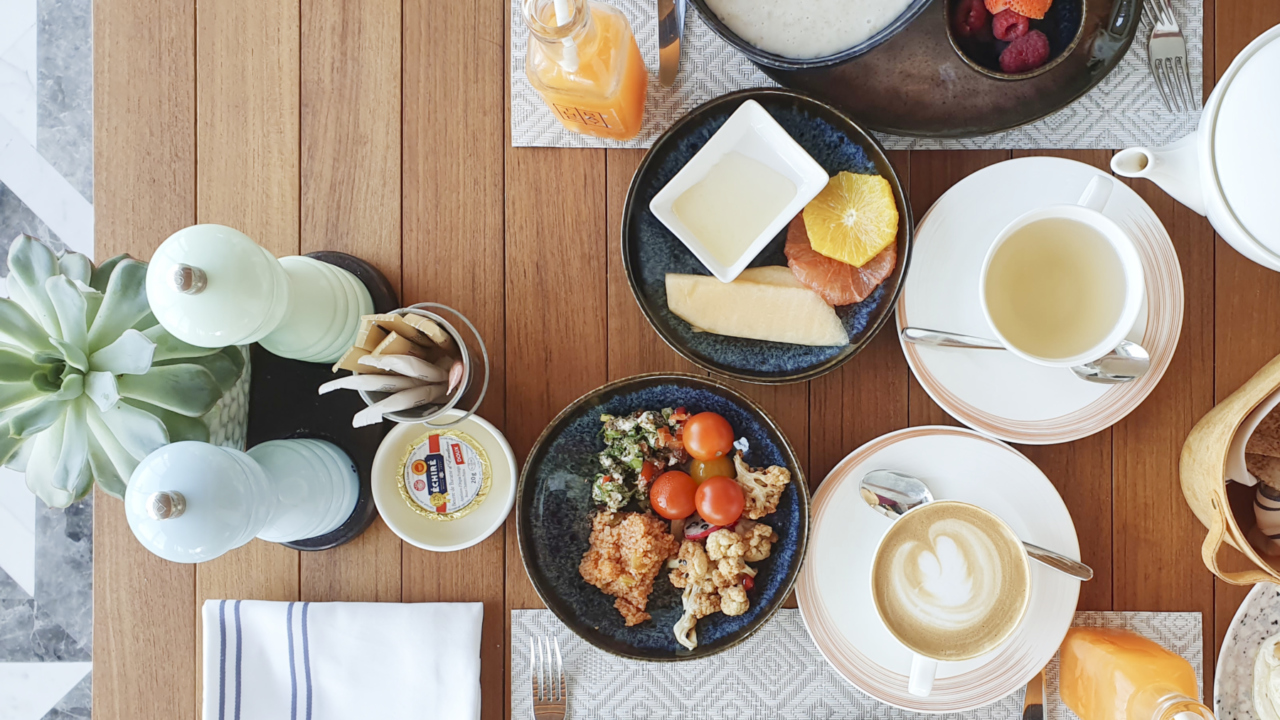 Lunch at The Bay, which is an all day dining venue, was good, but not as convincing as breakfast and rather pricey for what you get. You can also have lunch served by Sun Vibe Bar by the pool, which is a good alternative if you don't mind the heat. Apart from a wide range of snacks and lunch dishes, the pool bar offered a fantastic range of cocktails and cold drinks.
As we were accommodated in a Junior Suite, we had access to the executive lounge of the hotel which is a fantastic benefit. The lounge offers breakfast, deluxe afternoon tea (with cold and warm dishes such as Sushi, asian dumplings and noodles, salads, cheese, fruit and sweets) as well as one of the best complimentary cocktail hours I've ever experienced. Offering views of the Dubai skyline, you can choose from Champagne or cocktails made to order as well as a daily changing set of appetizers. I especially loved that the lounge team offers service at the table, so you don't have to get up and care for drinks but can relax and fully focus on the nice view (and even nicer company). Most of the time I am not a big fan of hotel lounges, but Mandarin Oriental Jumeira was an absolute exception and I would definitely recommend to book a room with lounge access for your visit.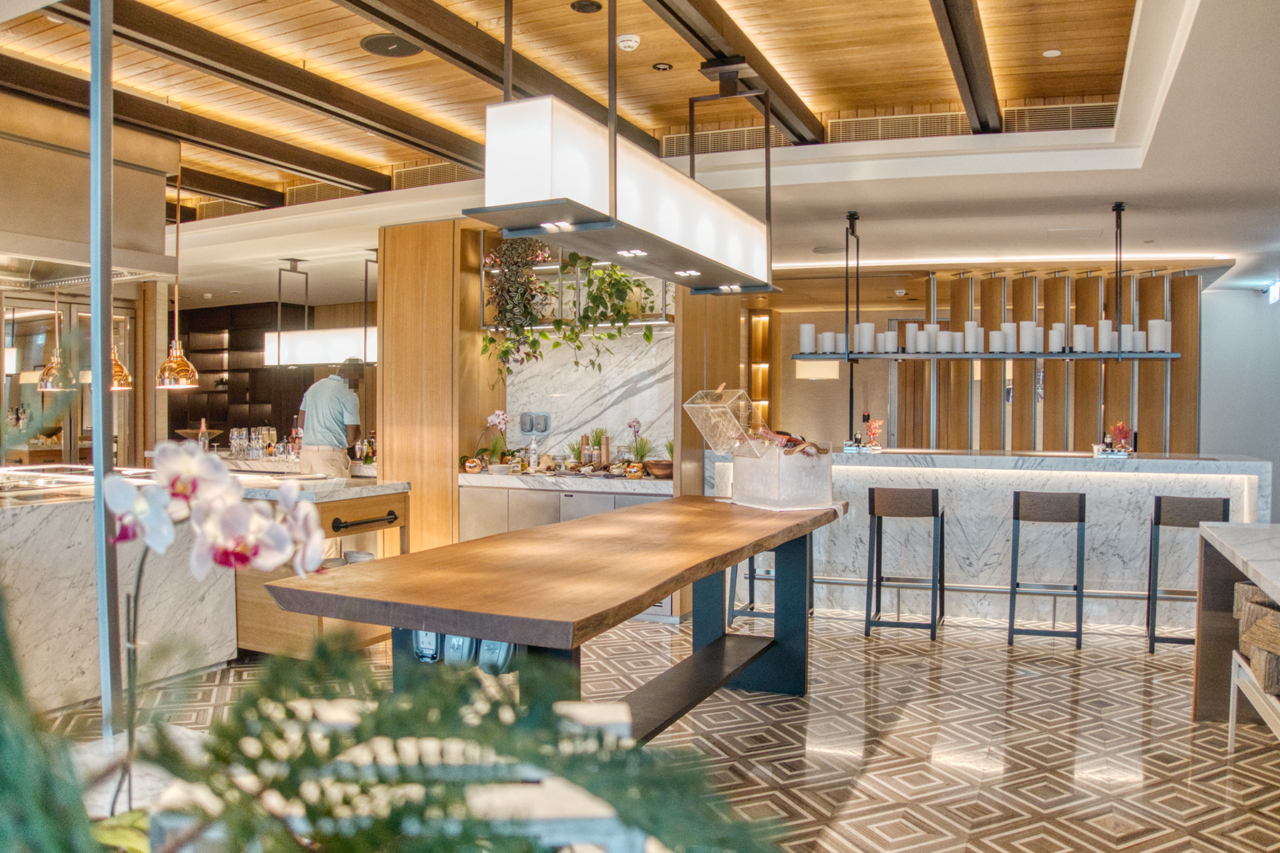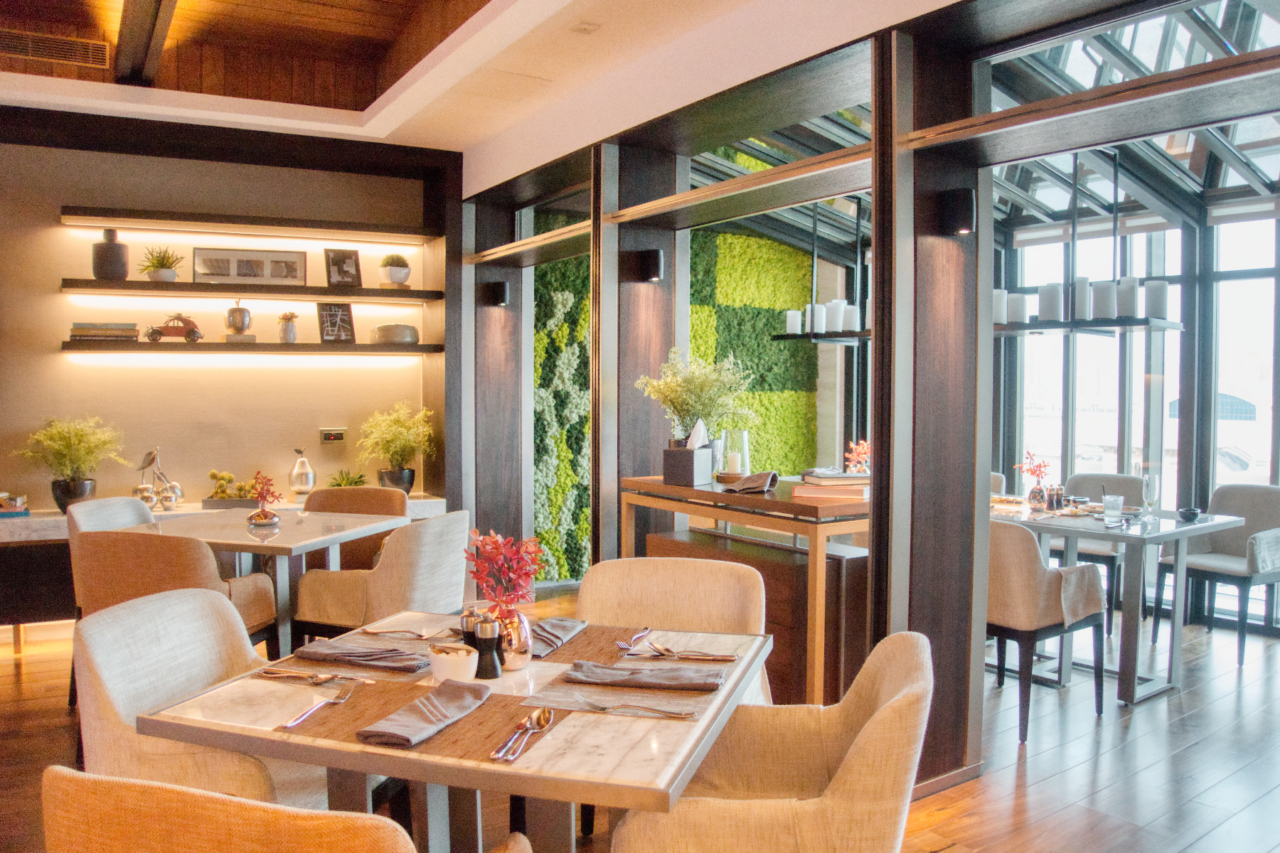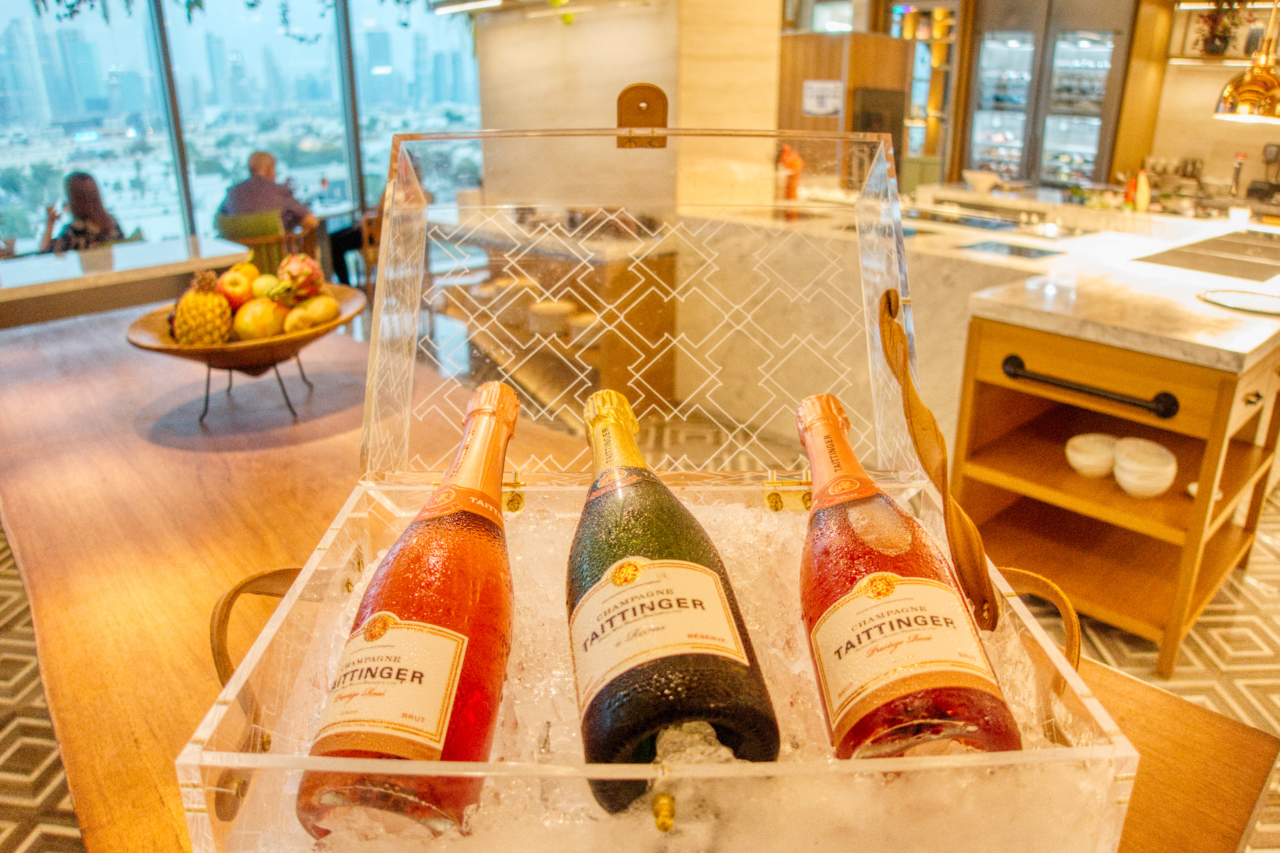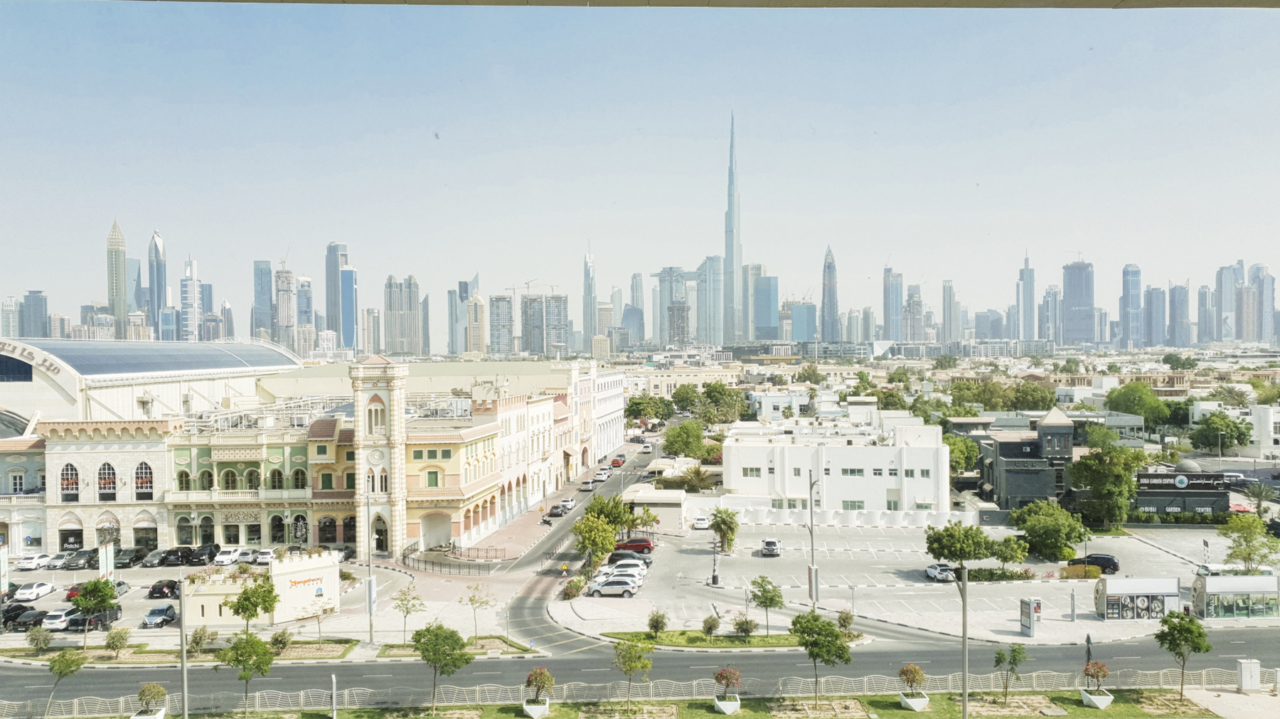 Mandarin Oriental hospitality meets high Dubai service standards
As Mandarin Oriental Jumeira had only opened a few months ago before our visit, I was a little concerned about the service level before our arrival. Long story short, my concerns proved to be wrong, although as in any new hotel there still were some minor hick-ups. Overall the service was impeccable throughout the property and lived up to high Mandarin Oriental and Dubai luxury resort standards. I especially noticed the friendliness of staff- from valet to pool to reception or restaurant teams, everyone was super helpful and made it easy to connect. As in every Mandarin Oriental resort, the team greets guests by their name – a small but important detail I love about the brand.
When the waitress at the lounge spilled a tray with soy sauce on my (white!) dress, the guest relations team immediately took care of it and the dress was cleaned and delivered back to our room on the same day. When there was a hick-up with our rate, the associate at the reception solved it within hours. And even if the service at The Bay and the lounge was rather inconsistent and tended to forget some of our orders, the team made it up with incredibly friendliness. I believe it is perfectly normal that it takes some time for a new team to grow togehter and get used to the pace of a fully-booked resort and am keen to see, how service will probably have improved the next time we visit the resort.
Passport & Palmtree conclusion
With the Mandarin Oriental Jumeira, Dubai adds one more amazing hotel to its long list of luxury properties. Its convenient location offers the perfect mix between a laid back beach resort and a dazzling city escape. The design is luxurious but modern, with spacious rooms and amazing beachfront facilities. Service standards are very high and will probably even get better once the team is fully up to speed – just one of many reasons to come back soon!
If you are into Dubai beach resorts, why not check out my review of the One&Only The Palm too?
What's your favourite place in Dubai? Let me know in the comments!