When it comes to Business Class in air travel, the one by Emirates is quite popular amongst travelers. Although all gulf carriers are known to have high-end products for Business and First, I find Emirates to be very convenient. They offer a "reasonable" pricing and have one of the best international networks to connect you to virtually any popular destination. In this post I want to share my personal experiences of my Emirates business class flights with you.
The chauffeur service
Pre-flight part of the experience is the complimentary chauffeur drive to and from the airport for many destinations. You are going to be picked up at your desired time and conveniently driven to the airport. We found that to be hassle free, even though we had to pay a (very small) surplus as our home is further away from the airport. Just be sure to make the bookings on the Emirates website prior to your flight. In Dubai we were also picked up by the chauffeur after landing and driven to our hotel – pure luxury. On a sidenote, there are no distance limitations in the UAE so you could even go from Dubai to Abu Dhabi (which we once did). You can get a complete list of supported destinations as well as more details on the dedicated Emirates chauffeur service website.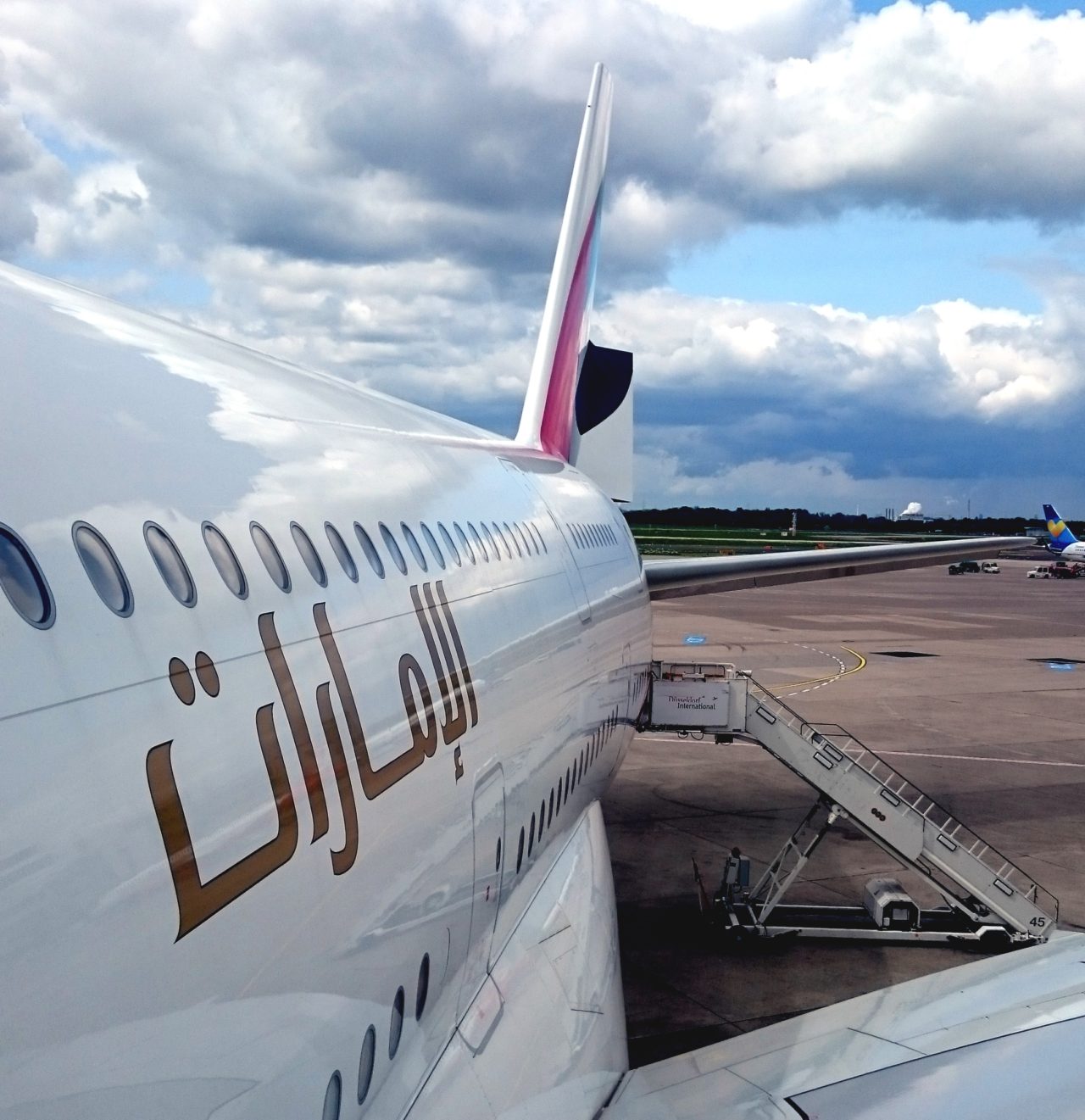 Business class lounge in Dubai and Düsseldorf
Another part of the pre-flight experience is access to the business class lounge on your departing airport. On most airports, Emirates is operating dedicated lounges compared to other airlines which just grant access to third party or network lounges. We both found the Emirates business class lounge in Düsseldorf to be nice but not too special, especially when compared to the one in Dubai International Airport. The latter is simply stunning. It's basically a whole floor in the terminal with more seating, business, sleeping, food and drink options than I have ever seen before. It was quite popular when we were there (probably because Dubai is the major hub) but it never felt overcrowded.  There's even a Costa coffee shop in there, providing all food and beverage for free. I also enjoyed the "healthy station" offering fine salads, low carb appetizers and fresh juices.
On a sidenote: The perks of chauffeur service and lounge access are not granted if you are just upgrading your fare to business class (through a promotional offer or at the check-in).
The in-flight experience on Airbus A380
We are usually lucky to fly on Emirates' A380 fleet, although we enjoyed Business Class on their Boeing 777 once too. However, compared to the A380 it's a whole different product in my opinion. The seats are super comfortable and recline to a 180° flat bed. You can request a mattress prior to sleeping which will be set up on your seat and makes it even more comfy. What I also really like (on any flight) are immediate storage options for your stuff when flying. You have several boxes, niches and such options, aside from a in-seat bar that is stocked with nonalcoholic beverages. I always wonder why they put soft drinks like Coke in there as probably no one is enjoying them warm. Prior to departure you are offered a glass of champagne (or coconut water as it was the case when flying from Mauritius).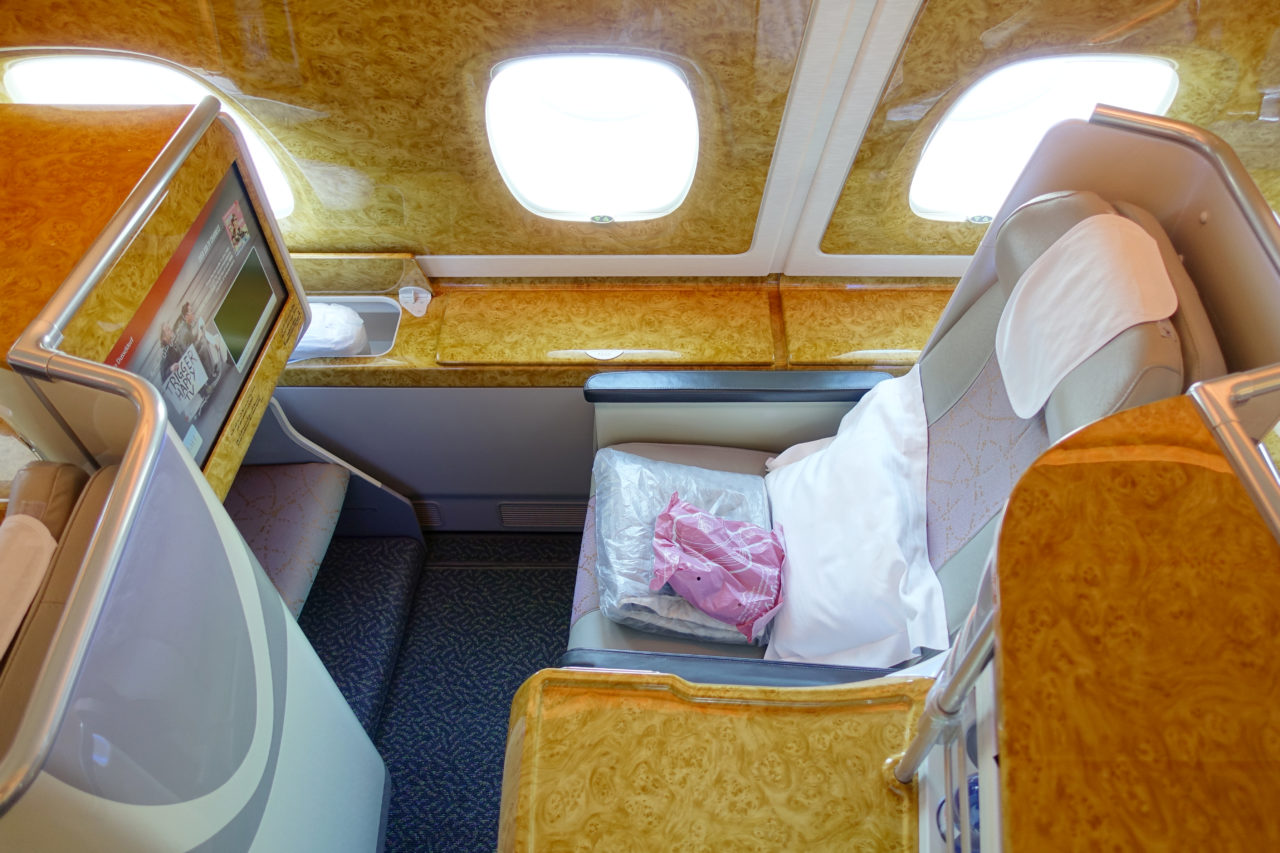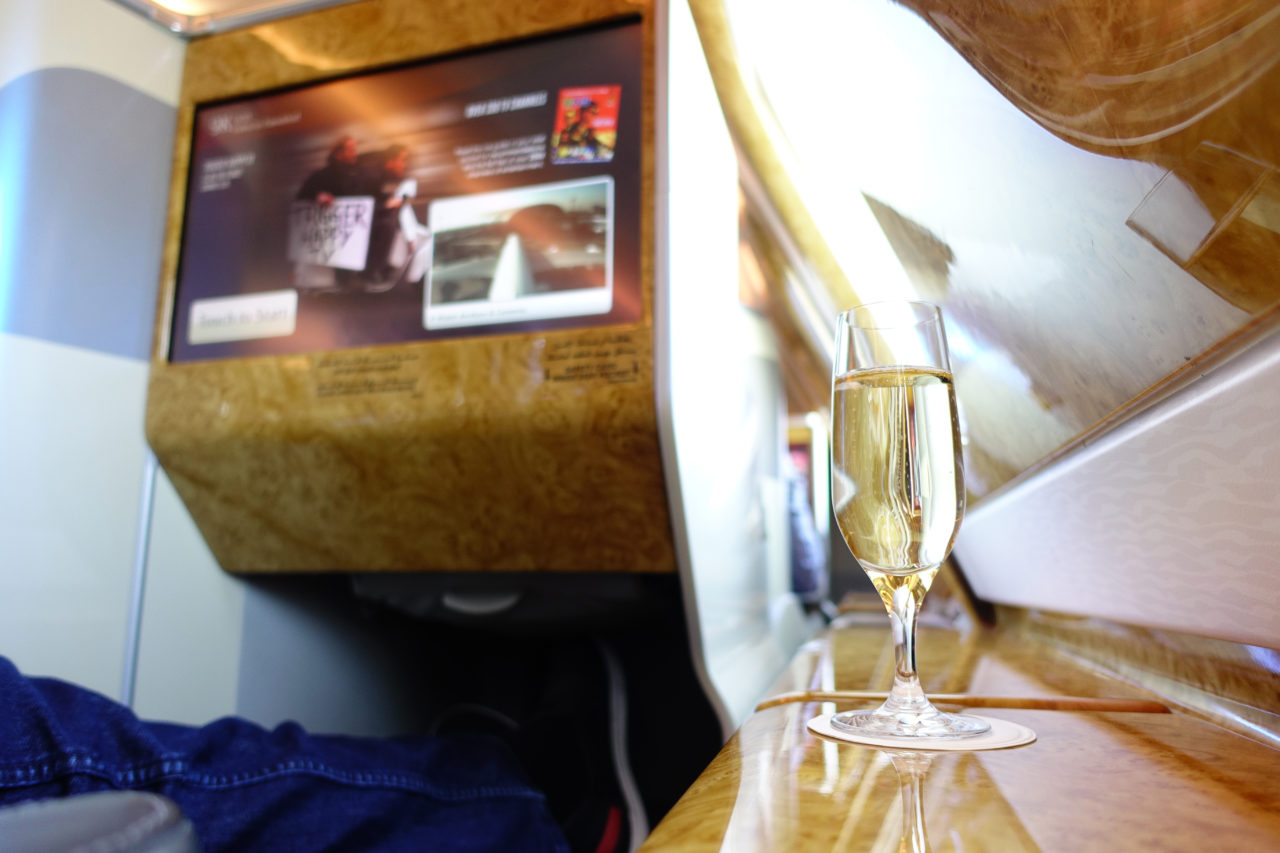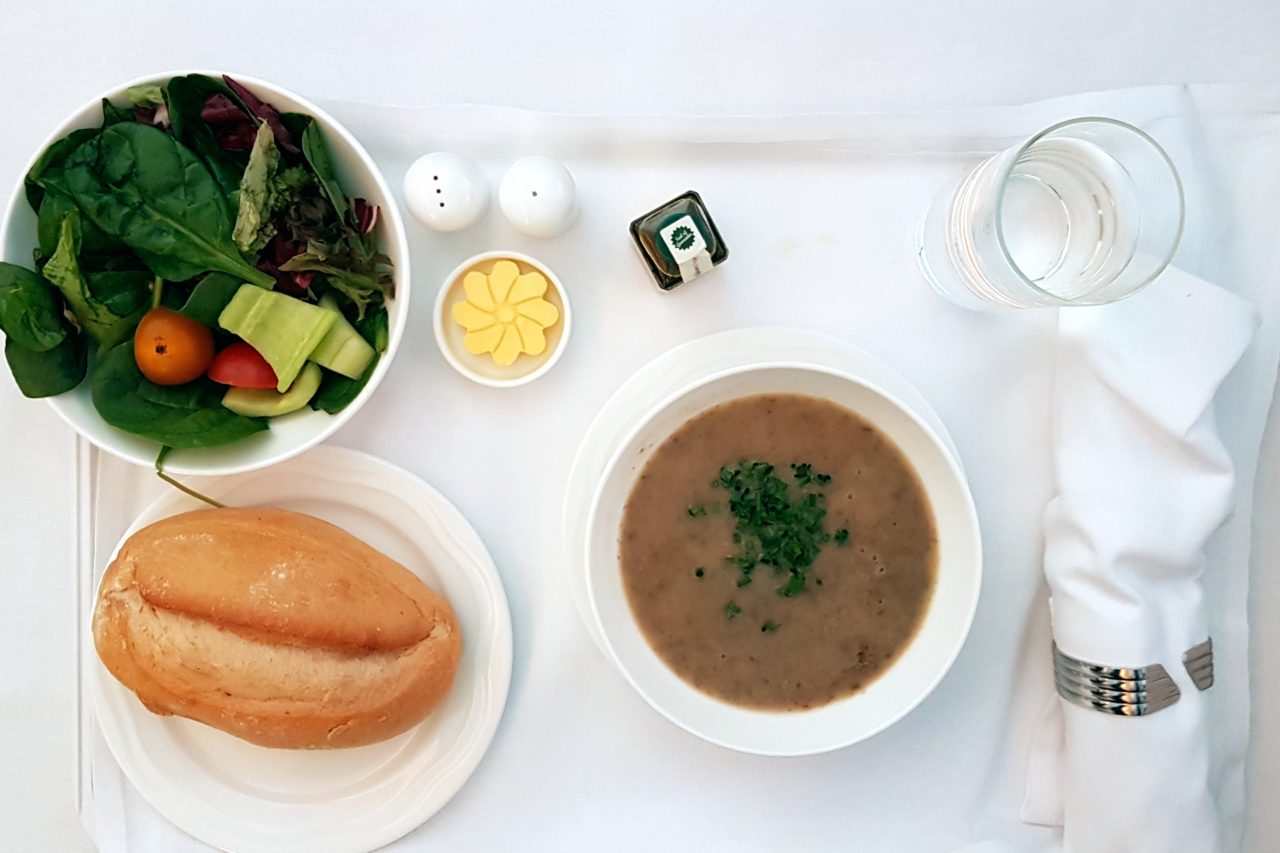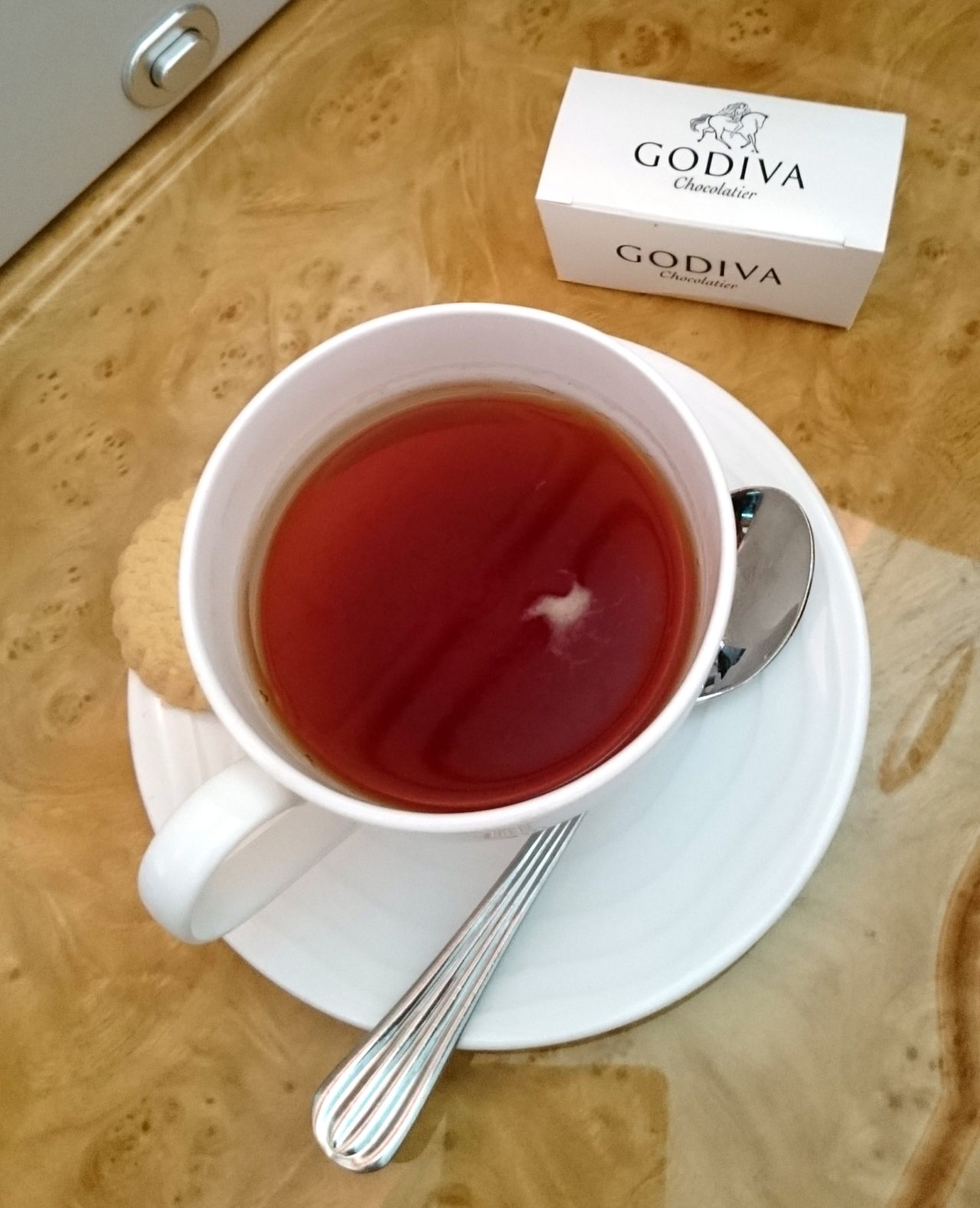 In-flight you receive a restaurant-service style menu with appetizers, main courses to choose from and a desert/fruit plate/cheese board. Usually the food is delicious but I value the space and privacy more than the culinary experience. The "ICE" entertainment options with large touchscreen, noise cancelling headphones etc. are the ones you might know from Economy class already. Wi-Fi is offered on most routes too. A nice touch are the amenity kits by Bulgari you receive, with both male and female options coming inside a nice pouch.
The A380 bar
I am not sure if Emirates has been the first airline to introduce a bar for business and first travelers but they sure made the most PR out of it. While I don't like drinking on long haul flights the bar is somewhat of a "private jet" touch. The drinks are honestly nothing to call home about but even if it's just for stretching your legs on a long flight you have to visit this section at the rear of the cabin. Earlier this year, A and I wanted to toast to my birthday in the bar at midnight but fell asleep directly after takeoff 🙂 Emirates recently updated their layout a bit (here's a YouTube video), introducing tables and even proper seating and we are already excited to check it out on our flights in October.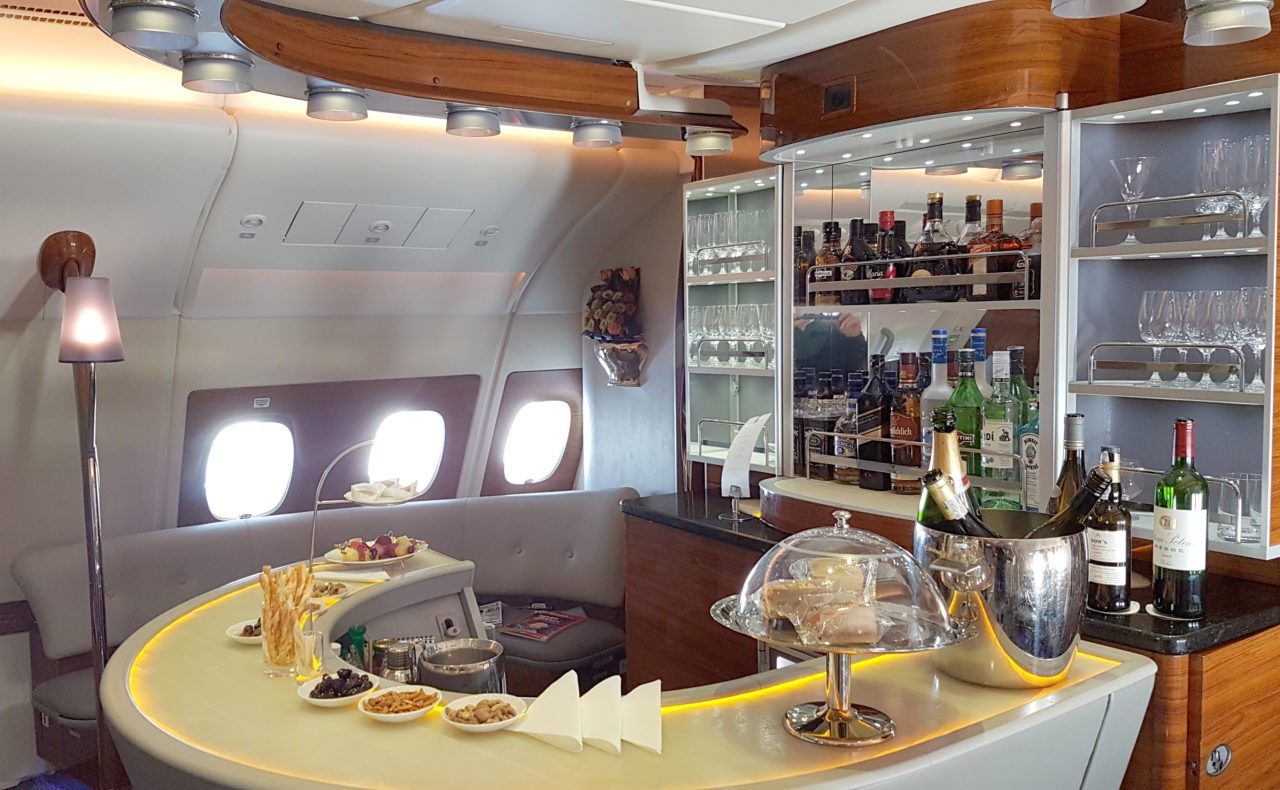 The in-flight experience on Boeing 777-300
Dubbed as the backbone of its fleet, Emirates operates a significant number of Boeing 777-300 (ER). So the odds are high that you get to travel on one. As mentioned above, I feel the business class here is a pretty different product from the A380 one. I have to admit that I even felt somewhat disappointed when I noticed by coincidence (!) that the aircraft type was changed from the confirmed A380 to a Boeing 777-300 ER on my recent flight.
For starters, the seat configuration has a 2-3-2 layout compared to the 1-2-1 from above. A was not too happy when he got assigned the middle row middle seat but I managed to rebook the seats last minute. On the positive side, the business class cabin is much smaller. While the whole upper deck on the A380 is C seats, in the three class configuration of Boeing you just have six rows of C. The first compartment between the eight seats of First and the galley is the preferable one, your best shot is either of the two seats on row 7. They offer the best privacy/storage/IFE deal. The second compartment of C is not very comfortable as all Economy passengers pass through this cabin when boarding the plane.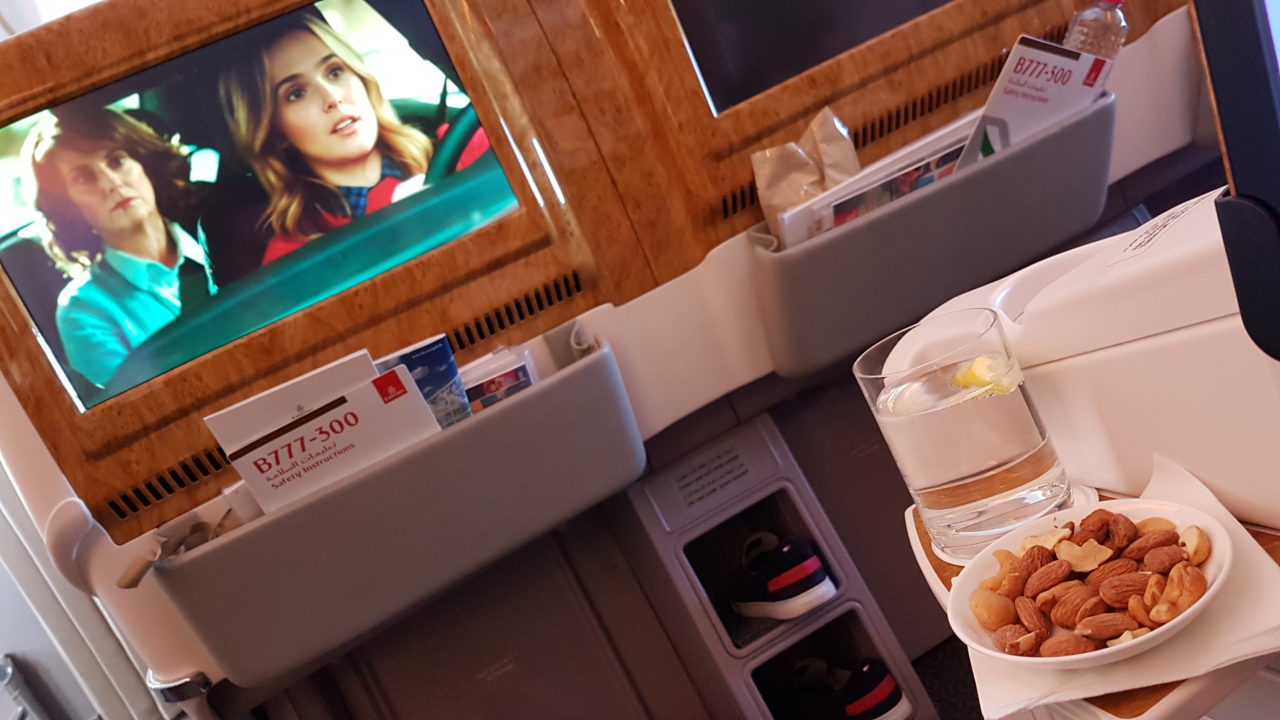 The seats are older and I found the storage options in direct proximity to be way more limited. The biggest downside though is that they're just angle-flat seats. To be honest it's hard to tell that you're not fully horizontal but it is awkward still. The minibar from the A380 is missing. While the IFE and service are the same, the A380 bar for that "private jet" touch is missing too. The bathrooms are not comparable to the more spacious ones on Airbus.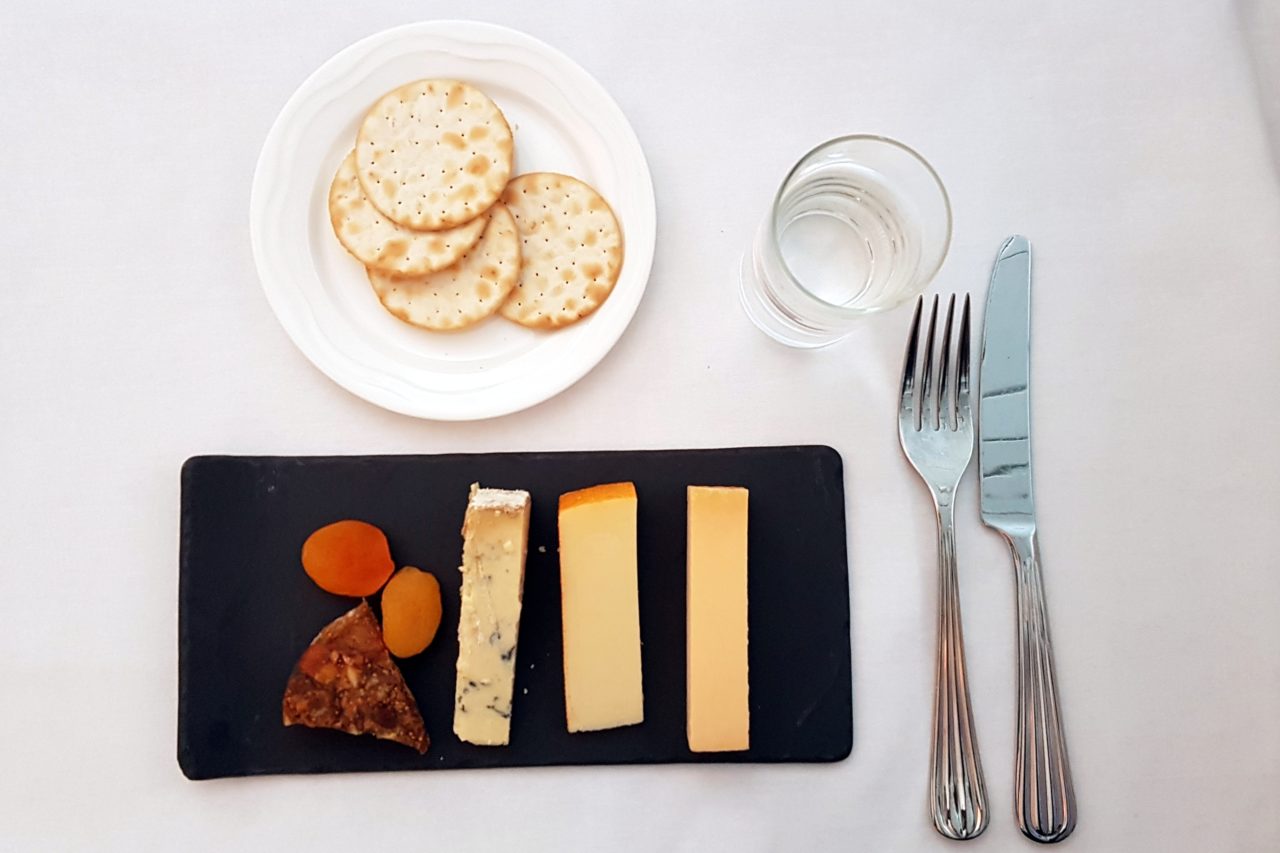 I found the service to be slightly better and more attentive but that probably varies from crew to crew anyways. Don't get me wrong, the business class on those Boeings is still a good product too, but it's just not the same than the A380 one – which is by the way the product that Emirates advertises throughout all of their website and social media.
Update: The first re-fitted Boeing 777's are now flying and the product has received a considerable upgrade. They're just a few as of now but as soon as I have flown these, I'll update this review accordingly.
Passport & Palmtree conclusion
The Emirates business class is so good, coming with so many perks that I seriously wonder why anybody would book their first class. Plus it comes at a very good price value ratio considering the chauffeur service, extra baggage allowing, swift check-in and lounge access. I highly recommend the experience and am always looking forward to any Emirates flight.
Which is your favourite airline? Have you ever tried Emirates Business Class? I'd love to hear your thoughts!
Also, you can read more about our stay in the UAE here and find out about my sleeping routine during long flights here.