Frequent readers know I'm a fan of Emirates for their efficiency, product and customer-centric attitude. While I usually fly Emirates business class which is a great experience, I lately had the chance to hop on a flight in their first-class which is well marketed since its inception (think Sex & The City). But does it live up to the promise?
Emirates First Class bells & whistles
On the ground is little difference to be found between business and first. Most notably the included chauffeur service offers a greater complimentary mileage which might be convenient depending on your departure and destination location. The Emirates lounges in most locations are (obviously) used by passengers of both classes, however the dedicated First Class Lounge Dubai is a different story. More baggage and dedicated check-in counters might come handy depending on your travel habits.
Same seat, different experience
My check-in in Frankfurt was swift and smooth and I soon headed to my A380 F seat. Keep in mind that the fleet consists of A380 and Boeing 777 planes. Both have (virtually) the same seat which is a semi-enclosed suite. The new 777's have the game changer first class suite which is pretty unique but most of the fleet have the "old" configuration with loads of gold, wood and bling. You either love it or hate it. A lot of the A380 perks however are missing on the 777s, like the bar and the shower suites, which I think contribute to the private jet like experience.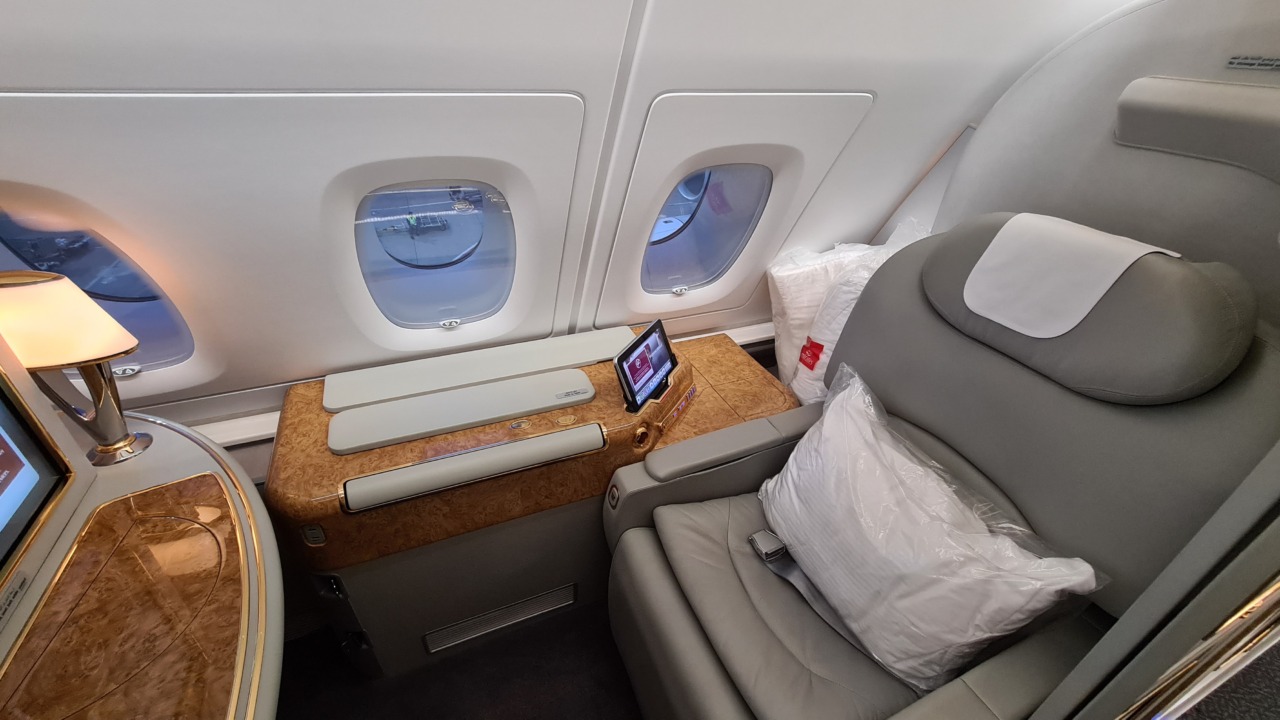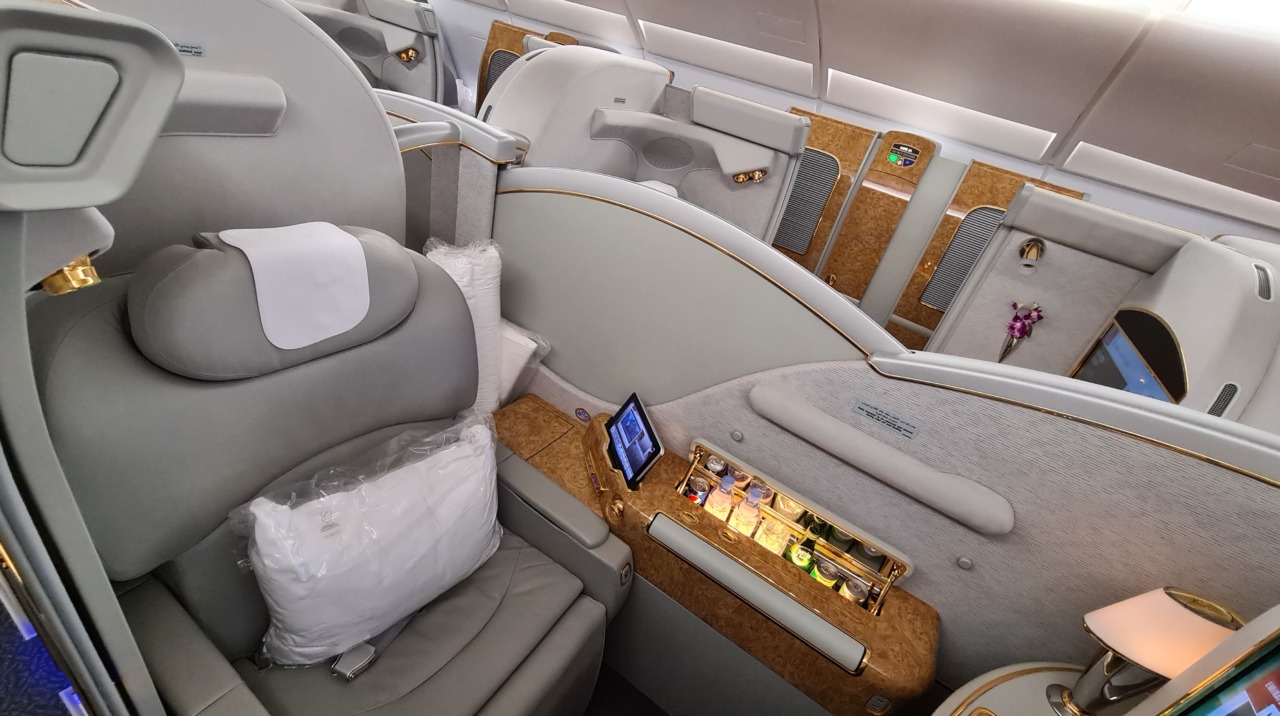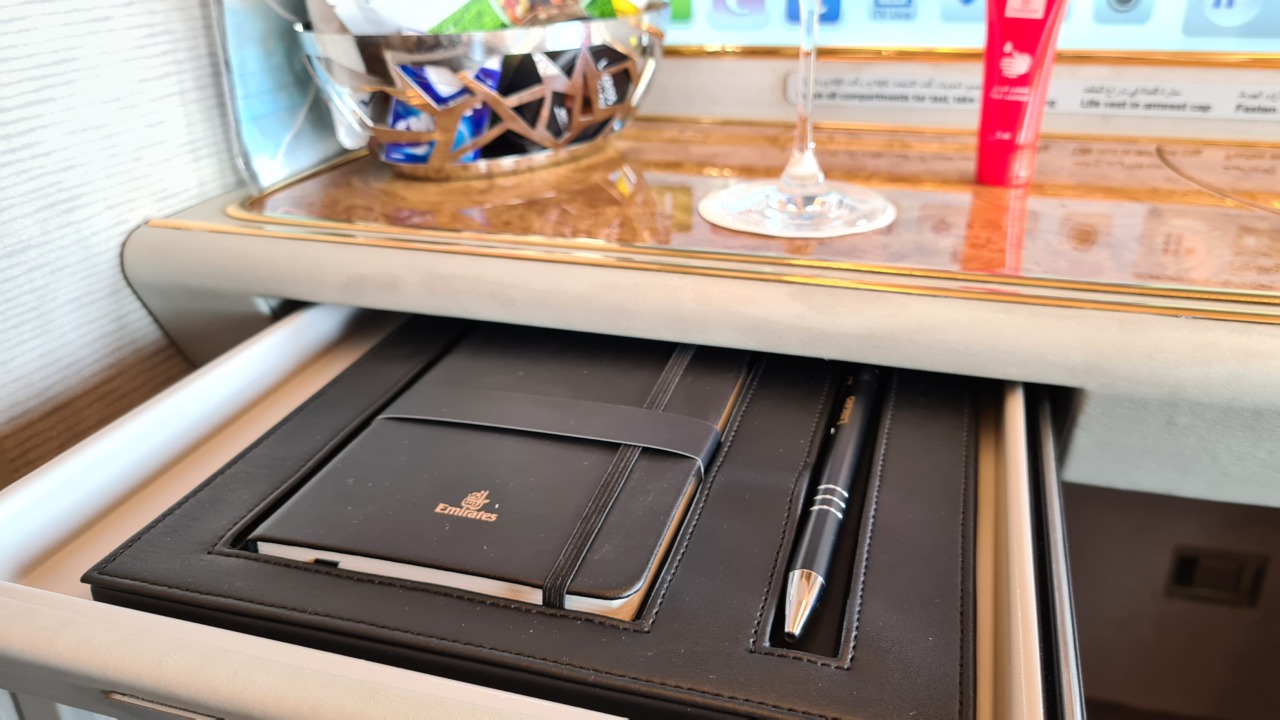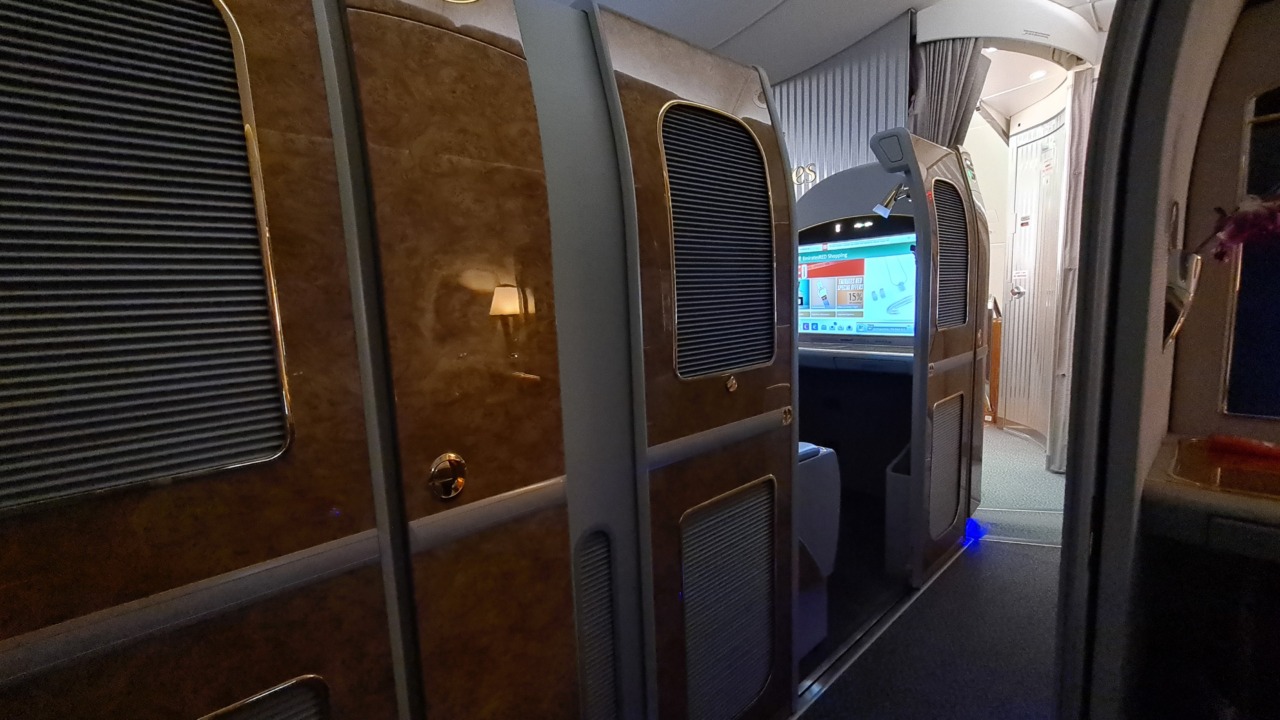 I was lucky to be the only passenger in First Class en route to DXB which was a surreal experience. I had 14 suites, 3 crew, 2 bathrooms and 1 galley-bar all to myself. The semi enclosed suite is very spacious and boasts a mini bar, make up mirror, 32-inch TV screen, snack basket and plenty of storage. At nighttime the crew prepares a proper flat bed which I find very cozy and comfortable. You can close the suite at any time and feel very secluded, I usually try to sleep for almost the whole flight. Couples will enjoy the middle seats which are separated through a large wall. The seats at the window are super-private and perfect for solo travellers.
You should absolutely ask for the very comfortable (and stylish!) pajamas and slippers which add a lot of comfort during long hour flights.
Dine on demand
In First Class you enjoy dine-on-demand which means you can choose what and when to eat from the large menu any time during the flight. The selection of wine and spirits is a notch above business class and the food slightly more sophisticated. I go for a light starter and cheese board, but the main courses (Mezzelune pasta) are not to be missed if you want to get the full experience. Oh yes, and there's Caviar, which I'm not a fan of. The whole setup is lovely, the crew on my flight was taking good care of me and was very professional. For snacks in between you can always visit the galley bar in the front and grab sandwhiches, snacks or fresh fruit.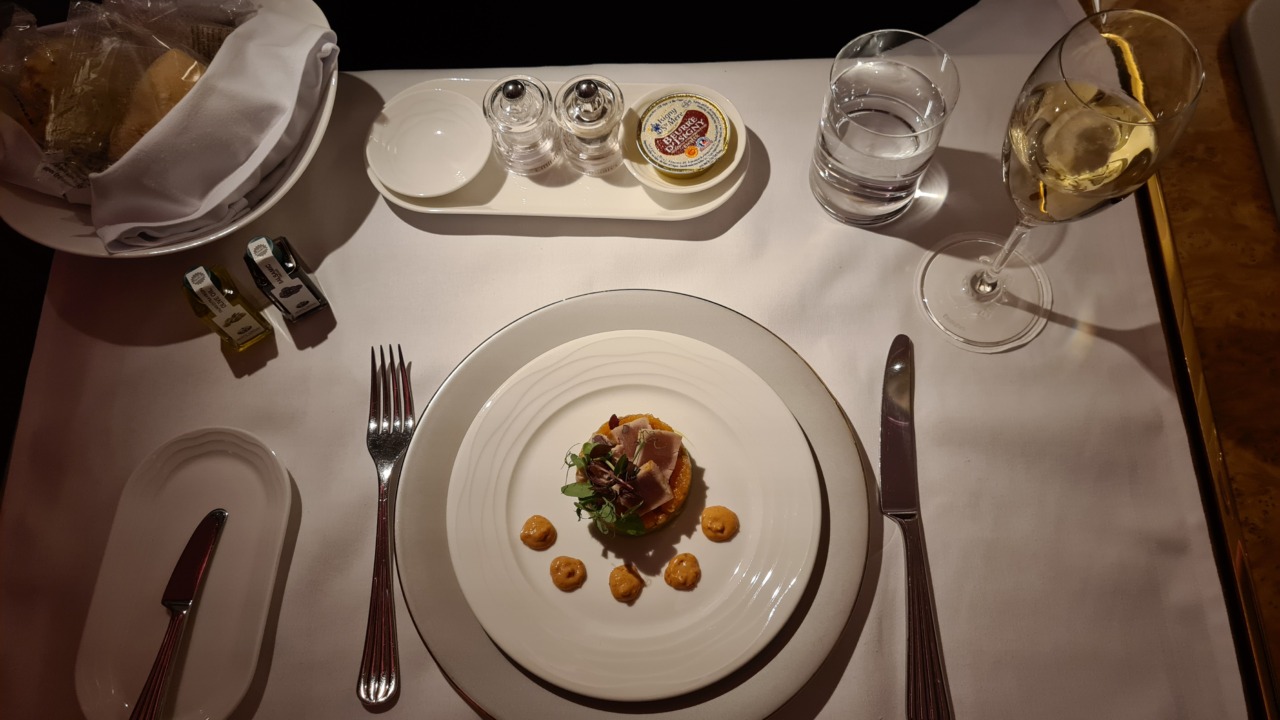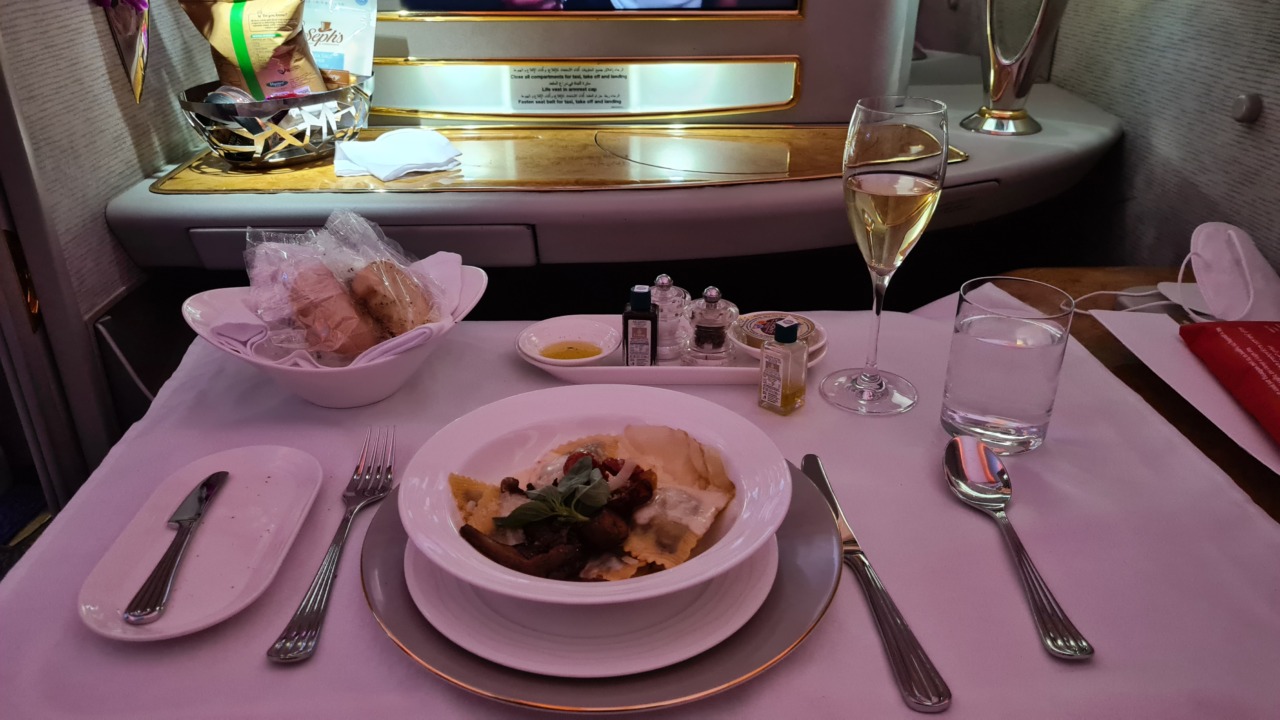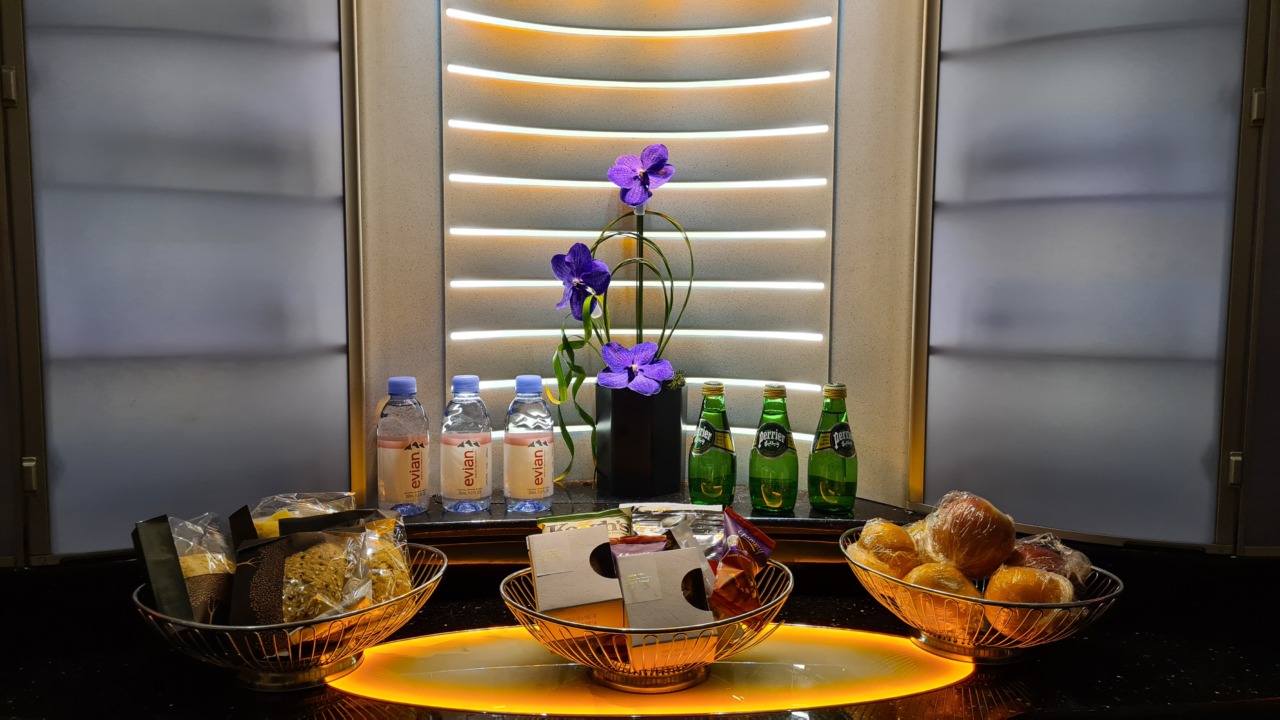 The A380 shower spa
While I've reviewed the awesome onboard bar in the back of the A380 on my business flights, I wanted to check out the unique shower spa this time. Two of them are located in the front and a dedicated crew member takes care of the cleaning. They're regular bathrooms (only for first class passengers) too and are easily the most lavish airplane restrooms I've ever seen. The size and space is amazing and you feel like in a private jet. My crew was preparing the shower 1:30h before landing in Dubai complete with fresh fluffy towels, shower mat, personal care products and a hair dryer. It's a surreal experience to take a shower above the clouds and while it's not necessary at all, you'll arrive completely refreshed and ready for the day. Just make sure to watch the timer as you'll have 5 minutes of running water – oh, and the shower pressure was better than in my last flat here in Cologne. Upon returning to my seat I found a small plate of fresh-cut fruit and honey set up to enjoy which I found a nice, personal touch.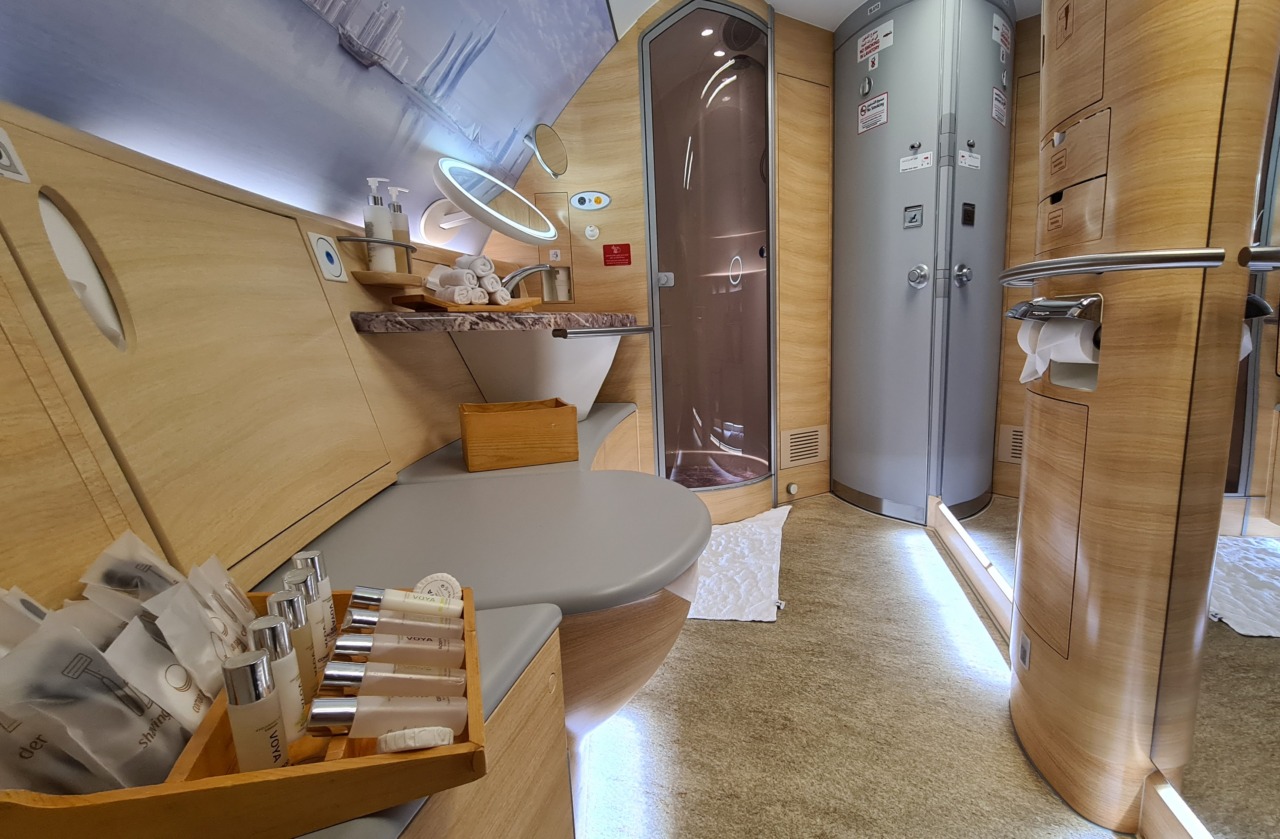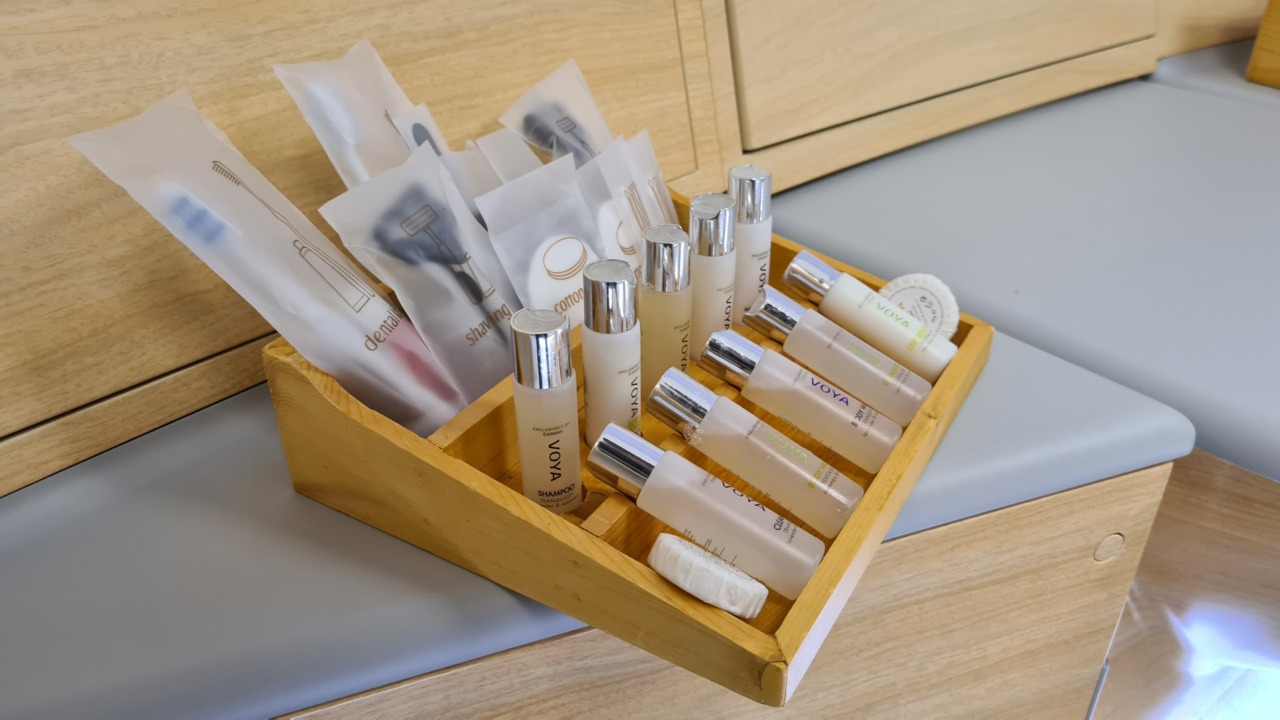 Passport & Palmtree conclusion
Let's face it: Is flying First Class neccessary? Absolutely not. Is it a once in a lifetime experience if you do it? Absolutely yes. I still hold on to my verdict that Emirates business class is such a good product for any length-of-flight that I rarely would pay a premium for F. However, I am grateful that I had the chance to experience such a flight, going above&beyond anything I've seen in air travel before.