When first looking for flights to NYC, I was not aware of the fact that Singapore Airlines offers their connection from Singapore to New York through Frankfurt. After seeing the very convenient flight times too, the airline was set. As it was A's birthday weekend, we decided to opt for Business Class tickets this time to make the most of the short stay. Read all about a business class experience that comes with a price tag but is really worth it.
Pre flight experience
Our outbound flight was scheduled for 8am so we had to be at the airport quite early. The pre-flight experience of Singapore Airlines was good: You get a dedicated check-in counter and zero waiting time. With 2x32kg your baggage allowance is generous and you also get to use the fast track at security whereever available. We missed the fact that Singapore Airlines includes complimentary rail tickets from your home to the airport. I found it a bit inconvenient that you can't issue those once anymore you've booked the flight. Pro-Tipp: You have to set QYG as airport code to get the rail tickets when booking – I wonder how many casual travellers find out about this.
Online seat reservation upfront is complimentary and you also get to use the "Book the cook" option: A selection of special dishes that you can pre-order for your flight. Alternative to that is the standard business class menu onboard. I'll have more details about the food later on. After check-in and airport security, you receive admission to the respective lounge, either being the Lufthansa Business lounge at Frankfurt airport Terminal 1 or The Swiss Lounge at John F. Kennedy airport. From both lounges the distance to the gate was short and we could board through the dedicated bridge to the upper deck of a Singapore Airlines A380.
A380 business class
Singapore operates several aircraft types but we got to fly with the A380. I believe they were one of the first to operate this type so the cabin and seats are more on the mature end, however everything was spotless and in good shape during both flights. The leather coated seat is remarkable. It is the widest business class seat in the market and just for the fun, A&I managed to comfortably sit side by side in just one of them. To make the experience more comfortable, you have two different sized pillows at your seat for your flight. The backrest has some recline for "lounging" that is controlled by a panel in the armrest. It also features a footrest which we however did not use. To fold the seat into a flatbed (with a mattress), you have to pull a handle at the top and pull the backrest forward which is really different to many other seats. However, the friendly cabin crew will jump to help you as soon as you either let them know or try on your own for the first lime like we did 🙂 The blanket provided by SA is large and really comfortable and clearly helps with a good sleep.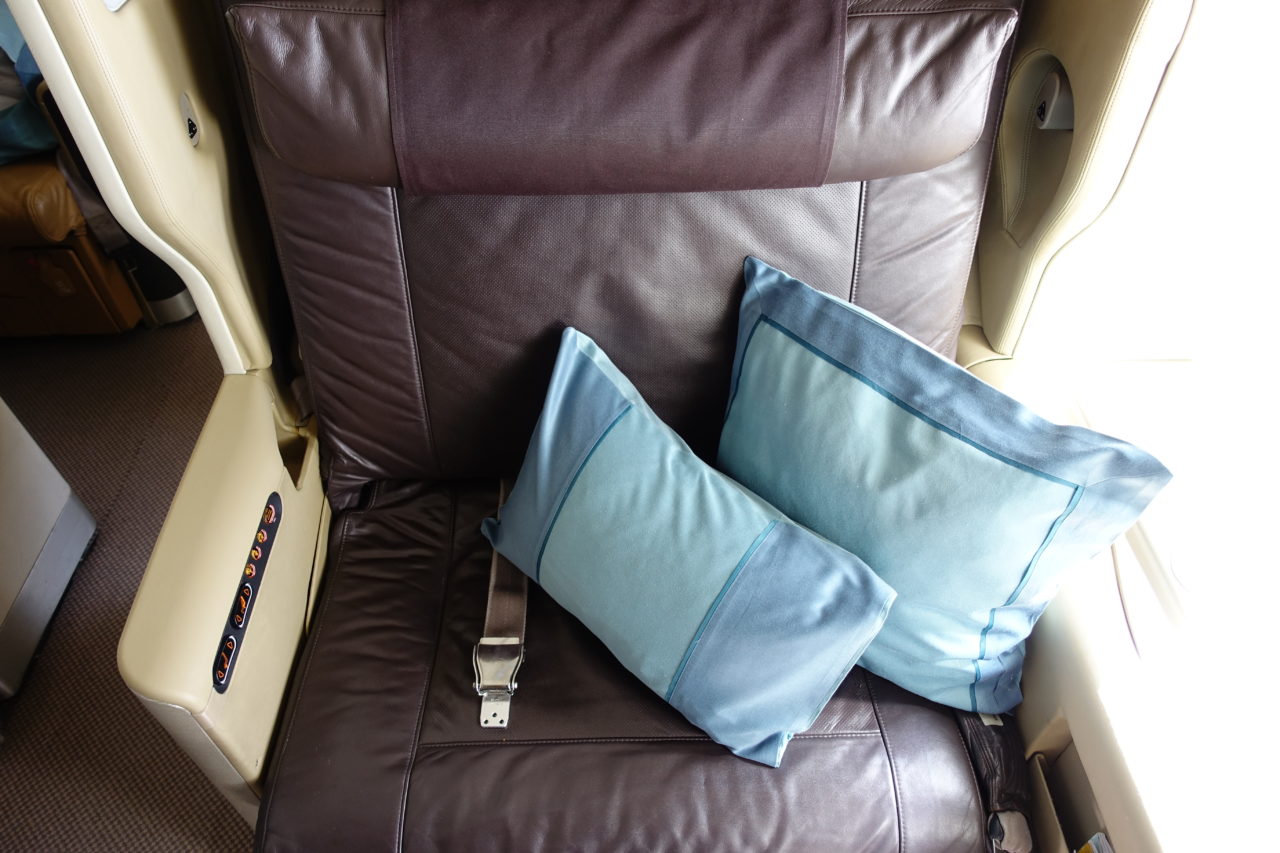 Although you don't receive an amenity kit, you get a pair of socks and comfortable slippers. Toothbrush, Shaving kit and similar amenities are stored in the (clean) bathrooms. You can probably ask for eye shades or ear plugs if you want them. From an ecological standpoint I find this reasonable and really don't mind. One thing I particularly like about flying A380 is the silence of the cabin. I find it to be considerably quieter than any other aircraft. One thing that's missing here is the iconic A380 bar like on Emirates.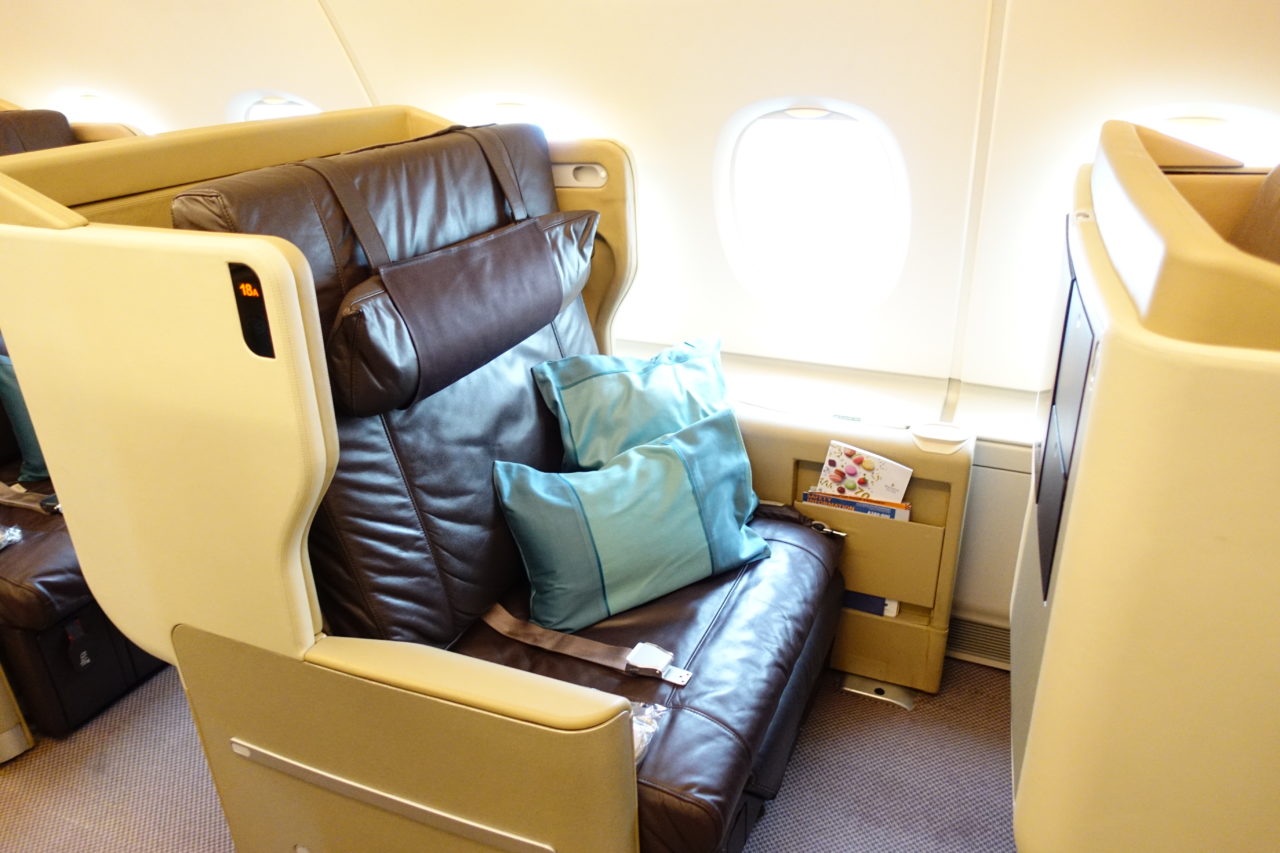 The Krisworld In-Flight-Entertainment system is controlled by a remote stored in your armrest and offers a wide selection of recent & classic movies, music and games. It's definitely on the better end and has a decent screen size (with privacy protection). The noise cancelling headphones really worked great and were comfortable to wear – you can even decide to plug them in righthand or lefthand at your seat. Besides the TV screen are USB and power outlets, a mirror, storage compartment and a tray for drinks, neatly tucked away behind faceplates.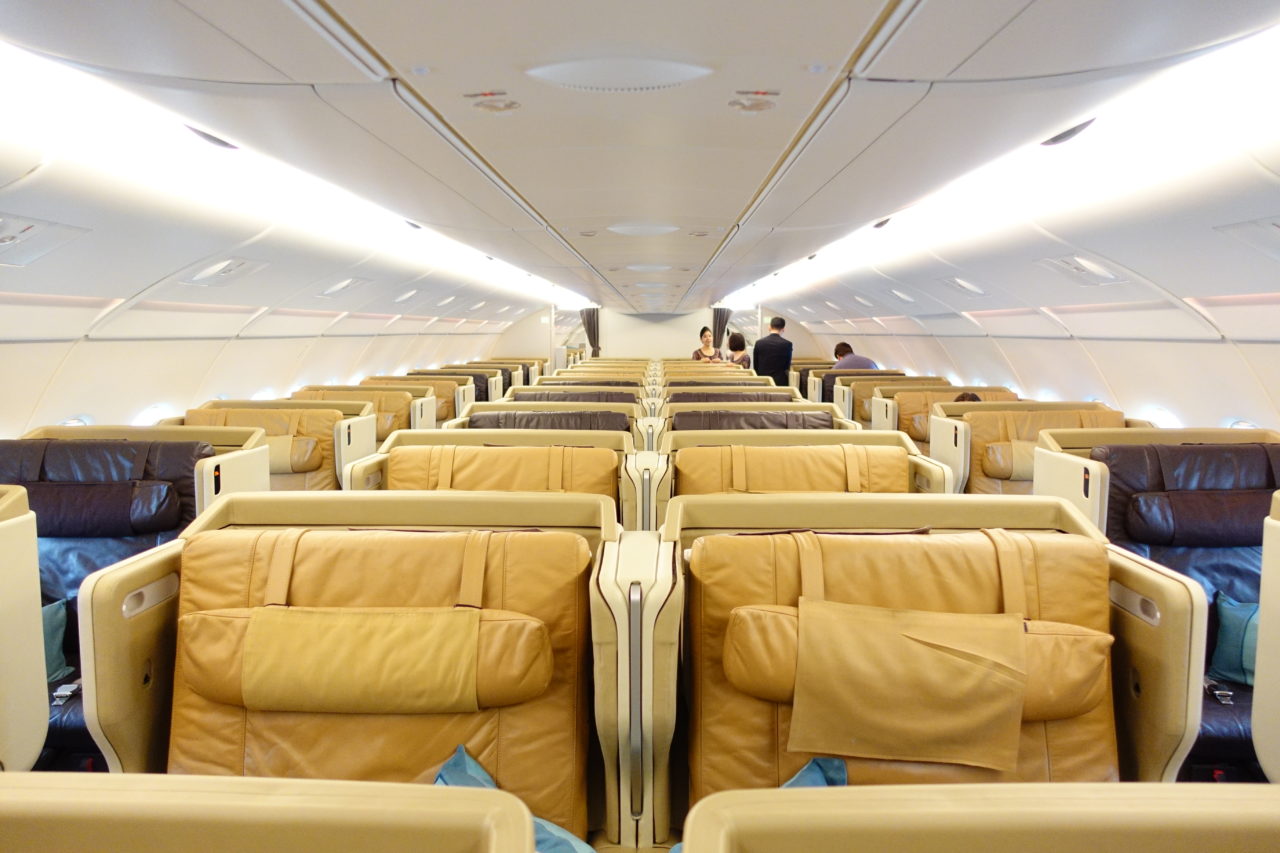 The seat configuration was 1-2-1 and thus allowed every seat direct isle access. Pro-Tipp: Try to book a bulkhead seat. Different to all other seats you've got a full footrest in front of you (like an ottoman) rather than just a "hole" to put your feet in. The non-bulkhead seats "force" you to sit in a diagonal position which is not uncomfortable but might get tiring. The full footrest allows for much more flexible and comfortable sitting in my opinion. However, all seats are great and allow for good privacy and comfortable flying.
Singapore Airlines food
Flying with a premium airline like Singapore Airlines, our expectations regarding the food service were high. First of all, you've the ability to "Book the cook", i.e. choose your preferred main course beforehand online and it will be loaded for you. The selection depends on departure destination and features a wide variety including specials meals, vegetarian meals, allergic meals and the like. You can also check the "regular" menu online before the flight and then choose from three main courses during your flight anyways. We tried the Book the cook option for both flights and found the quality to vary a bit. While A had some exceptionally good filet steak, the Italian gnocchi were on the lower end tastewise. The Wan-Tan soup is also a recommendation. The appetizers from the regular menu were crab tatare and king prawns with mango – both have been really great. We also enjoyed fresh pastries (warm!) alongside fresh cutted fruits. The deserts, ice cream and cake looked great but we passed on them every time because we were so stuffed. A had the selection of cheese which was great and made-to-order besides your seat.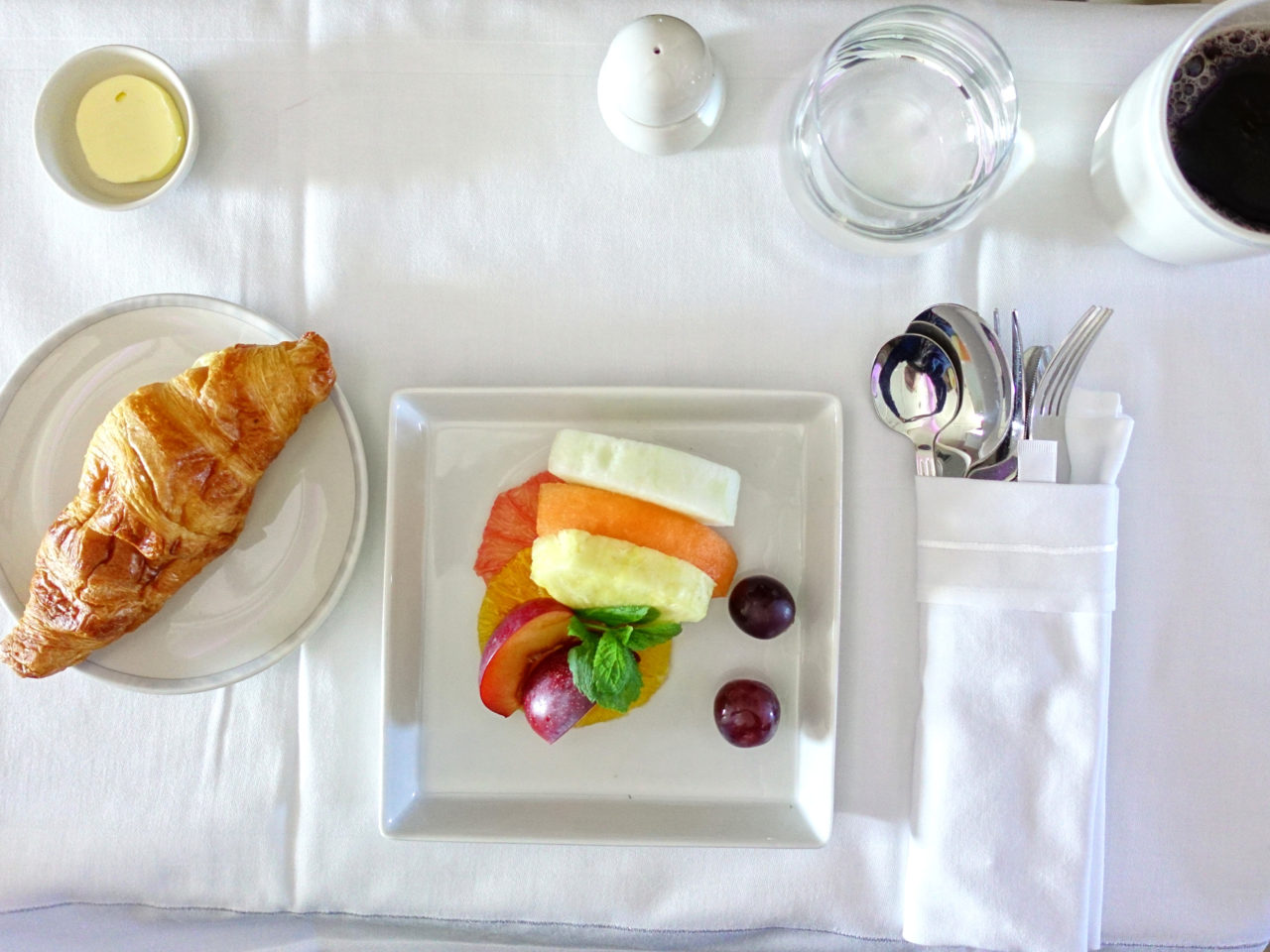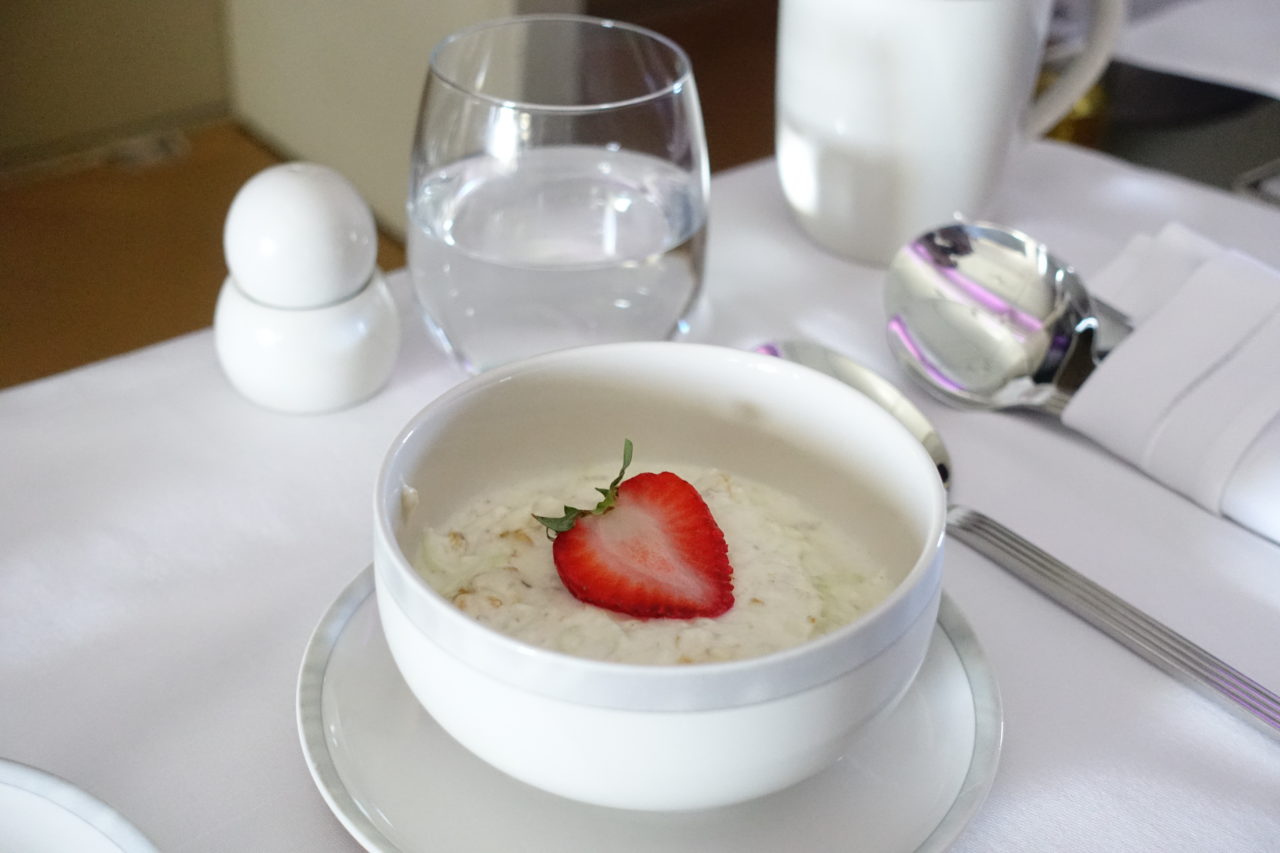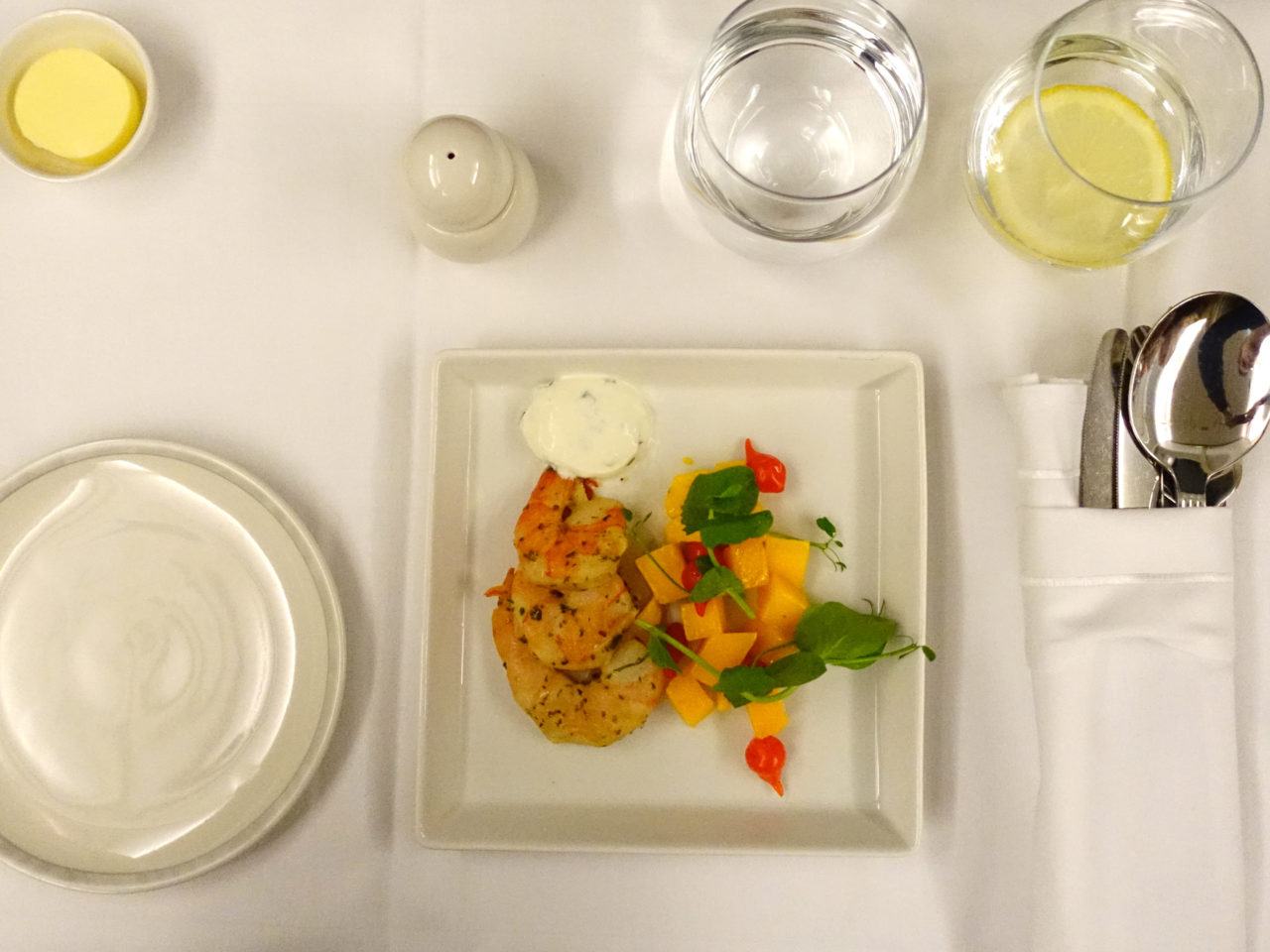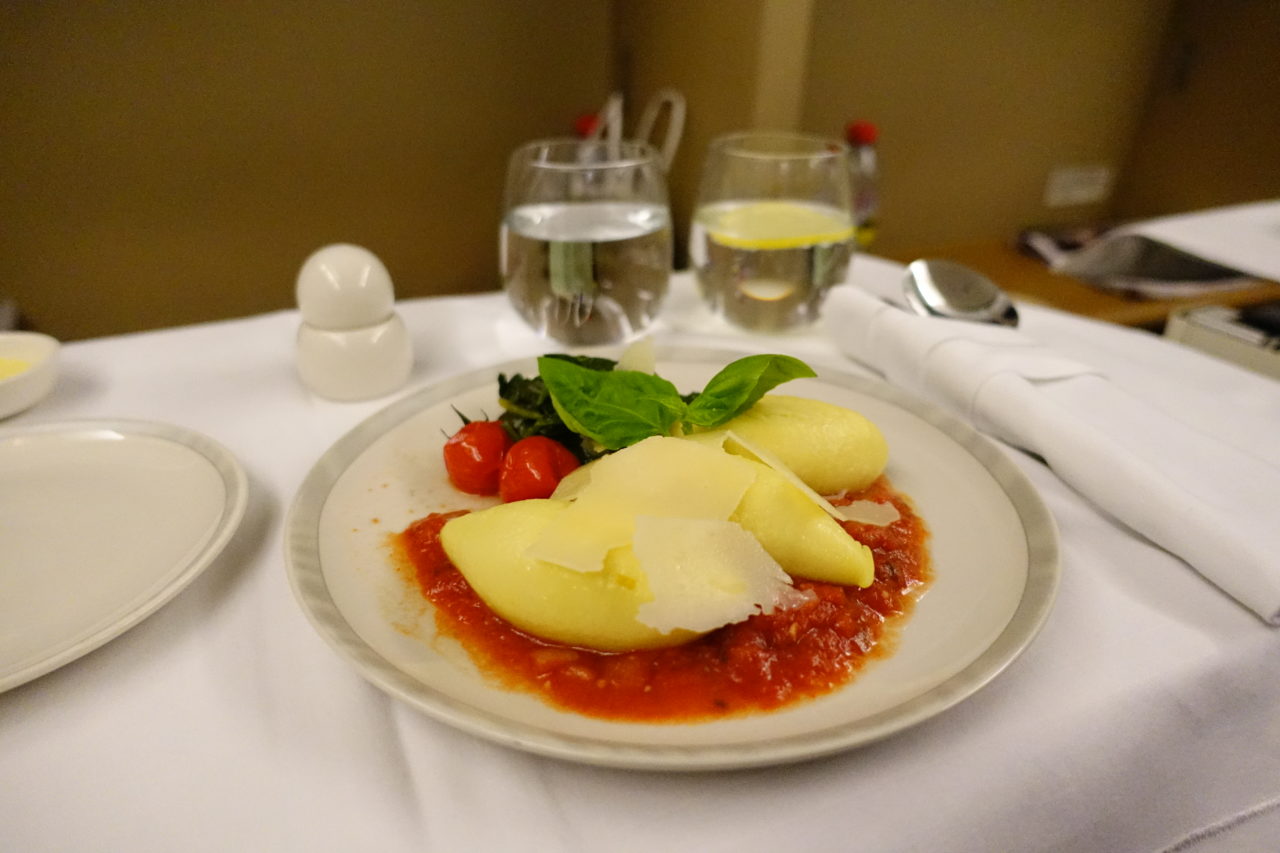 Before takeoff, we were just offered orange juice or water which I found a bit awkward. However, once in air we could choose from a wide selection of champagne, longdrinks, mocktails and (great!) coffee drinks. We did not have any wine or alcoholic drinks but found the description of the Singapore Sling to be really mean. If you ever have one, please leave your opinion in the comments if you can! 🙂 I really tried to get a tea but due to turbulences that occured on both flights a never had the chance to enjoy one. One thing to remember was the towel service. I've never received so many hot towels on any flight. Seriously. On the sixth round I stopped counting.
Singapore Airlines service
The service of Singapore Airlines is really impeccable. While the check-in was done by regular ground handling agents, the service aboard the plane set the benchmark. It's amongst the best crew services I've ever experienced. From start to finish, everybody of the crew was smiling, helpful, discreet and would go above & beyond to make the flight experience a memorable one. The staff/passenger ratio was fantastic and greatly contributed to the remarkable experience. As A was flying on his birthday, everybody wished him happy birthday and the crew of flight SQ26 even gave us a special surprise after dinner and a cake before landing which was a nice touch. I cannot rate the service highly enough, especially since it was very consistent on both flights.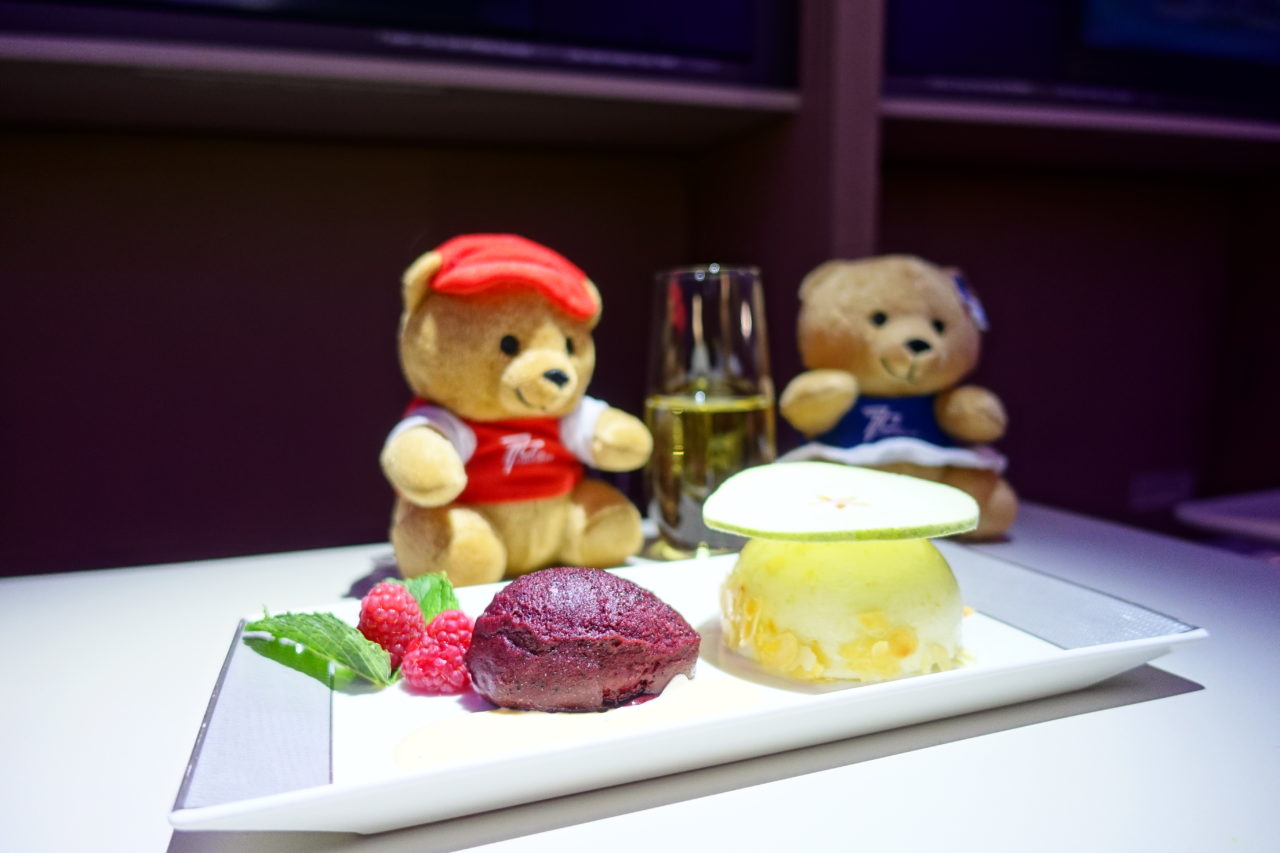 Passport & Palmtree conclusion
Singapore Airlines was something I always wanted to do because I've heard great things about it. My expectations were high but exceeded on nearly all occasions. They have fantastic service, a state of the art premium product and I would fly anytime again. Makes me want to visit Singapore next…
Have you flown Singapore Airlines already? How did you like it? How are their other aircraft types compared to this?
Leave me a note in the comments <3