Regular readers to my blog do know, that I enjoy staying with Marriott's St. Regis brand while traveling. So I was happy to learn a rather new property opened in Macao which was a stopover on our recent trip in China. While Macao is known for it's huge casino hotels which tend to exhaust me, the St. Regis Macao Cotai Central clearly stands out as the (positive) opposite to that. Read on to know why…
Macao, the "Las Vegas of China"?
The St. Regis is located centrally at the Cotai strip which is the new glamorous district between the islands of Coloane and Taipa (hence the name Co-Tai) that form the special administrative region of Macao. While I was aware of the "Las Vegas" lookalike sights (think: Eiffel Tower, Venetian) in Macao, I just learned about the strong Portuguesian heritage before going there. The mixture between old Portuguesian houses, massive Las Vegas style hotel projects and Chinese culture is absolutely unique and an experience like no other. The St. Regis is part of a massive hotel complex run by Sands, which also houses a Conrad, Holiday Inn and Sheraton hotel. All of them are considerably bigger while the St. Regis offers "just" 400 rooms – still making one of the largest St. Regis hotels worldwide. Many of the rooms offer "strip view" which means looking at the Parisian and Venetian hotels which offer brethtaking light shows at night.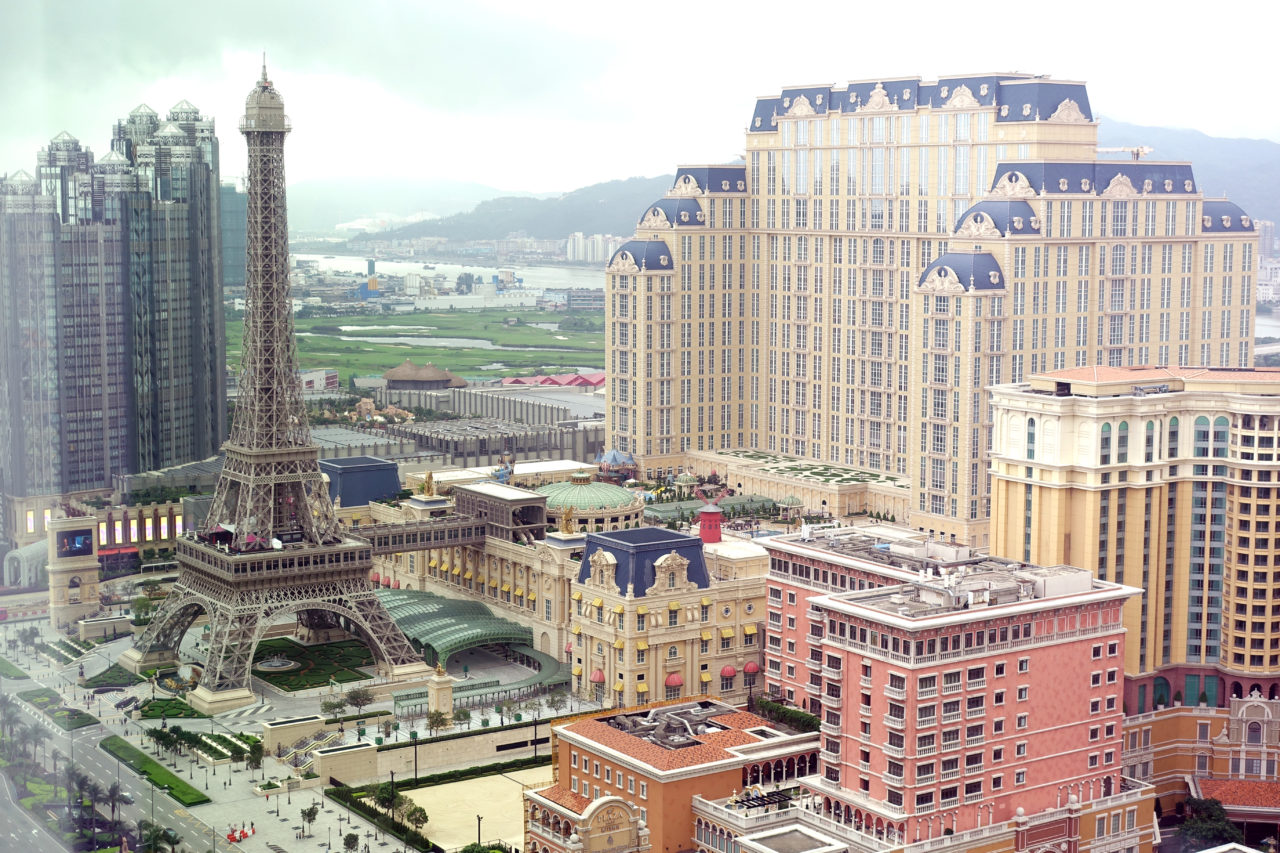 Hospitality like it's meant to be
A and I arrived in Macau by Ferry and took a taxi to the The St. Regis. Be aware that most taxi drivers in Macao do not understand any English and it might take some time to explain them where exactly you need to go. Therefore be prepared and bring a Chinese screenshot of the adress you want to go or arrange a pick-up direcly with the St. Regis. Their concierge service is great and can help you with it.
Upon arrival at the hotel we were greeted by the friendly bell boys and immediately escorted to the front office on the first floor. Passing through the wonderful, boutique-sized lobby, I later learned that many elements here resemble to Portuguesian heritage – like the chandelier with its "wave styled" form. A team of super-friendly associates took care of us and managed the swift check-in procedure while we could enjoy a tea. We were upgraded to a Metropolitan suite on the 29th floor to which a butler escorted us to.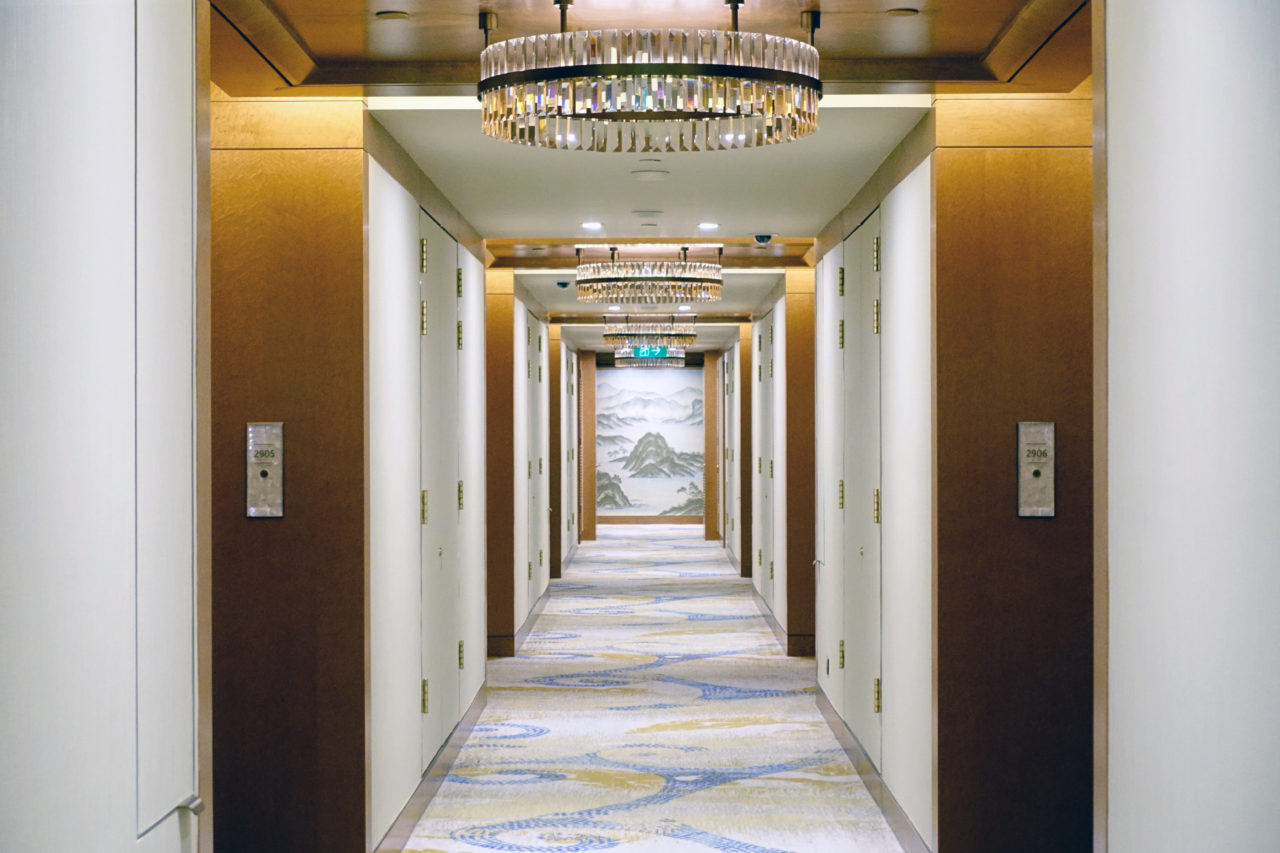 The suite life
The Metropolitan Suite offers 161m² of space in several rooms and one of the best views I've ever had in a hotel! From the floor-to-ceiling windows in the huge living room you can look down to the Venetian which looks like a miniature wonderland. On the left hand is the Eiffel Tower which offers an incredible lightshow by night. From the separate bedroom you have views over the City of Dreams mall towards old Macao, spotting the iconic Grand Lisboa structure at the horizon. We were greeted by a lovely bouquet of flowers, a personal, handwritten card (we received lots more in the days to come!) and a present. Our arrival in the room was such a nice treat after a full day of traveling, I immediatly was able to unwind and easy into this new destination.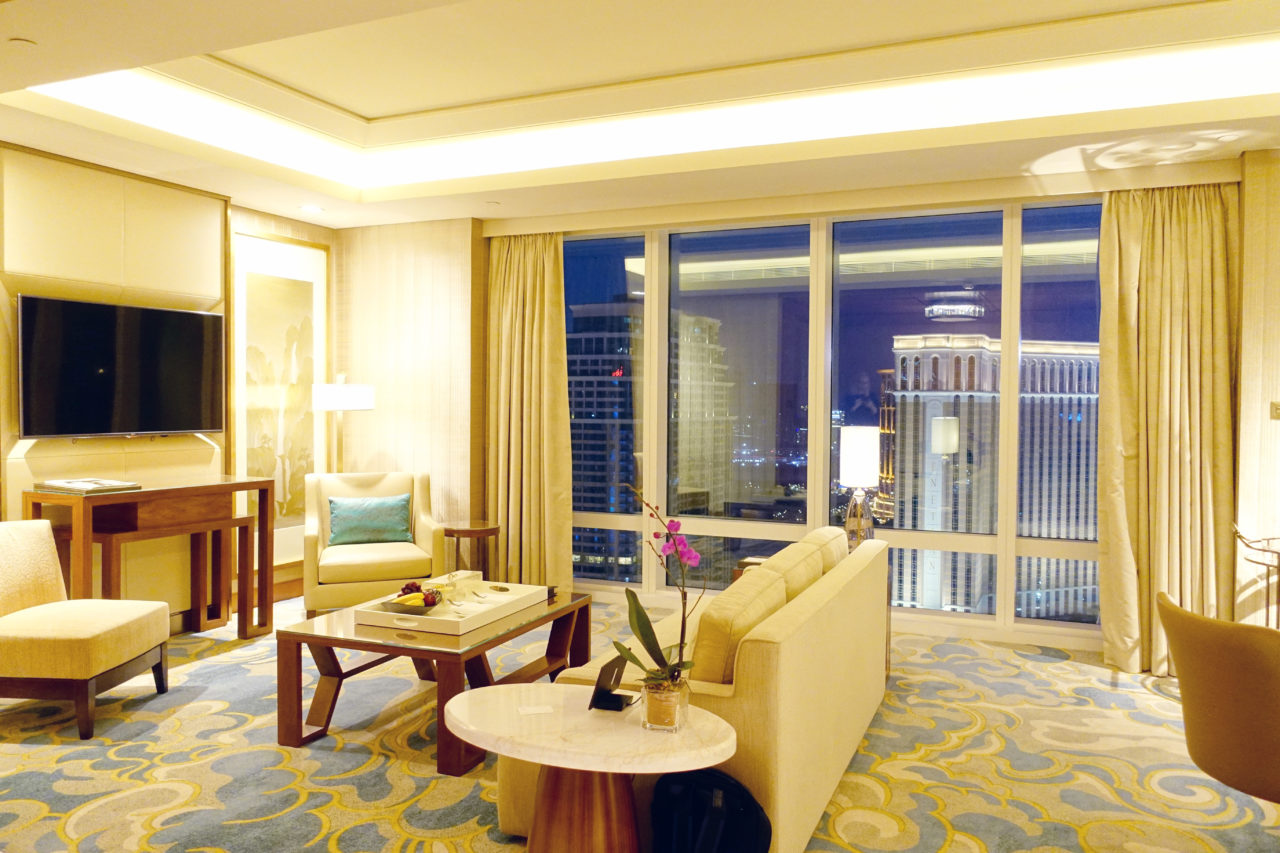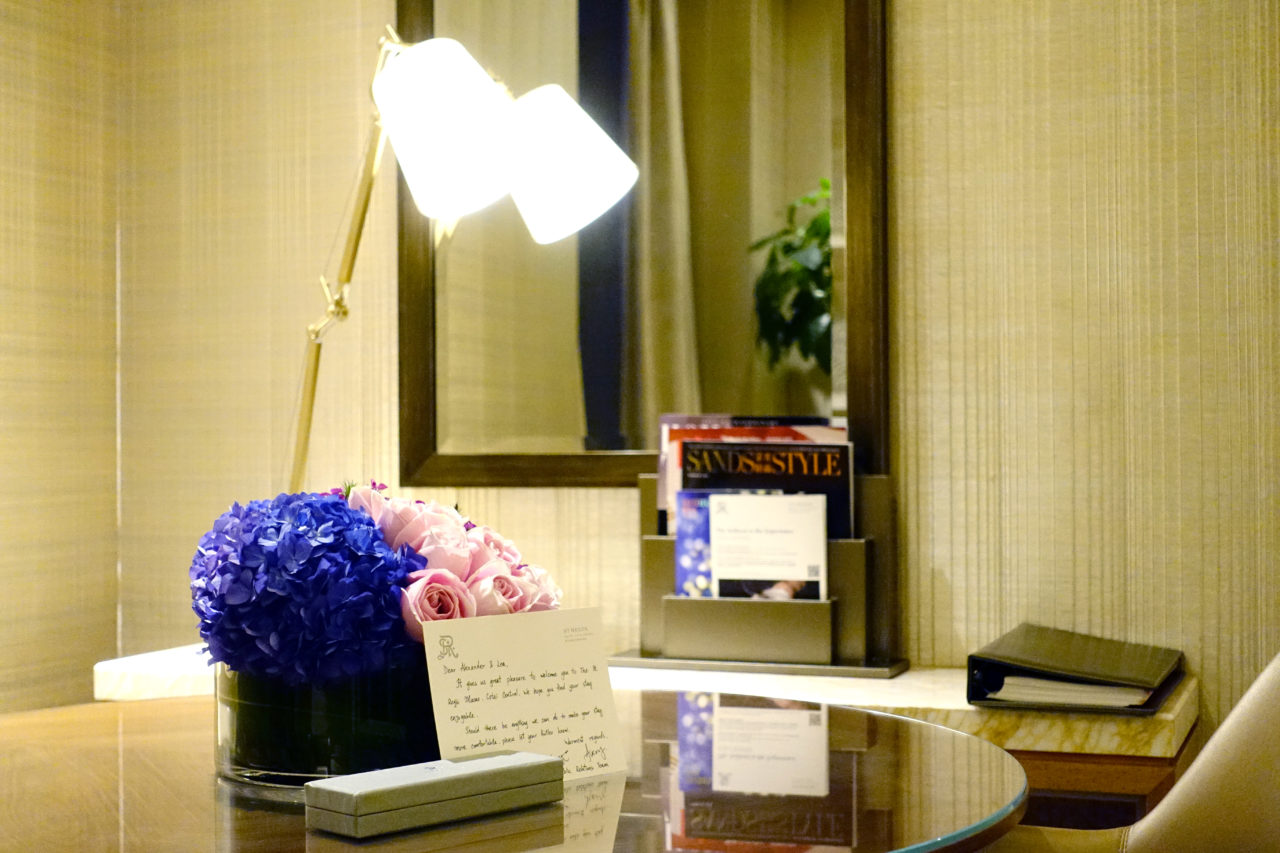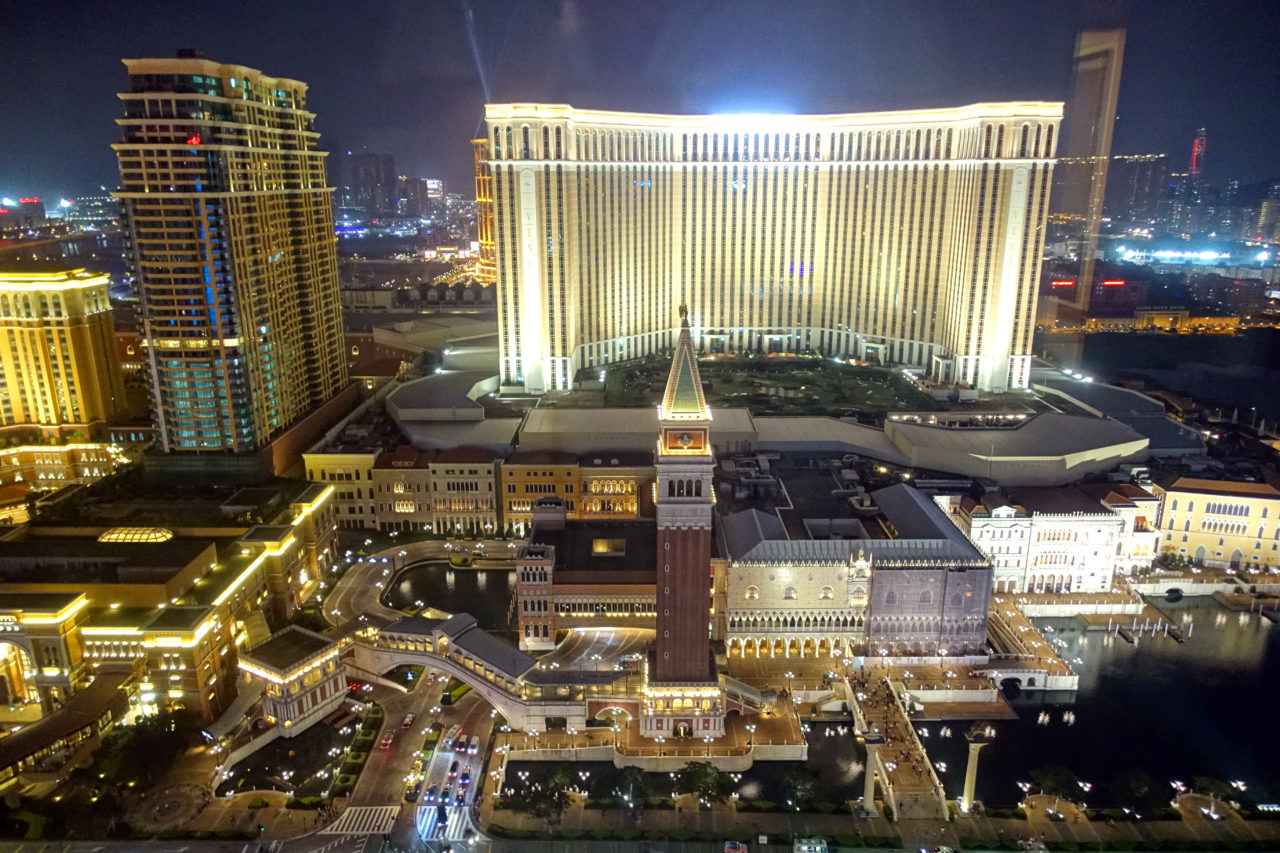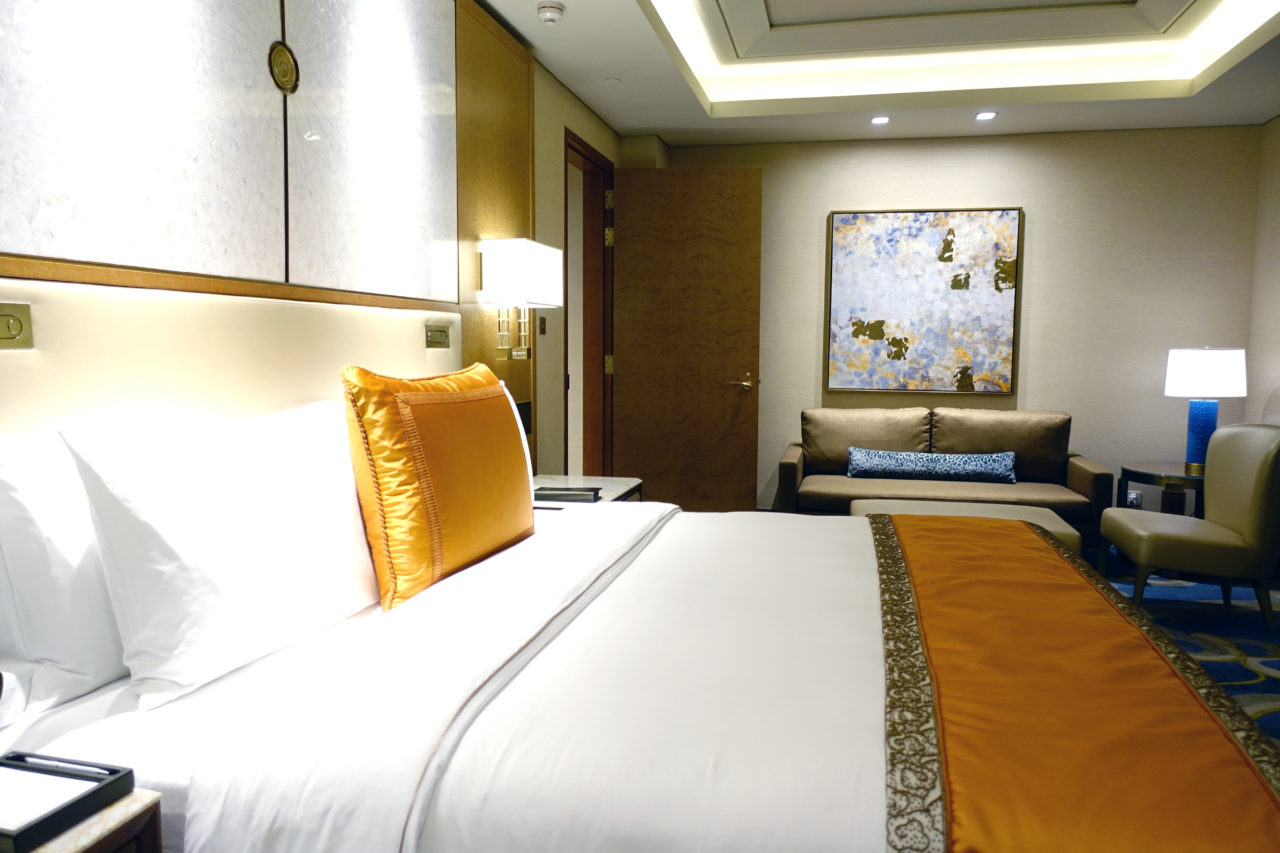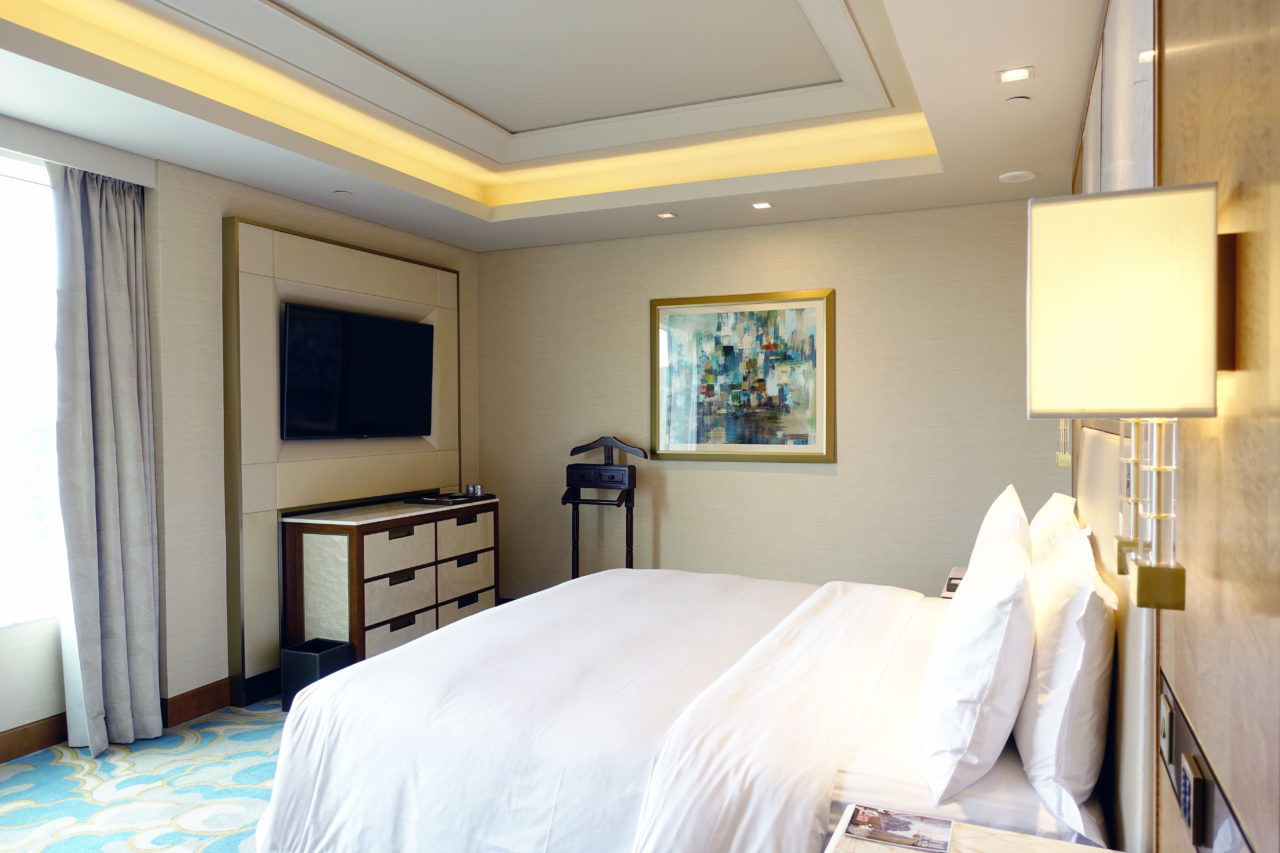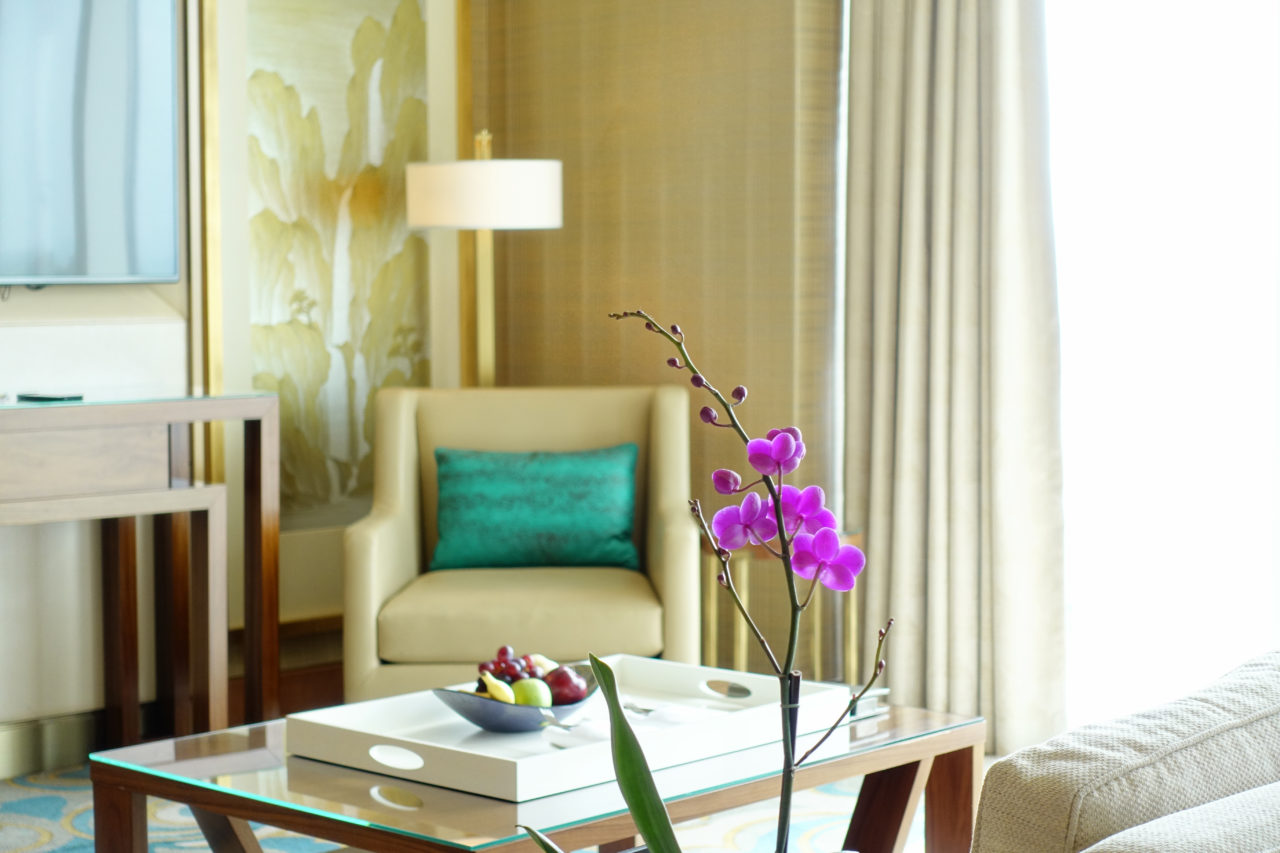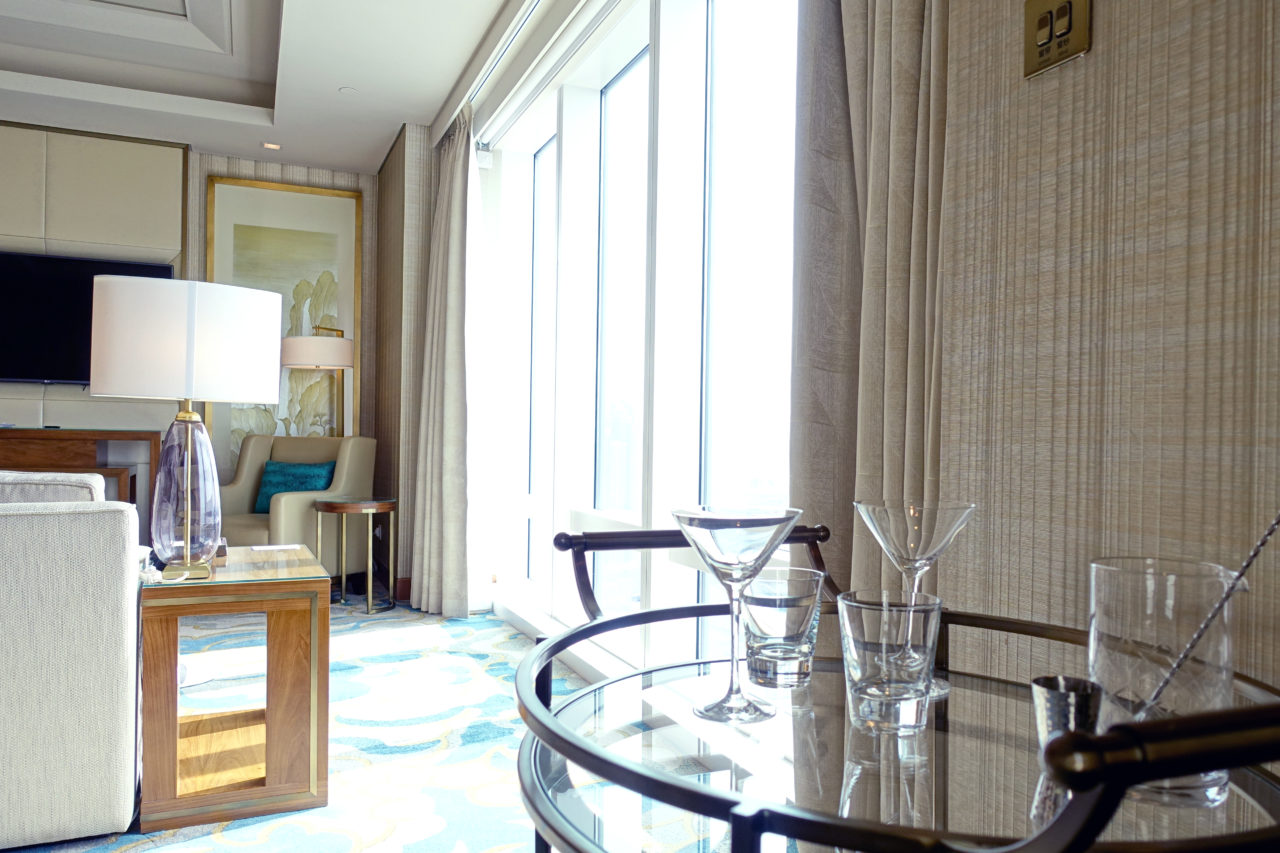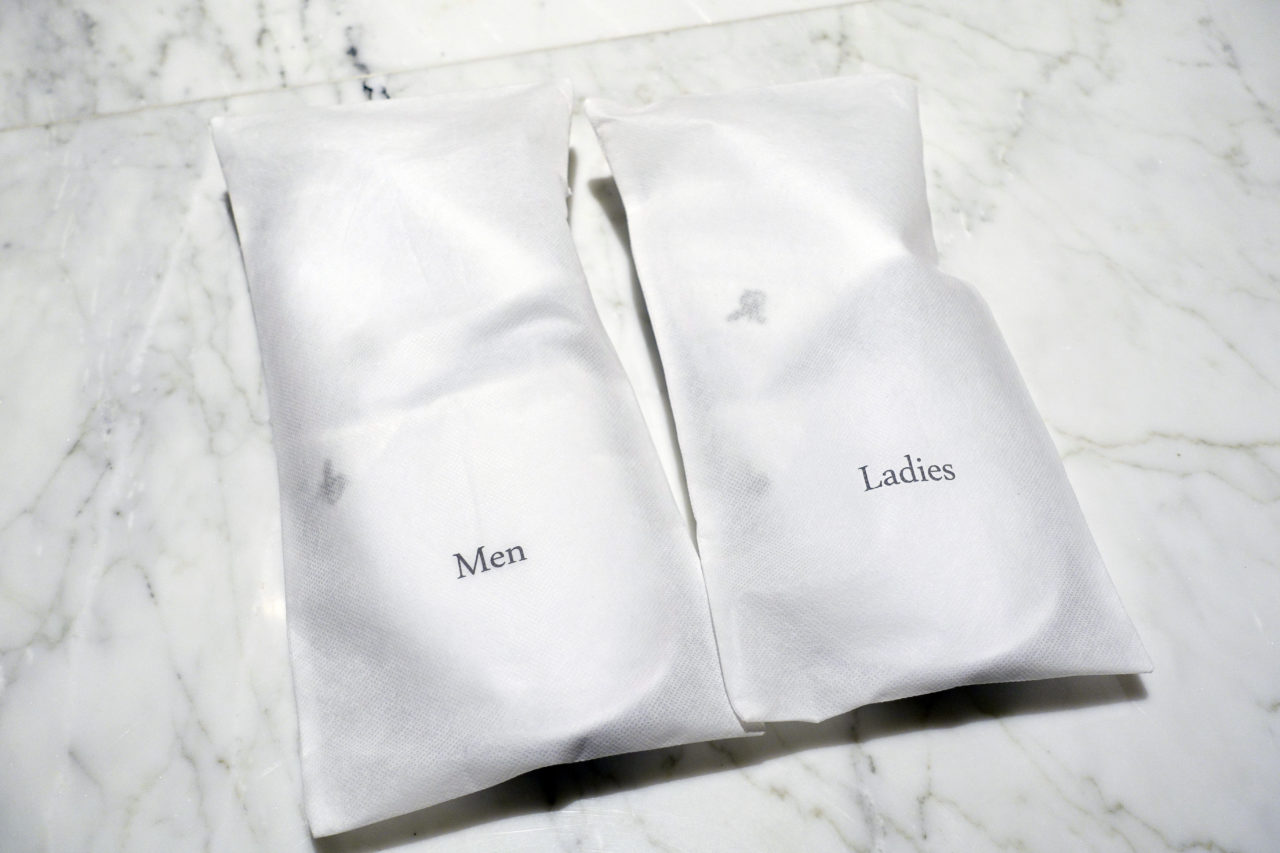 No suite is complete without a bathroom and while it does not have daylight, it is wonderfully bright, made of marvel and expansive size.  The double-sink layout is spacious and offered plently of room to store my beauty products without disturbing A. I also noticed the incredible amount of amenities, from skin care over bathroom essentials to fluffy towels. Pure indulgence! I also liked the attention to small details like customized slipper bags for men and women so you don't have to guess which one is for whom. A spacious walk-in closet and dressing table equipped with a fantastic salon hairdryer make the dream complete. All electronic features of the room are tablet controlled and automated, so from aircondition to light or curtains you can steer everything while waking up in the extremely comfortable king-size bed.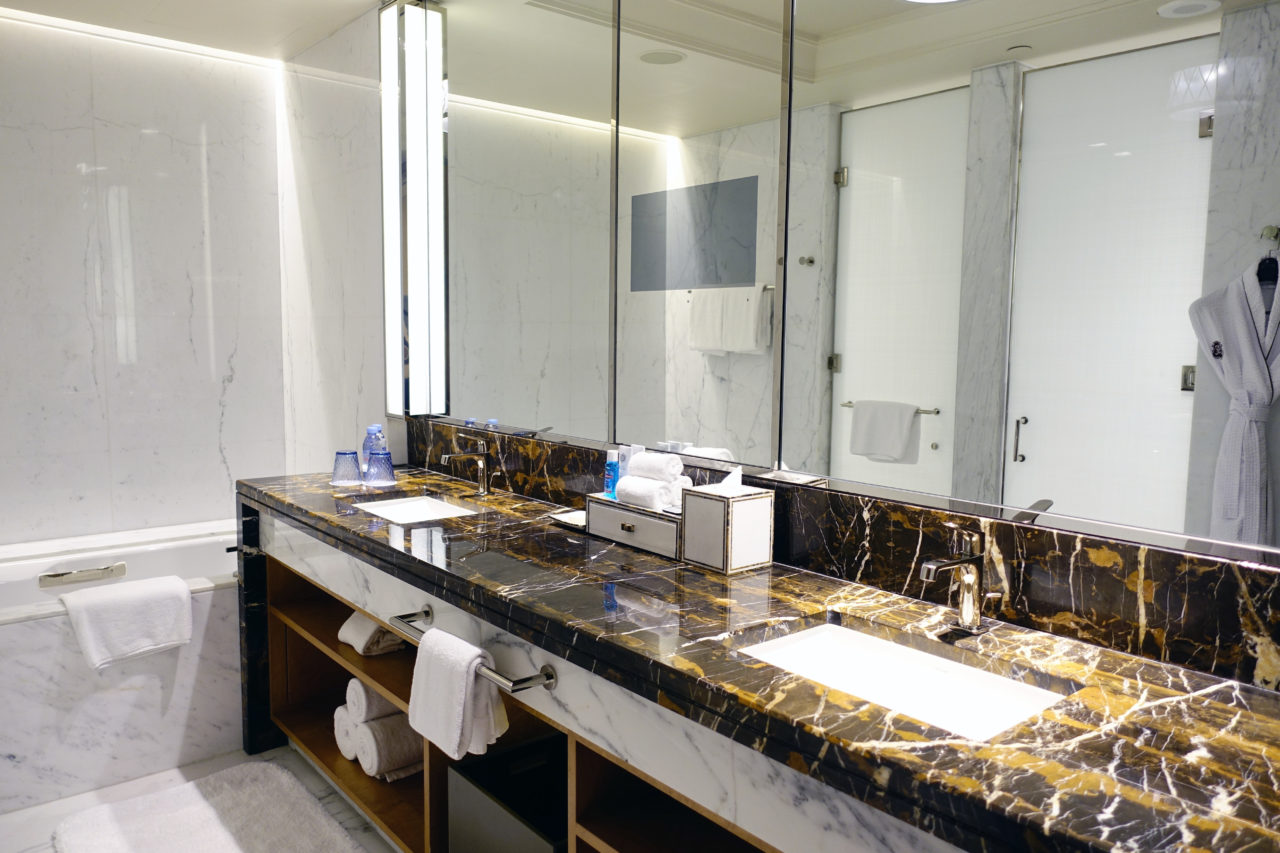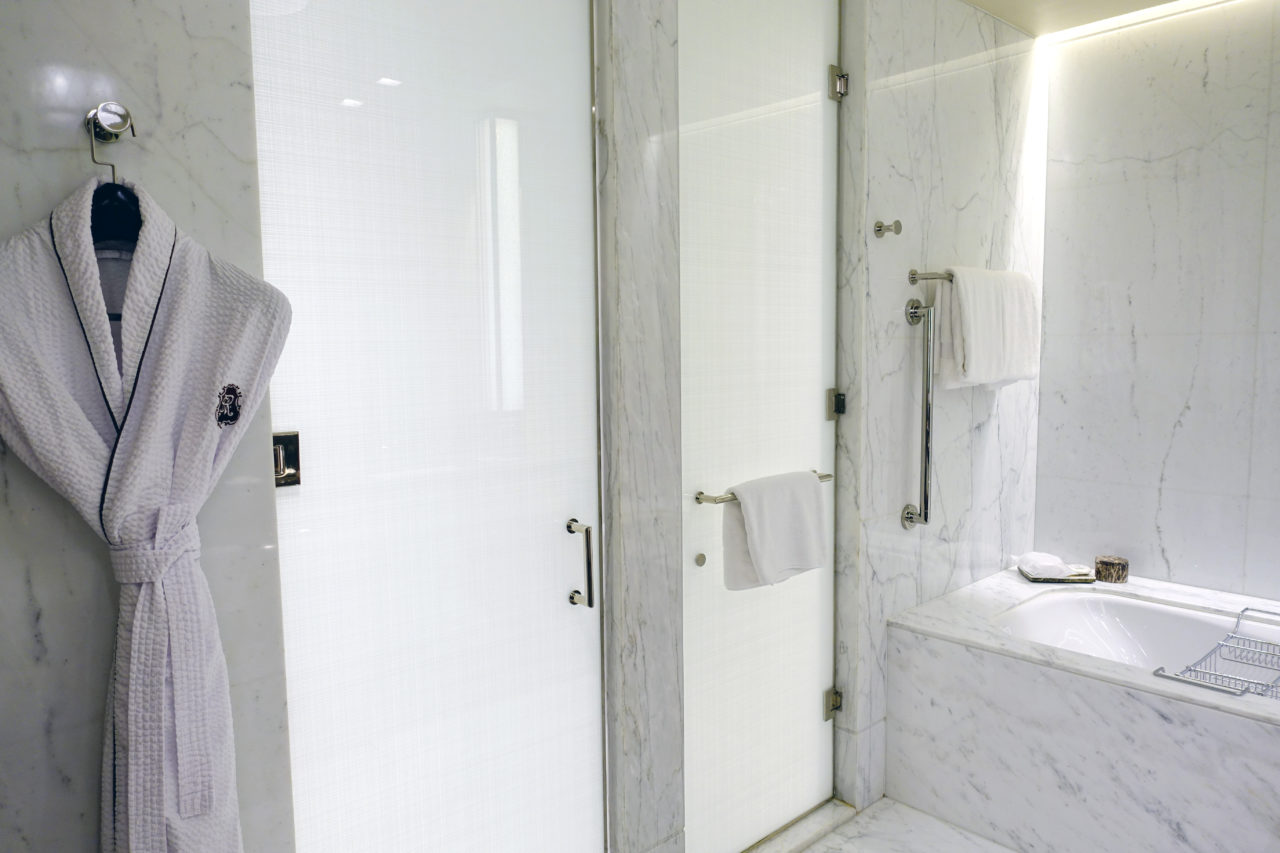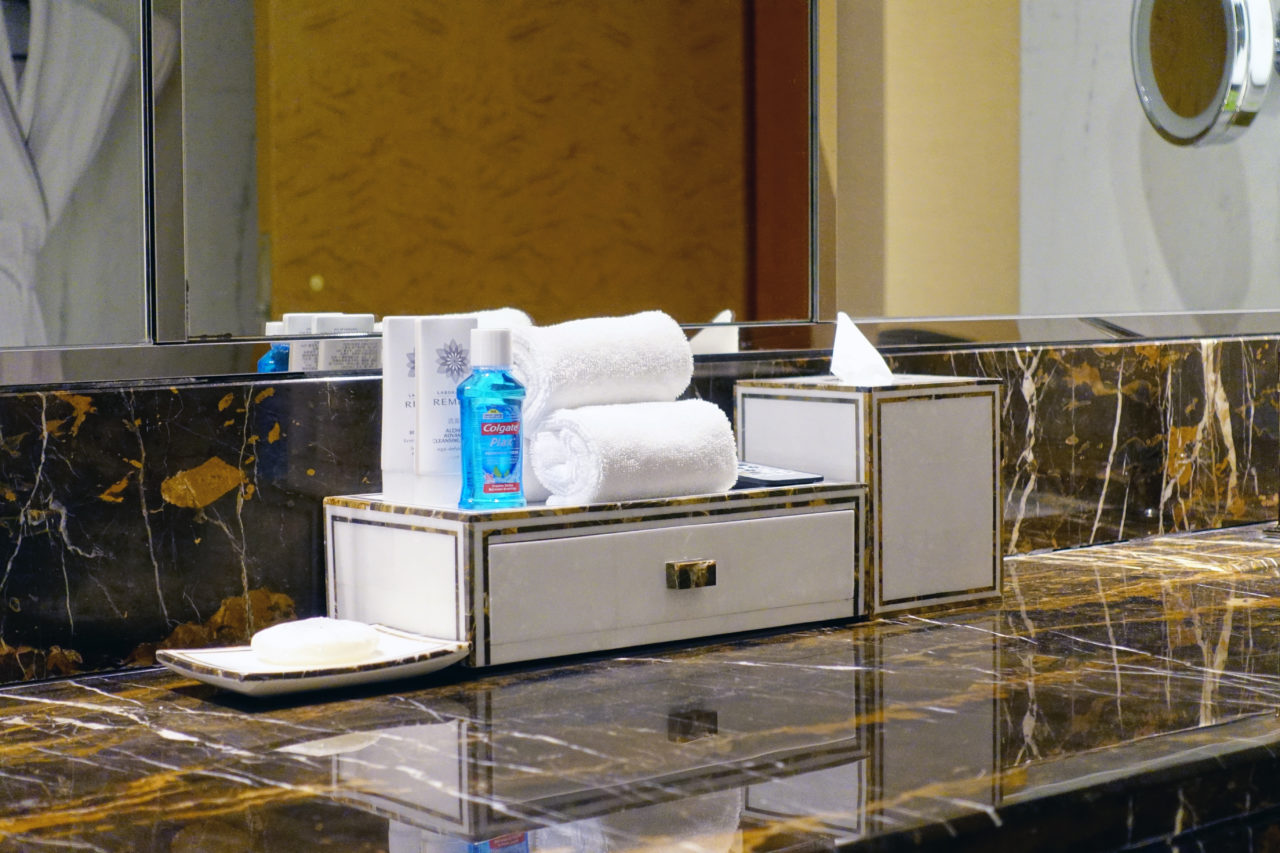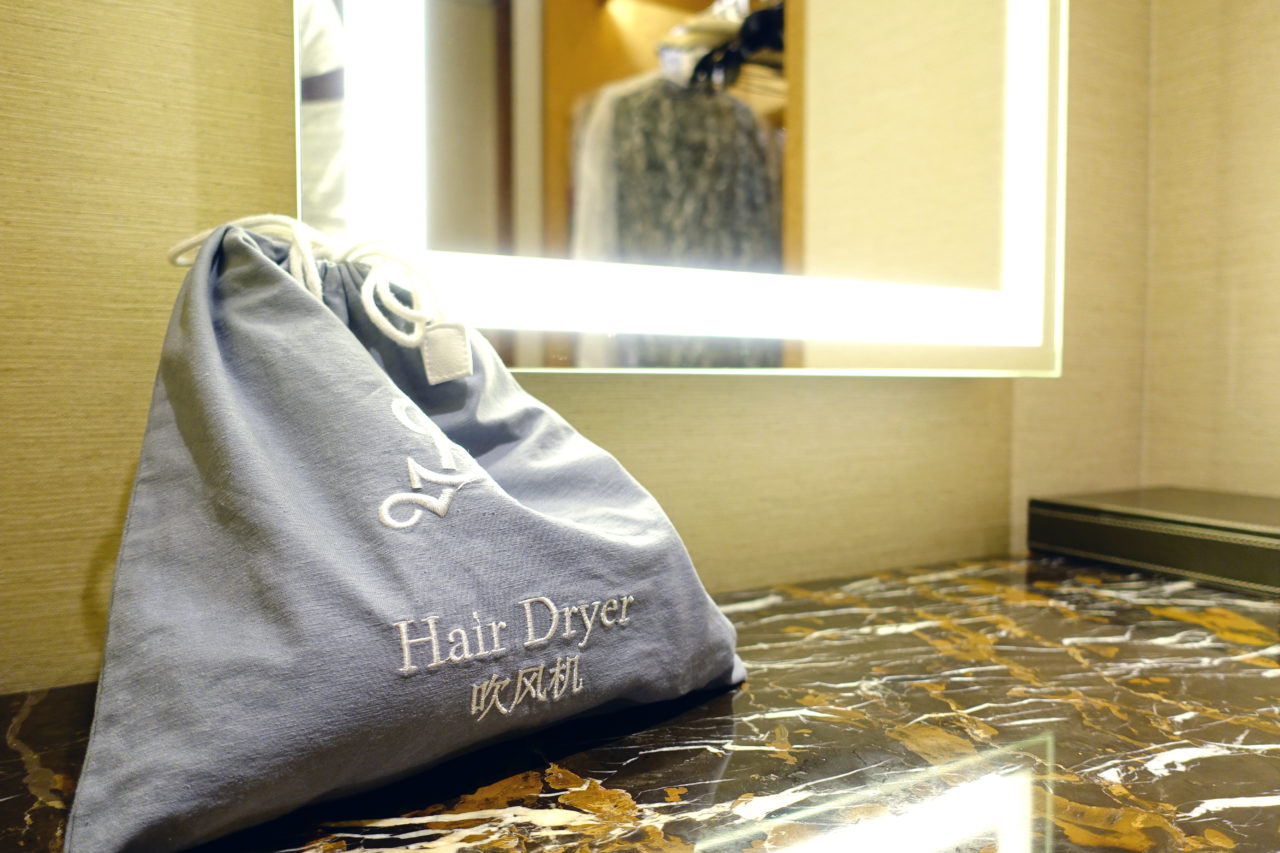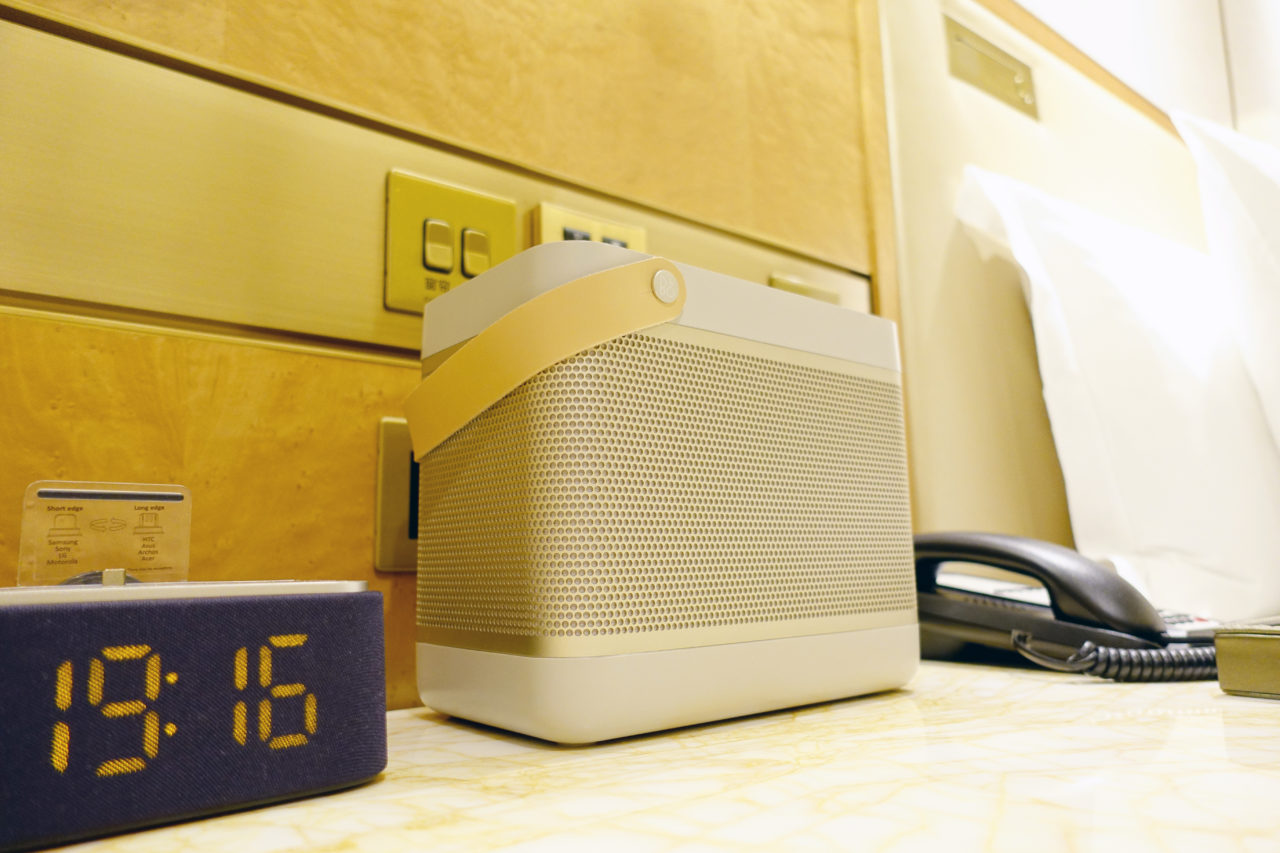 Signature St. Regis service: The best butler team in Macao
While it may be easy to excel at the hardware as the property is fairly new (2 years), what really sets (most) St. Regis hotels apart from their competition is the service. The St. Regis Macao falls nowhere short here, in fact I experienced one of the best and most attentive stays I've ever had. All the small details were right and everybody went above and beyond to an extent where it was almost scary how well they anticipated our needs. First and foremost, the team of butlers were super helpful and friendly. Always addressing us by name, they would leave a handwritten note even for the smallest requests like pressing my dresses or replacing some fresh fruit platters or sweet treats because they felt we could be hungry. Even the housekeeping knew my name and spoke perfect English when I returned to the room one day, picking up something. I thoroughly enjoyed the efficient WhatsApp/WeChat service of the butler team which took care of our every need – from restaurant reservations to laundry requests. The bell boys at the lobby always made sure the taxis knew where we would want to go and how we get back. The front-desk team greeted us at any hour of the day when we would be passing by and even organized a takeaway breakfast on check-out as we were leaving at 5am in the morning. I was impressed about the level of personalized service at the St. Regis, considering its size. Truly remarkable.
A heavenly Spa experience
No visit at a St. Regis hotel is complete for me without a relaxing Spa treatment. The Iridium Spa at the St. Regis Macao is located at the the top floor of the tower, making it the highest Spa in Macao. The views are breathtaking, as is the impressive Spa lobby. A&I had a 90 minute treatment which was done at a couple's Spa Suite which was easily the size of most appartments. Needless to say, the treatment was impeccable from start to finish and while relaxing on the daybed afterwards, taking in the views of Macao by sunset, it can't get any better. I highly recommend a treatment when staying at the hotel, the complete experience is hard to beat. We decided to go with the Asian Combination massage, which I can't recommend highly enough. They also offer a wide range of facial treatments which I will make sure to try next time when visiting. You can also visit the spa as external quest when staying at another hotel or being a Macao resident.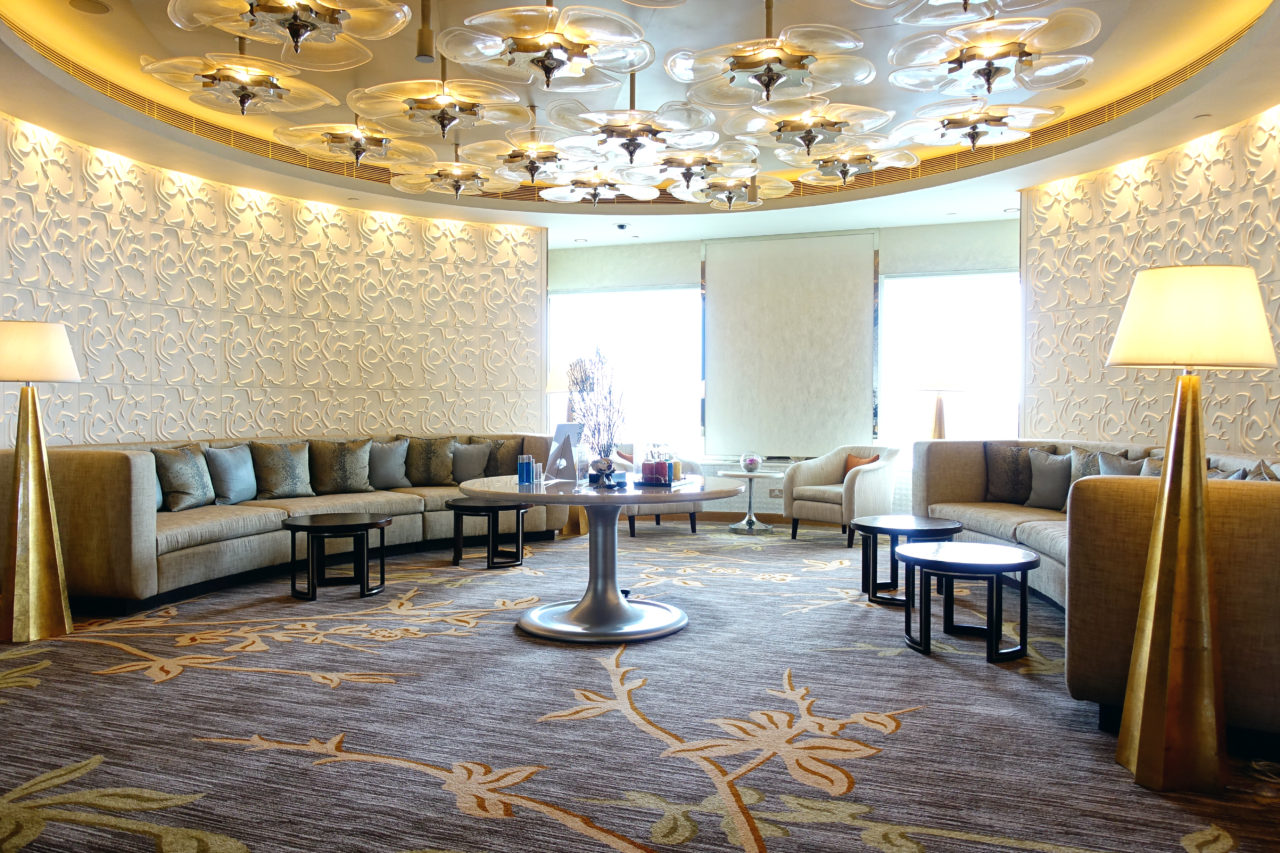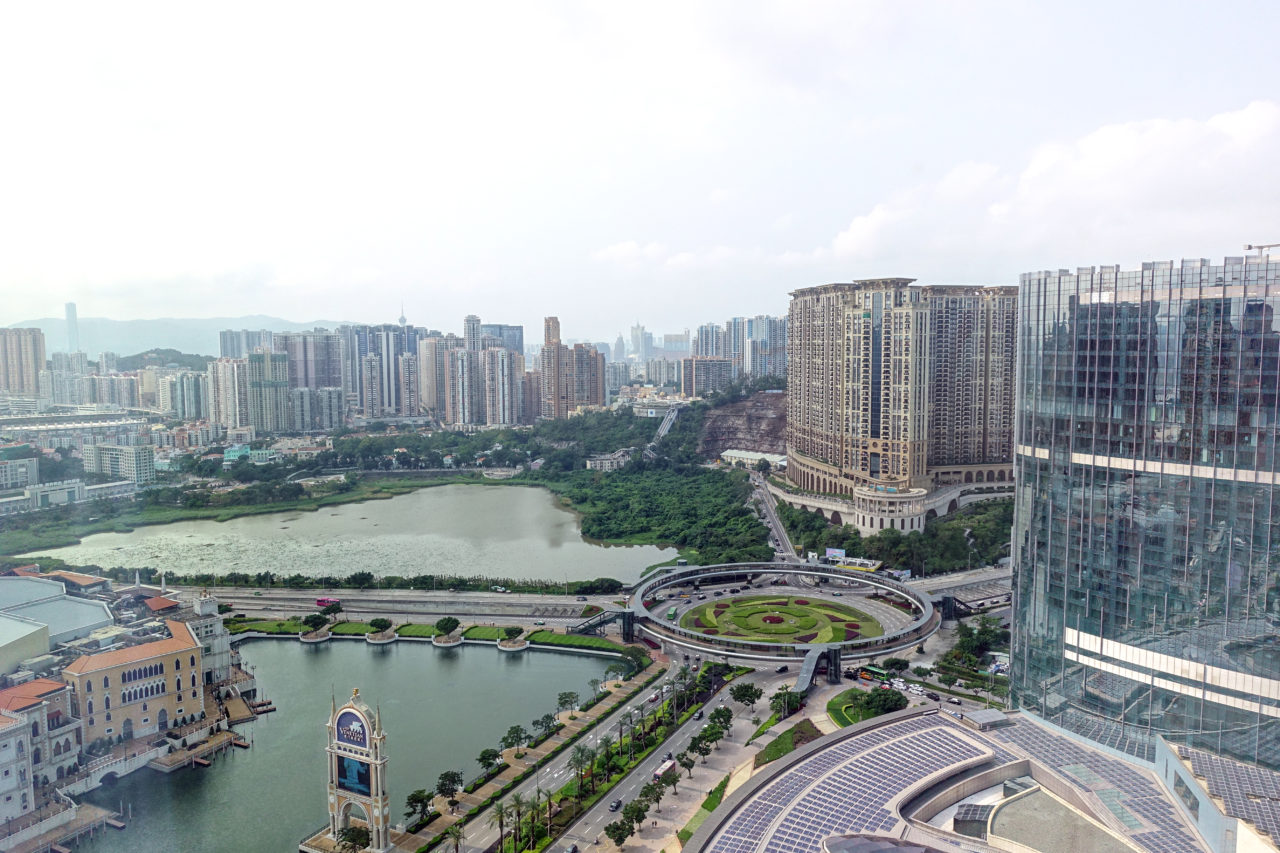 The resort life
We spent a lot of time exploring the neighbourhood of the St. Regis. Macao and especially Cotai are very walkable in my opinion, the relevant spots are easily connected by taxi or free shuttle busses otherwise. From shop-till-you-drop with one of the highest densities of luxury brands you can think of, till doing experiences like the giant ferris 8 wheel, you won't get bored. Coming back to the St. Regis was always like escaping the buzzing city into a calm refuge, in contrast to most Casino properties. We enjoyed breakfast at The Manor, which is the hotel's all day dining restaurant. Styled like a beautiful Southampton home, the Manor had an intimate feel despite its size. The breakfast spread was great from Western to Asian cuisine, fresh juices, loads of pastries, hot dishes that constitute a full brunch and countless fresh items like fruit, sushi, yoghurt and the like. The staff was friendly and welcoming and always available. Additionally to the buffet we were suprised with an additional treat on our table every morning – from the famous pastel de nata pastries to exotic fruit or mini-smoothies.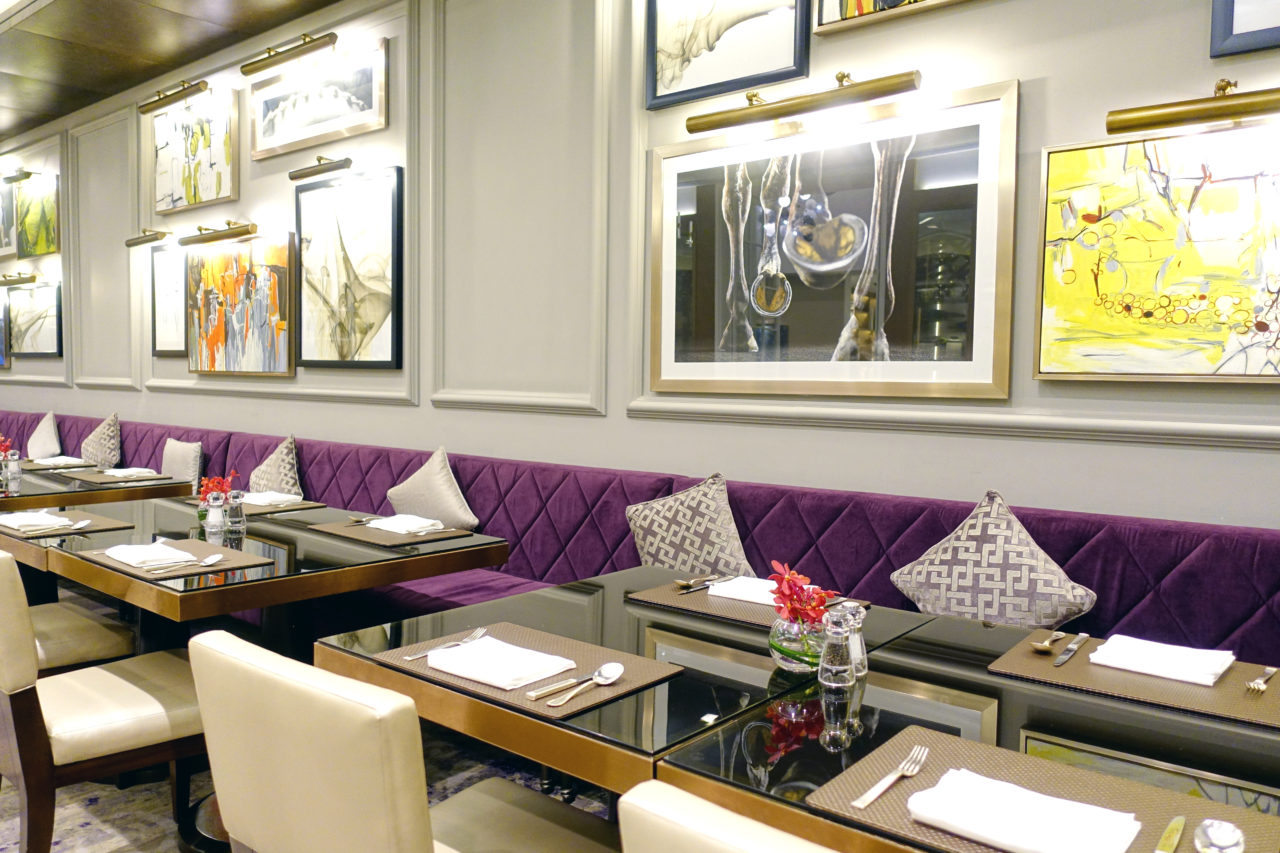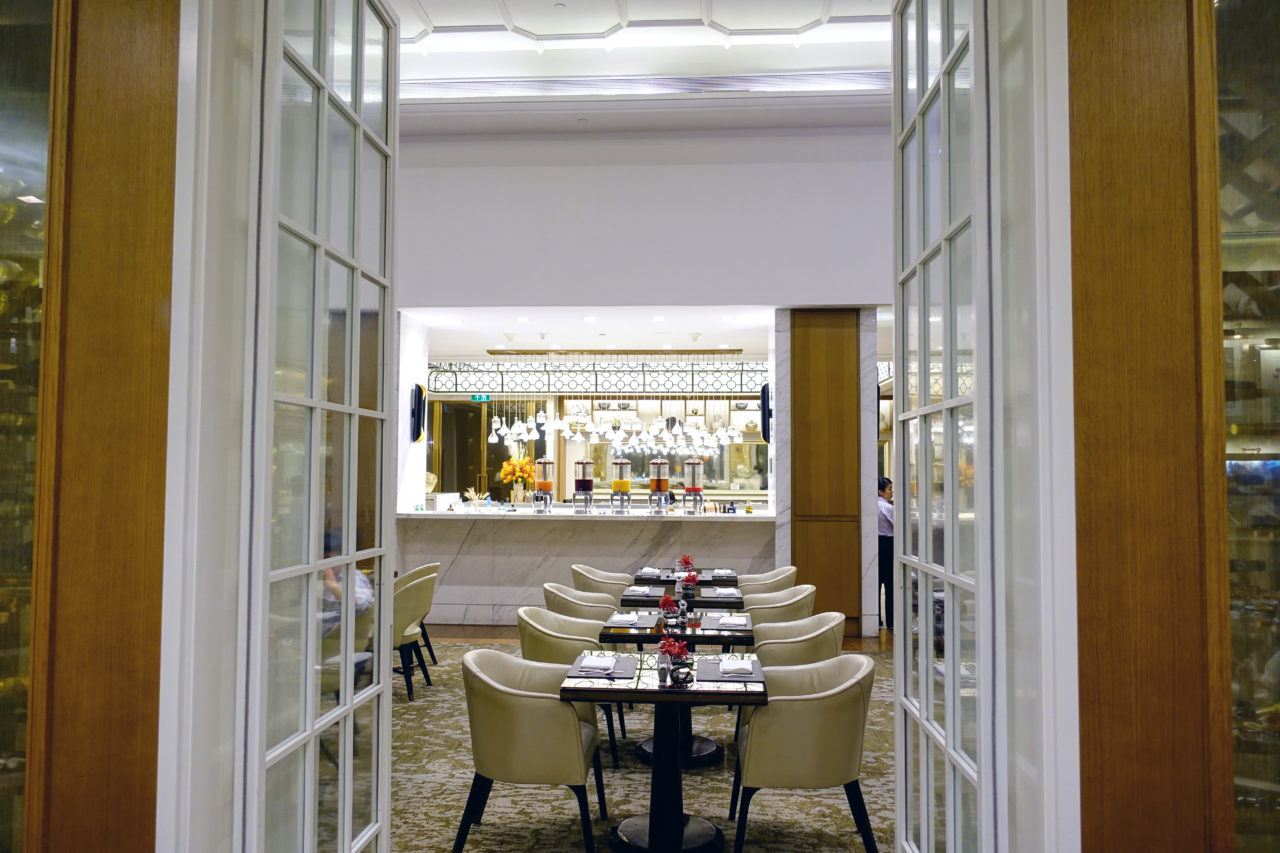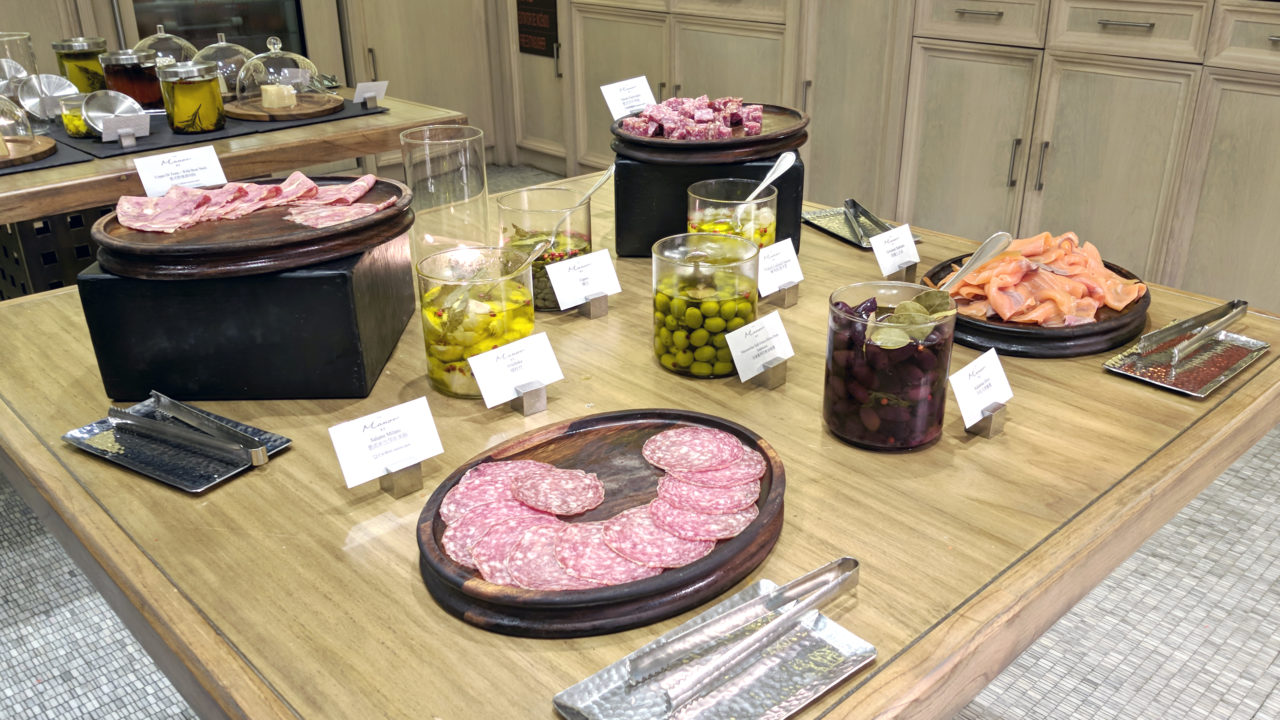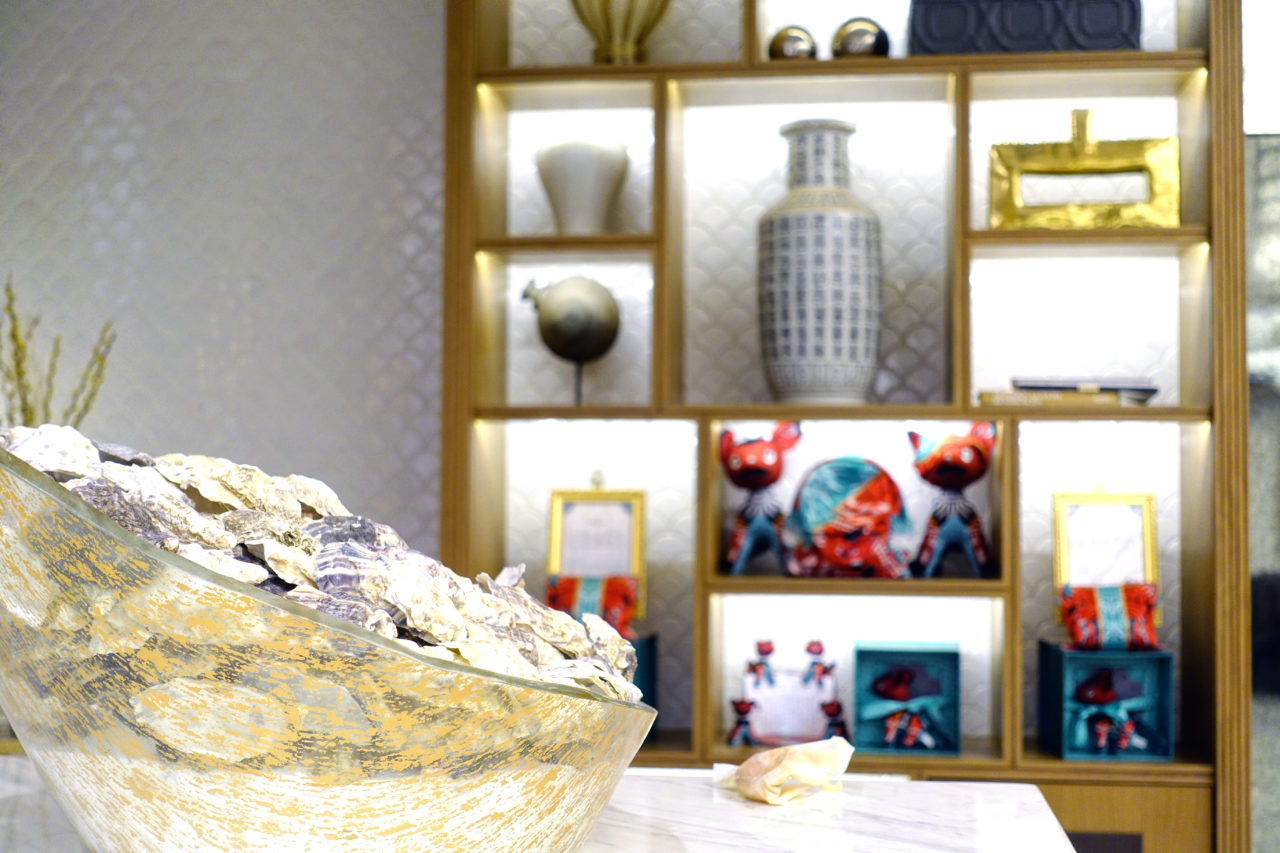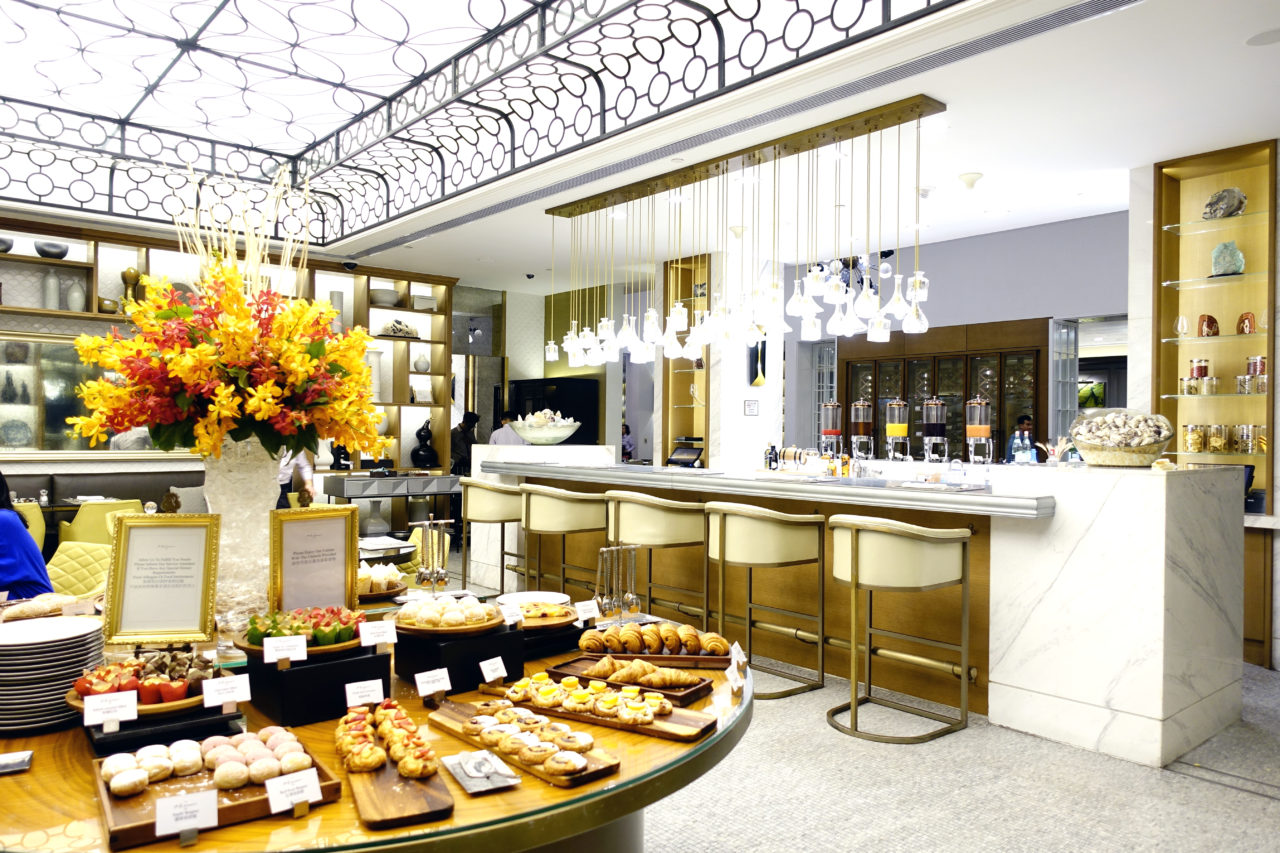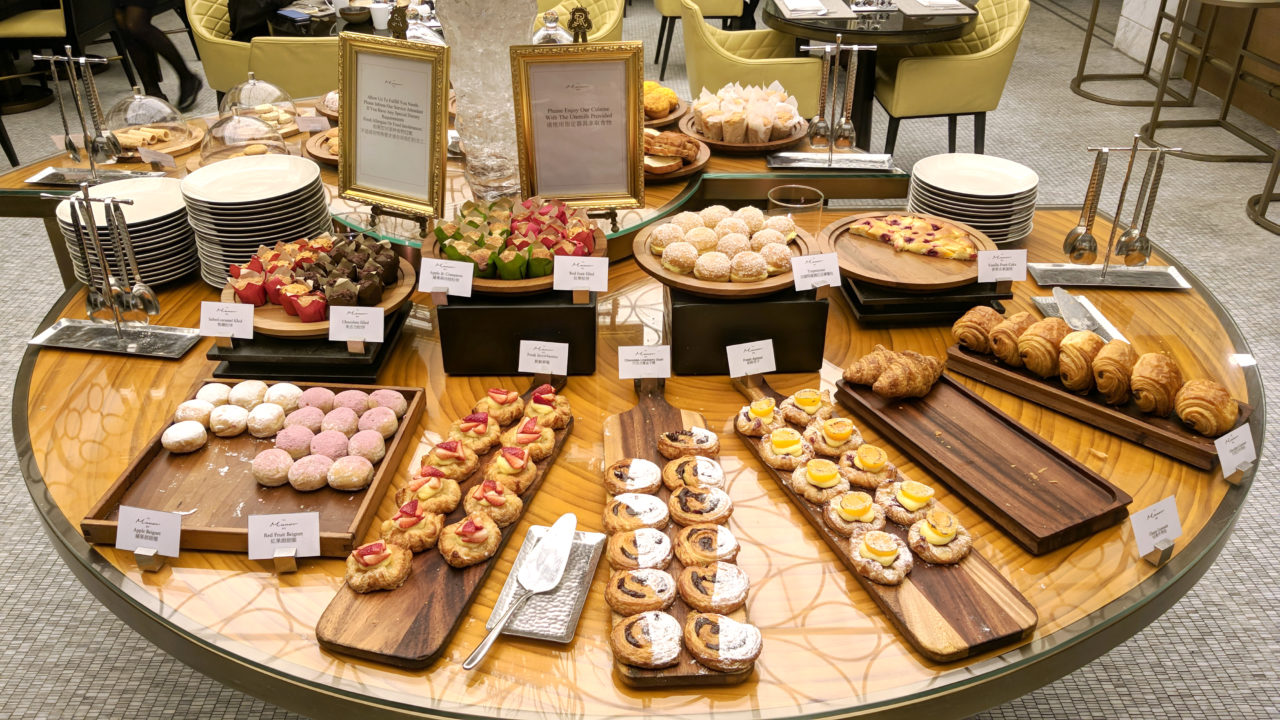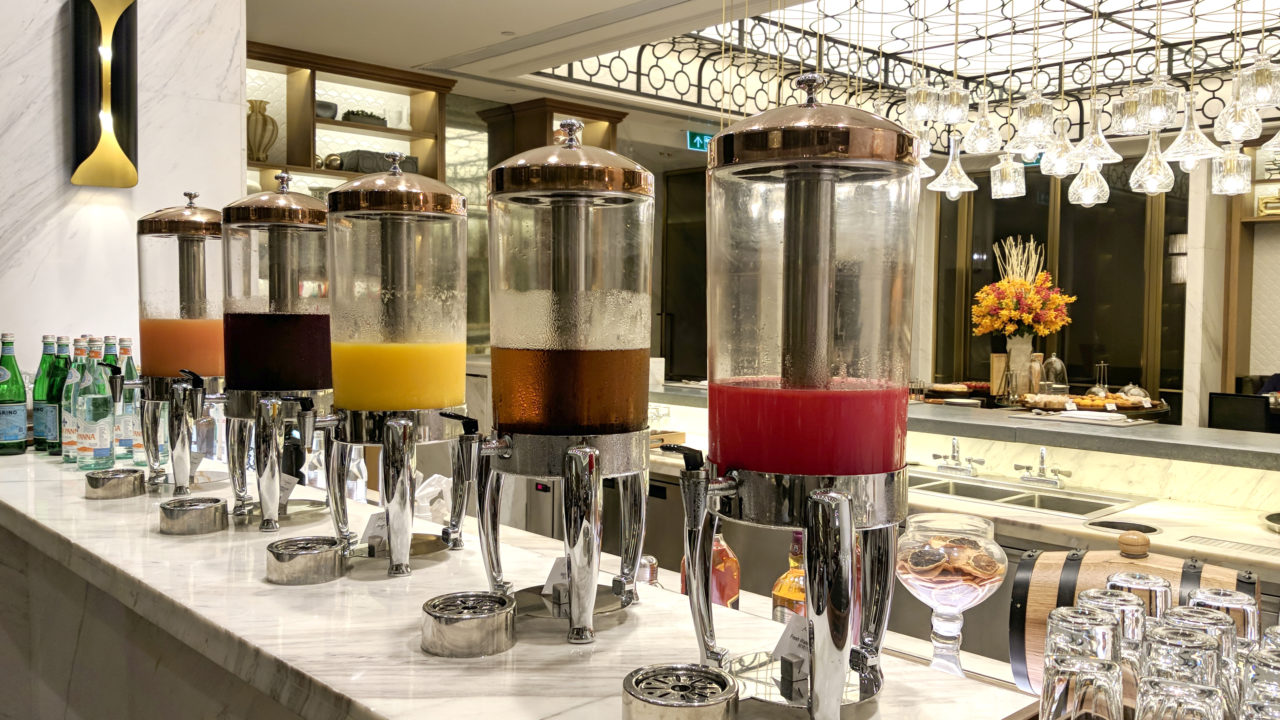 Part of our Marriott Bonvoy Titanium status at this hotel is a complimentary happy hour in the renowned St. Regis Bar. Being one of the highest rated spots in Macao, we were lucky to enjoy complimentary G&T's as well as light dishes every evening. While we only had the chance to do so once due to our busy schedule while in the city, the experience was awesome. They do infuse their own collection of Gins paired with a wide range of diefferent tonic waters. With or without status perks, the bar is definitely a Macao hotspot that you should try. During our stay we also learned some trivia about the beautiful glass tiles at the bar: The tiles' colors (red & blue) resemble China & Portugal which meet in the middle as green – the color of Macao's flag. Again, the team at the bar was genuinely friendly and we felt truly welcome during our visit.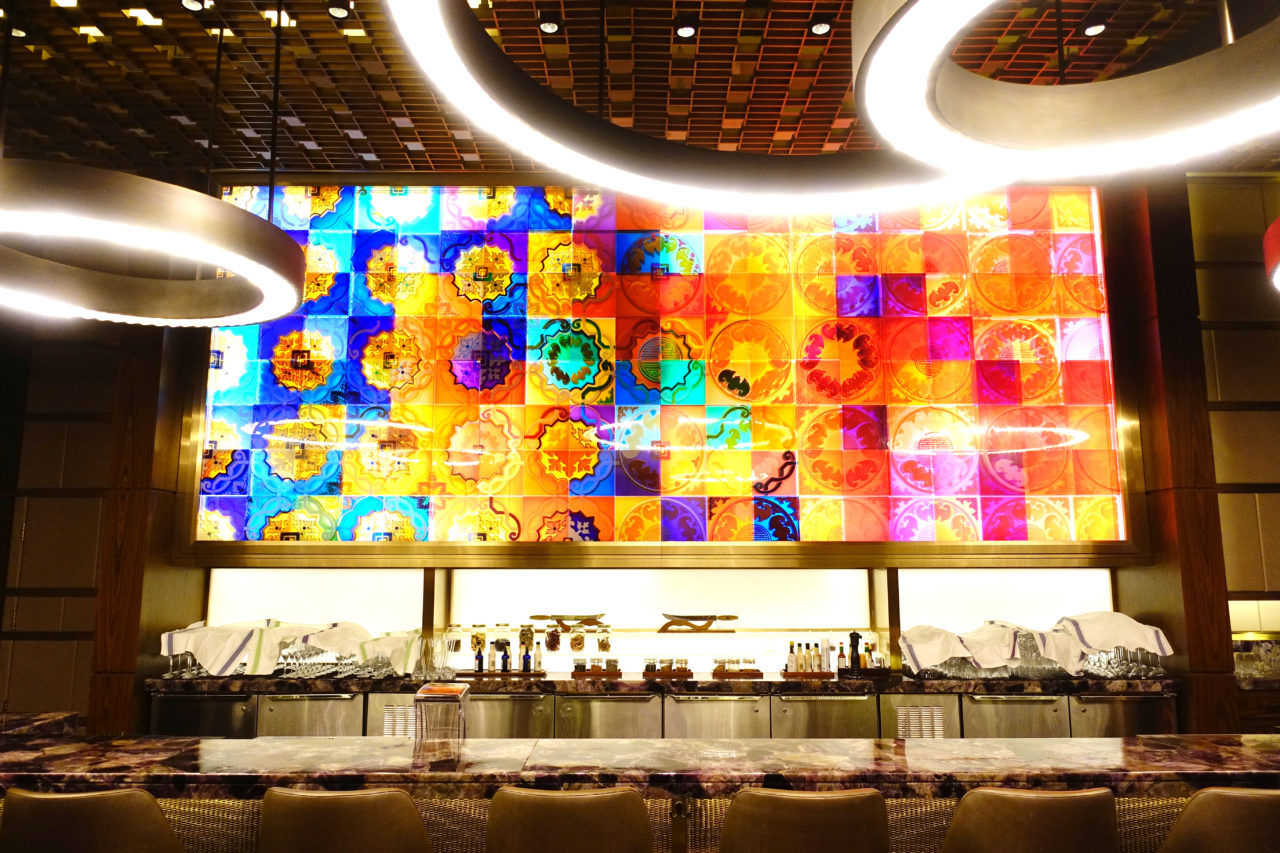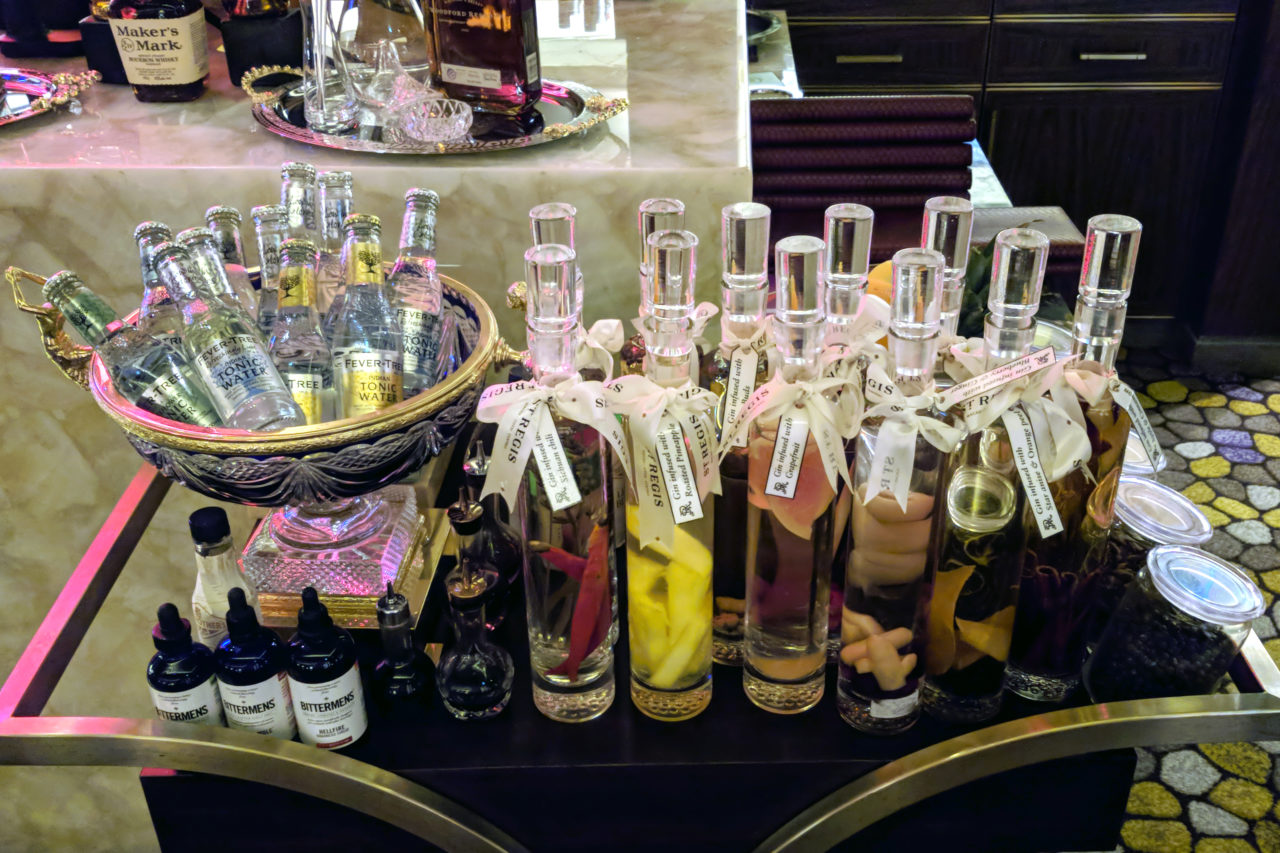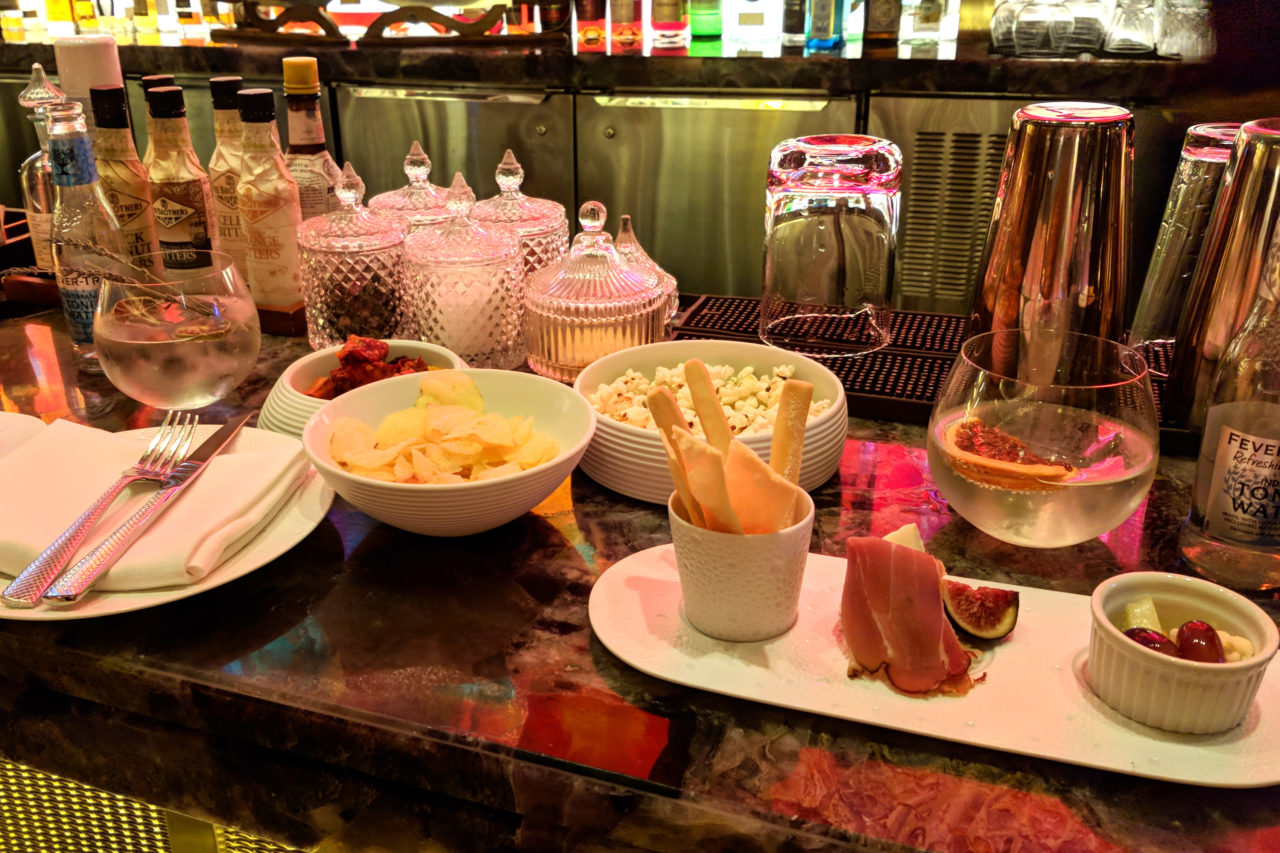 If I really had to point out one area that I find a bit below high-end, it would be the pool area. The staff there was (again) top-notch but the setting felt somewhat unrelaxing. Sure, the view, cabanas, sunbeds and pools were nice, but the floor is stuck between the two hotel towers and is just one large floor of concrete. Some (more) plants and palm trees (no pun intended) would certainly up the game there for a stay that involves spending some quality time at the pool. Nevertheless it is not a pool-resort and for a short dip at the end of busy day it is still enough. Located on the same floor as the pool, you will also find a high-end gym equipped with brand new training facilities as well as extensive chaning rooms including a nice steam bath area.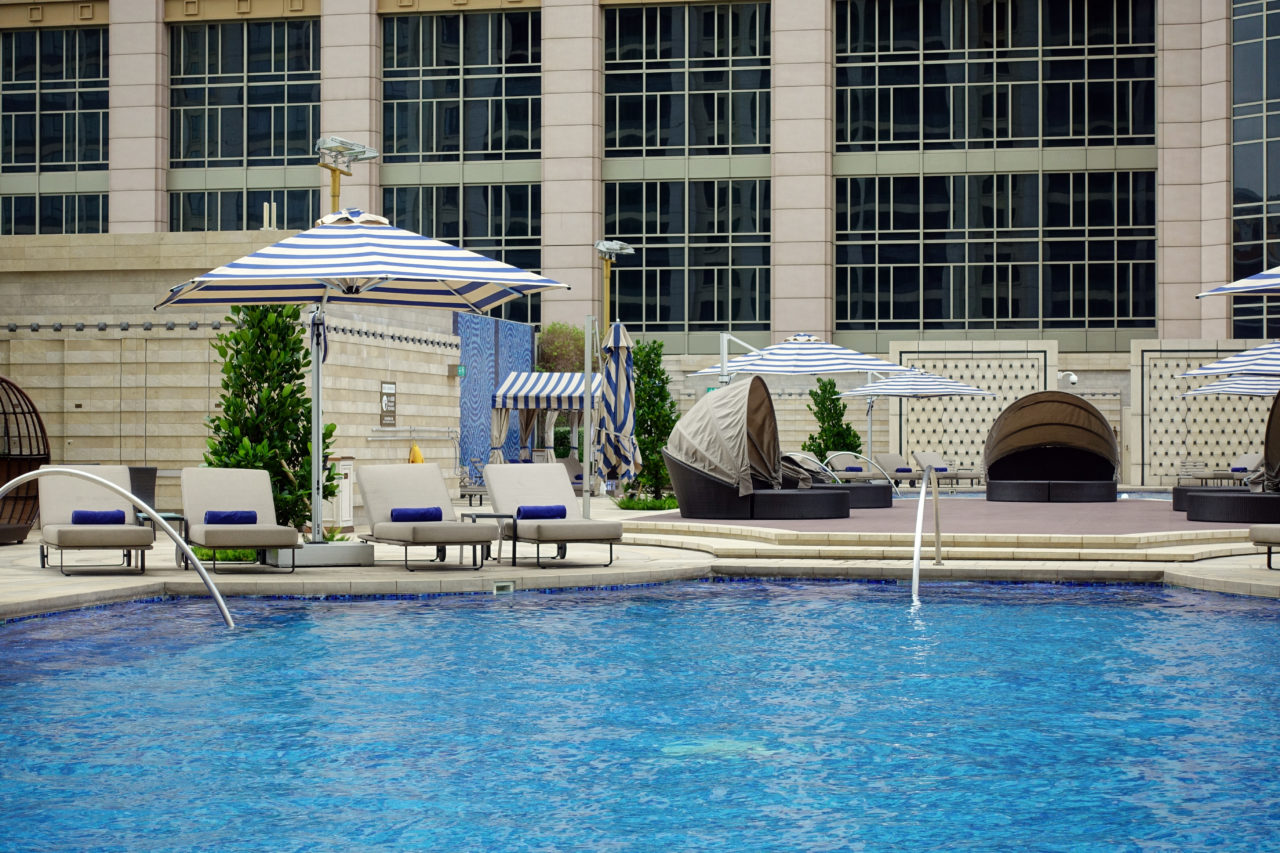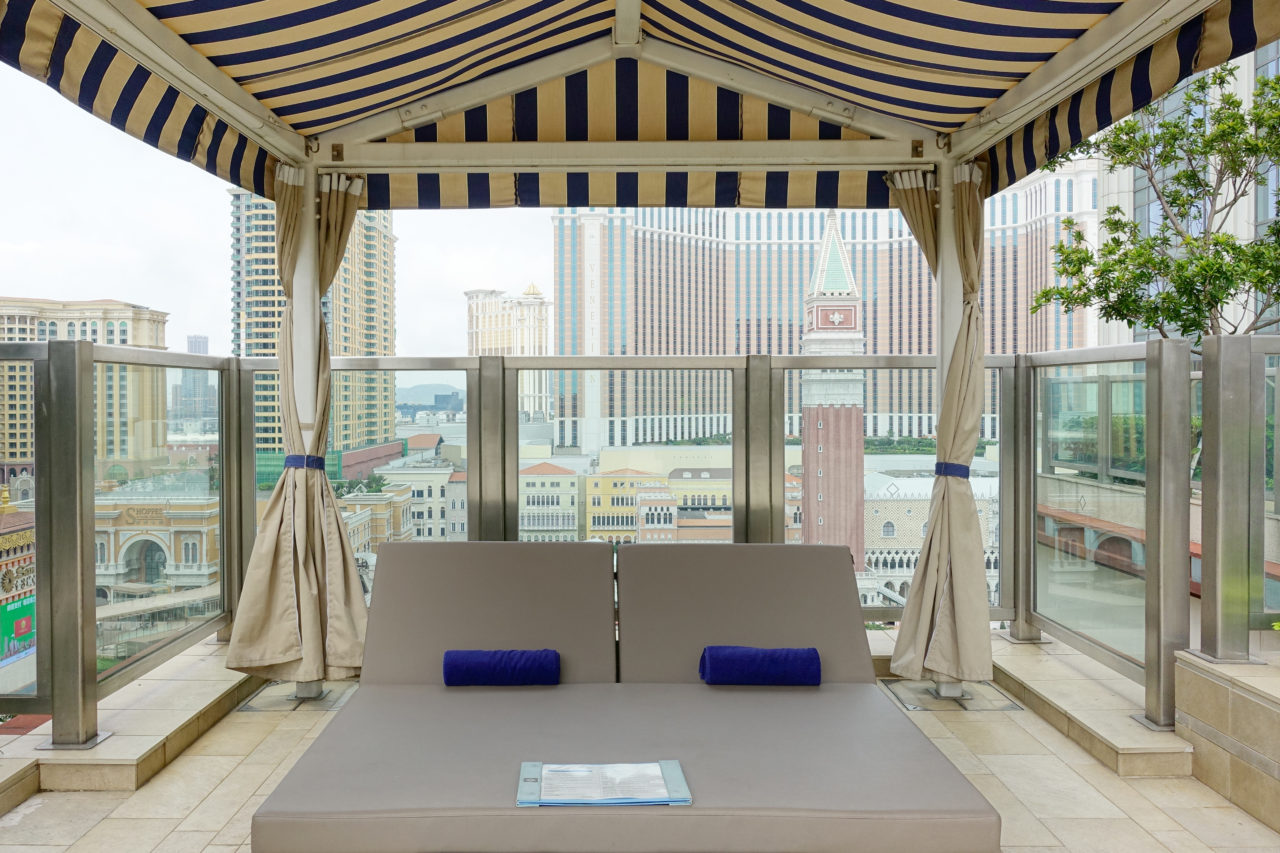 Passport & Palmtree conclusion
I always have to smile thinking back of my first St. Regis experience (in Europe) which was pretty bad many years ago. Since then basically every St. Regis property I was lucky to stay at really upped the bar – to a level that others still have to reach. The St. Regis Cotai Central was no exception to this and really exceeded my already high expectations in virtually every field. While you will find a lot of high-end properties in Macao, the personalized, unique service of the St. Regis Macao central is probably second to none. Also, if you don't need a casino onsite while visiting the city but want to reach the gambling areas, as well as great shopping or dining facilities within minutes this should be your hotel of choice. I loved how warm and welcoming the team was and loved every minute of our stay. If I ever have the chance to visit Macao again, this will be my home away from home for sure.
Read more on some of my other St. Regis stays like in Mauritius or Mallorca or learn all about our recent trip to China.