After some exciting days in Beijing and Macao, A and I were ready for some quality time at the beach. We chose Hainan, a tropical island located in the South China Sea, which is also described as the Hawaii of the East. After having visited the island in 2016 and having amazing memories about it, we opted for the island's most remote and luxurious resort: The Mandarin Oriental Sanya. Read on to learn all about our perfect island getaway in this remarkable Chinese resort.
Sanya: A Chinese island hideaway
Hainan island is still an insider tip within the western hemisphere, although it is one of the most beautiful island getaways I've had so far. Located at Chinas' southern most point it is easily reachable within less than two hours by plane from Hong Kong. We arrived at Sanya Phoenix International Airport on a sunny afternoon and were immediately hit by the humidity and heat. Luckily, our chauffeur was already waiting, greeting us in Chinese and handing out water. After a 30 minutes drive, we arrived at the Mandarin Oriental in Sanya. The resort is located at the southern tip of Hainan Island. Very different from other hotels on the island, the resort is famous for its private bay and lush garden surroundings, which instantly make it feel like a secluded hideaway.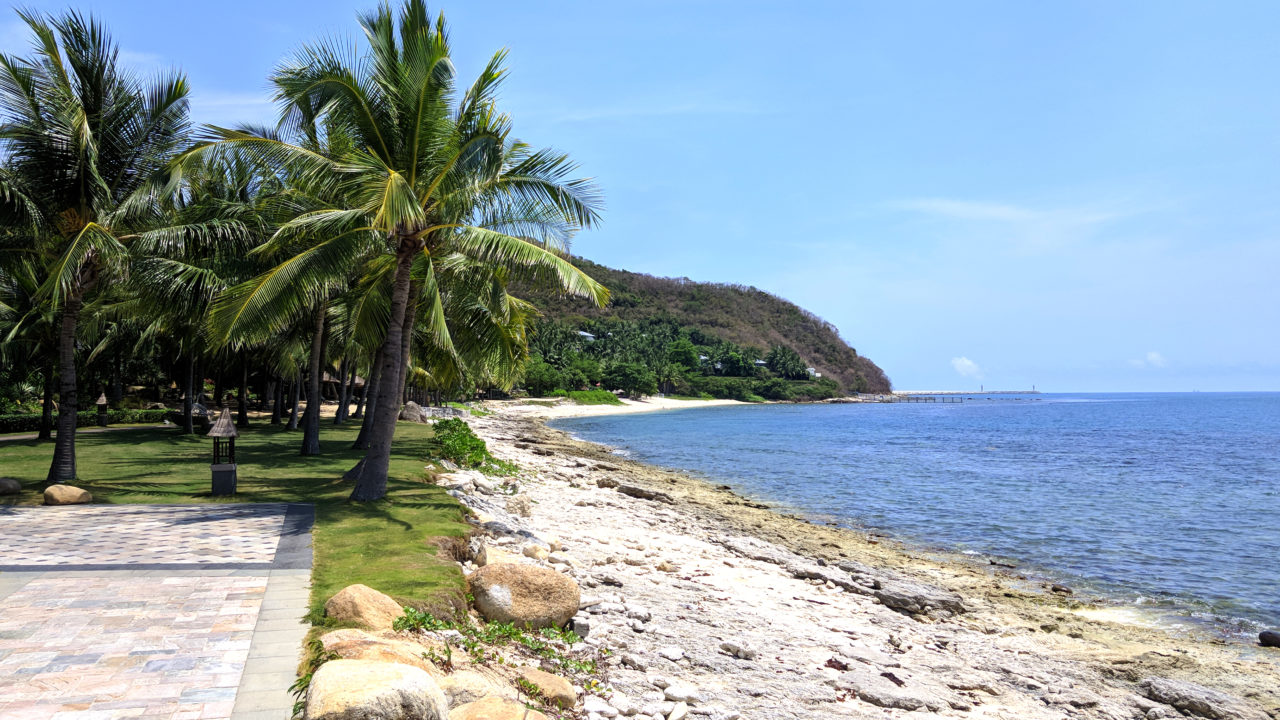 Upon arrival we were greeted by the hotel manager and it's team. The check-in procedure was held in the breezy open air lobby and the friendly front desk agent explained all about the resort and its many facilities to us. From daily activities to different restaurants and spa treatments there is a lot to discover at Mandarin Oriental Sanya. After the smooth check-in procedure we were immediately taken to our room by a buggy.
A room with fantastic views of Sanya Coral Bay
Located hillside and just steps away from many of the hotel facilities, our Ocean View Room felt spacious, light and airy. The bed was big and amazingly comfortable, like in every Mandarin Oriental hotel we've visited so far. The decor of the room felt tropical but modern, with wooden floors, waved elements and colorful fabric details. The room offers a nice seating area as well as ample desk and drawers. The best thing about the room was definitely its breathtaking view of Coral Bay and the South Chinese Sea. What a treat to wake up to such a view each morning.
When arriving to our room we were greeted by a bottle of bubbly as well as an amazing basket of tropical fruit, which was re-filled every other day. I loved the refreshment after a long day of traveling and it immediately made me ease into vacation mode.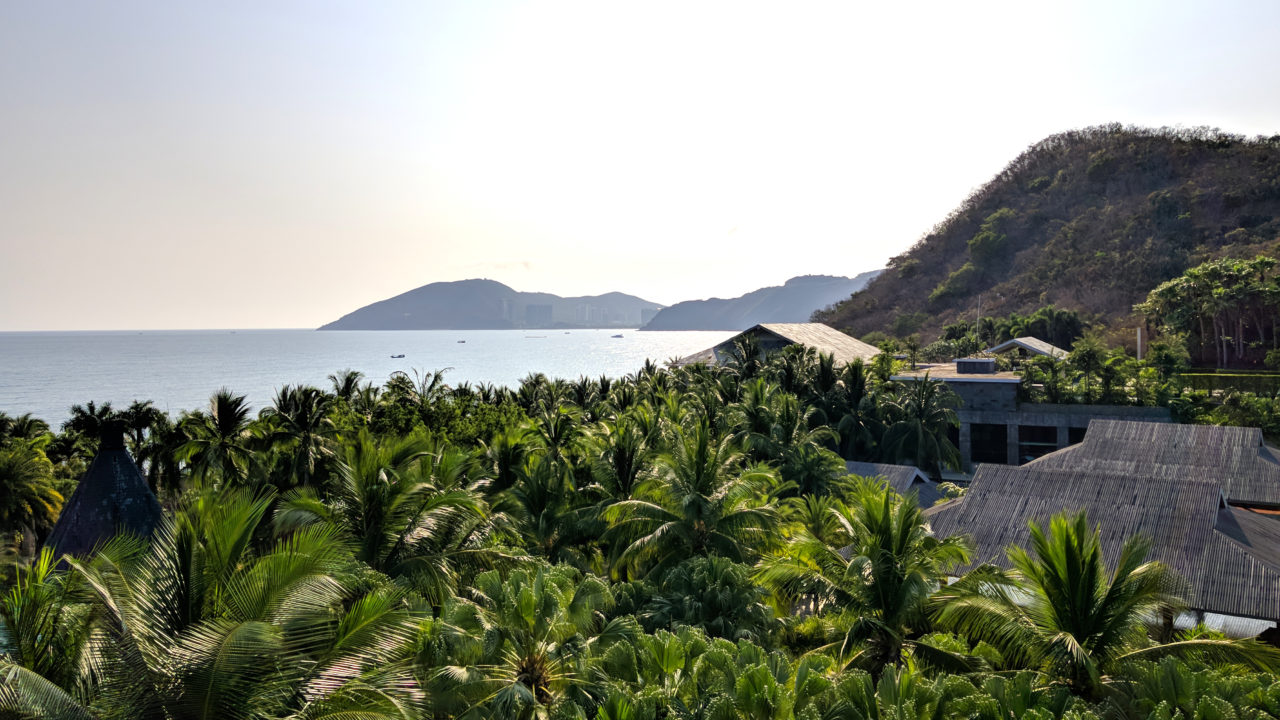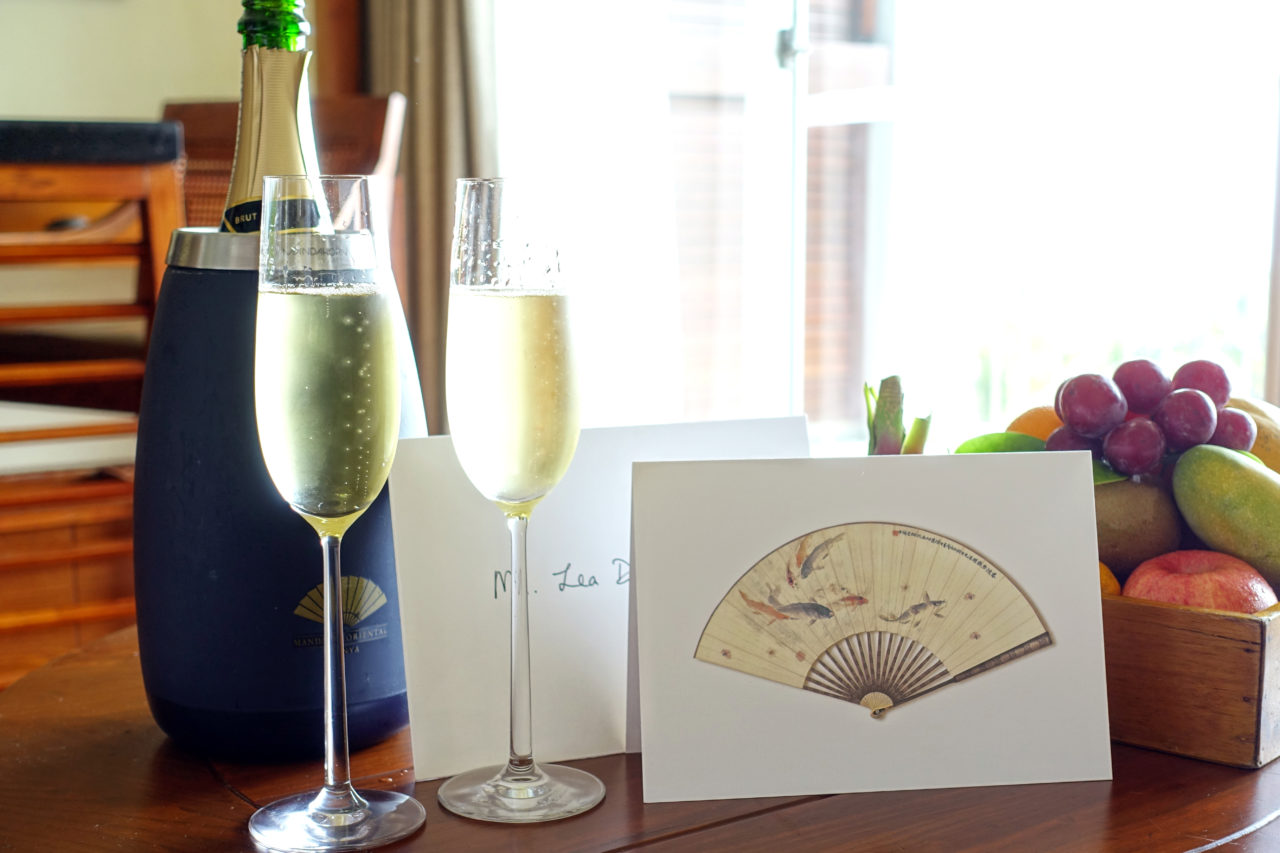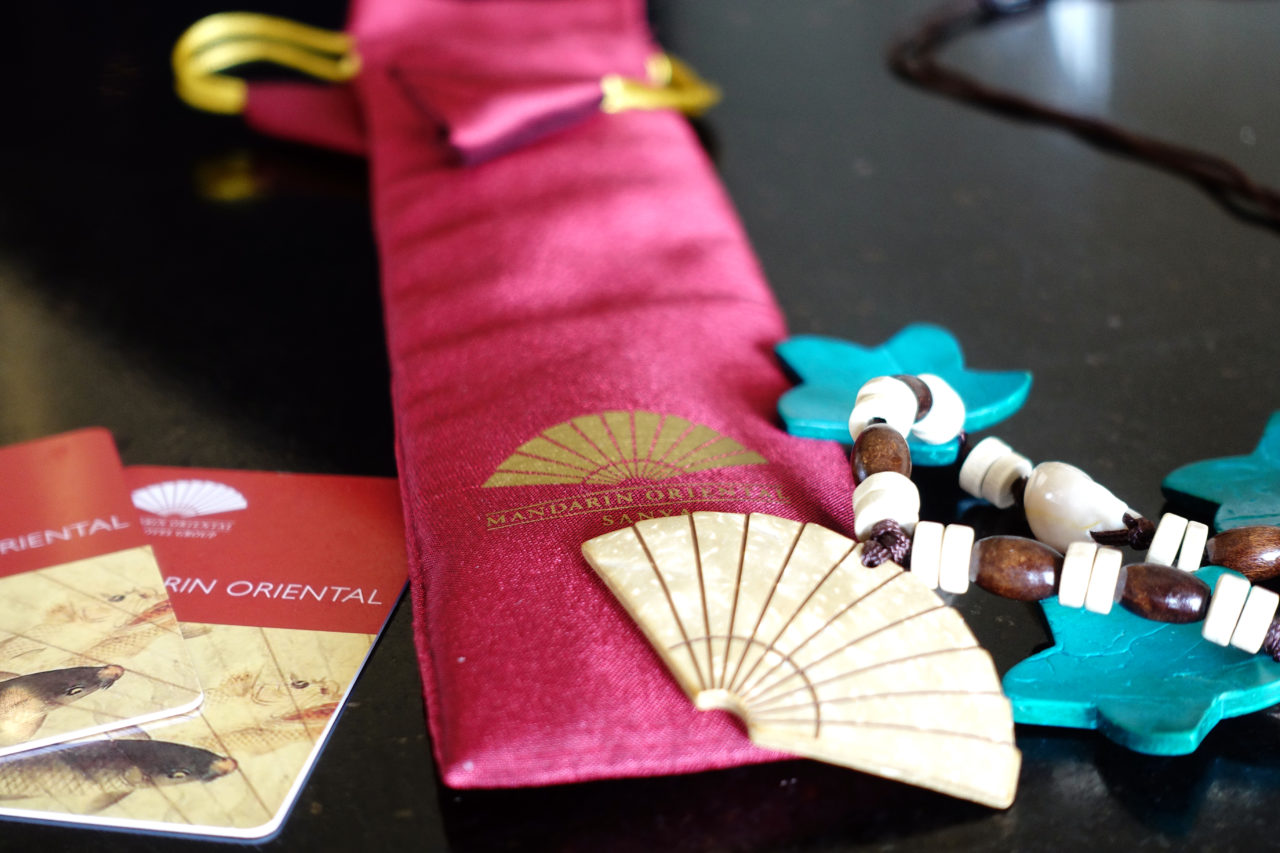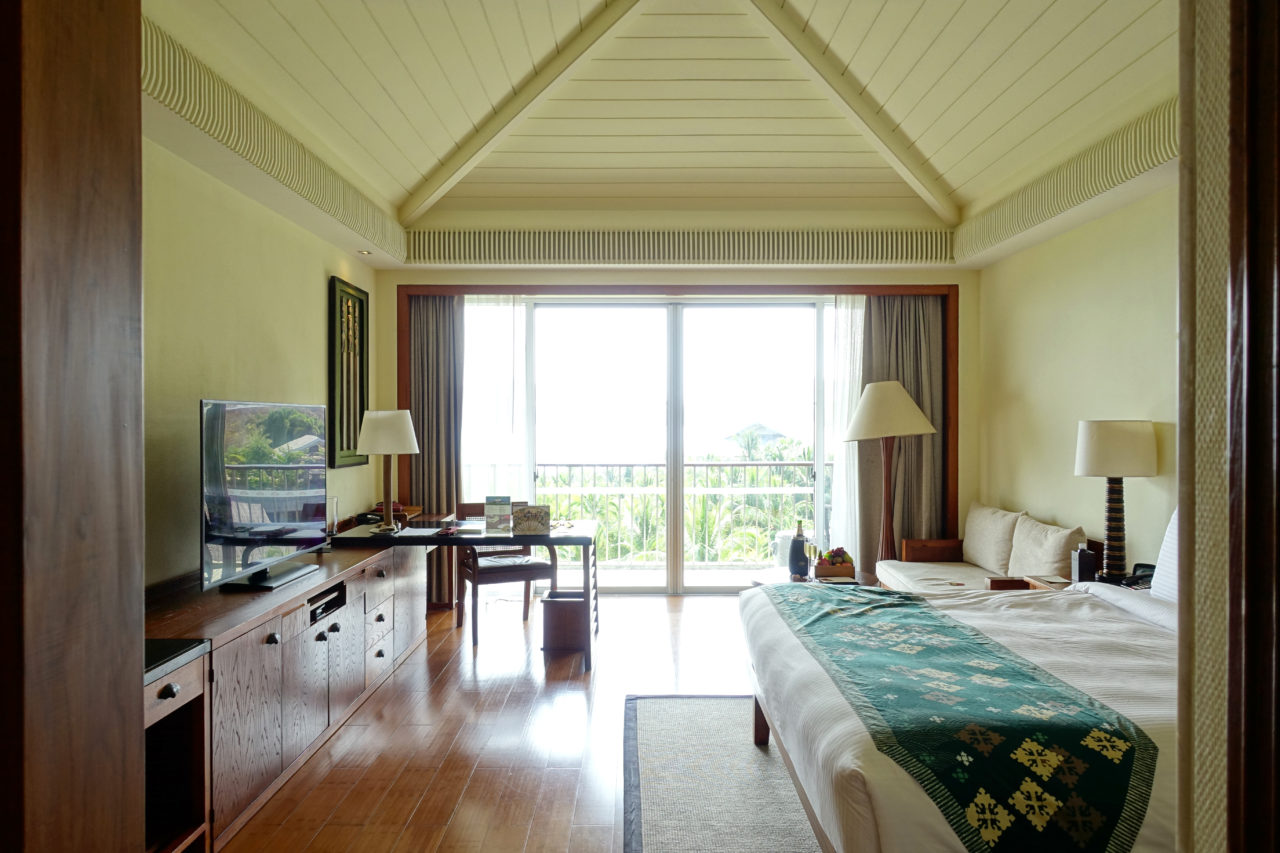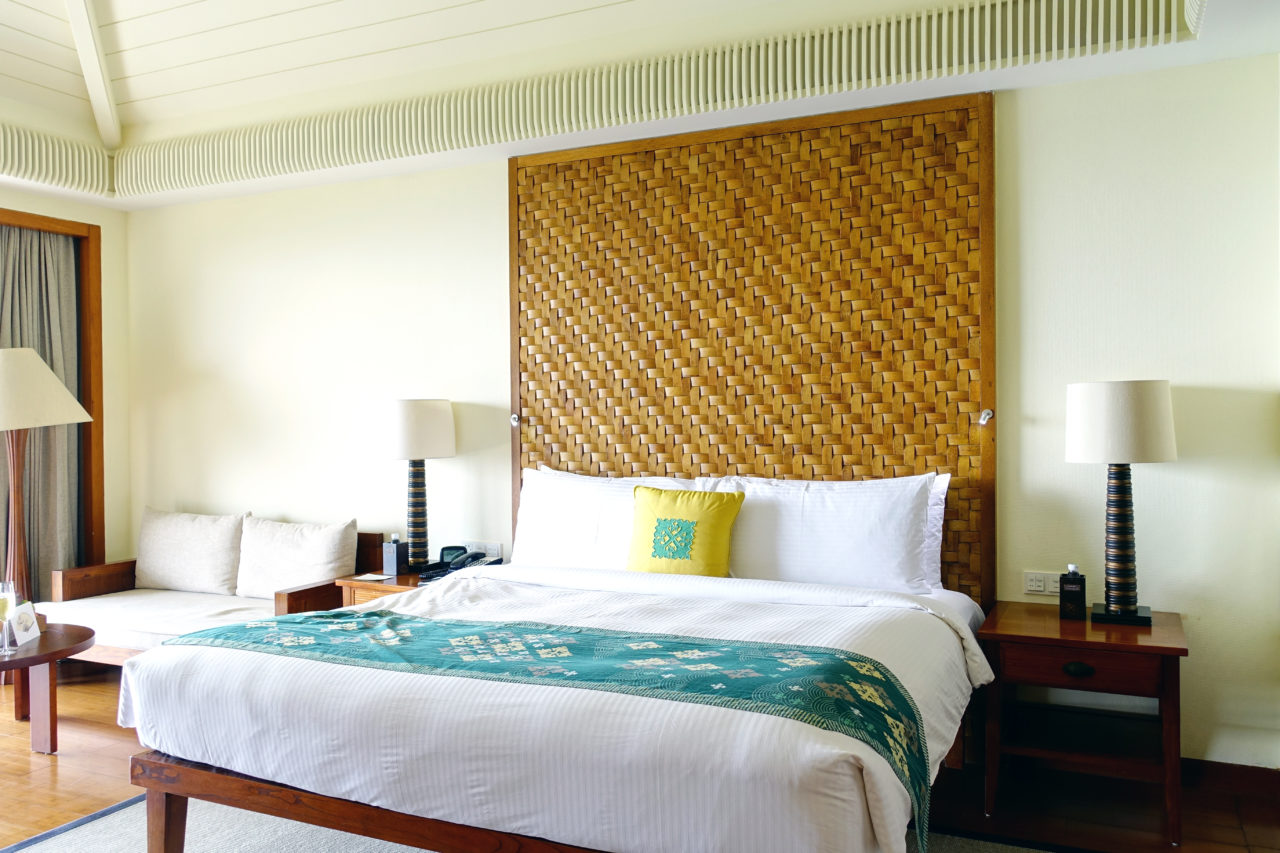 The bathroom was open-space, with a generous walk-in rain shower and a big bathtub. I loved the fluffy towels and high-class amenities by Ortiga. The toilet was located in a separate room, which I always find to be quite comfortable and makes the bathroom feel less crowded. Overall, the storage facilities in the room are good but not great, as there is no walk-in closet. However for a beach getaway it was more than enough. The housekeeping and turn-down service offered complimentary daily water and anti-mosquito spray, which definitely was a must when going out at night (it's a tropical climate zone after all).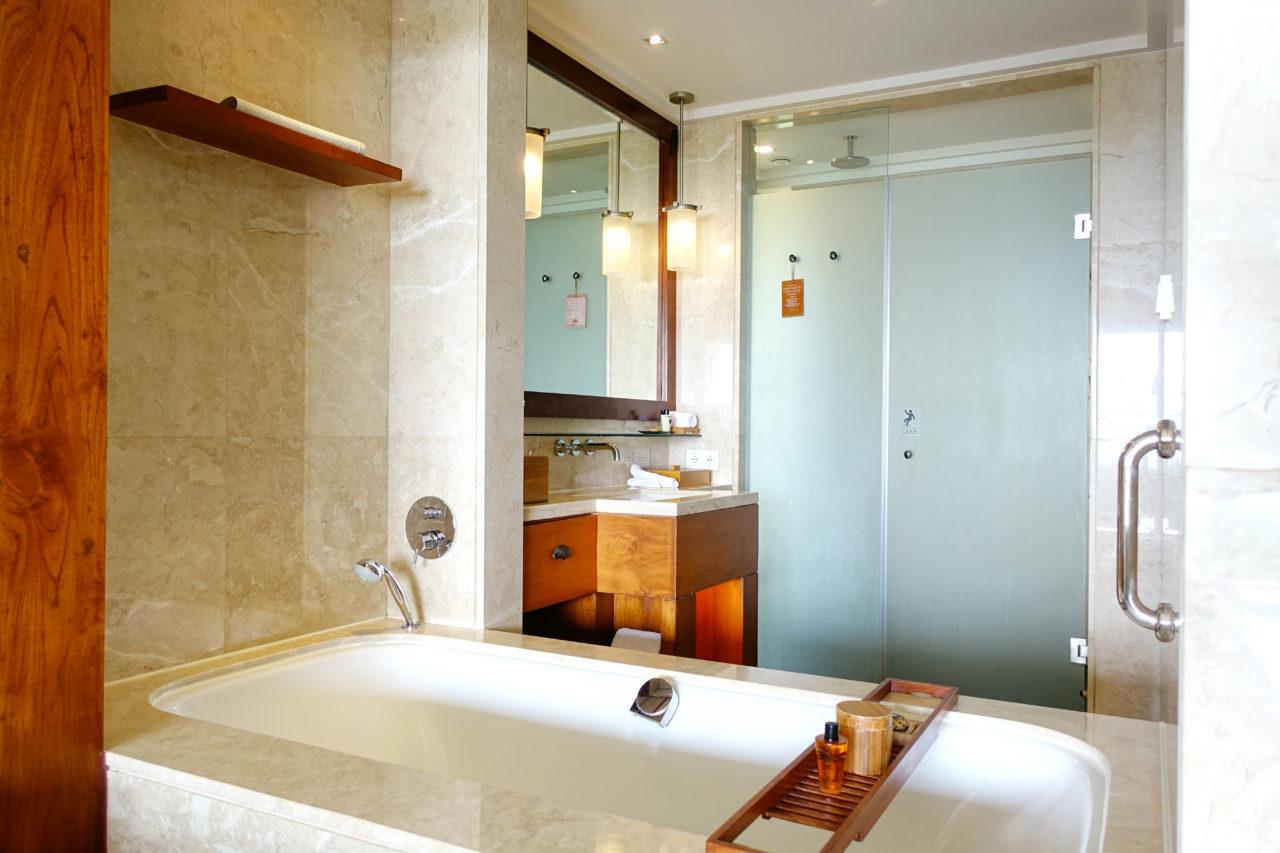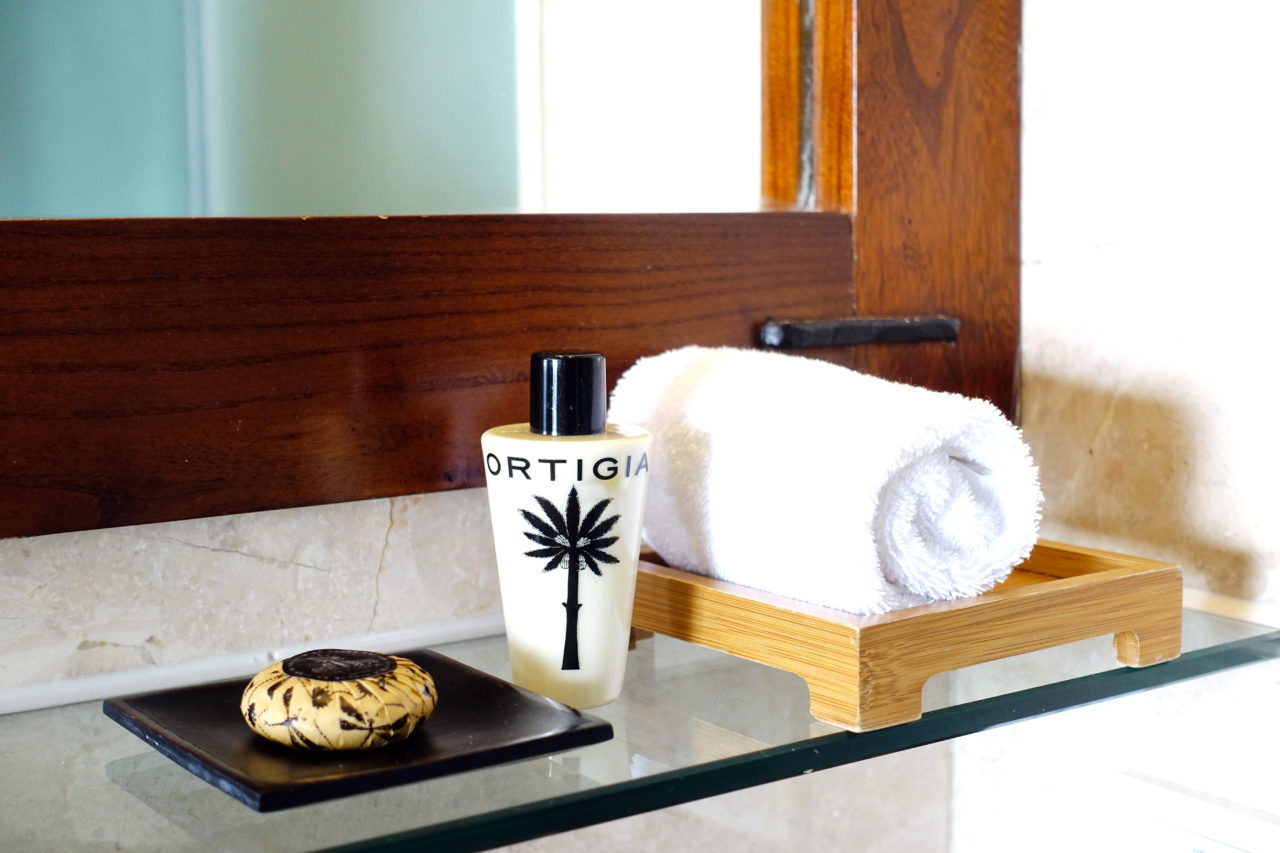 A resort like a tropical paradise
With its 12 hectares of beautiful lush gardens and its private bay, Mandarin Oriental Sanya feels like a remote tropical paradise. The resort offers three big outdoor pools (two of them temperature controlled), several water basins and a private beach along Coral Bay. The beach area is divided into a watersport- and a swimming-zone. The views along the bay are beautiful, the atmosphere in the resort is calm and laid back. Even though there were plenty of other guests at the time we visited, the beach and pool area never felt crowded or loud, as the resort is so wide-ranging. Instead of loud music at the pool areas, you can hear the many birds sing. The whole ambience feels more like a secluded retreat than a beach resort, which I truly enjoyed. The pool area offers towel service, as well as complimentary water and magazines.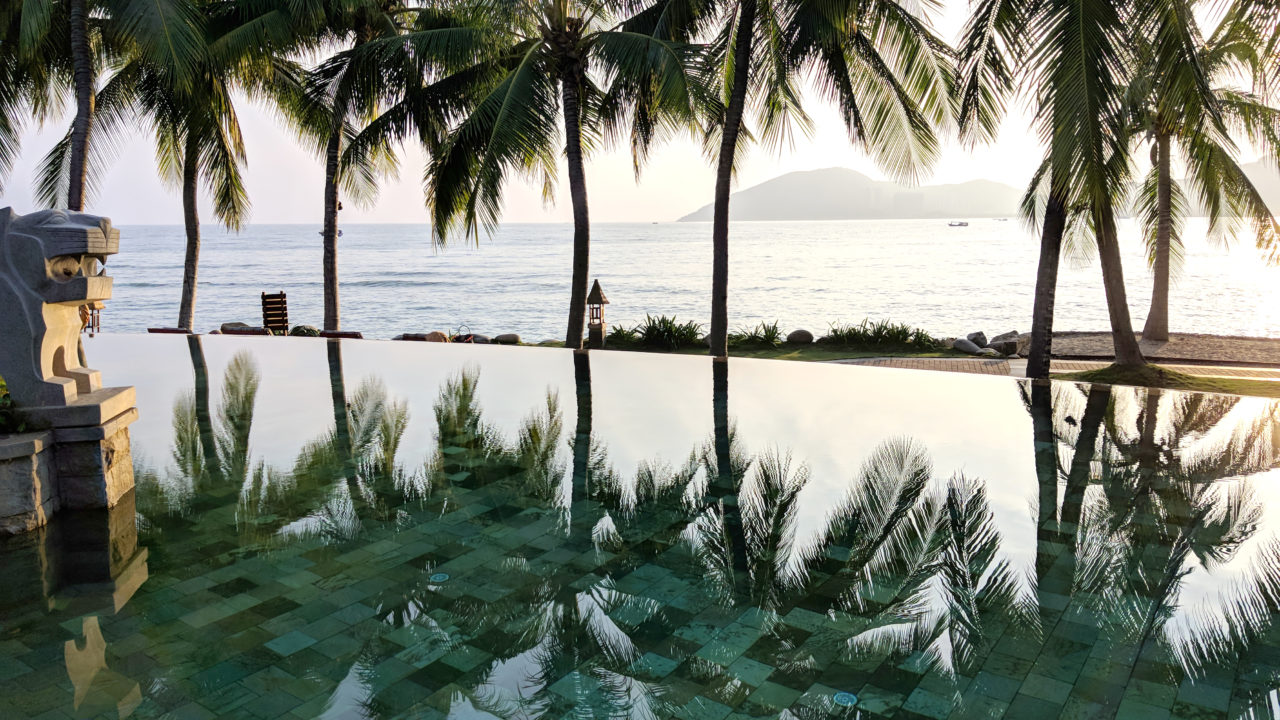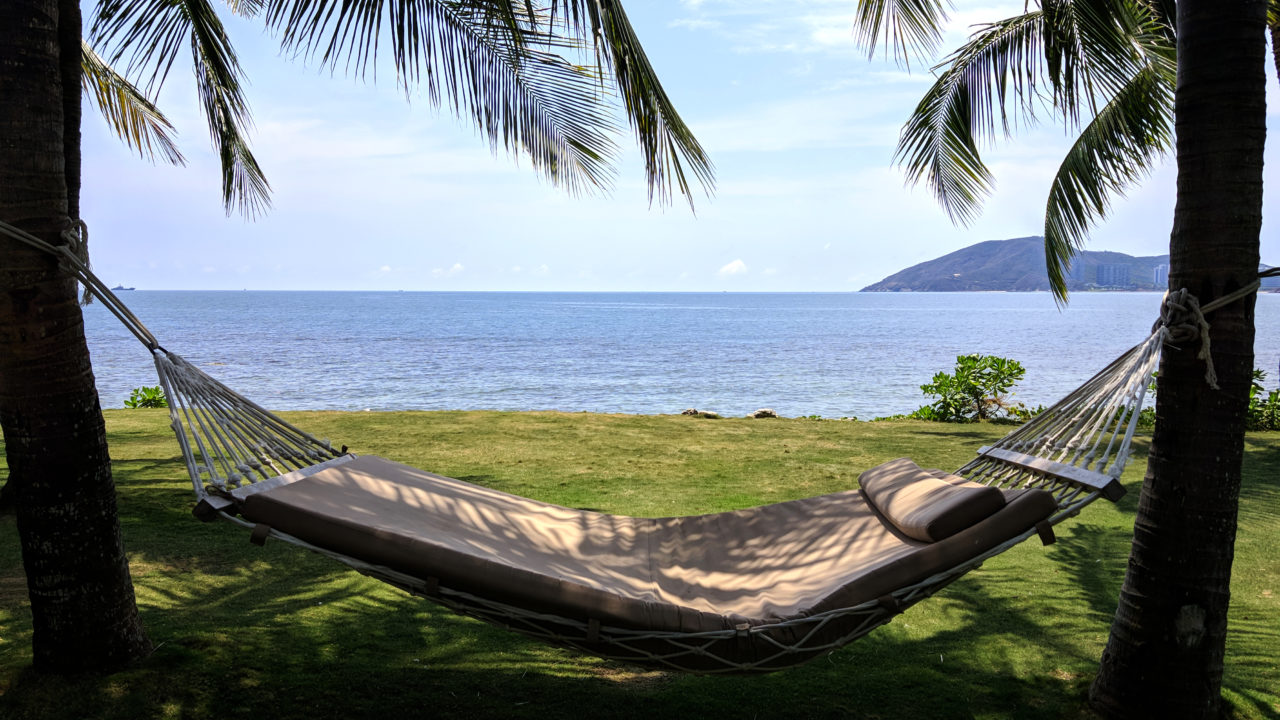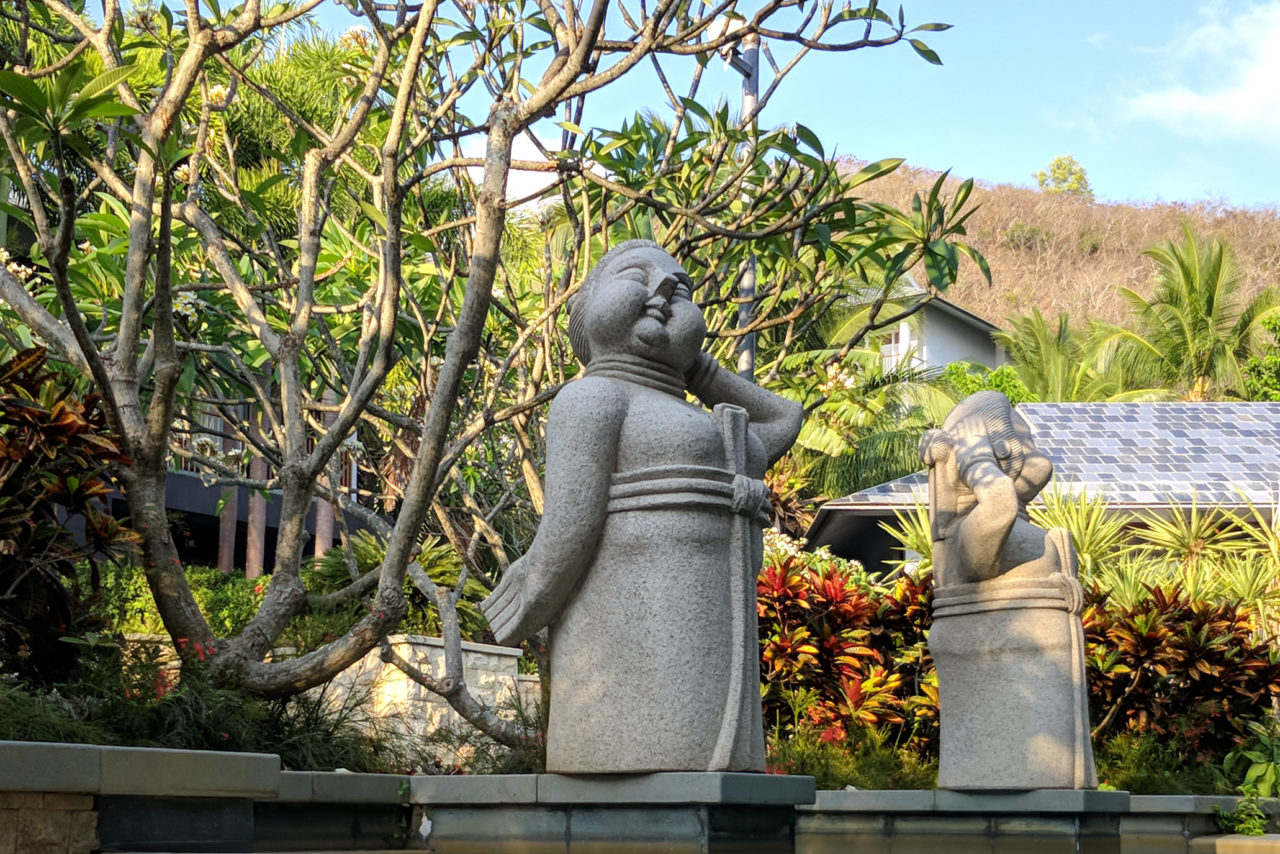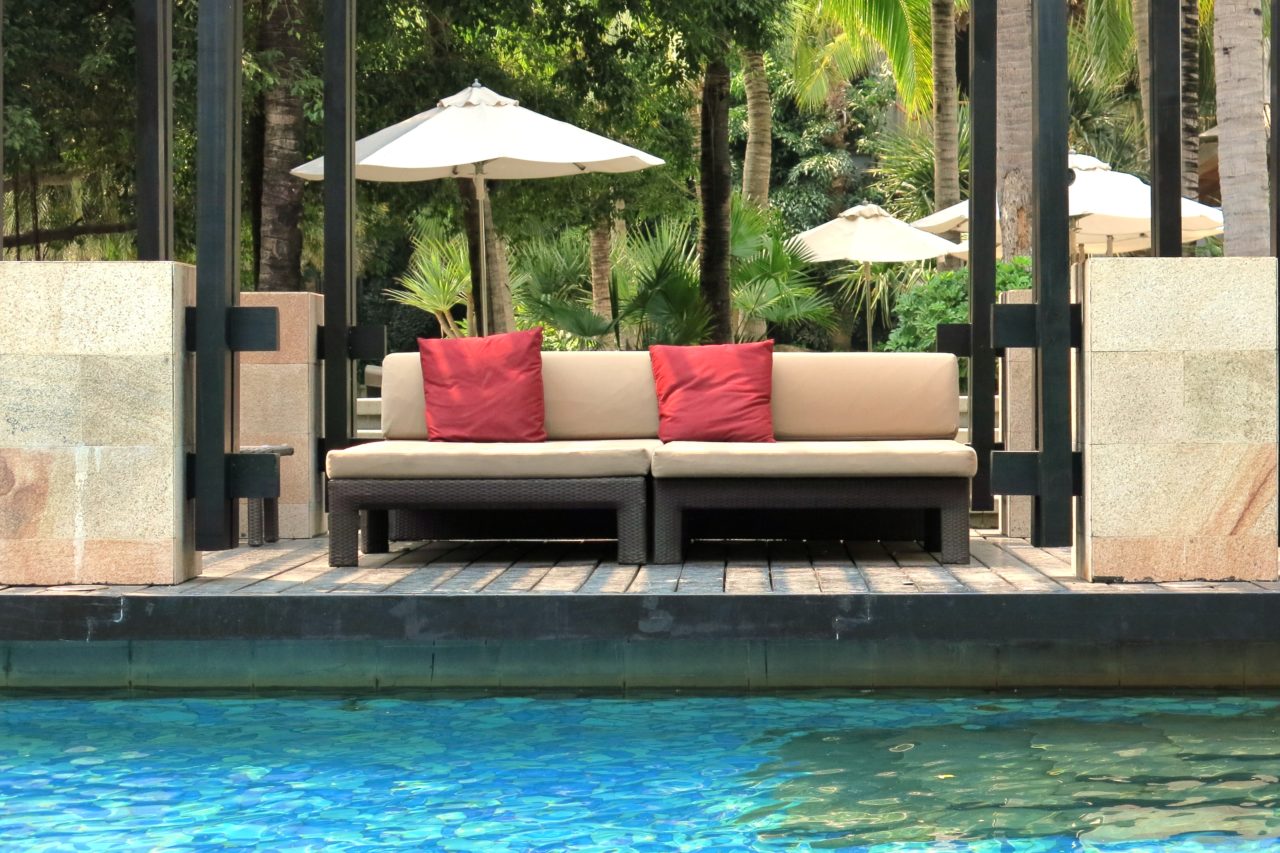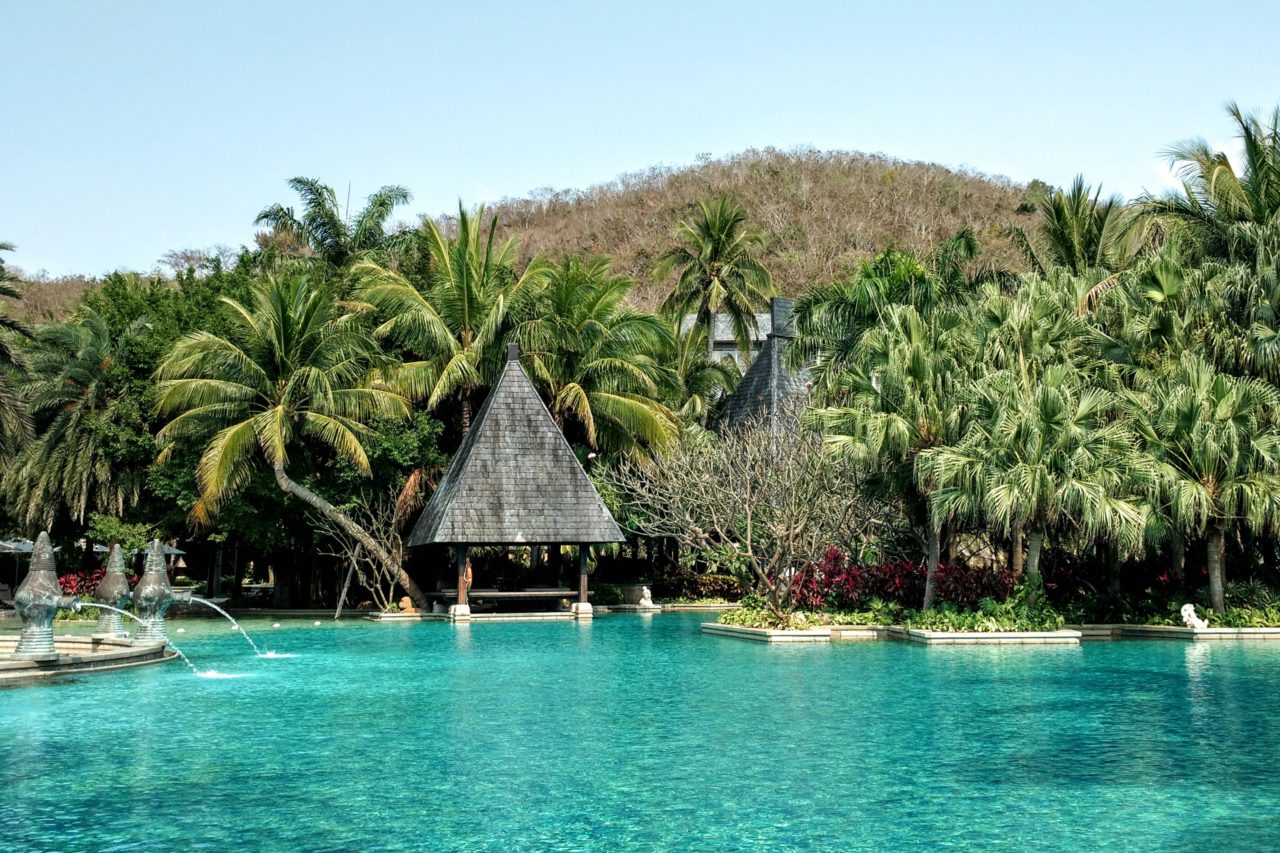 Let's talk food
We had only breakfast included in our room rate, but stayed at the resort for all our meals during the night days we spent in Sanya. This gave us to opportunity to try all the restaurants of the resort. Breakfast is served at the Pavilion, which is also the busiest and most casual restaurant within the resort. The choice is amazing, offering lots of Chinese and Western dishes as well as extremely fresh fruit and juices. The Pavilion offers an all-day-dining menu, although the venue was only open for breakfast during our stay except for Fridays and Saturdays when the restaurant  hosts a Chinese Hotpot and BBQ night once a week, which was a nice idea to mix things up and good opportunity for us to try new and traditional dishes.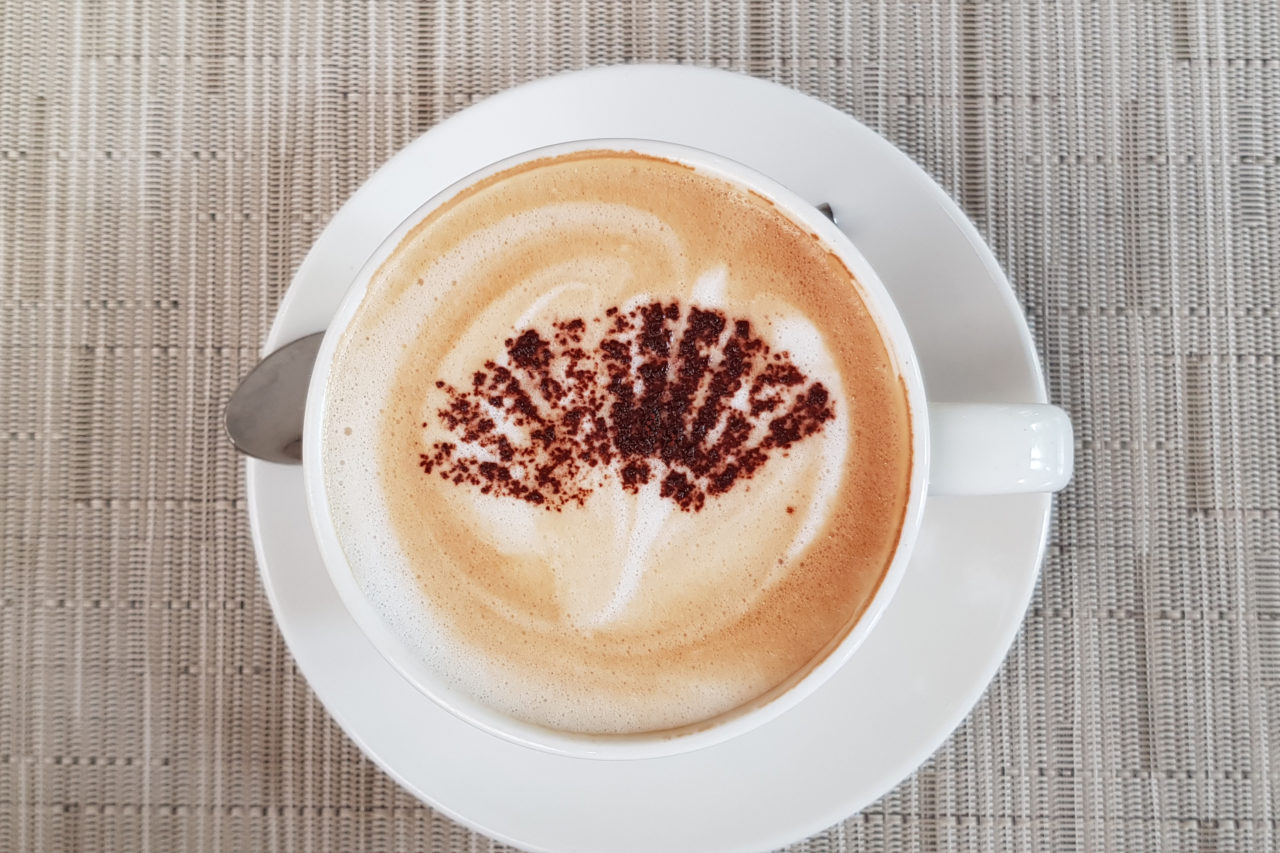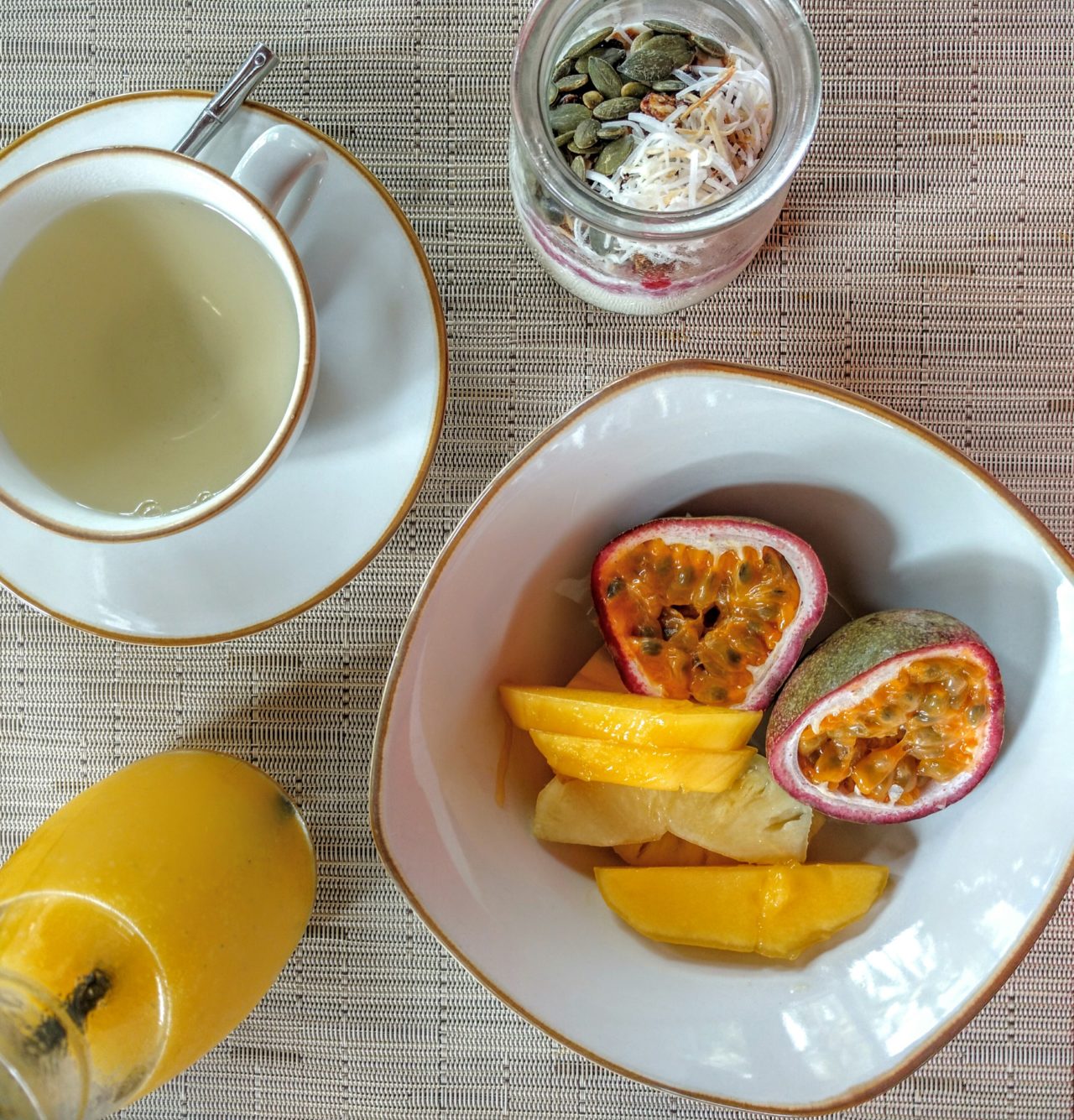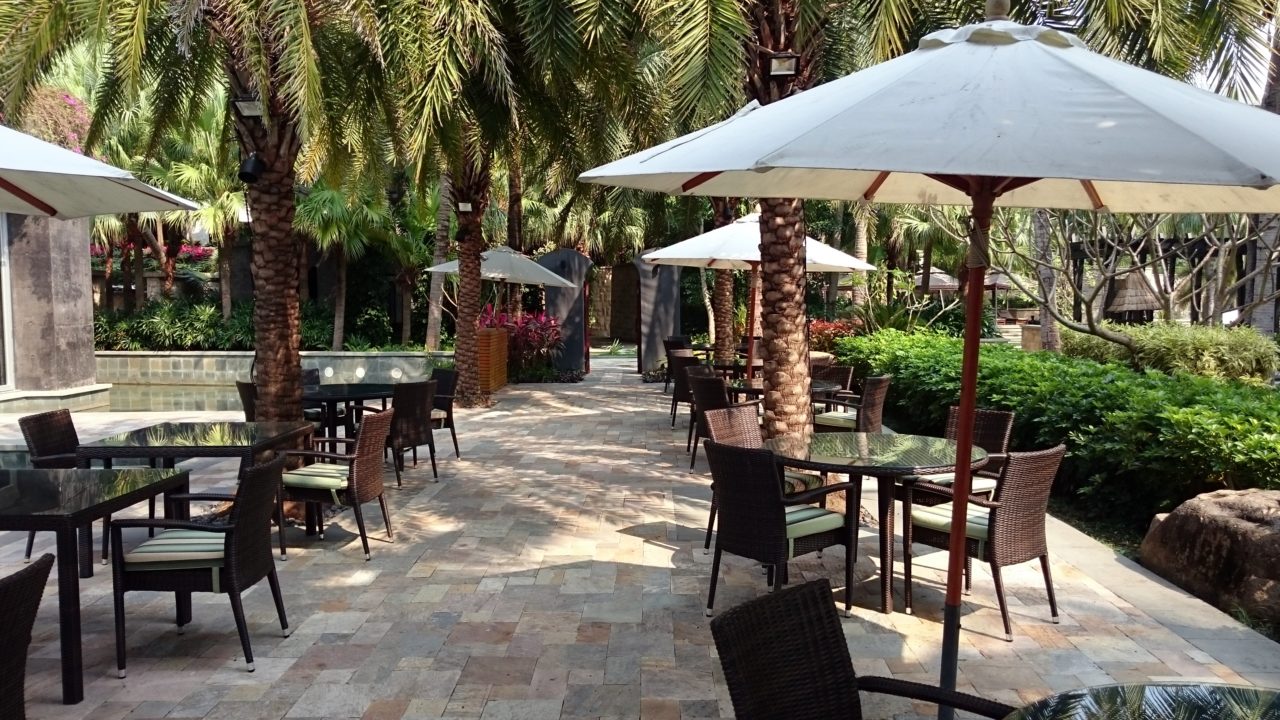 Located next to one of the pool areas there was also Mee & Mian, a casual noodle spot which is only open for lunch and became our go-to-spot for that time of day. Again, the food tasted amazing, as noodles were home-made and cooked with traditional ingredients. I especially loved their cold noodle dishes (perfect to beat the heat) and customized dumpling dishes.
Our favourite venue for dinner was Fresh, a beautiful seafood restaurant offering al fresco dining by the beach. The food is extremely flavourful and well presented while the setting is hard-to-beat romantic. Last but not least, we also visited Yi Yang, a traditional Chinese restaurant serving a wide range of local dishes. We tried one of their tasting menus, leaving us full but happy. Be sure to also try their wide range of different teas, as they taste amazing to go with your meal.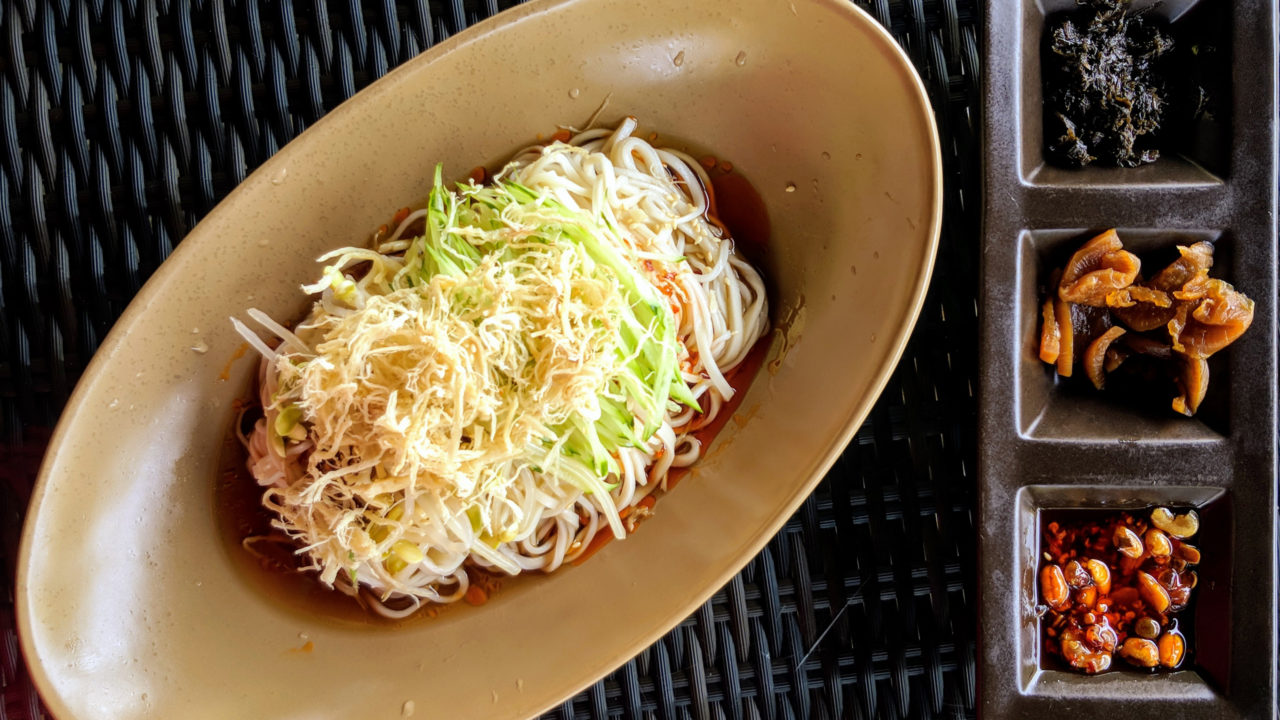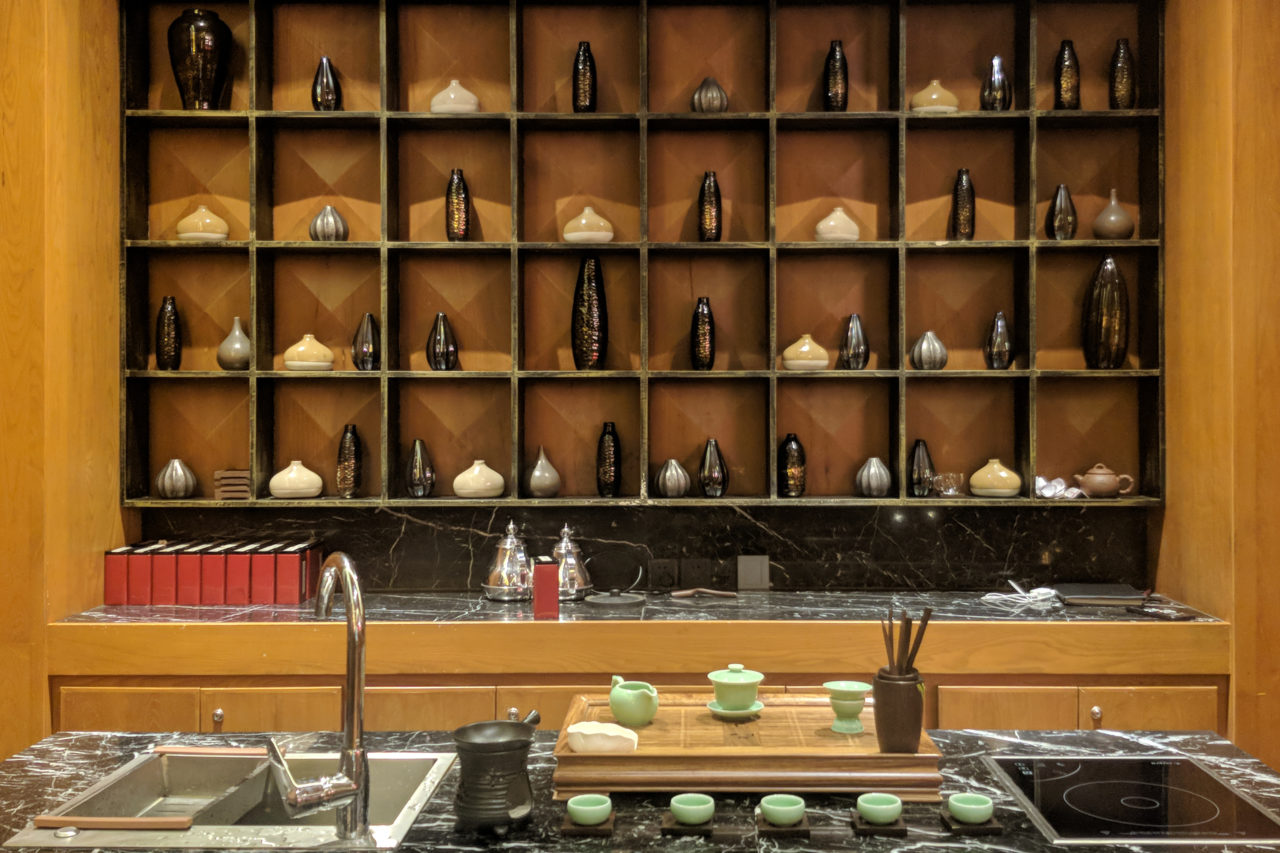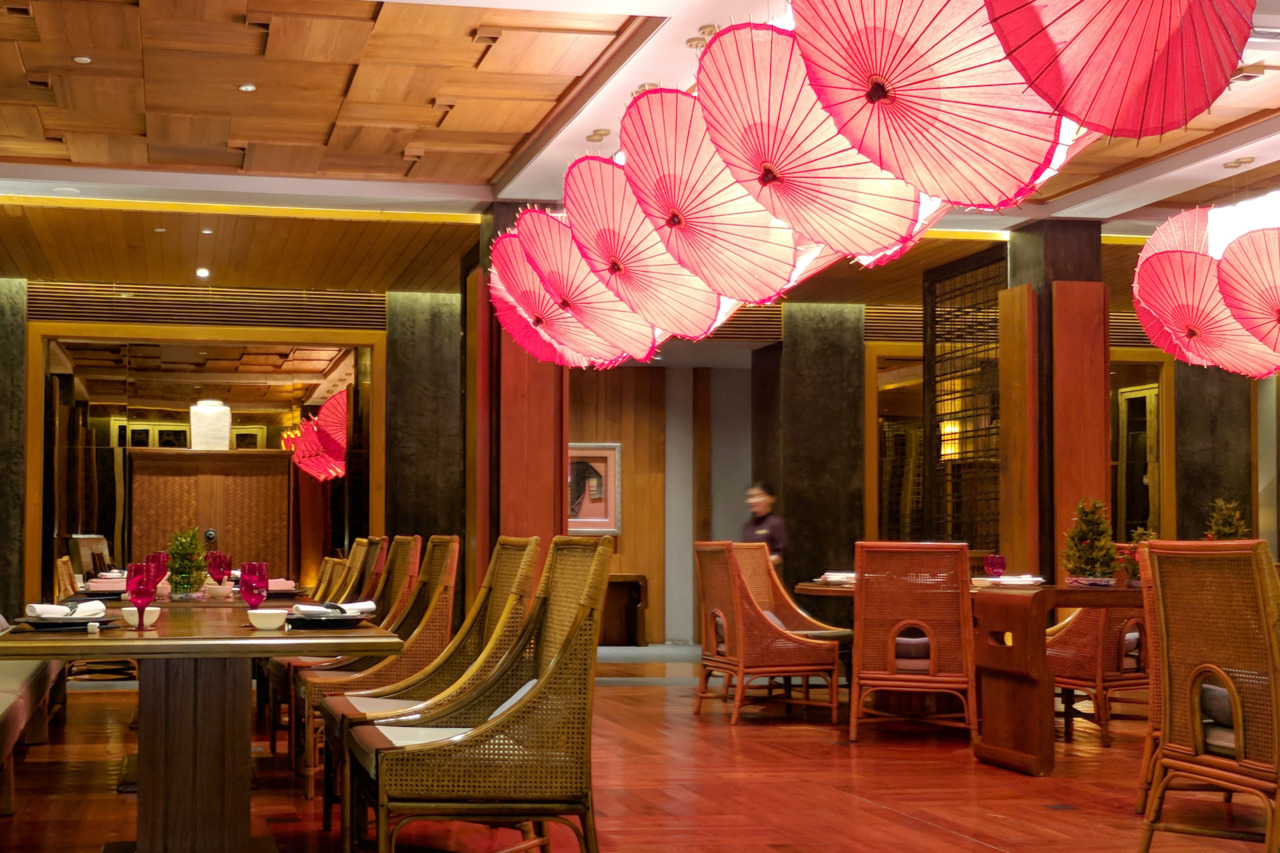 Not only food, also the drinks, in our case served either at the Sunset Bar or by the pool, tasted amazing. I especially loved their tropical signature cocktails, leveraging local ingredients such as Calamansi lime as well as fresh coconuts, which I ordered repeatedly during our stay. Sunset Bar offers a Happy Hour in the late afternoon, which is a nice way to relax while watching the sun go down. We also enjoyed a casual dinner on some evenings at the bar, as we liked the laid back vibe and open-air space. After all there is nothing better than a few light bites and a drink with a nice view, isn't there?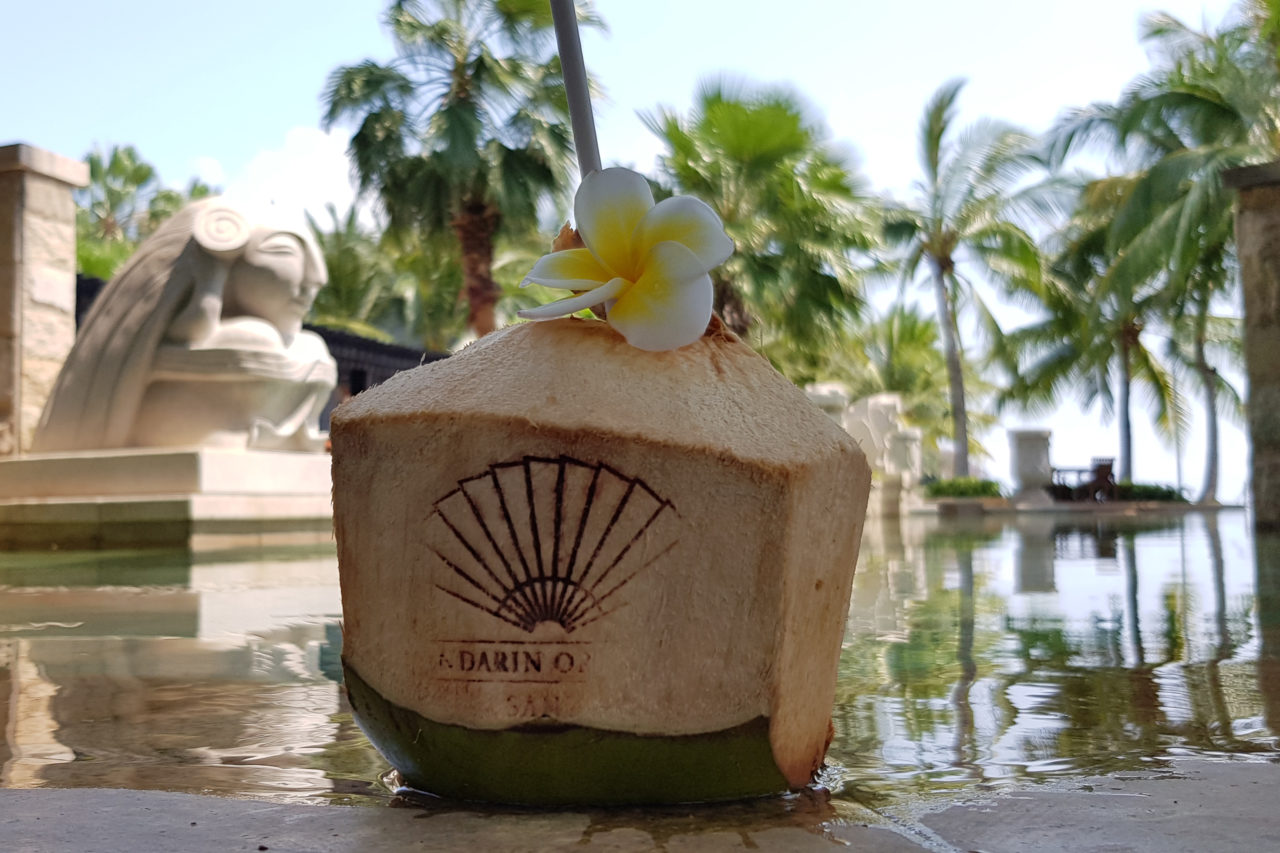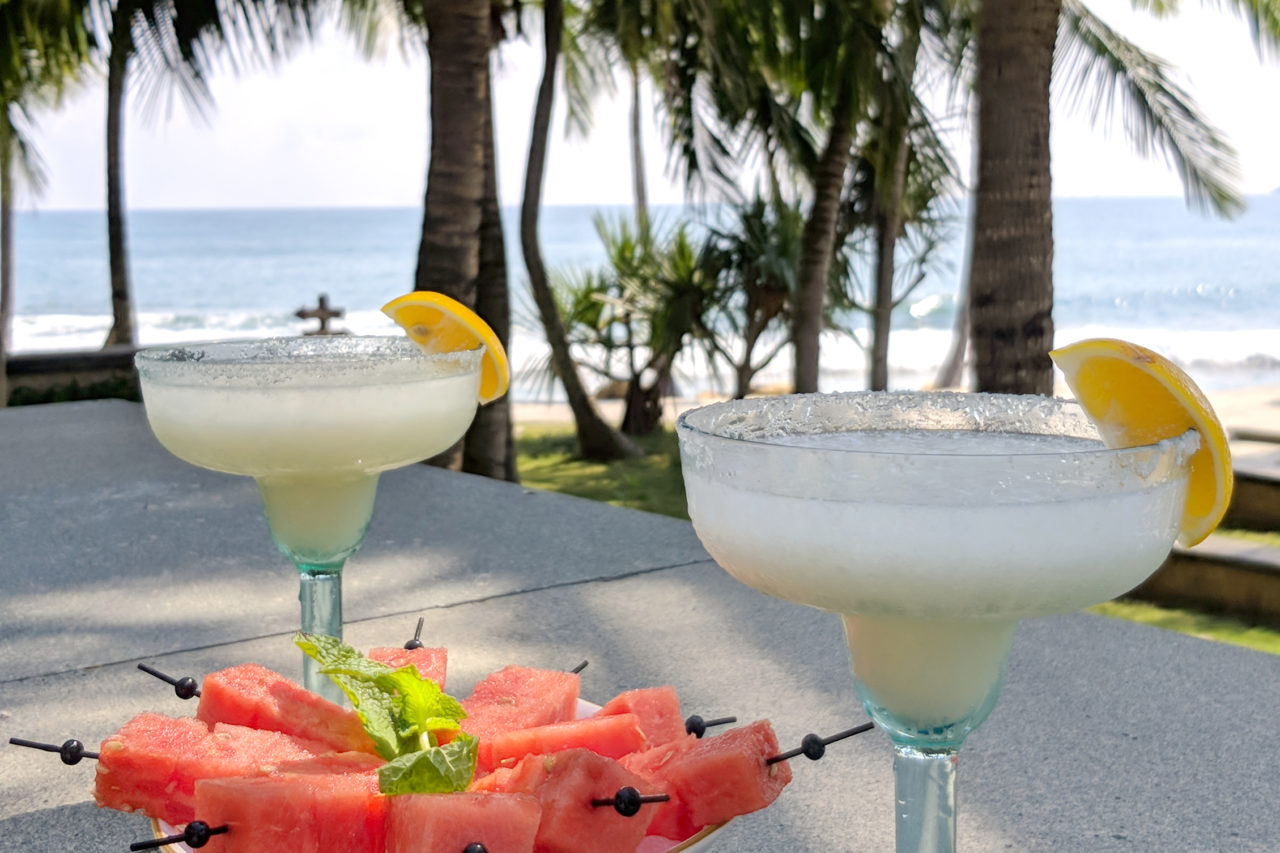 Service at its best: Why the team makes all the difference
Regular followers know how important good service is for me when visiting a hotel or resort. And long story short: I love the service at Mandarin Oriental properties. Sanya was no exception to this, making our stay so much more enjoyable. Although there were some minor language barriers (mainly due to our lack of speaking Chinese) everyone was super attentive and friendly. From the amazing team at the restaurants to the front desk agents – everyone was super helpful, nice and friendly and went above and beyond to make our day more memorable. I especially liked that the service at Mandarin Oriental Sanya is attentive but never intrusive.
The ultimate feeling of relaxation at the SPA
After some busy days traveling, A and I were in desperate need of relaxation when arriving in Sanya. So one of the first things we did was booking a SPA treatment. The SPA is beautifully located on the hillside of the hotel, nestled in lush gardens and offering a serene environment for our treatment. We booked the Oriental Essence treatment, a Mandarin Oriental signature full body massage. It was hands down the best SPA experience we've had so far, leaving us deeply relaxed after 80 Minutes. After the treatment we sat down for tea and dried fruit in the nice SPA pavilion, with beautiful views of the swimming pond and the tropical gardens – it was pure bliss! We loved it so much that we tried a second  treatment with signature salts a few days later and left feeling deeply relaxed.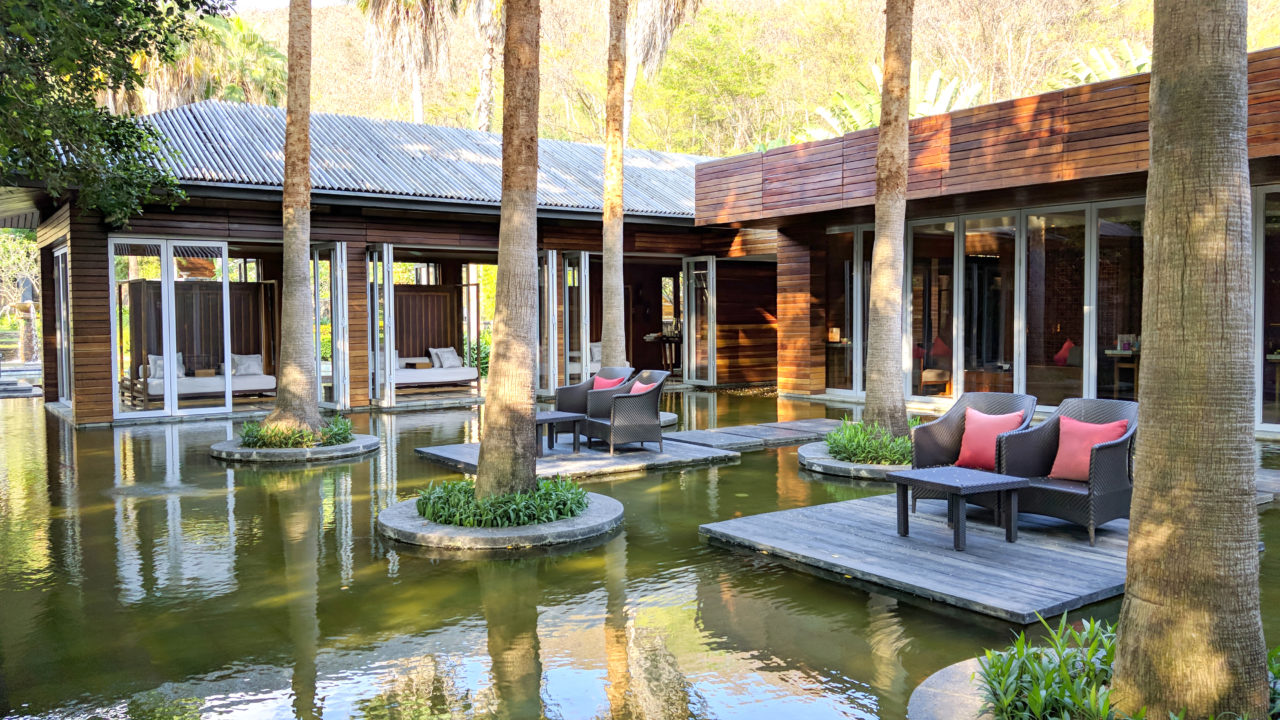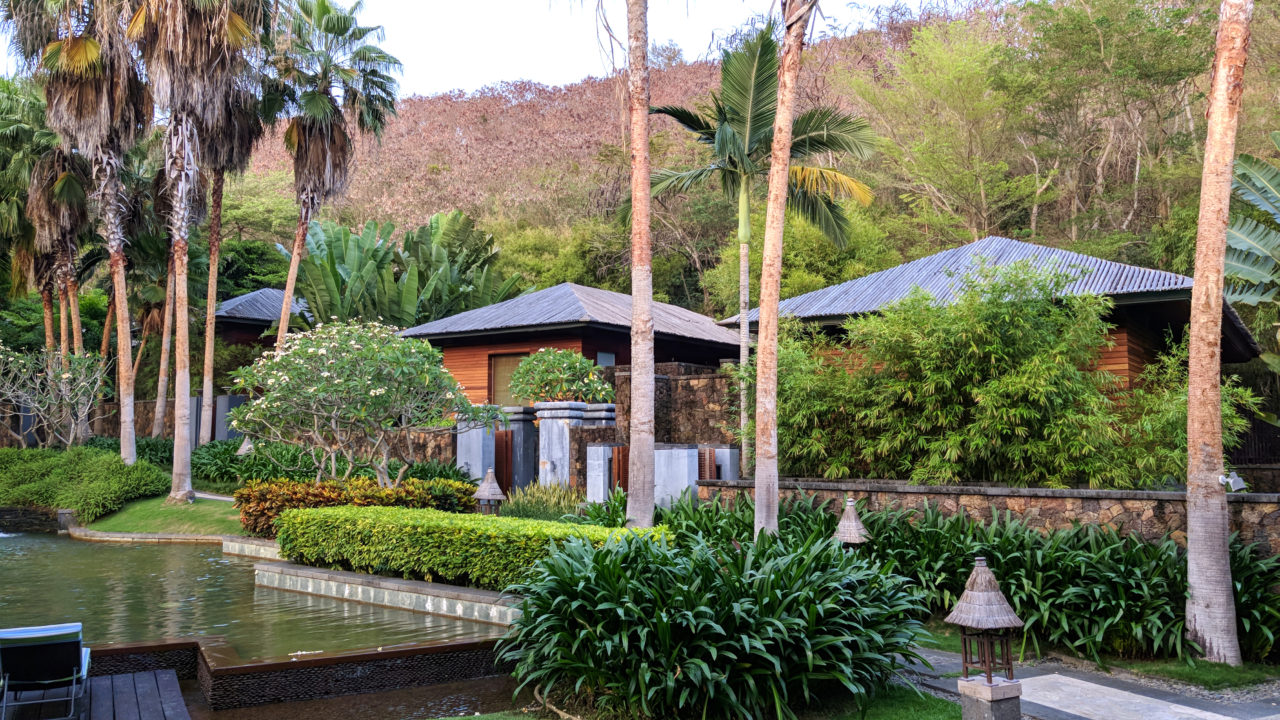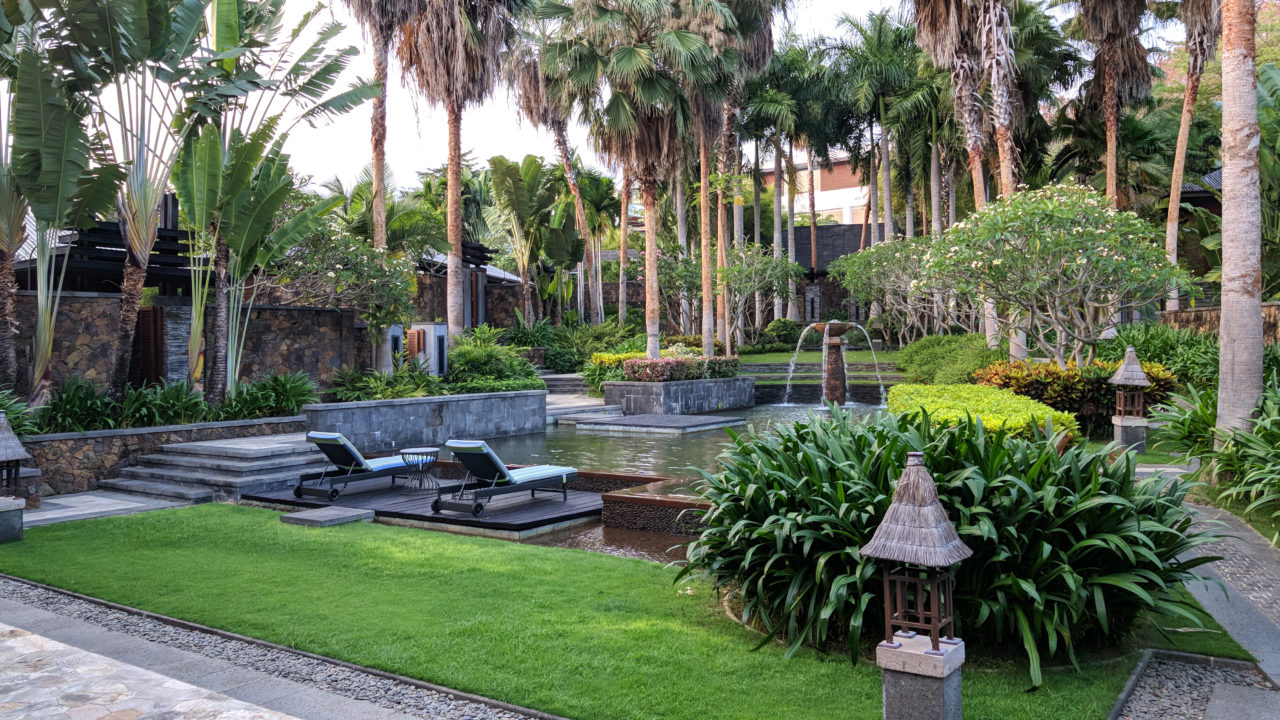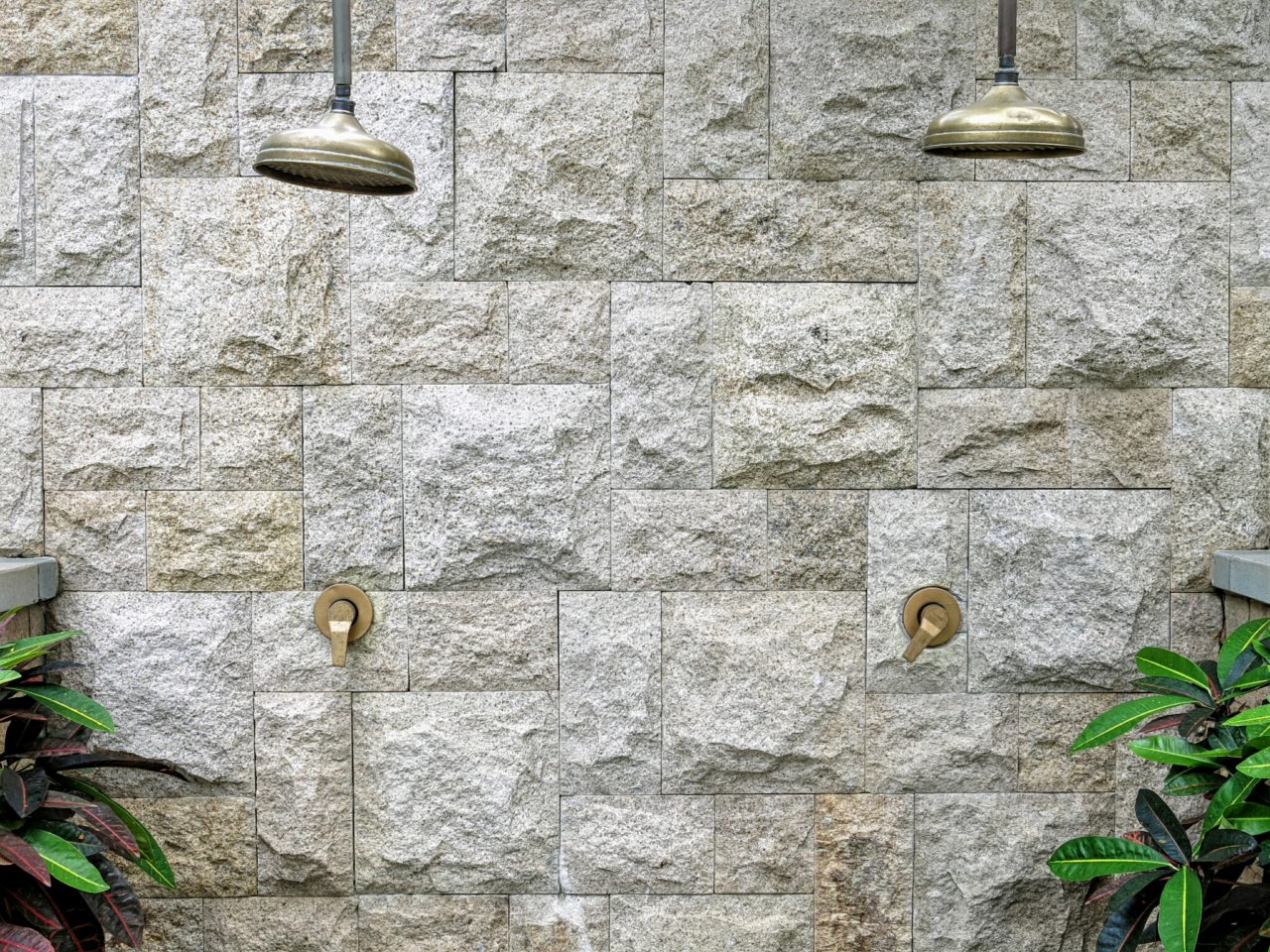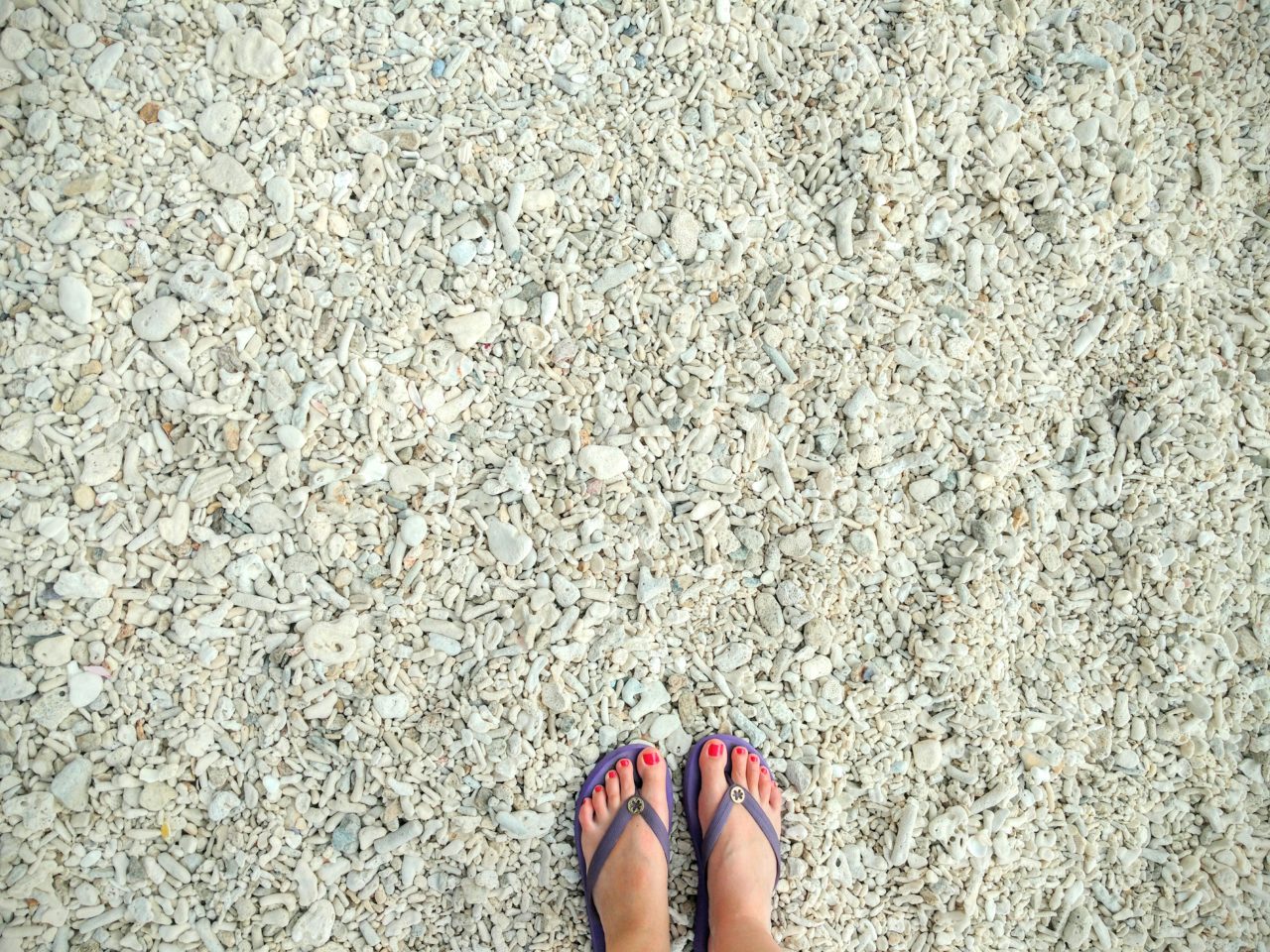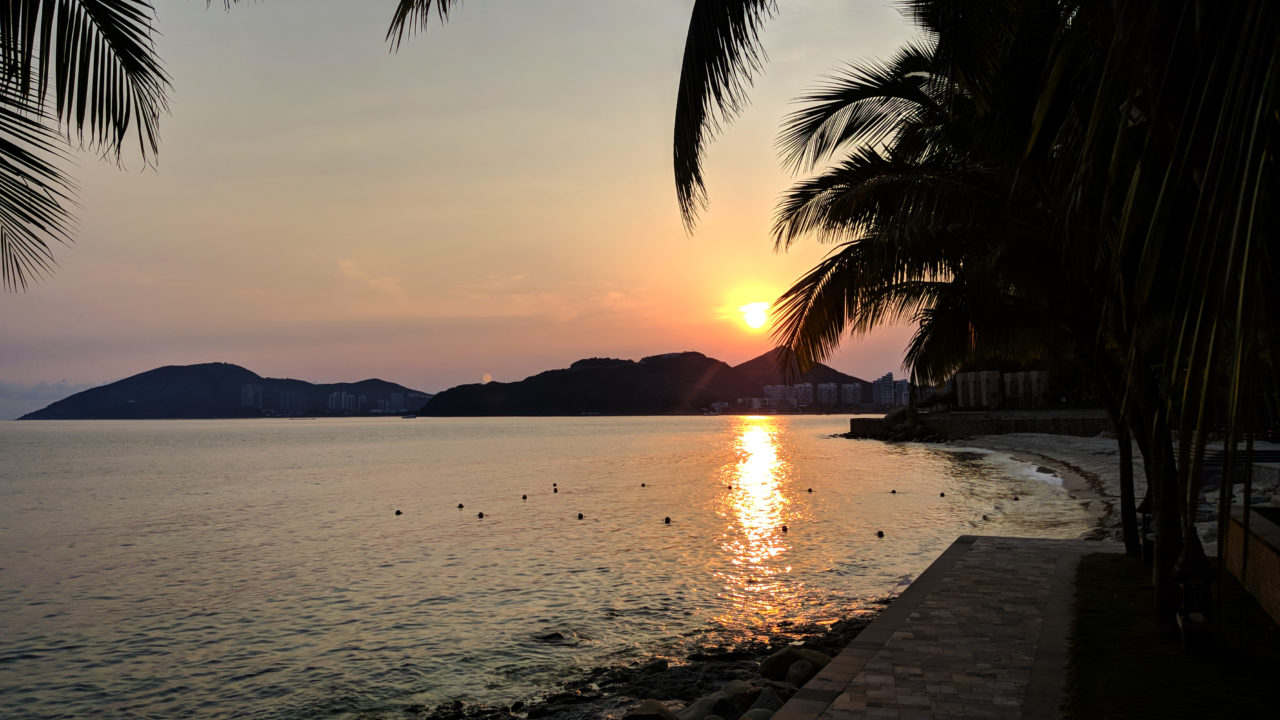 Passport & Palmtree conclusion
Mandarin Oriental Sanya is a hidden gem in the South Chinese Sea. I loved every part of our stay – from the remote location to the breezy design, lush gardens and amazing service. If you are looking for a secluded tropical resort off the beaten track you can't go wrong with Mandarin Oriental Sanya. It offers the perfect resort experience and if I ever go back to Sanya, this would be not only my first but only choice. For me this is one of the few spaces on earth we I truly felt like I recharged mind, body and soul.
Have you ever been to Hainan? What's your favourite resort? I would love to know! Also, if you are flying to Sanya through Hong Kong, find your hotel in Hong Kong, or hotel in Macao. In case you are a fan of MO 😉 check out my Mandarin Oriental Dubai review too.